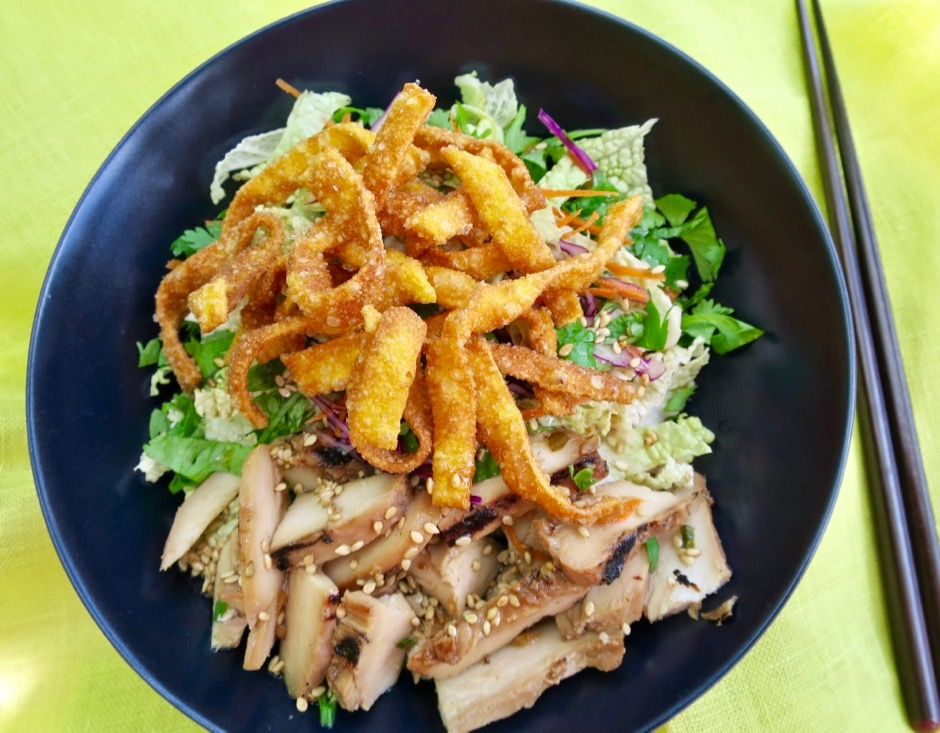 There are a number of stories told about the origins of Chinese Chicken Salad and it appears that none are definitive although most agree that it all began in the '60s.  Wikipedia states that it became especially popular after Cary Grant asked the chef at Madame Wu's in Santa Monica to add it to their menu after Grant had the salad at another restaurant. Whatever the case might be, it is one of my favorite salads too.  Now, there are so many variations on this salad you could make a different version every day for months.  Some poach their chicken breasts, others use rotisserie chicken. Some use mandarin oranges (no thanks!) or nuts such as peanuts and almonds.  I prefer to use leftover Granny's teriyaki chicken and when we make it for dinner we plan for leftovers.  The salad ingredients and dressing are quick to put together, and though it does take 15 minutes or so to fry the won ton strips, it is worth the effort.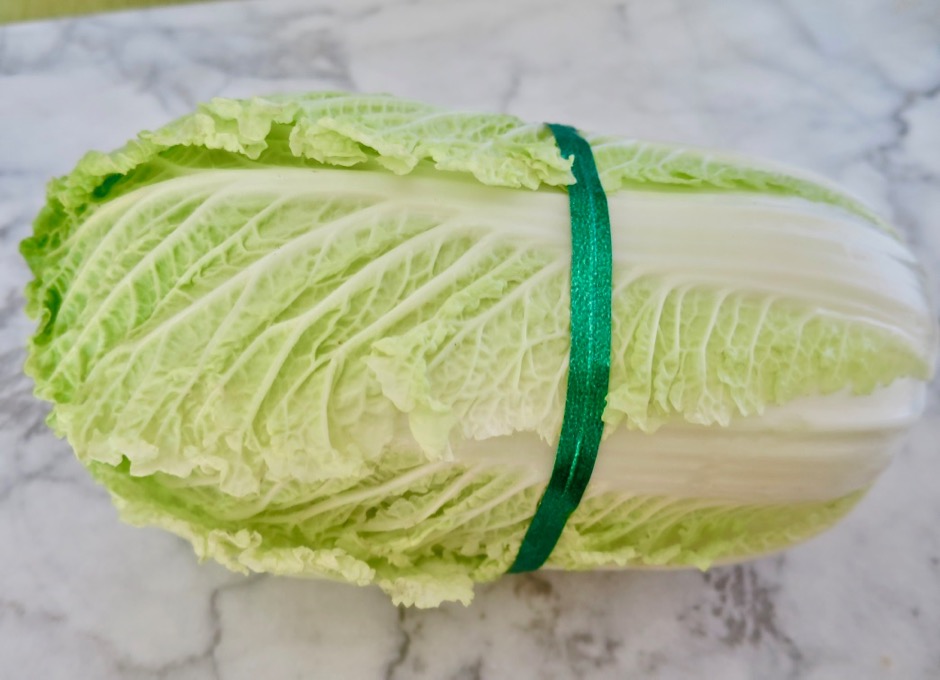 Napa cabbage, Chinese cabbage, won bok, however it's labeled it's all the same cabbage.  It has beautiful ripply leaves, a crunchy texture and mild cabbage flavor with just a hint of pepper.  Whatever other ingredients you choose to use in your Chinese chicken salad, please don't leave this out.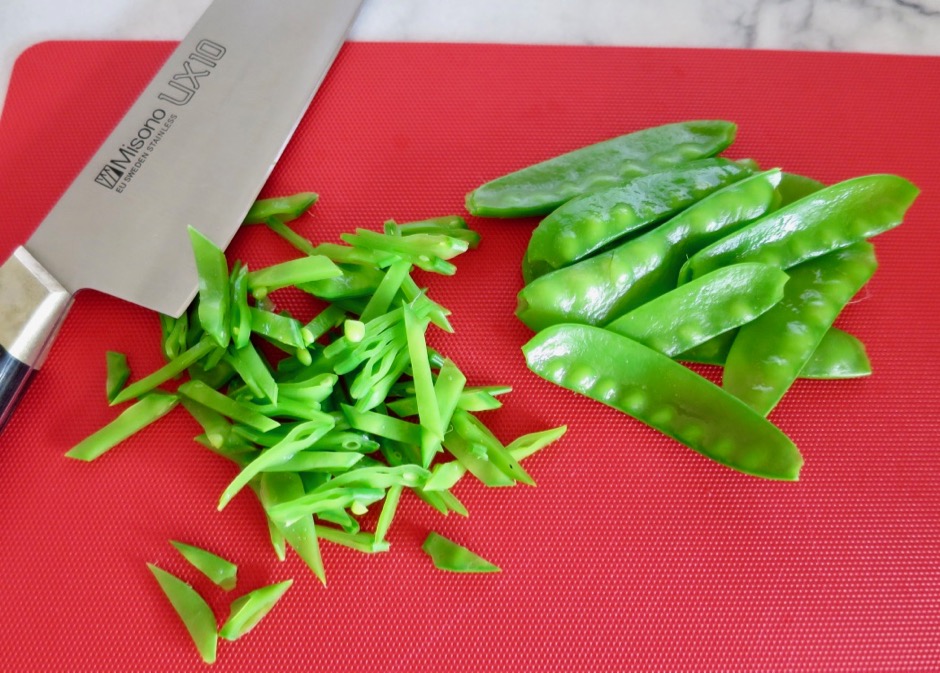 I love crispy snow peas.  All they need for this salad is a quick 10 second blanch in boiling water. Drain in an ice bath and pat dry before slicing.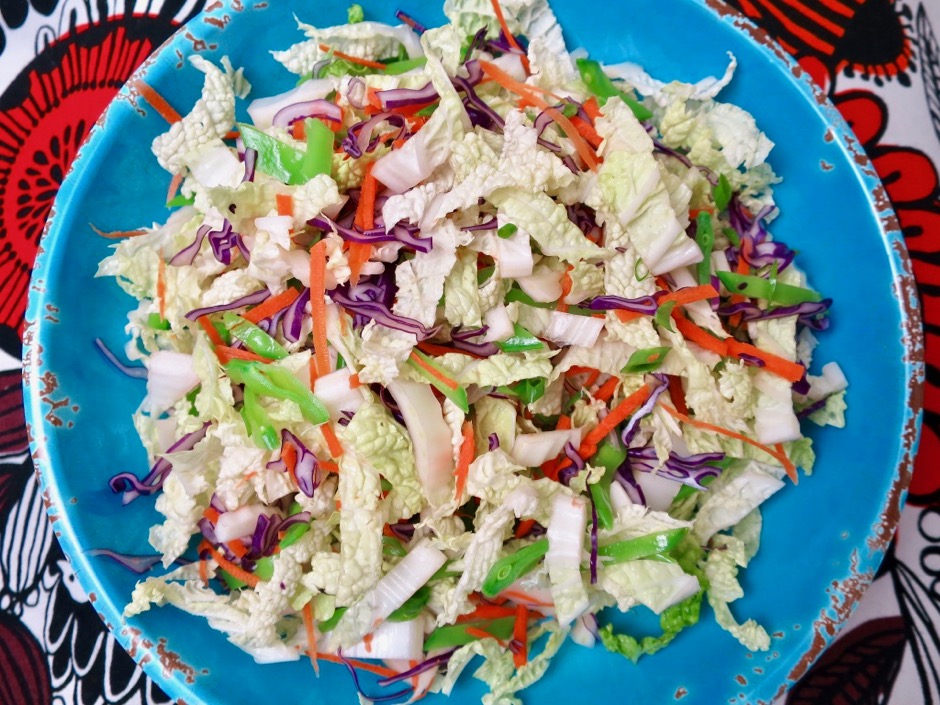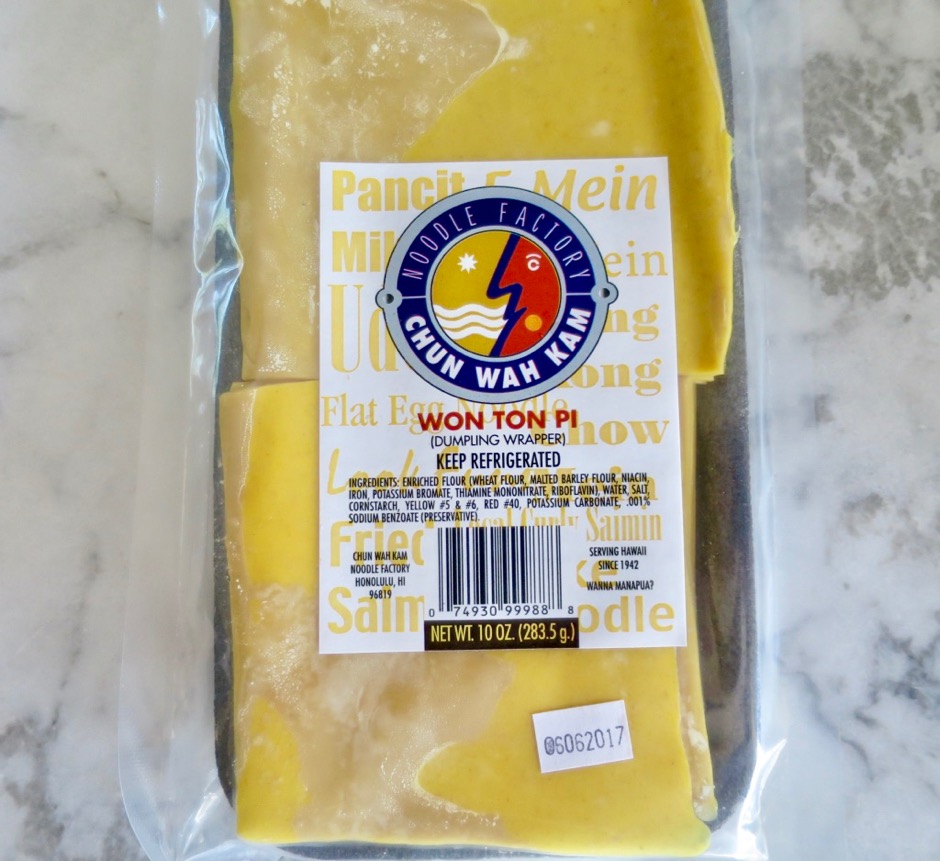 There are many brands of won ton pi at the markets. I just grabbed this locally made brand at Foodland.  Since you won't need the entire package for the salad, slice the extra pieces up into larger strips and fry them up for a snack.  They are a favorite Island treat.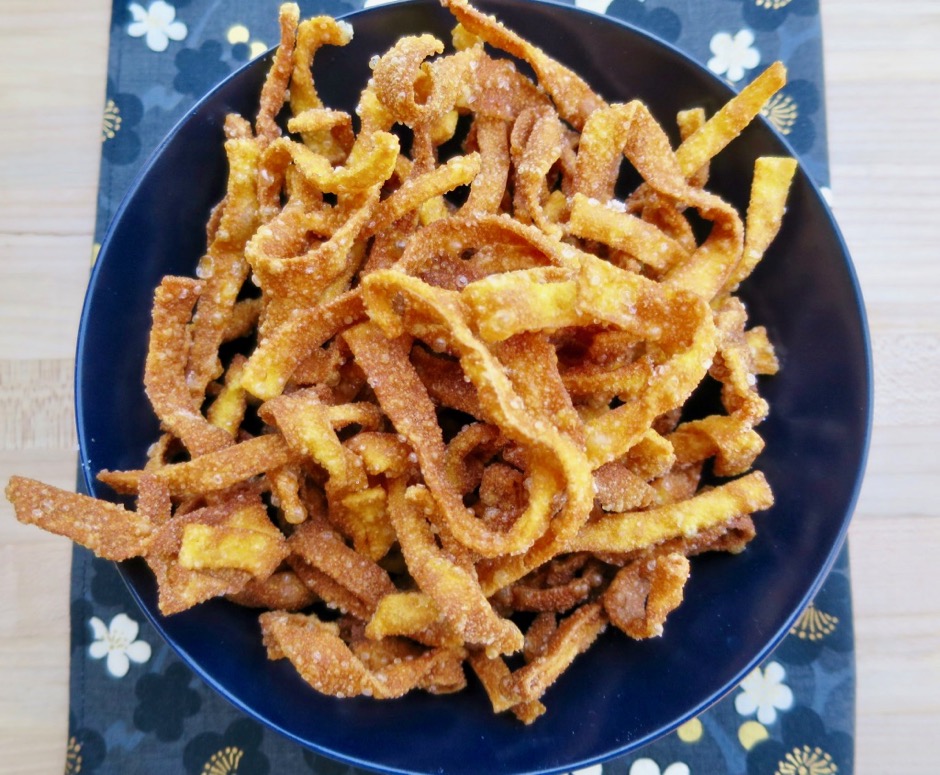 I used the extra won ton pi for chips. Some of them puff up as they fry, making them light and crispy.  Salt the chips as you take them out of the pan.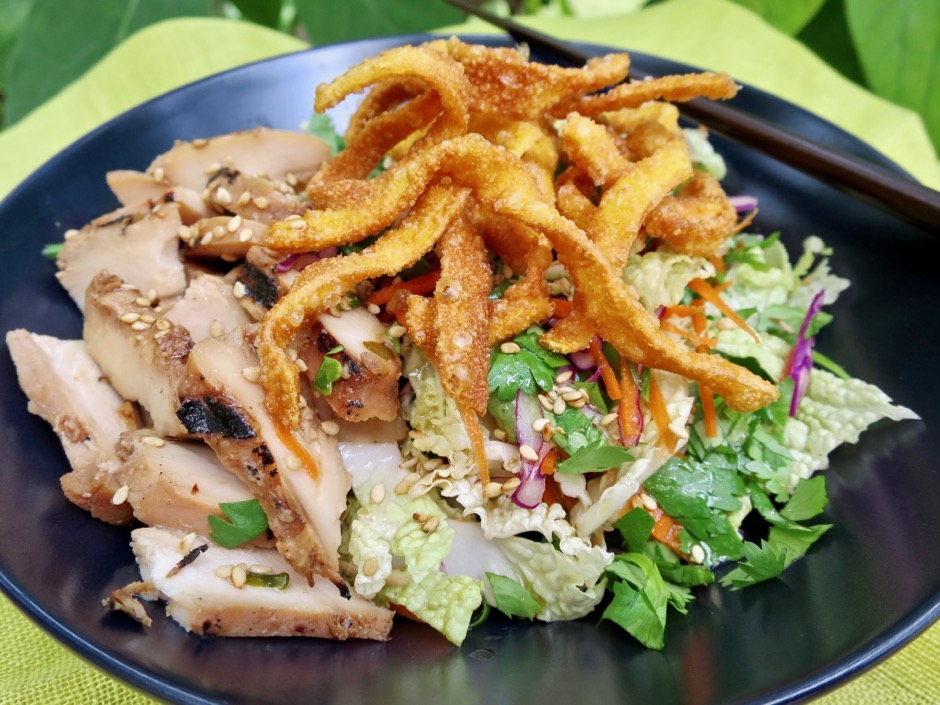 Chinese Chicken Salad
Ingredients
Salad:
2 grilled teriyaki chicken breasts, sliced thinly (or baked teriyaki chicken)
8 cups chopped napa cabbage
1 cup shredded red cabbage
1 cup shredded carrot
3 ounces snow peas, blanched and sliced thin (optional)
4 green onions, sliced thinly
won ton pi cut into thin strips about ⅓" wide (I used about 4 ounces from the 10 ounce package for the salad and the rest I used for larger chips)
Dressing:
⅓ - ½ cup rice vinegar, depending on how tangy you like your dressing (unseasoned)
2 tablespoons sweet mirin
2½ tablespoons soy sauce (not light or less sodium)
3 teaspoons sesame oil
¼ cup canola oil
1½ tablespoons brown sugar
1 tablespoon toasted sesame seeds
ground black pepper to taste
Preparation
Toss together the shredded napa cabbage, red cabbage, carrots, sliced snow peas and green onions. Keep chilled in the refrigerator until ready to use (either in a bowl or Ziploc freezer bag).
Deep fry the won ton strips until golden brown. I use a medium-sized pot and fry the won ton strips in batches. They cook quickly so watch them closely. Drain on paper towels and sprinkle a little salt over each batch. The won ton strips can be made a day in advance (store in a plastic bag in the refrigerator).
Place all of the dressing ingredients in a jar. Shake well.
When you are ready to serve the salad, toss the vegetables with some of the dressing. Divide salad into 4 bowls placing chicken strips to one side. Scatter won ton strips over the salad. Serve with extra dressing.