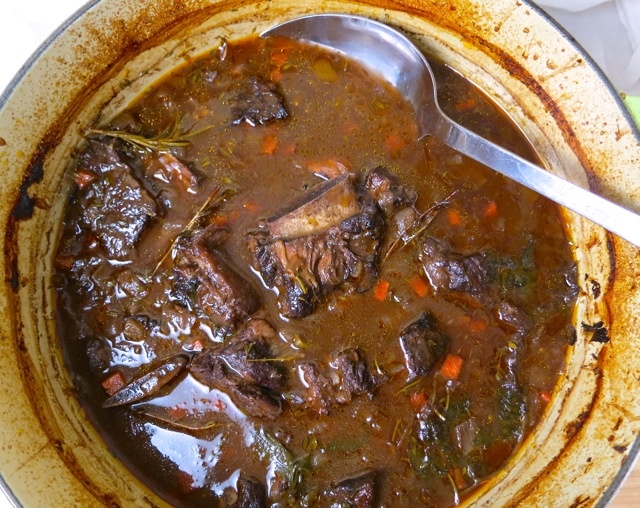 Braised meats are one of my favorite indulgences.  There's something so satisfying about a big pot of beef stew or, in this case, short ribs, gently cooking for a few hours until the meat is meltingly tender.  I found this irresistible recipe in Bon Appetit: Red Wine-Braised Short Ribs.  An entire bottle of red wine mind you.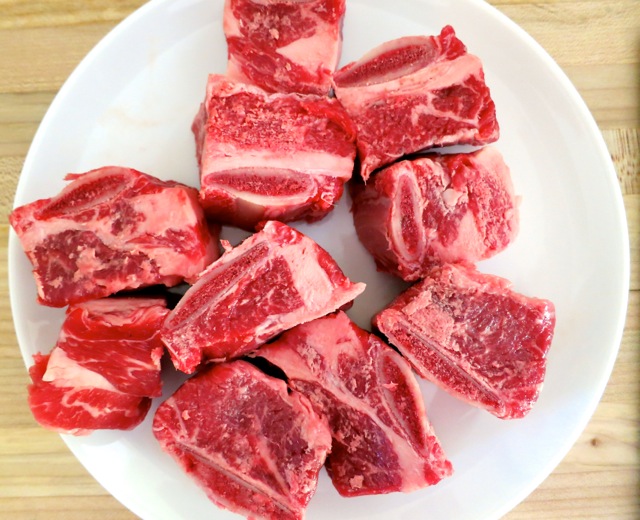 After a quick trip to the market, I returned home with some very nice looking short ribs and a bottle of red wine.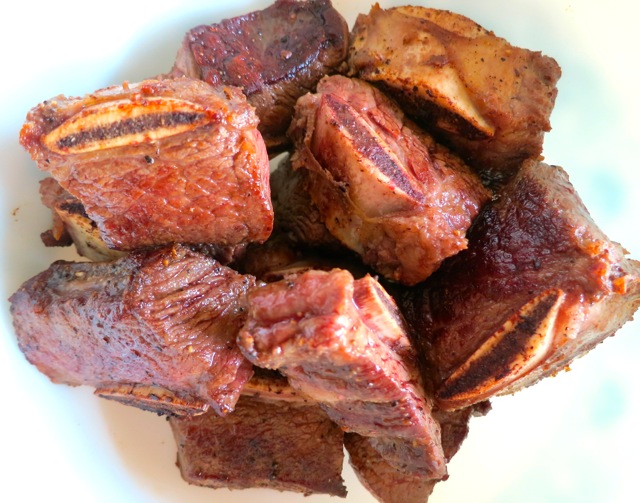 As with most braised dishes, the meat is first browned well before adding the other ingredients.  Those leftover bits of goodness on the bottom of the pan are priceless and add so much flavor to the dish.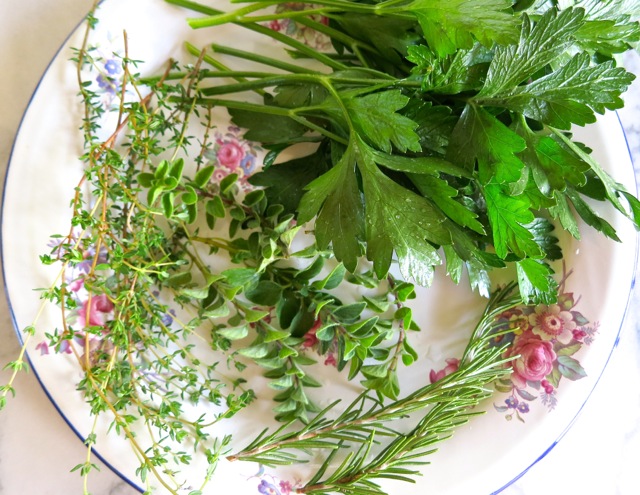 Though there's sparse pickings in our garden now due to the weather being so hot,  we do have a few nice tomato bushes (trees!) and an abundance of mangoes.  I'm grateful for the various selections of herbs that grow so well in this dry area of Maui.  They come in handy when you need just a few sprigs of this and that, as is the case with this recipe.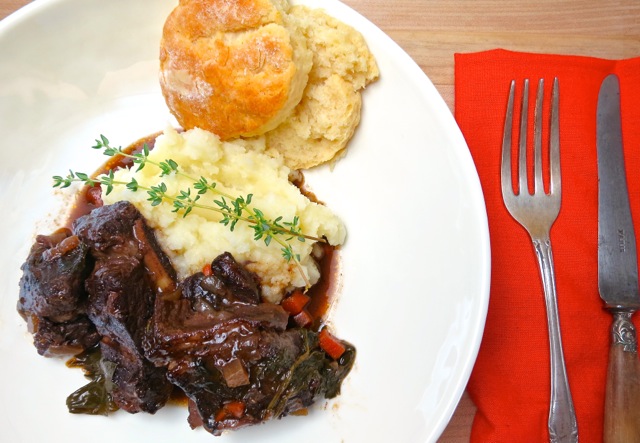 Red Wine Braised Short Ribs
Adapted from Jenny Rosenstrach & Andy Ward/Bon Appetit Magazine
6 Servings
Ingredients
5 lbs. bone-in beef short ribs, cut crosswise into 2″ pieces
kosher salt and freshly ground black pepper
3 tablespoons canola oil
3 medium onions, chopped
2 medium carrots, peeled and finely chopped
2 celery stalks, chopped
3 tablespoons all-purpose flour
1 tablespoon tomato paste
1 750-ml bottle dry red wine (I used an Australian Cabernet Sauvignon)
10 sprigs flat leaf parsley
8 sprigs thyme
4 sprigs oregano
2 small sprigs rosemary
2 small bay leaves
8 garlic cloves
4 cups beef stock
1 teaspoon kosher salt
Preparation
Preheat oven to 350°.   Season short ribs generously with salt and pepper.  Heat oil in large Dutch oven over medium-high heat. (I used my 5 1/2 quart Le Creuset which neatly fit all ingredients. Feel free to use a larger sized oven safe pot but not smaller).  Working in two batches, brown short ribs on all sides about 8 minutes per batch. Transfer short ribs to a plate.  Pour off all but 2 tablespoons drippings from pot (my short ribs were trimmed well so I didn't have much fat to pour out).
Add onions, carrots, and celery to pot and cook over medium heat, stirring often, until onions are browned, about 5 minutes (adjust heat as needed).  Add flour and tomato paste; cook , stirring constantly, until well combined and deep red, about 2 minutes.  Stir in wine, then add short ribs with any accumulated juices.  Bring to a boil; lower heat to medium and simmer until wine is reduced by half, about 30 minutes.  Add all herbs to pot along with garlic.  Stir in stock and 1 teaspoon kosher salt. Bring to a boil, cover and transfer to oven.
Cook until short ribs are tender, 2 – 2 1/2 hours.  Spoon any accumulated fat from surface of sauce and discard; season sauce to taste with freshly ground black pepper and additional salt if desired.  Serve in shallow bowls over mashed potatoes with sauce spooned over.