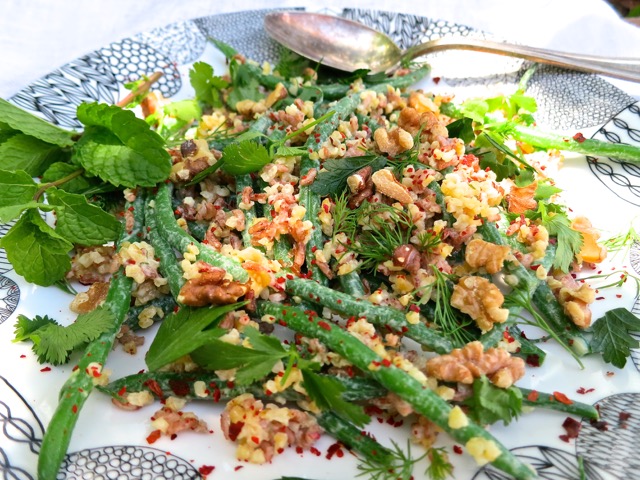 Freekeh, an unusual grain with a novel name!  The first time it caught my attention was in Berkeley at the Pasta Store.  I like cooking with many different types of grains.  They make interesting side dishes, and in this case, a great salad.  The name Freekeh is a process which means "to rub" in Arabic.  The wheat is harvested when young and green then roasted, dried and rubbed. It has a subtle smokey flavor and a pleasant, chewy texture.  It's delicious.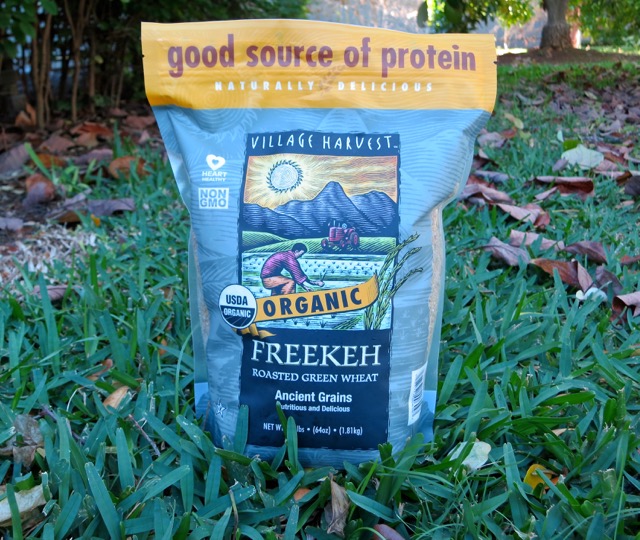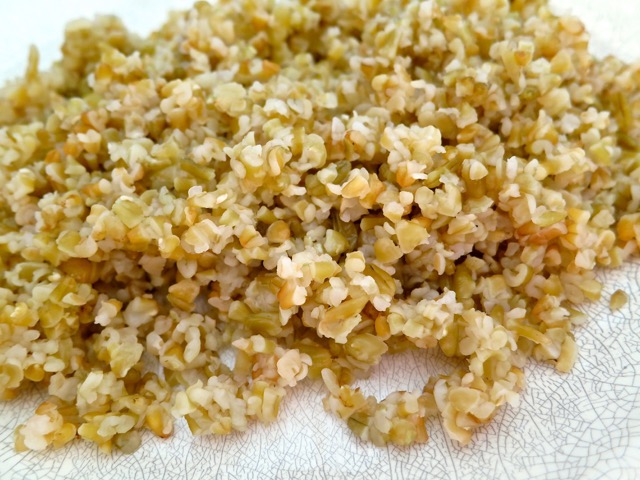 Freekeh looks a bit like bulgur once it is cooked.  In fact, if you can't find freekeh, you could substitute bulgur but freekeh has a chewier texture and more interesting flavor.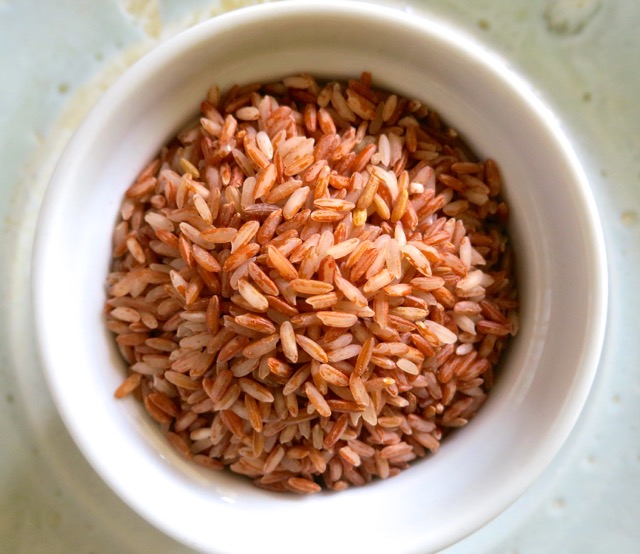 I included Madagascar pink rice in my salad.  I love the color and texture it added to the salad. This beautiful rice cooks in just 20 minutes.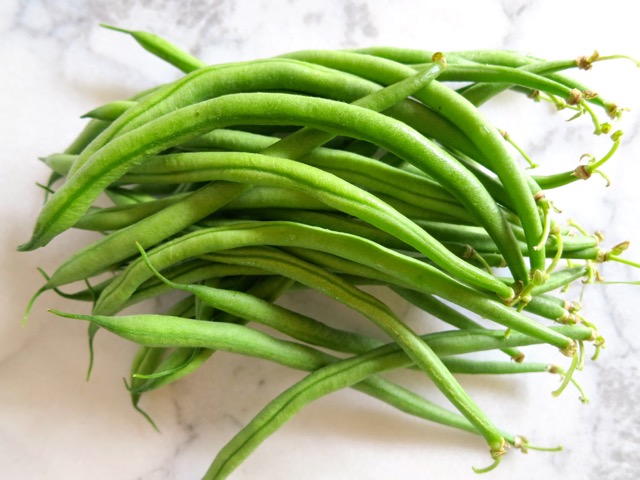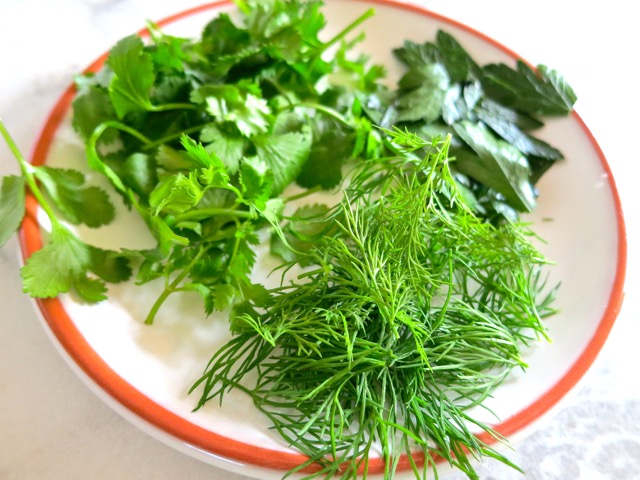 Fresh herbs are scattered over the salad just before serving.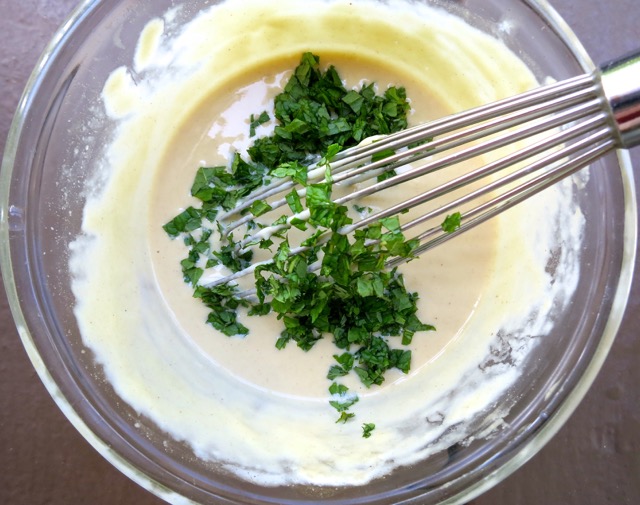 I am a big fan of any dressing that contains tahini and lemon juice!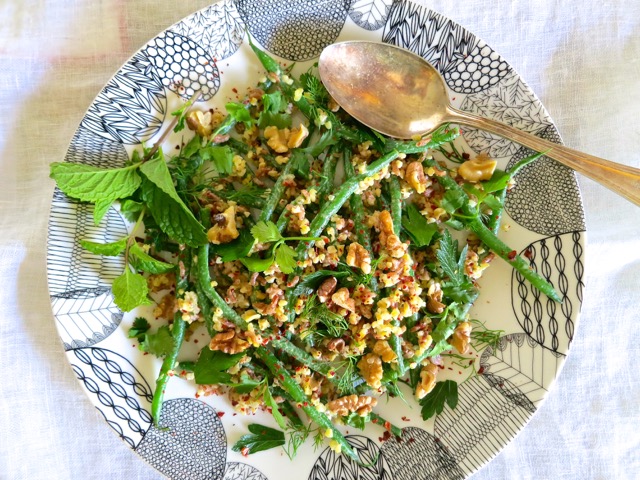 This salad is so good I made it three times in a one week period.  I packed it up for my work lunch and tossed the beans, freekeh, rice and walnuts with the dressing just before I sat down to eat.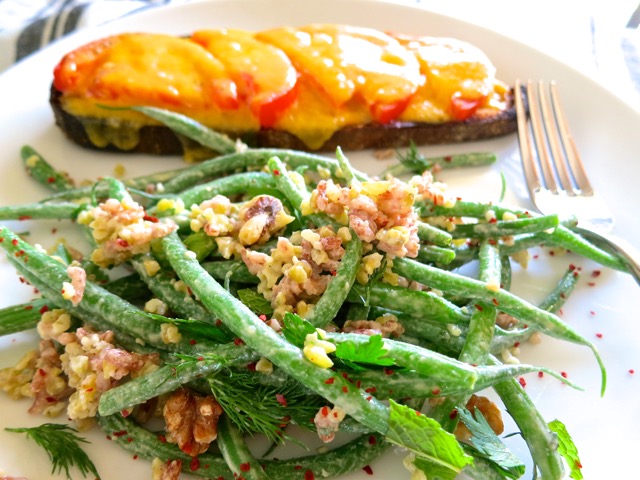 Haricots Verts and Freekeh with Minty Tahini Dressing
Adapted from Bon Appetit
Serves 2
Ingredients
1/4 cup cracked or uncracked freekeh, rinsed
1 cup Madagascar pink rice (optional)
6 ounces haricots verts, trimmed
1 very small garlic clove, finely grated (I used my microplane zester)
2 – 3 tablespoons fresh lemon juice
2 tablespoons olive oil
2 tablespoons tahini
1 teaspoon finely chopped fresh mint (or 1/2 teaspoon dried mint)
1/2 teaspoon pure maple syrup
2 tablespoons coarsely chopped walnuts (I baked them in the toaster oven for 5 minutes)
a few sprigs of dill, cilantro, flat leaf parsley
crushed red pepper flakes
Preparation
Cook freekeh in a medium saucepan of salted simmering water until al dente, 12 – 15 minutes (uncracked freekeh will take longer to cook, 30 minutes or so).  Drain and rinse under cold water; set aside. You will not use all the freekeh for the salad.
Cook Madagascar pink rice if using, following directions on package.  (I make 1 cup of rice at a time and serve leftover rice with mock chicken tofu the following day).
Cook haricots verts in a medium pot of boiling salted water until crisp-tender, about 3 minutes (very thin haricots verts may take just 2 minutes to cook).  Drain and transfer to a large bowl of ice water; let cool. Drain and pat dry.
Whisk garlic, 2 tablespoons lemon juice, oil, tahini, mint, maple syrup, and 1 tablespoon water in a medium bowl; season with salt. Taste, add more lemon juice if desired.
In a large bowl, stir together 1/4 cup each, cooked freekeh and pink rice if using (use more freekeh if you skip the pink rice). Add green beans and toss with enough dressing to coat everything nicely.  Season with salt.  Divide on to two plates, top with toasted walnuts, small sprigs of dill, tender leaves of cilantro and parsley.  Sprinkle crushed red pepper flakes over the salad and serve.