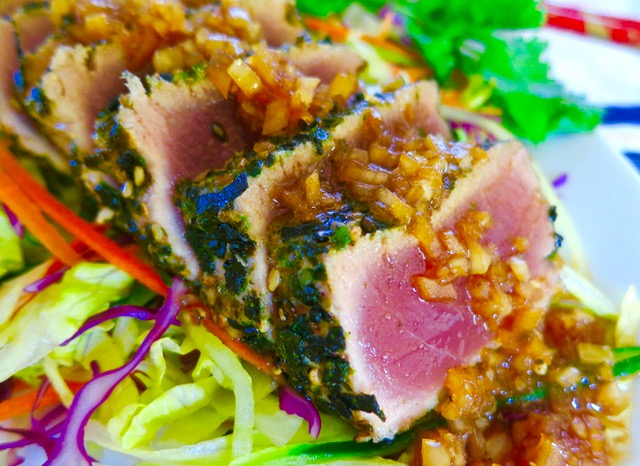 This is one of the simplest and most delicious ways to prepare fresh sashimi grade ahi.  The fish is coated with furikake, seared for just a few seconds on each side, and served with a flavorful dressing adapted from Nobu Matsuhisa's original recipe.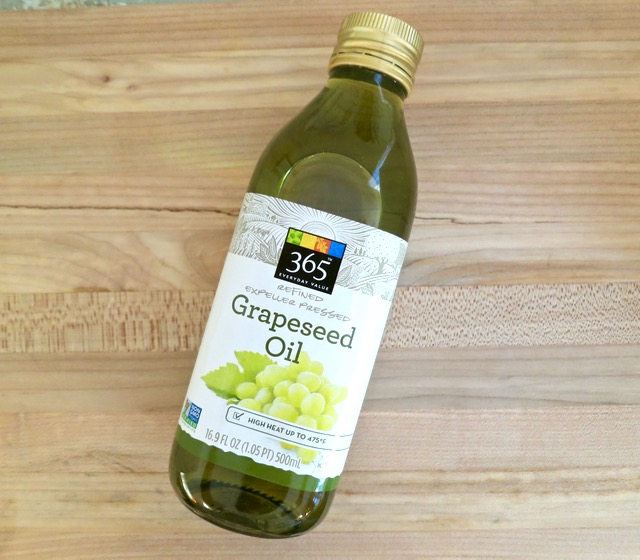 Grapeseed oil has a clean light flavor.  It emulsifies well which makes it perfect for salad dressings and homemade mayonnaise.  If you don't have grapeseed oil on hand, you may substitute it with canola oil.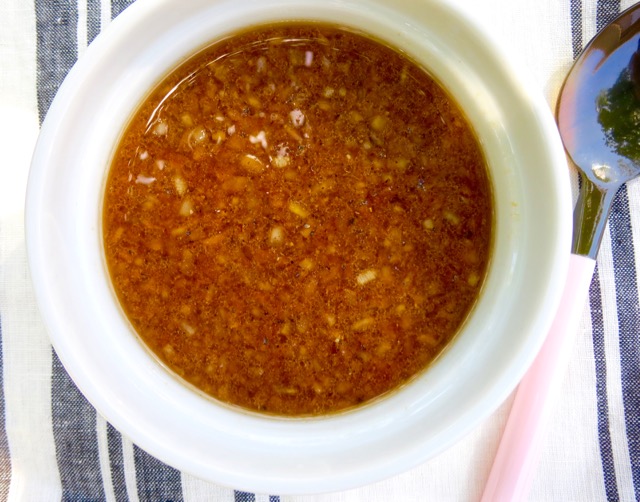 Minced onion and a handful of other ingredients such as soy sauce and rice vinegar are mixed up in one bowl. That's it!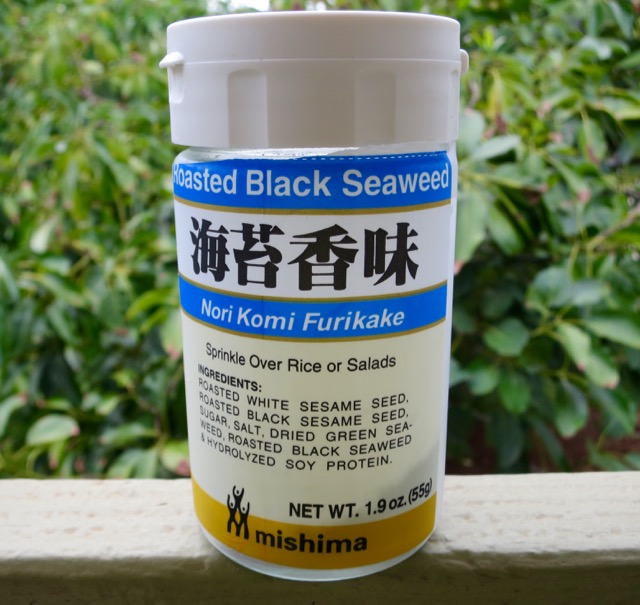 There are many varieties of furikake.  Some are flavored with dried salmon or ume, others have shiso or bonito mixed in with the dried seaweed.  My favorite furikake is simply seaweed mixed with white and black roasted sesame seeds.  It's the best choice for this seared ahi recipe.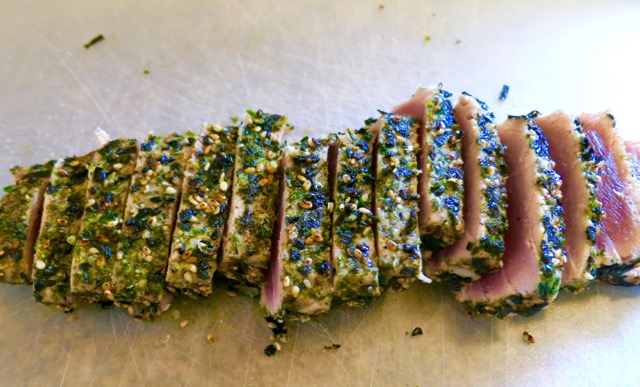 I lucked out and found a beautiful ahi block for a decent price while shopping at Foodland in Kahului.  Other times I will splurge and buy fish at Whole Foods paying nearly twice the price.  But when I have a craving, nothing stops me from telling the fishmonger to wrap it up!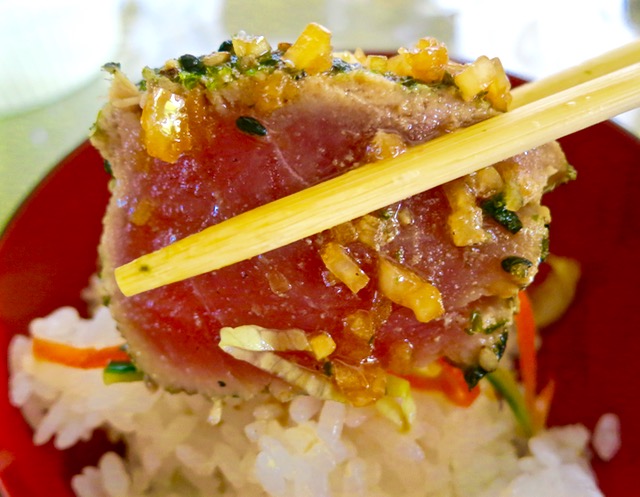 We served the ahi over finely shredded greens with a side of Japanese rice and takuan.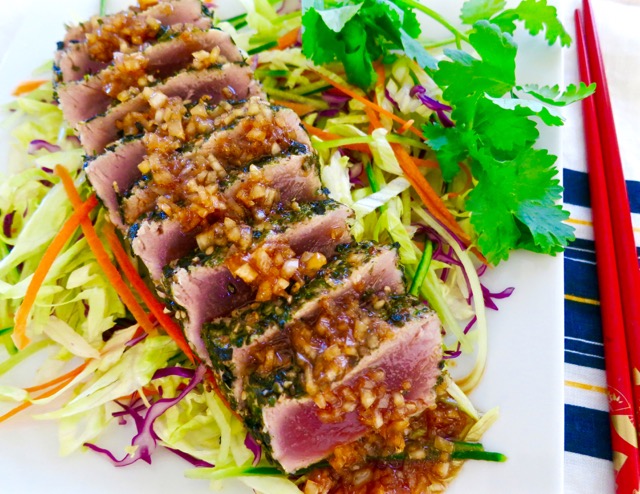 Furikake Seared Ahi Salad with Nobu Matsuhisa Style Dressing
Dressing adapted from Nobu Matsuhisa's recipe
Ingredients
Ahi:
1 block sashimi grade ahi, about ¾ pound
grapeseed or canola oil
kosher salt
freshly ground black pepper
furikake
Salad:
2 cups finely shredded salad greens, such as iceberg lettuce, carrots, cucumbers, red cabbage
Keep refrigerated until ready to use
Dressing: Makes ⅔ cup
½ cup packed finely minced sweet onion, rinsed in a sieve and drained well on paper towels
2 tablespoons + 2 teaspoons soy sauce
2 tablespoons + 1 teaspoon rice vinegar (not seasoned)
¾ teaspoon granulated sugar
1 teaspoon powdered mustard, such as Coleman's, mixed with water to make a paste
few grinds of fresh pepper
1 tablespoon + 1 teaspoon grape seed oil (or other mild flavored oil such as canola)
1 tablespoon + 2 teaspoons sesame oil
Preparation
Lightly coat the ahi with grapeseed or canola oil. Season the ahi with a little kosher salt and pepper. Sprinkle furikake on all four sides of the ahi, patting gently so furikake adheres to the fish.
Heat a non-stick skillet over medium-high heat with a teaspoon of oil. Once hot, sear ahi on all four sides just until the coating is lightly browned, about 1 minute total.
Set aside to cool, then slice into ⅓-inch pieces.
In a medium bowl, combine soy sauce, rice vinegar and sugar. Stir until the sugar has dissolved. Mix in mustard paste and pepper. Add the minced onion and whisk in grapeseed and sesame oil.
Place sliced ahi over salad greens. Drizzle some of the dressing over ahi and salad greens just before serving. Leftover dressing is delicious drizzled over a tofu salad.