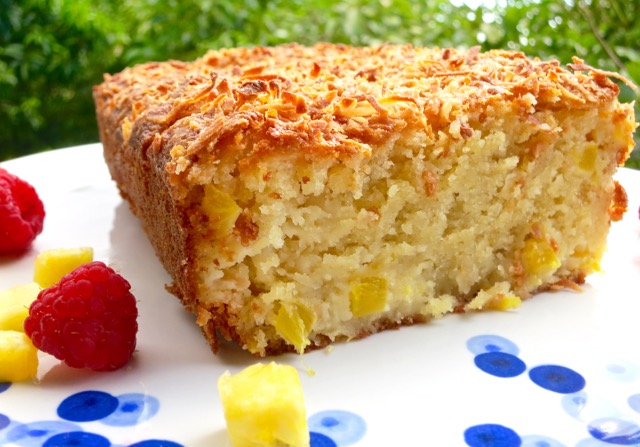 I bought a beautiful, sweet, pineapple (that most versatile fruit) at Costco to use in a batch of mango-pineapple jam.  It was so large there was quite a bit of fruit left after making the jam.  Hmmm.  What could I make with the rest of the fruit?  Dessert immediately came to mind.  I did a quick search on-line to get some ideas and ended up with this delightful coconut pineapple bread from Maria and Josh's blog Two Peas & Their Pod.  The coconut scattered over the top of the batter bakes up into a beautiful golden brown toasted coconut crust.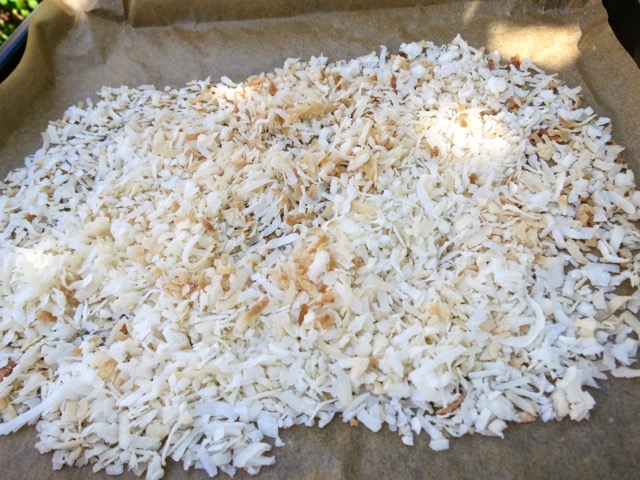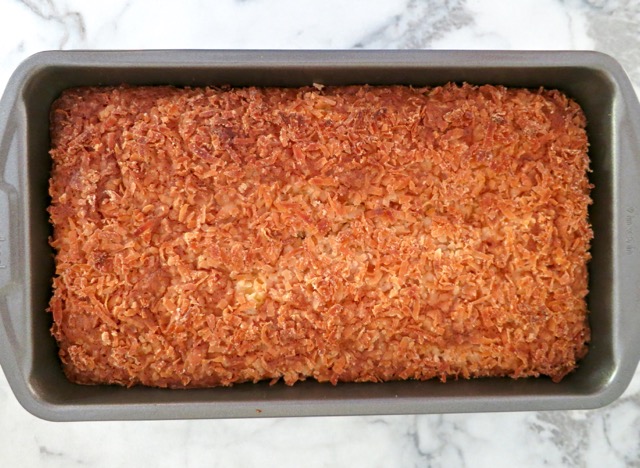 Though this coconut pineapple bread is baked in a loaf pan I think of it more as a cake than bread.  It's divine.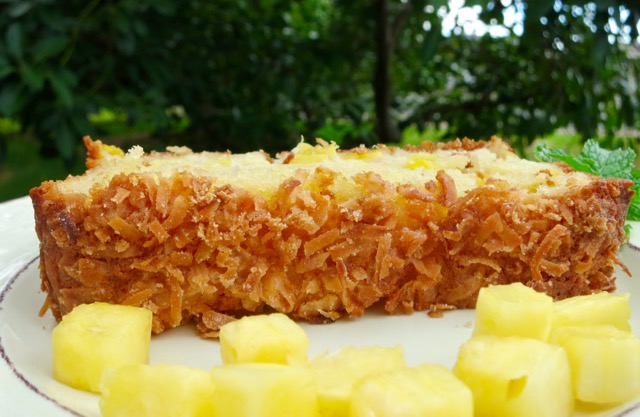 Coconut Pineapple Bread
Adapted from Two Peas & Their Pod
Ingredients
1 1/2 cups sweetened shredded coconut
1/2 cup Earth Balance Buttery Sticks (or unsalted butter) at room temperature
1 1/2 cups all-purpose flour
1/2 teaspoon baking soda
1/4 teaspoon kosher salt (1/2 teaspoon if using unsalted butter)
1 cup granulated sugar
3 large eggs
3/4 cup sour cream (I used Green Valley lactose free sour cream)
2 cups fresh pineapple cubes (small dice)
Preparation
Preheat oven to 350°F.  Butter a 9×5-inch loaf pan and set aside.
Spread 1 cup shredded coconut on a foil lined baking sheet.  Bake until lightly toasted, tossing occasionally, about 6 minutes.  Watch closely so the coconut does not burn (edges tend to brown quickly).  Set toasted coconut aside.
In a medium bowl, whisk together the flour, baking soda, and salt.
In the bowl of a stand mixer, beat the butter and sugar on medium speed until light and fluffy.  Add eggs, one at a time, beating well after each addition.  Reduce speed to low, and alternately add flour mixture in three parts and sour cream in two, beginning and ending with the flour mixture.  Mix just until combined. If you don't have a stand mixer you can substitute it with a hand mixer.
Using a rubber spatula, fold pineapple and toasted coconut into the batter.  Pour batter into prepared pan and smooth top.  Sprinkle with remaining 1/2 cup coconut.
Bake until a toothpick inserted in the center comes out clean, about 60 minutes (cover pan with foil after baking for 35 – 40 minutes so the coconut on top of the bread doesn't burn).
Remove bread from oven and let cool in pan for at least 30 minutes.  Remove from pan and transfer to a wire rack to cool completely.  Slice and serve!