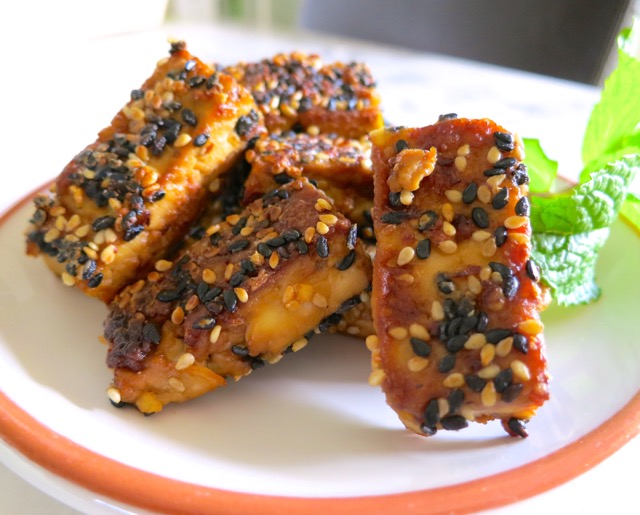 I'm always thinking of new ways to prepare tofu.  It's far more versatile than most people realize, which is one reason I just love it!  Sliced and sprinkled with fresh ginger, green onions and a drizzle of soy sauce, baked with herbs, sprinkled with nutritional yeast, or pan-fried in a number of ways, tofu is one of my favorite foods.  Roasted sesame seeds are another favorite food of mine, and combined with tofu, they can be transformed into the perfect meal.
Extra firm tofu, water pressed out (I love my TofuXpress) is most important for this recipe.  Served with brown rice and a crunchy chopped salad, tofu skeptics will be thoroughly surprised at how  satisfying this meal can be.  Try it! If you do not have a TofuXpress, drain your tofu between a clean, lint free kitchen towel or a thick layer of paper towels. Place a cutting board over the top with a few canned goods, a book or a heavy skillet for about 1/2 hour.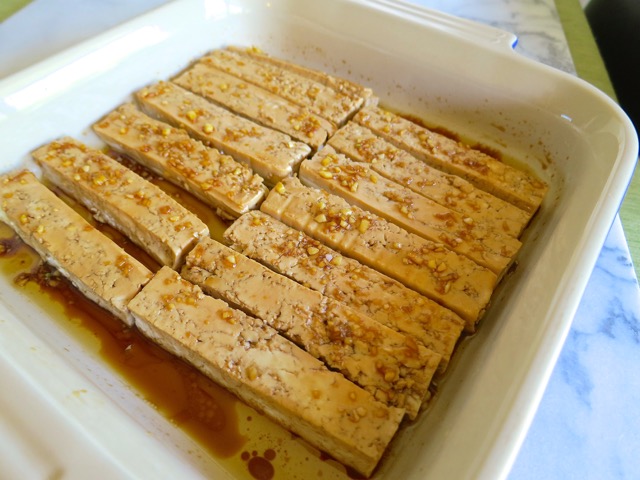 A quick dip in the marinade, then pan-fried until the sesame seeds are super fragrant and crunchy, this is a quick, savory and simple dish.  It keeps well for a few days and is a tasty home lunch.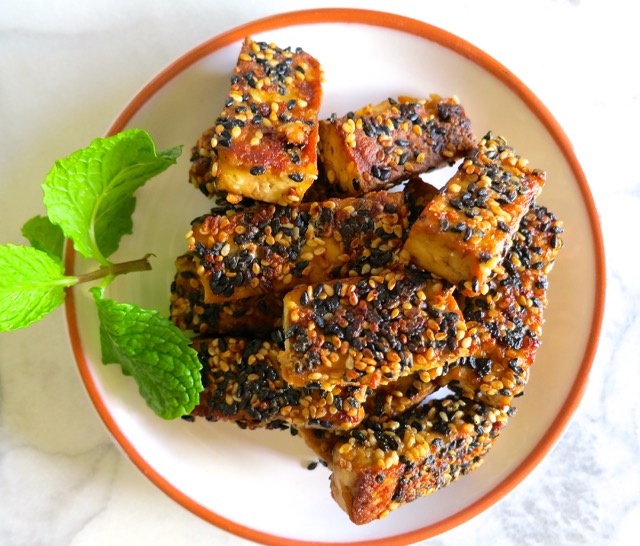 Sesame Tofu
Serves 2 as a main dish
Ingredients
1 14 ounce package extra firm tofu, drained and water pressed out (Wildwood SprouTofu, extra firm is recommended)
4 tablespoons lite soy sauce (Kikkoman recommended)
1 1/2 tablespoons sesame oil (Kadoya recommended)
2 -3 teaspoons finely minced garlic
2 – 3 teaspoons finely minced fresh ginger root
1/3 cup roasted sesame seeds, white and black mixed
1 tablespoon corn starch
Preparation
Slice pressed tofu into seven even slabs, or just under 3/4 inches thick.  Slice each piece in half, lengthwise. Place on a paper towel while you make the marinade.
Combine soy sauce, sesame oil, garlic and ginger in a 9 x 9 inch baking dish.  Place tofu slices in dish, in a single layer.  Turn to coat all sides of tofu.  This may take just a few minutes.
Transfer the tofu slices to a plate and cut each piece in half, crosswise, to make shorter sticks.
Mix 1/3 cup sesame seeds with corn starch in a shallow bowl or plate.  Place a few pieces of tofu in the sesame seed mixture and press gently to coat both the top and bottom.  Remove to a plate and continue to coat all of the tofu.
Heat a tablespoon of canola oil over medium high heat in a skillet large enough to hold all tofu pieces in a single layer.  Once the oil is hot, gently place tofu in the skillet.  Turn heat down to medium and cook the tofu until nicely browned, about 6 – 8 minutes.  Check a piece to make sure the sesame seeds and garlic are not burning.  Turn the tofu pieces over to brown the other side for another 4 – 5 minutes or so. I find it best to use a thin spatula to turn the pieces.  Just be careful when doing so as the sesame seeds have a tendency to fall off.  I quickly browned the two sides that are not coated with sesame seeds, by turning the pieces on their side for just  a minute.
Serve warm with brown rice and a chopped salad.  If you have leftovers, the tofu keeps well for at least 3 days.