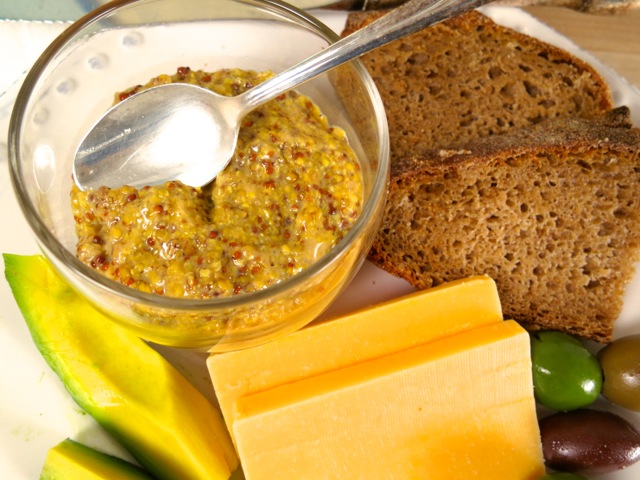 "Southern Living's" Little Jars, Big Flavors (small batch jams, jellies, pickles, and preserves from the South's most trusted kitchen) is a real gem.   We've made the mixed berry jam and have now ventured on to whole grain mustard.  Both of these recipes are superb.   Neither one is time-consuming nor do they require any hard to find ingredients.  Plain and simple, they are delicious.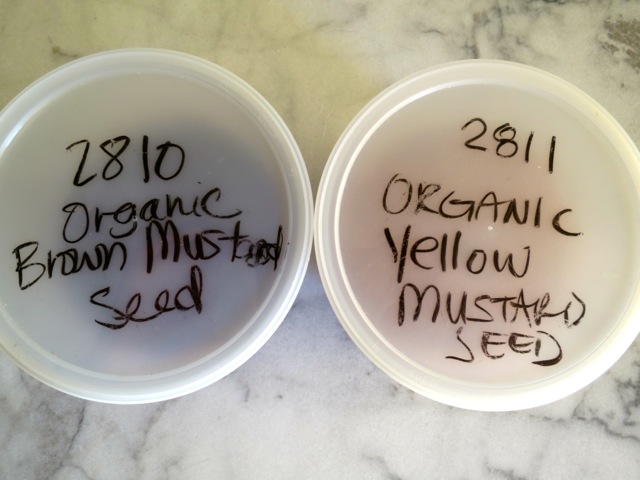 Thanks go to our daughter Jessica (who brought this recipe to our attention) for sending a "care" package full of mustard seeds and powder as well as some difficult to find whole grain bread ingredients.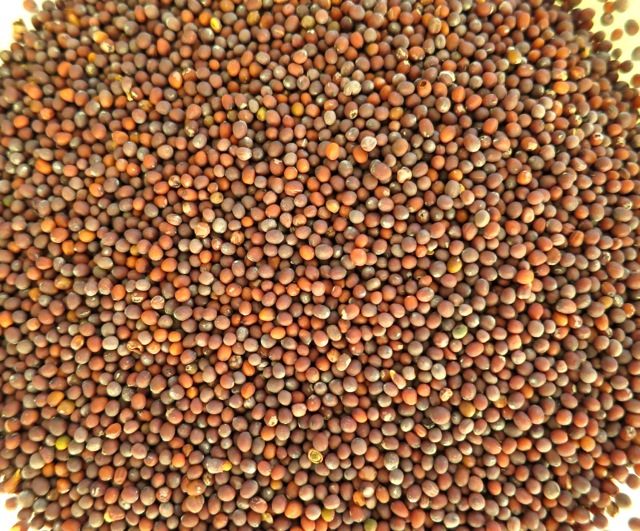 Brown mustard seeds.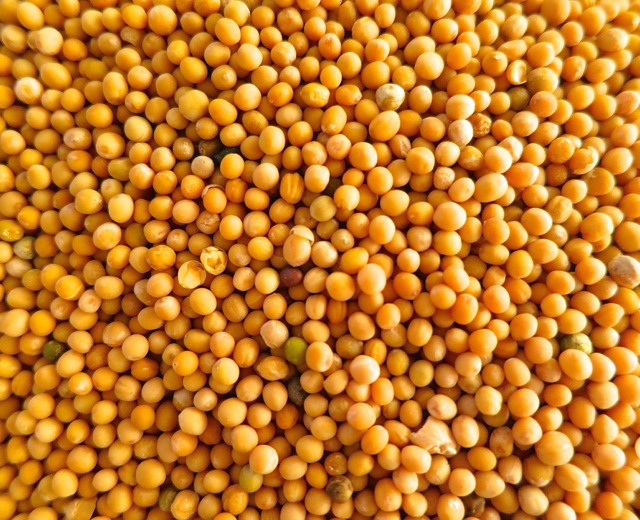 Yellow mustard seeds.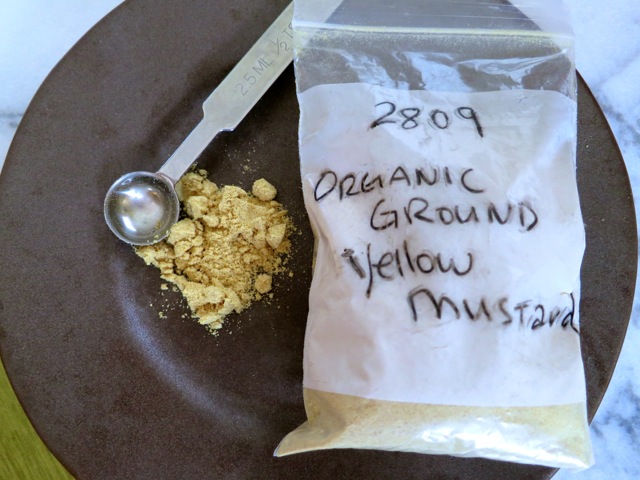 This photo shows the first step of making the whole grain mustard.  The seeds and vinegar are placed in a large jar and set aside for 5 days.  The mustard seeds are quite thirsty and soak up much of the vinegar, quickly.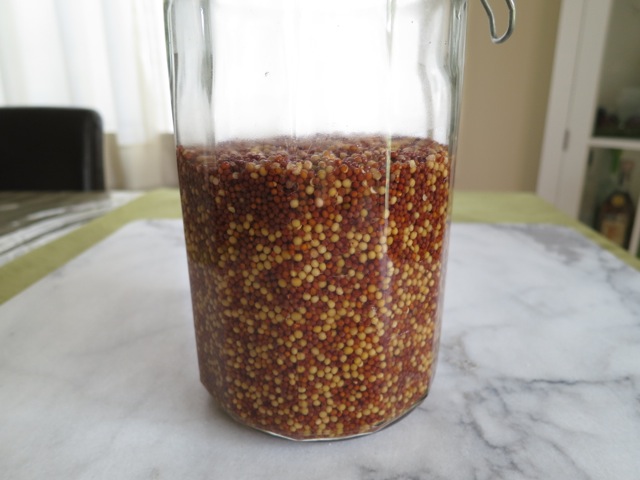 As you see in this picture, it's only been a couple of hours and much of the vinegar has been absorbed by the seeds.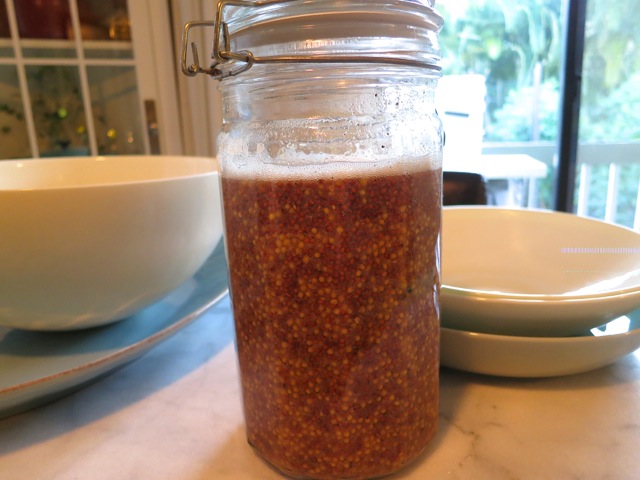 Five days later, other ingredients are added to the mixture.  Set the jar aside for another 5 days.  So simple.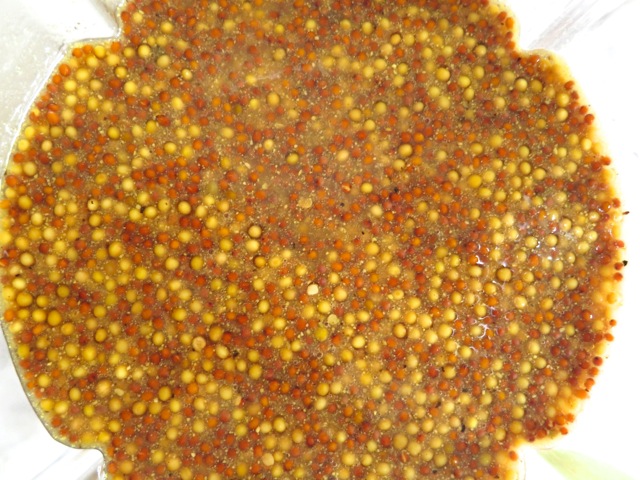 The mustard is placed in a blender and processed until the desired consistency is met.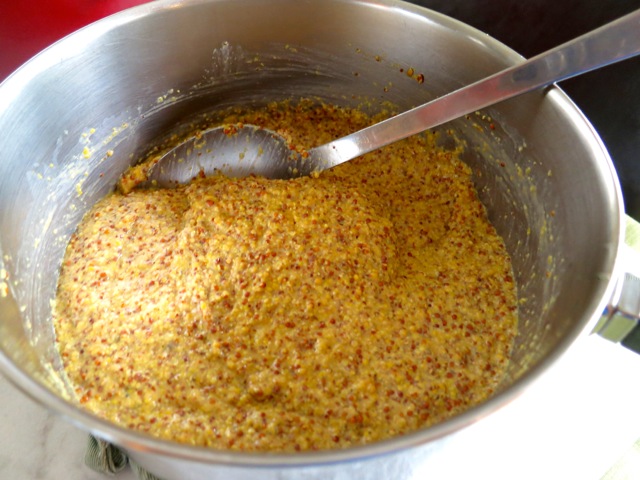 Whole grain mustard ready for canning.  It smells so good.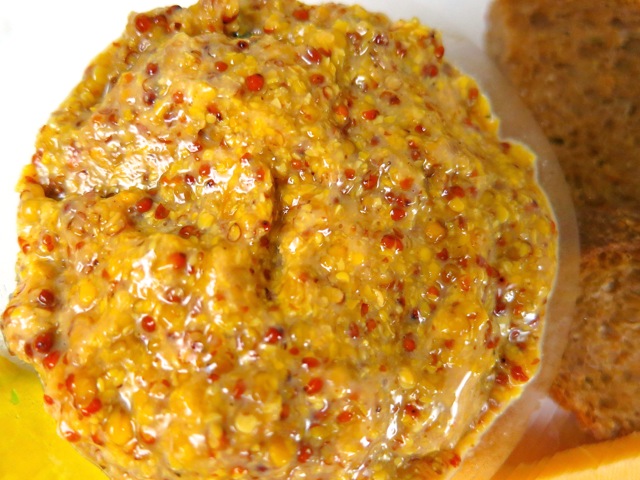 This whole grain mustard is delicious slathered on good bread with thinly sliced pastrami, ham or in an avocado sandwich.  It makes a wonderful dressing for potato salad.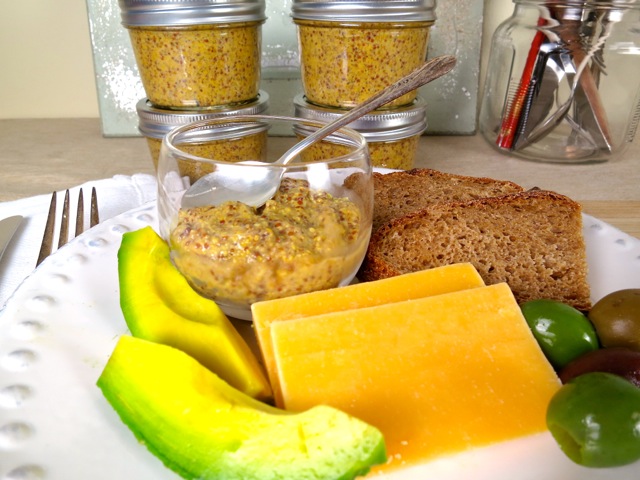 Whole Grain Mustard
Adapted from Southern Living ~ Little Jars Big Flavors
Makes 4 half-pint jars
Ingredients
1 1/4 cups white wine vinegar (5% acidity), divided
1 1/4 cups red wine vinegar (5% acidity), divided
3/4 cup brown mustard seeds
3/4 cup yellow mustard seeds
1/4 cup dry white wine
2 tablespoons honey
3 tablespoons dry mustard
4 teaspoons salt
2 teaspoons freshly ground pepper
Preparation
Stir together 1 cup white wine vinegar, 1 cup red wine vinegar, and brown and yellow mustard seeds in a clean 1-quart jar.  Cover with lid, and let stand at room temperature 5 days, adding more red or white vinegar if seeds look dry.
Stir in remaining 1/4 cup white wine vinegar and 1/4 cup red wine vinegar, white wine, honey, salt and pepper.   Stir in dry mustard.  Cover with lid, let stand at room temperature 5 more days. (Mixture may be slightly bubbly, not a problem)
Process mustard mixture in a blender until desired consistency is reached.  The original recipe calls for using a food processor rather than a blender.  This produces a coarser textured mustard.  I prefer a bit creamier yet still rustic texture that is produced by using a blender.  If the mustard is too thick, its consistency can be adjusted by adding a little water or more vinegar.  The mustard should not be too thick otherwise you may end up with air bubbles in the mustard that will be difficult to remove.
Sterilize jars, and prepare lids for canning:
Wash jars and place them in boiling-water canner.  Fill the jars and canner with water to the top of the jars.  Cover and bring water to a simmer over medium heat, do not boil.  Prepare the two-piece closures.  Wash lids and place in a small saucepan and cover with water.  Heat to just a simmer but do not boil.  Do not heat screw bands.
Lift the canner jar rack and fix into place on the rim of the canner. Remove one jar at a time from canner and empty hot water back into the canner. Place jar on a cutting board and place a canning funnel in the jar.  Ladle mustard into jar leaving 1/2-inch head space.  If you notice any air pockets do your best to remove them with a chopstick or similar utensil. With a clean damp cloth or paper towel wipe jar rim to remove any food residue.  Using a magnetic utensil, lift hot lid from water, center it on the  jar and place screw band on jar.  Tighten screw band evenly and firmly just until resistance is met.  Then increase to fingertip tight.  Do not over tighten.  Return jar to canner rack.  Continue filling jars individually until all jars are filled, lower rack into canner and ensure that all jars are covered by 1 inch of water.  Cover canner and bring water to a full boil over high heat.  Process for 15 minutes, starting timer only when water reaches a full boil.  Any leftover mustard can be refrigerated for immediate use.
Remove jars from water, and let stand,  undisturbed, at room temperature 24 hours.  To check seals, remove the bands, and press down on the center of each lid.  If the lid doesn't move, the jar is sealed.  If the lid depresses and pops up again, the jar is not sealed.  In the event that a jar does not seal, simply refrigerate it. Store properly sealed jars in a cool, dark place up to 1 year.  Refrigerate after opening.