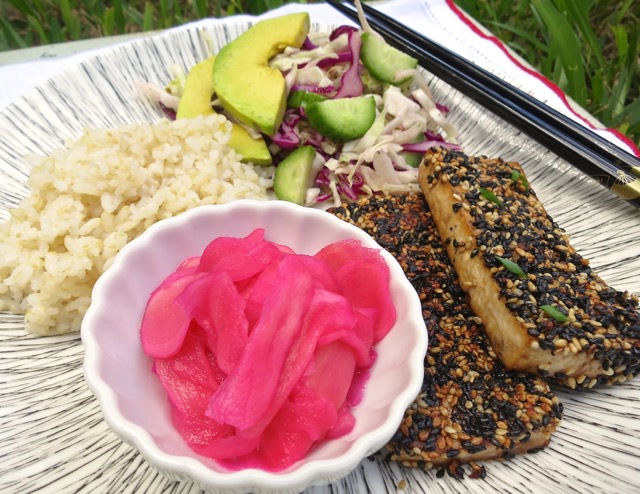 Ginger.  Spicy, aromatic and pungent.  It's presence in a dish adds an unmistakable zestiness.  One of my favorite ways to enjoy fresh ginger, is to finely grate it over tofu, with a sprinkle of green onions and a drizzle of soy sauce.  If you are fond of sushi, you no doubt, have had  pickled ginger served with your dinner.  It is so refreshing.  While commercially made pickled ginger is widely available, they don't compare to this simple homemade recipe.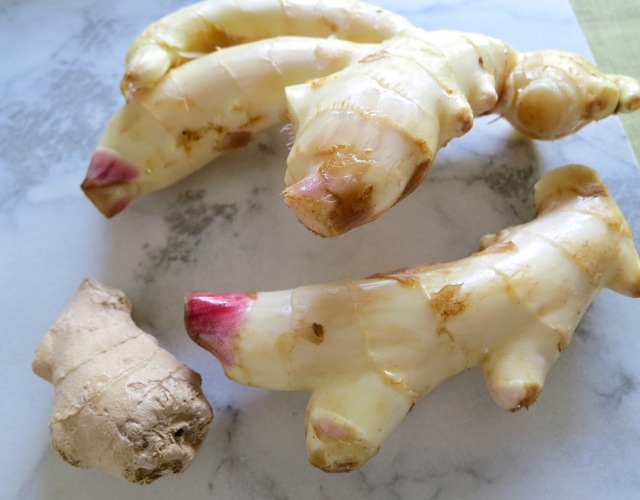 The ginger on the bottom left of the photo is what you will typically find at the market.  It's perfect for any dish that calls for crushed, grated, or chopped ginger.  Young ginger, pictured to the right, is a must for pickled ginger.  It does not have the fibrous texture of mature ginger, which means you can slice it into paper-thin pieces.  You wouldn't be able to do this with mature ginger.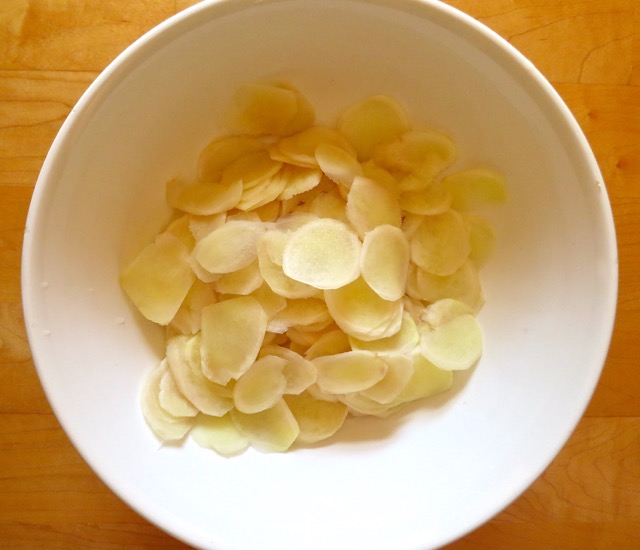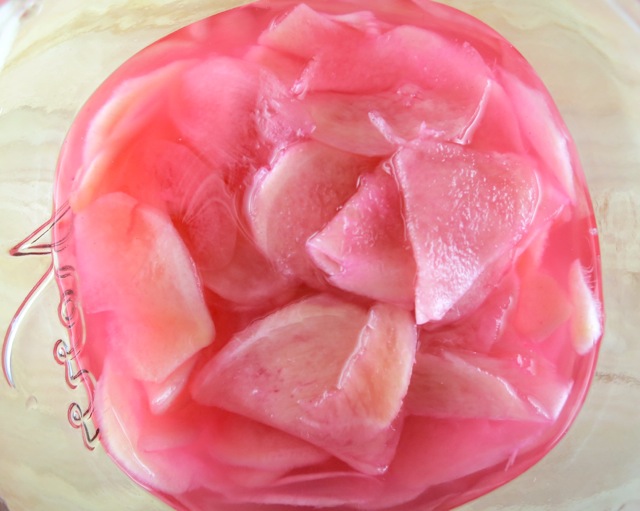 My friend Tamoe gave me a little container of powdered food coloring for this ginger, that she bought in Japan.  I added a few pinches to the sauce and thought it wasn't quite enough. So I added more. I guess I should have been patient!  My ginger turned out "wildly pink" however it was delicious.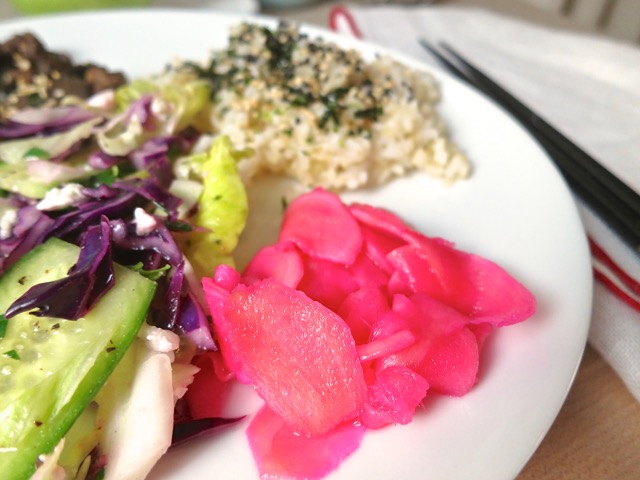 Pickled Ginger
Ingredients
1 lb. young ginger
Hawaiian salt
1 1/2 cups rice vinegar (not seasoned)
1/2 cup granulated sugar
Preparation
Peel the thin layer of skin off ginger.  Using a mandoline, slice ginger into very thin pieces. Place sliced ginger in a glass bowl.  Sprinkle generously with Hawaiian salt.  You may use kosher salt if Hawaiian salt is not available.  Toss ginger with salt, cover and soak over night.
Rinse ginger and drain on paper towels.  Mix vinegar and sugar until well combined.  Pour over ginger.  Taste and adjust seasoning as desired.  If you prefer a sweeter flavor, add more sugar.  Transfer ginger and sauce to a jar with a tight-fitting lid and refrigerate for about 2 weeks, adding more vinegar or sugar according to your taste.  Ginger will keep well for many months, stored in the refrigerator.  It's delicious served with a steaming bowl of hot rice and grilled bulgogi, teriyaki chicken or sesame tofu.