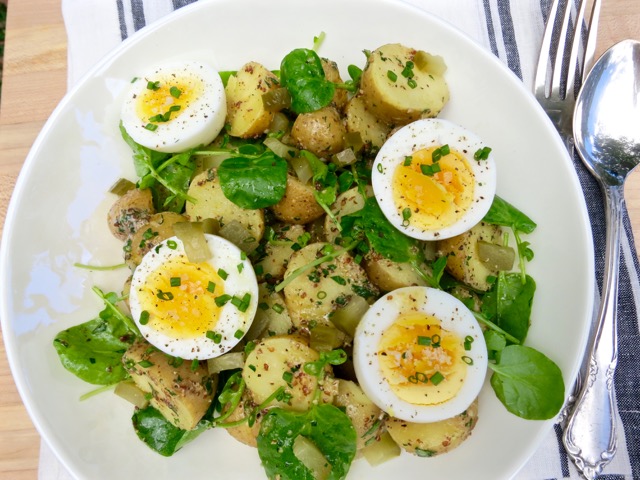 There must be a million different potato salads out there in recipe land.  This one, with perfectly boiled eggs caught my attention immediately. It is truly a meal in itself.
Our local Whole Foods market carries this delicious Upland Cress.  You snip off just the amount you want to use and store the remainder in the crisper section of your refrigerator.  Because it is sold with its roots still attached, it stays nice and fresh for up to a week.  The tender leaves are delicious in any type of salad.  I especially love tossing them into vinegar based potato salads just before I serve them.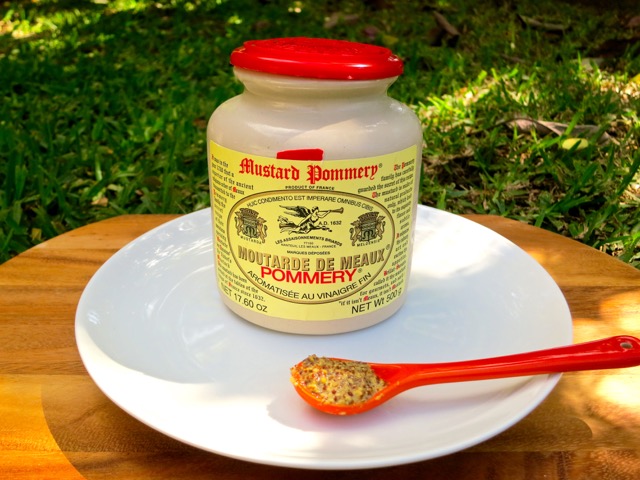 My sister Mie gave us this crock of whole grain mustard from France.  Lately I've been using spoonfuls in this potato salad.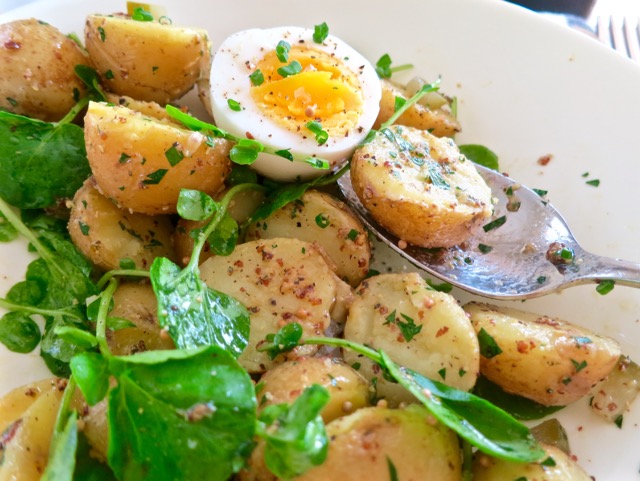 Potato Salad with 7-Minute Eggs & Mustard Vinaigrette
Adapted from Bon Appetit magazine
4 generous servings
1 1/2 pounds baby gold potatoes, scrubbed
2 large eggs
3 tablespoons apple cider vinegar
2 tablespoons whole grain mustard
1 teaspoon honey
1/3 cup olive oil
kosher salt & freshly ground black pepper
1/4 cup flat leaf parsley, chopped
handful of Upland Cress (optional)
1 1/2 tablespoon chopped dill pickles
1 tablespoon chopped fresh chives
Preparation
Place potatoes in a large pot and cover with water.  Bring to a boil, then simmer until tender, about 15 – 20 minutes. The cooking time will depend on the size of your potatoes.  Transfer cooked potatoes to a plate to cool.
Place eggs in a small pot, cover with water and bring to a boil over high heat.  As soon as the water boils, turn the heat down to medium and simmer the eggs for 7 minutes (set the timer).  Drain cooked eggs and cool in a bowl of ice water. Peel eggs and set aside.
Whisk vinegar, mustard, and honey in a small bowl.  Whisking constantly, gradually add oil and whisk until emulsified.  Season with salt and pepper.
Halve potatoes and place in a large bowl.  Season with kosher salt and pepper.  Add parsley and a generous amount of dressing. Toss to coat potatoes well.  Add Upland Cress if using, and lightly toss again. Transfer potato salad to a platter.  Halve reserved eggs and tuck in between the potatoes.  Season eggs with kosher salt and freshly ground black pepper. Drizzle salad with some of the reserved vinaigrette.  Top with pickles and chives.
*If you are not serving the salad right away, hold back on adding the Upland Cress, eggs, pickles, and chives until just before you serve the salad.  You will have extra dressing.  I use it over salad greens or bean salads.