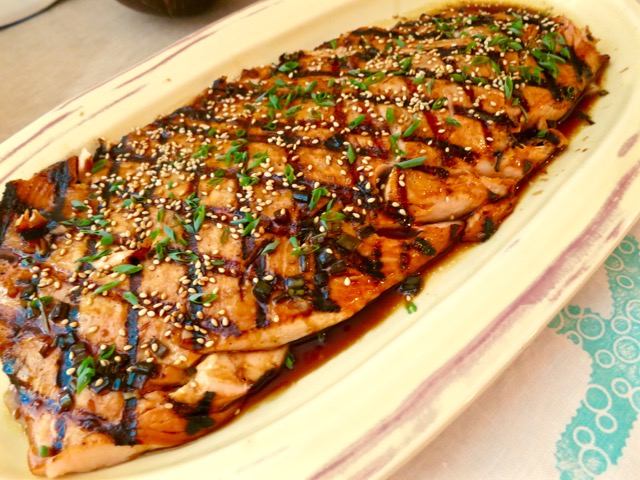 Teriyaki sauce is a staple ingredient in Island cuisine and most families have their own favorite version. My own favorite is my Granny's teriyaki sauce.  You might wonder why I think this teriyaki sauce deserves so much attention.  As my mother noted years ago, "it's the best!" The secret ingredient, folks, is the Sherry.  You'll need some decent Sherry, not the stuff you find on the grocery shelf labeled cooking sherry.  Stay away from that!  I prefer Hartley & Gibson's Amontillado Sherry but you can use any medium-dry Sherry.  Once you add it to the rest of the ingredients and stir everything together and take a whiff of the sauce, you'll understand what I mean. I use the sauce for grilled tofu, chicken and meat sticks.  It's marvelous with salmon.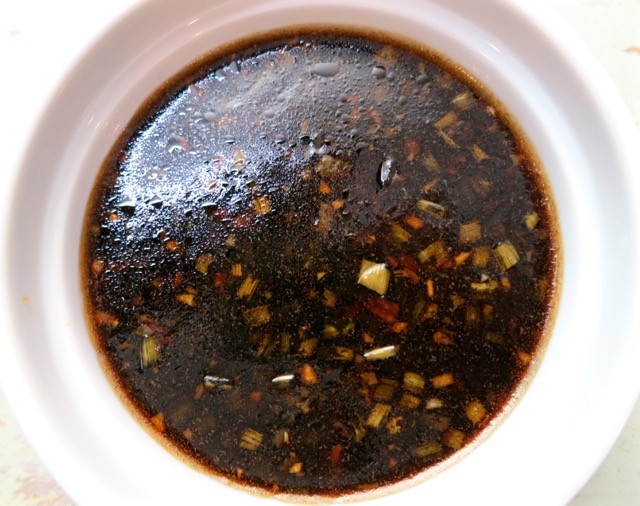 This is beautiful sauce.  Sweet and salty with lots of green onions and a little kick of garlic.  Most importantly, Sherry.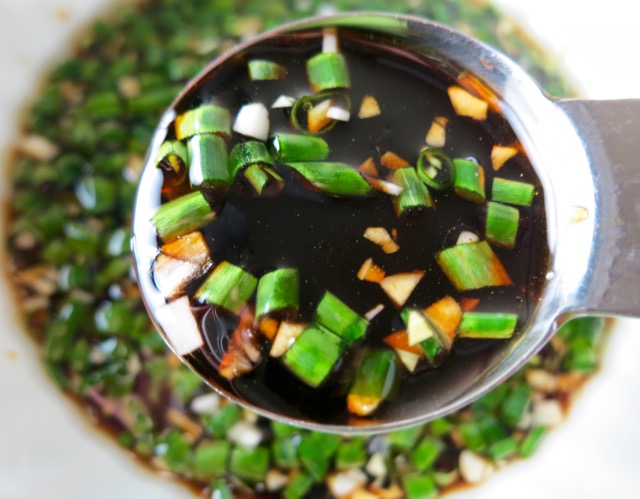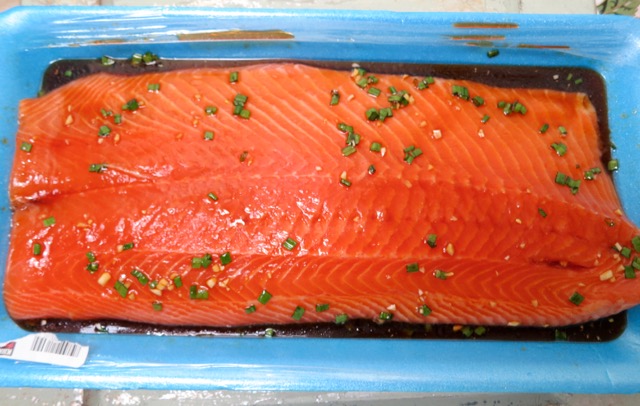 Grilled teriyaki salmon is uncomplicated but it will impress your guests.  A quick soak in the sauce (in the same tray it came in) then off to the grill until it's perfectly cooked, with some really nice grill marks to boot!  Extra sauce drizzled over the salmon is a requirement.  I can't get enough of this sauce.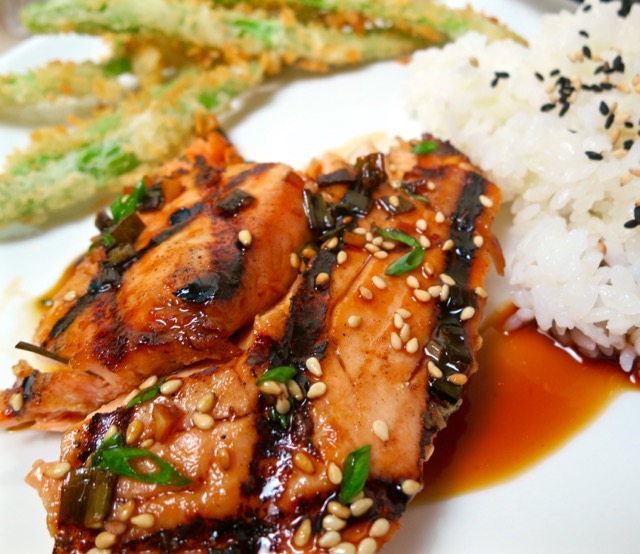 Grilled Teriyaki Salmon
Serves 6
Ingredients
3/4 cup granulated sugar
3/4 cup + 3 tablespoons soy sauce (Kikkoman recommended)
1/4 cup + 2 tablespoons Sherry (Hartley & Gibson's Amontillado Sherry recommended)
1/4 cup + 1 tablespoon canola oil
4 medium garlic cloves, finely chopped
1/4 cup (or more) chopped green onions + extra for sprinkling over grilled fish
roasted sesame seeds (optional)
2 pounds salmon filet (left whole or cut into 6 equal sized filets)
Preparation
Combine the sugar, soy sauce and Sherry in a bowl or large measuring cup.  Stir to dissolve the sugar completely.  Stir in oil, garlic and green onions.
Pour a small amount of the sauce under and over the fish.  Refrigerated for 1 hour, turning fish after 30 minutes.
Meanwhile, gently simmer the remaining sauce in a small saucepan  over medium low heat until the sauce thickens, about 10 – 15 minutes.  Watch closely and adjust the heat if the sauce starts to boil as it may burn. Set aside.
Prepare gas or charcoal grill for medium high heat.  Be sure to clean the hot grill grates and oil them well. Place fish directly over heat source and cover.  For a moist, slightly pink interior, cook on each side 3 – 4 minutes or until an instant read thermometer registers 125 – 130°.  If you prefer fully cooked salmon, leave it on the grill until it registers 140°. For professional grill marks, give the fish a quarter turn after 2 minutes.
Remove fish to a platter and drizzle with some of the reserved teriyaki sauce.  Scatter sliced green onions over the fish and sprinkle with roasted sesame seeds if using.  Serve extra sauce on the side.