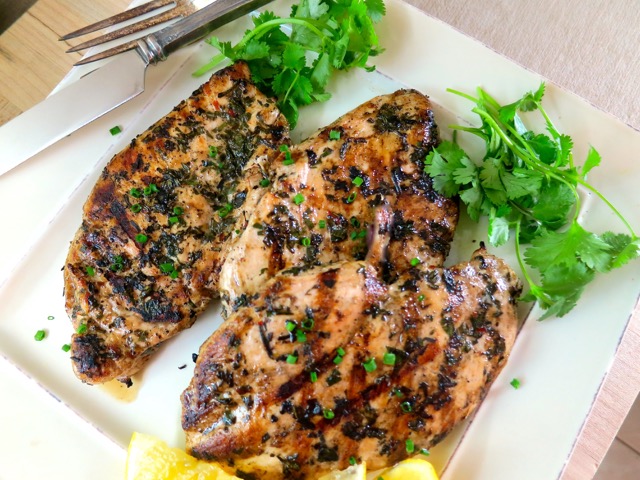 Our lemon tree is full of fruit and we have more than we can use.  Such is the case with our lilikoi vines as well.  It's a bit overwhelming at times, wondering just what to do with all the fruit that's piled high in baskets on the dining room table.  Much of it we give away.  I've always wanted to make preserved lemons so that might be my next project.  This time,  I made a quick lemony marinade for chicken breasts that would be grilled on the charcoal grill with a couple of wood chunks thrown on the coals for a touch of smoke.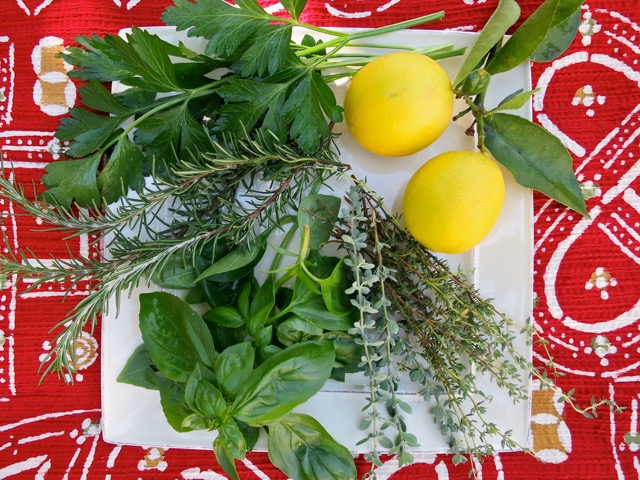 Though the few lemons I did use in the recipe didn't make a dent on what's left on the tree, the chicken turned out better than any version of grilled herb chicken we have made before.  It's a keeper.  Any leftovers are delicious in a sandwich or served on a Caesar salad.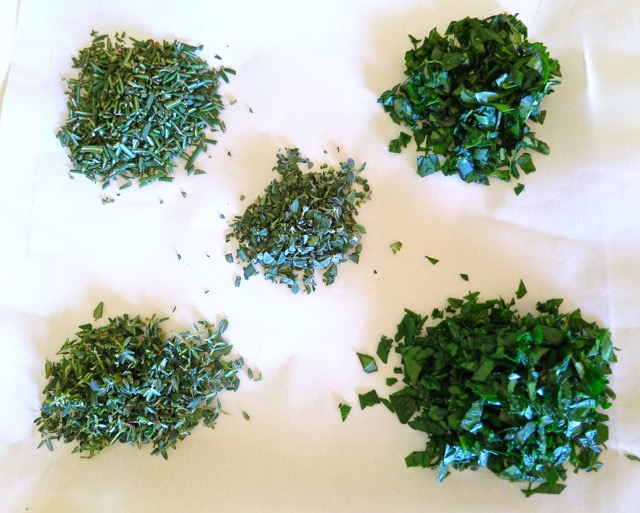 I used fresh thyme, parsley, basil, marjoram and rosemary from the garden.  You aren't required to use all of these if you make this recipe though I do feel the thyme, basil and rosemary are essential.  And maybe the parsley too.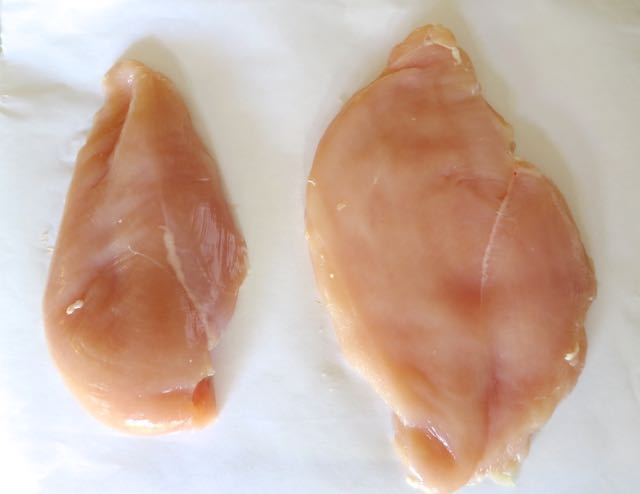 I always pound the chicken breasts so that they are an even thickness.  Doing this ensures they cook evenly and stay moist and tender.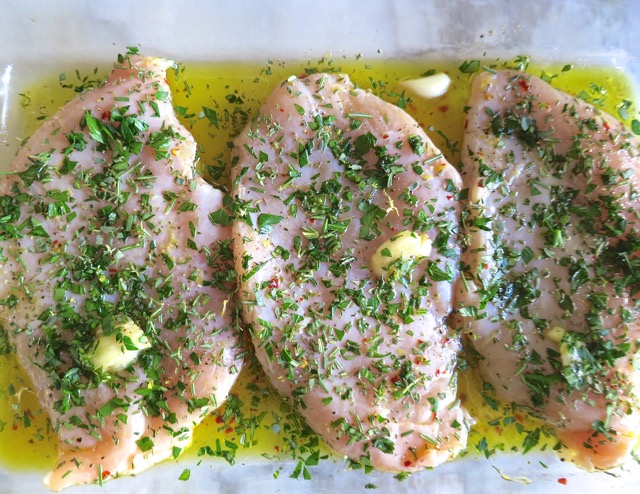 Instead of mixing the herbs into the olive oil-lemon juice marinade, I sprinkle them evenly over both sides of the chicken.  The herbs don't get lost in the marinade and there's plenty of fresh herb flavor on each piece.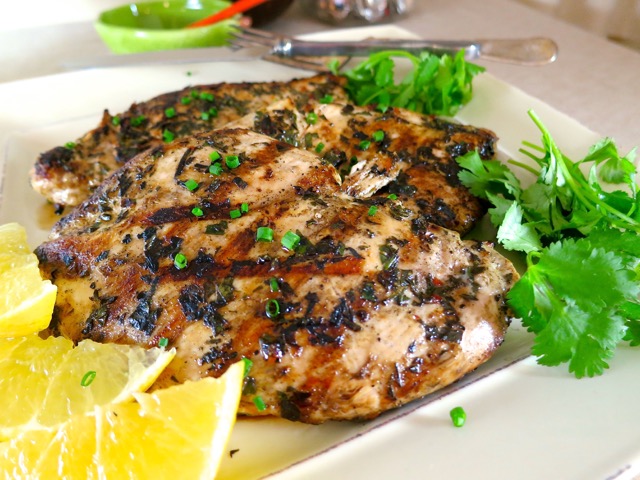 Grilled Lemony Chicken Breasts with Fresh Herbs
Serves 4
Ingredients
4 boneless skinless chicken breasts –  lightly pounded to a uniform thickness
1/4 cup olive oil
2 tablespoons fresh lemon juice
1 teaspoon lemon zest
3 garlic cloves, crushed
dash of red pepper flakes (optional)
1 tablespoon chopped Italian parsley
1 tablespoon chopped basil
2 teaspoons chopped thyme
2 teaspoons chopped rosemary
1 teaspoons chopped marjoram (optional)
Preparation
Season both sides of chicken breasts generously with kosher salt and freshly ground black pepper.
Combine olive oil, lemon juice, lemon zest, chili flakes if using, and garlic.
Place marinade in a dish just large enough to hold chicken breasts in one layer.  Place chicken in marinade, turn to coat the other side.  Divide the herbs in half and sprinkle over both sides of chicken.  Cover with plastic wrap and refrigerate at least 1 1/2 hours or up to 2 hours, turning the chicken half way through.
Remove chicken from marinade and transfer to a plate.  Grill chicken for a few minutes on each side.  It is done when an instant read thermometer reaches 160°.