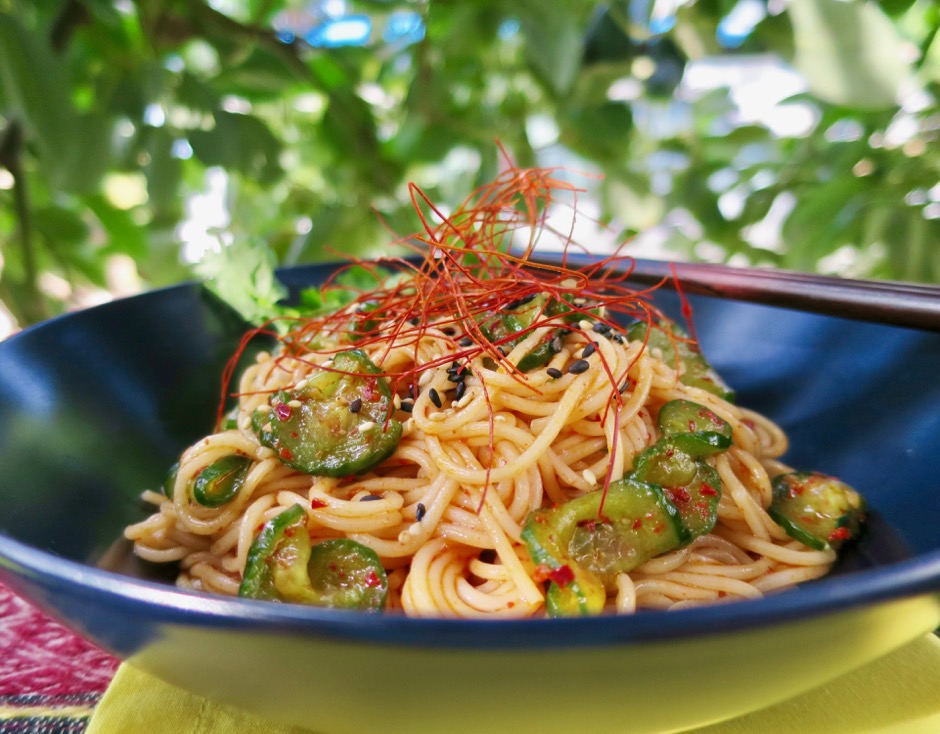 Cold noodles tossed with crisp vegetables are one of my favorite lunch dishes.  I often make a big bowl of Aunty Ruby's Somen Salad and take it to work to share with my friends.  This recipe calls for perciatelli or bucatini pasta but I couldn't resist using delicate somen noodles.  They cook up in 3 minutes and are the perfect partner for the spicy cucumbers.  I found this delightful recipe in Martha Stewart Living magazine. The subject of this particular article was Korean Barbecue and a talented Korean cook, Mrs. Pai.  This is one of her original side dishes.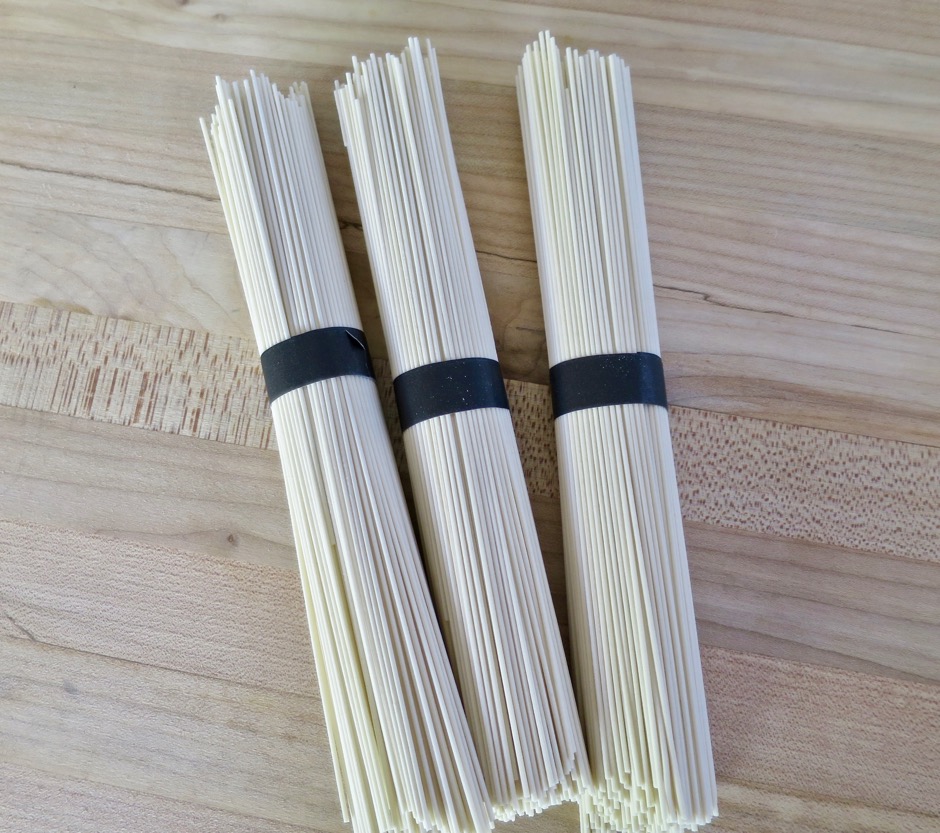 These beautiful "Keiki Cukes" are grown on the Big Island of Hawaii.  Big Island Produce is a hydroponic farm that produces cucumbers all year long.  They are super crunchy and don't have any seeds.  We use them to make dill pickles, bread & butter pickles, and add them to all types of salads.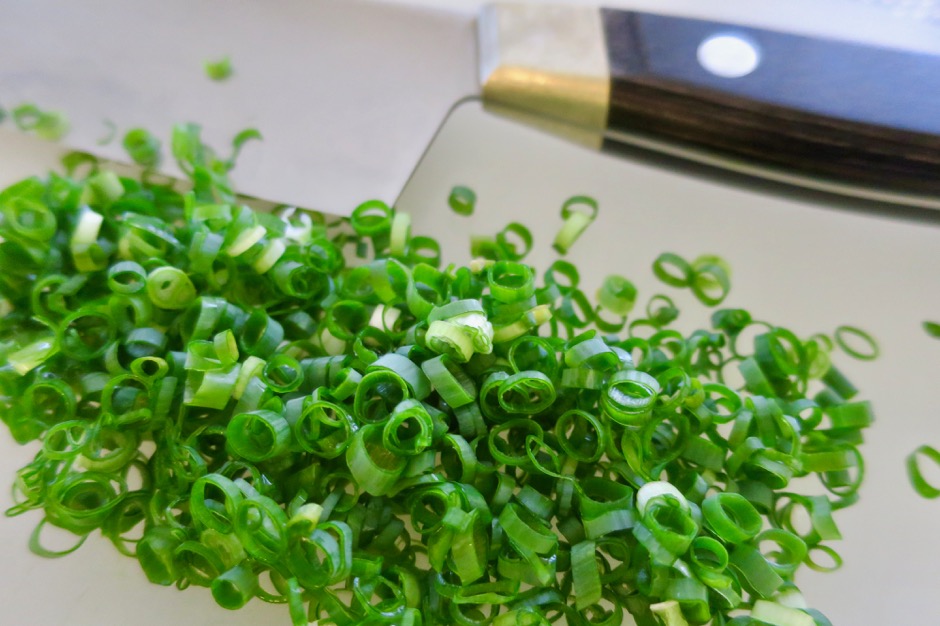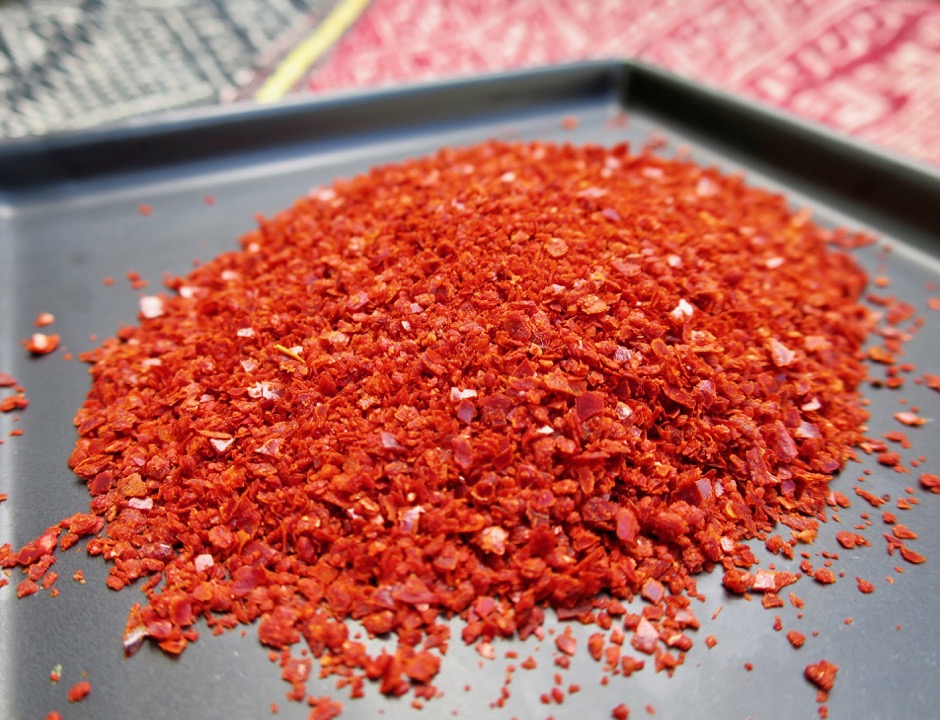 Korean chili flakes or gochugaru (not to be confused with red pepper powder), has a unique balance of sweet and smoky flavors with medium heat.  I have heard that hotter varieties are available but the one I buy from Whole Spice tends to be just the right heat for me.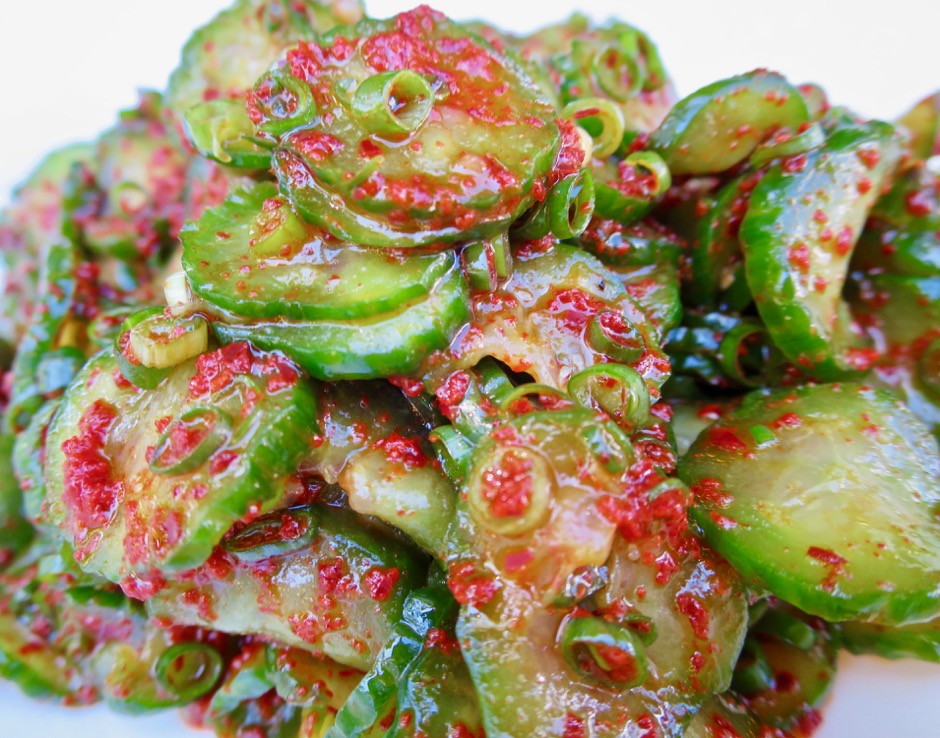 The cucumbers are mixed with Korean chili flakes, scallions, garlic, and sesame oil before being tossed with cold noodles.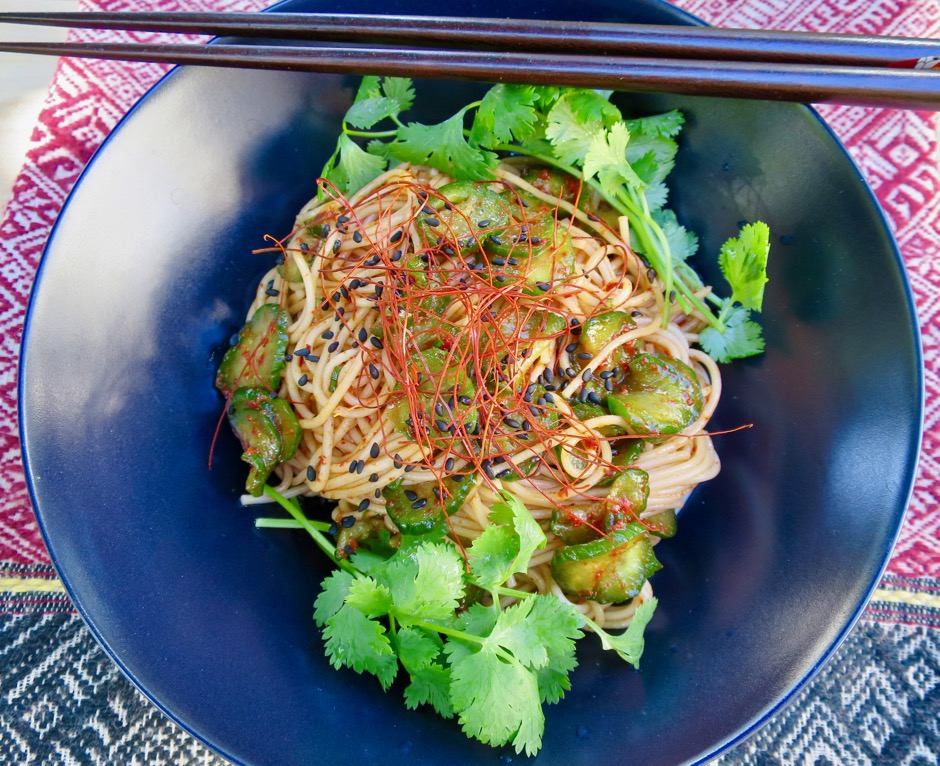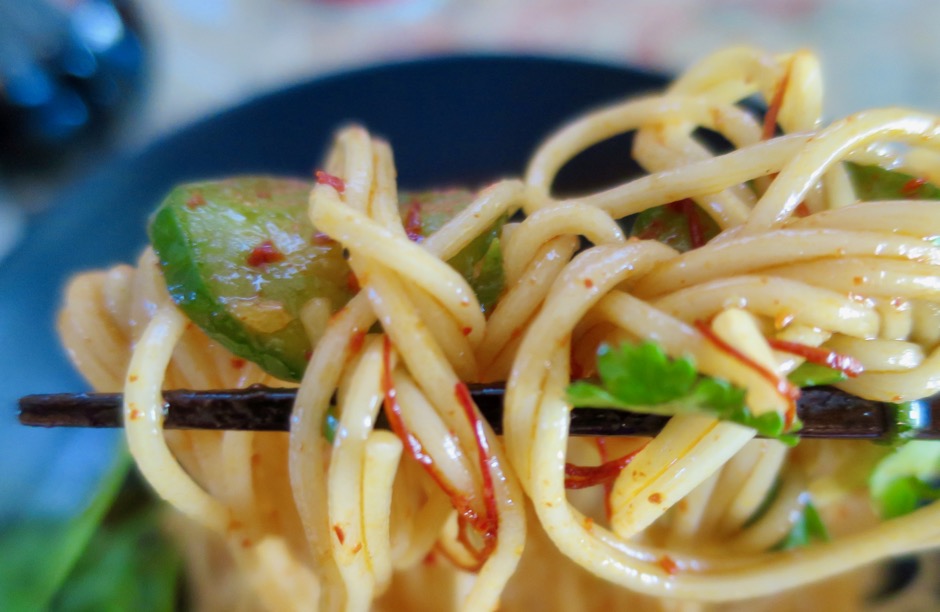 Chilled Somen with Spicy Cucumbers
Adapted from Martha Stewart Living Magazine
Serves:
2 as a main dish, 4 as a side dish
Ingredients
10 ounces thinly sliced small cucumbers (Keiki, Japanese, Persian)
½ teaspoon salt
1½ tablespoons Korean chili flakes
2 teaspoons granulated sugar
3 tablespoons thinly sliced scallions
1 small clove garlic, crushed in a garlic press
4 tablespoons roasted sesame oil, divided (Kadoya brand recommended)
1 tablespoon unseasoned rice vinegar
1 package (3 bundles - 8 oz.) somen noodles
4 teaspoons soy sauce
salt for seasoning
Preparation
Toss cucumbers with ½ teaspoon salt, and let sit for 30 minutes. Transfer cucumbers to a clean dish towel and wring to remove excess liquid from cucumbers. Transfer to a large bowl. Add Korean chili flakes, sugar, scallions, garlic, 2 tablespoons sesame oil, and the vinegar. Mix seasonings into cucumbers; let sit for 10 minutes.
Meanwhile, cook somen noodles according to package instructions. Shirakiku brand cooks for just 3 minutes. Immediately drain, rinse under cold water and place noodles in an ice bath until well chilled. Drain noodles well and add to cucumbers, tossing to combine. Add remaining 2 tablespoons of sesame oil and the soy sauce. Season with salt and additional Korean chili flakes before serving. Leftovers are delicious the following day.