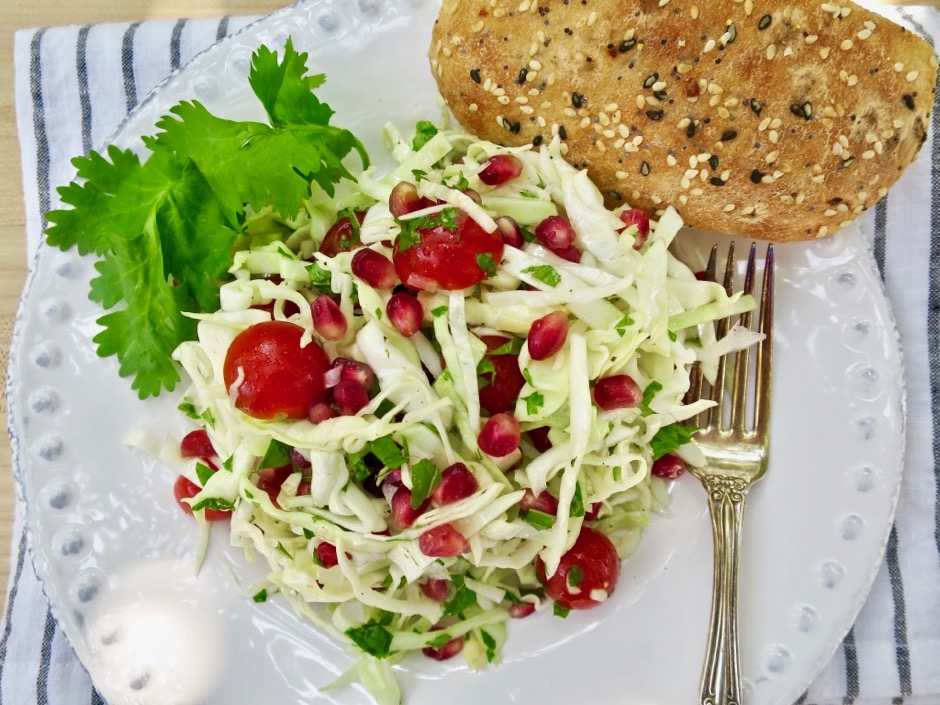 The beautiful pomegranate is in season now which means it's a good idea to take advantage of their short appearance in your local markets.  If you don't have plans to use it right away, store the fruit in your refrigerator where it should keep nicely for several weeks.  This simple and refreshing salad is highlighted by pomegranate and is quick to put together with just a few other ingredients.  If you are not a cilantro fan you can certainly omit it, but don't leave out the mint as it is an integral ingredient that makes this salad stand out.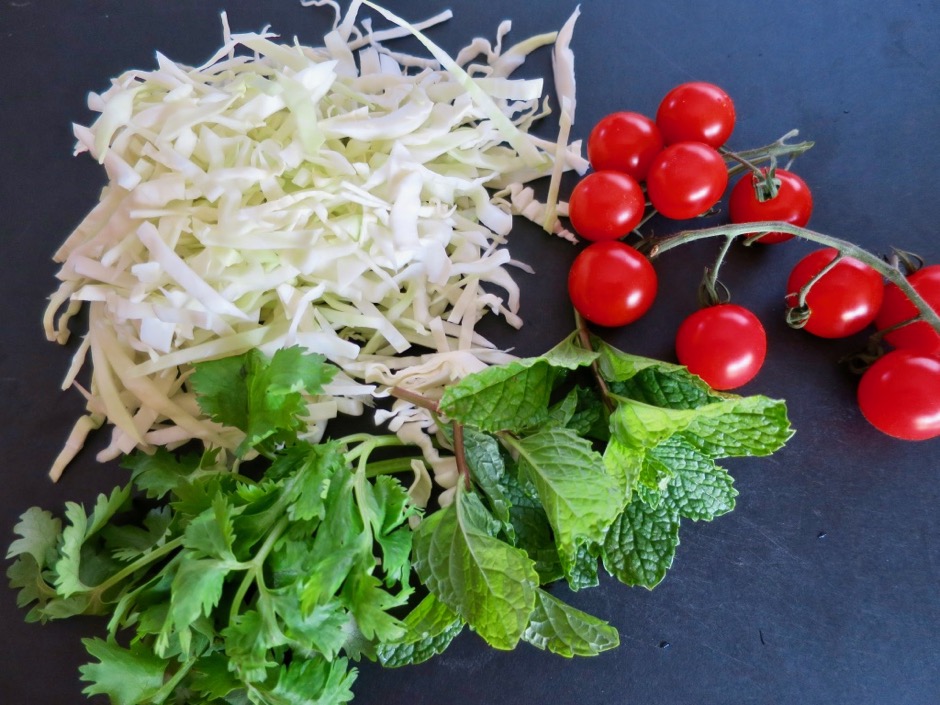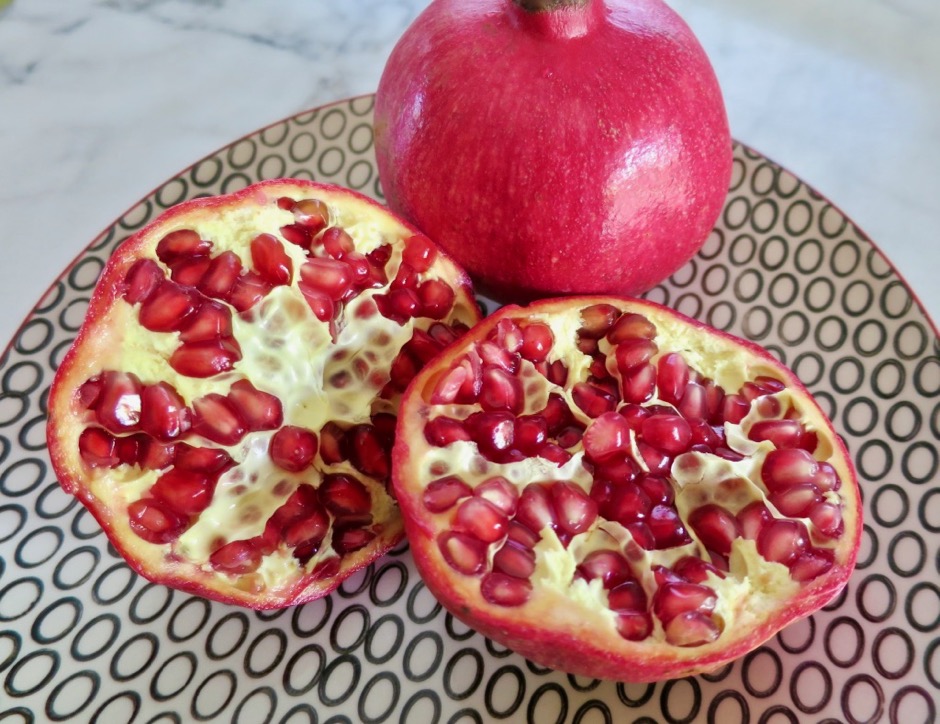 There are many video's on how to remove the seeds from the rather bitter membrane that securely surrounds them.  Whichever method you use, beware that pomegranate juice stains so be careful not to get it on your clothing or counter.  It's best to work with it in the sink.  Once you remove the seeds which are known as arils, you may store them in an airtight container and use them within 5 days.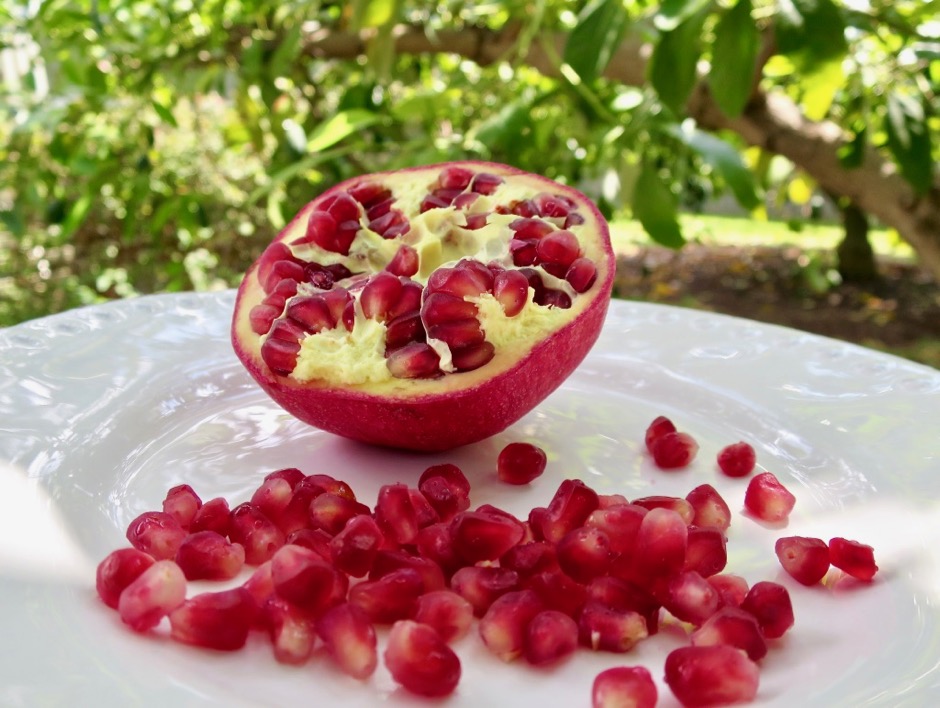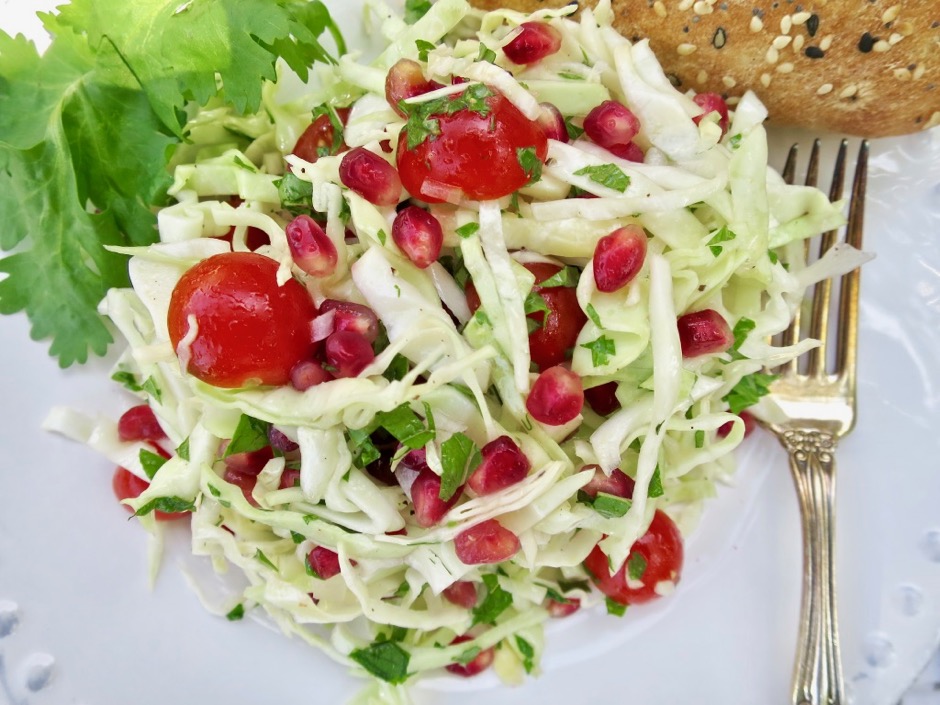 Crunchy Cabbage & Pomegranate Salad
Adapted from Bon Appetit Magazine
Ingredients
2½ cups packed thinly sliced green cabbage
pinch of sugar
¼ teaspoon kosher salt
2 teaspoons fresh lemon juice
2 teaspoons canola or avocado oil
1 teaspoon white wine or champagne vinegar
1 tablespoon finely chopped sweet onion
8-10 cherry tomatoes, halved
1 tablespoon chopped mint
1 tablespoon chopped cilantro
2 tablespoons pomegranate seeds
kosher salt and freshly ground black pepper
Preparation
Toss cabbage with a pinch of sugar and ¼ teaspoon kosher salt in a medium bowl. Cover and refrigerate while you prepare the other ingredients.
Combine lemon juice, oil and vinegar in a small bowl. Set aside.
Add chopped onion, tomatoes, mint, cilantro and pomegranate seeds to cabbage. Toss with dressing. Season to taste with salt and pepper before serving.