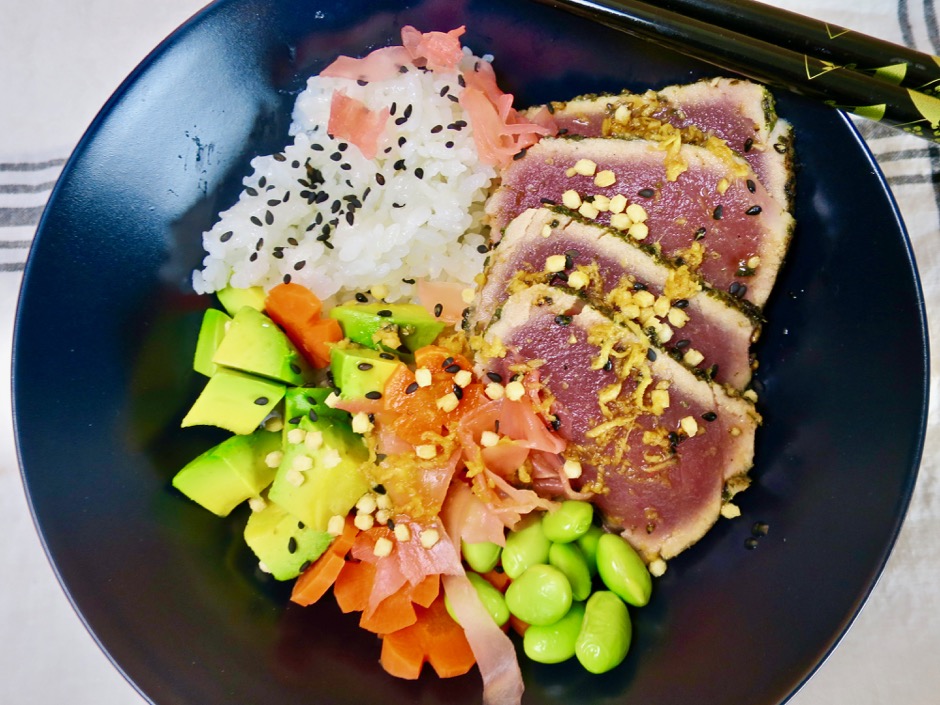 Here in the Islands, we love our ahi tuna.  I would be happy to eat this every day. This is the rice bowl of my dreams! Light, fluffy, Japanese rice topped with furikake seared ahi, vegetables and a homemade dressing that is drizzled over everything in the bowl.  I use the dressing in this recipe too.  It's a zingy sauce made with fresh lime zest, lime juice, soy sauce, and lots of freshly grated ginger.  It's tasty and versatile.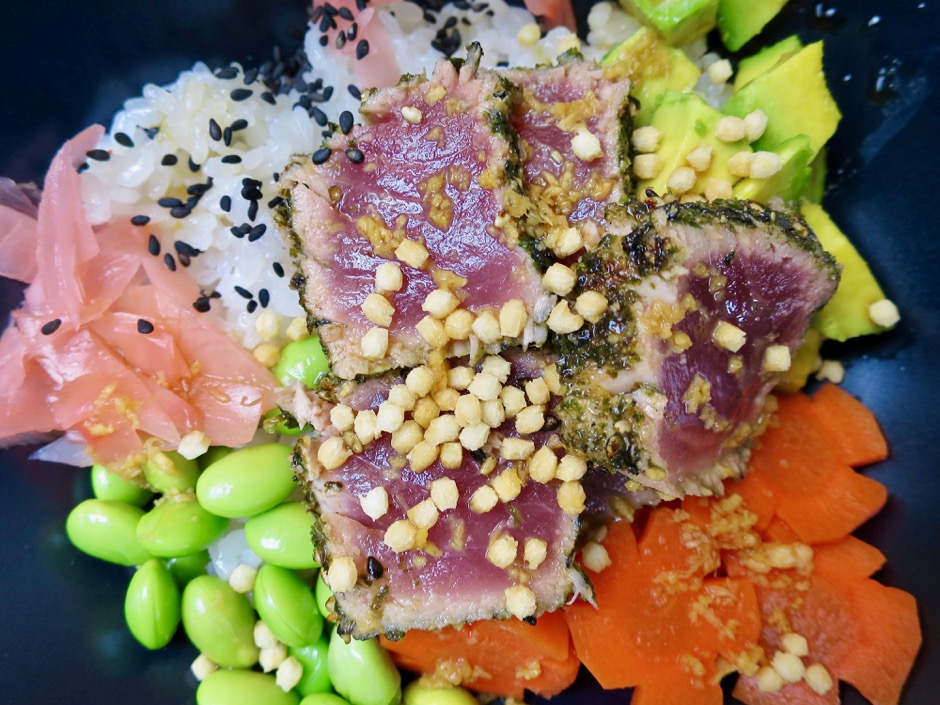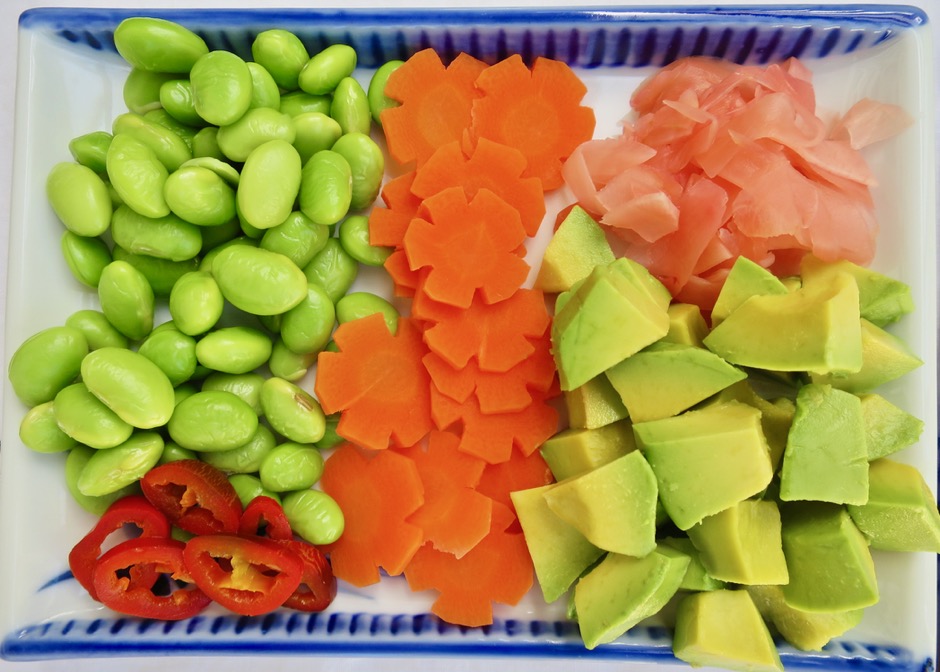 I always keep a package of edamame in the freezer. It is easy to prepare and so good in this dish (as well as in salads). Whatever other ingredients you choose to add to your ahi rice bowl, let the fish be the star of the dish. The mild flavors of blanched carrots and creamy avocado cubes are perfect. Try to include the sweet and tangy pickled ginger. It is such a nice accompaniment to the rice and fish.  Scatter thinly sliced jalapeños or pretty, red Fresno peppers over your rice bowl if you want to add some heat.  For a vegetarian rice bowl, substitute your favorite tofu in place of the fish. If you are a fan of nori, scatter thin strips over the rice bowl just before serving it.  And if you can find bubu arare by all means add this too.  They are the little crispy golden rice balls you see in the photos of the ahi bowls that add a crunchy and toasty flavor to each bite.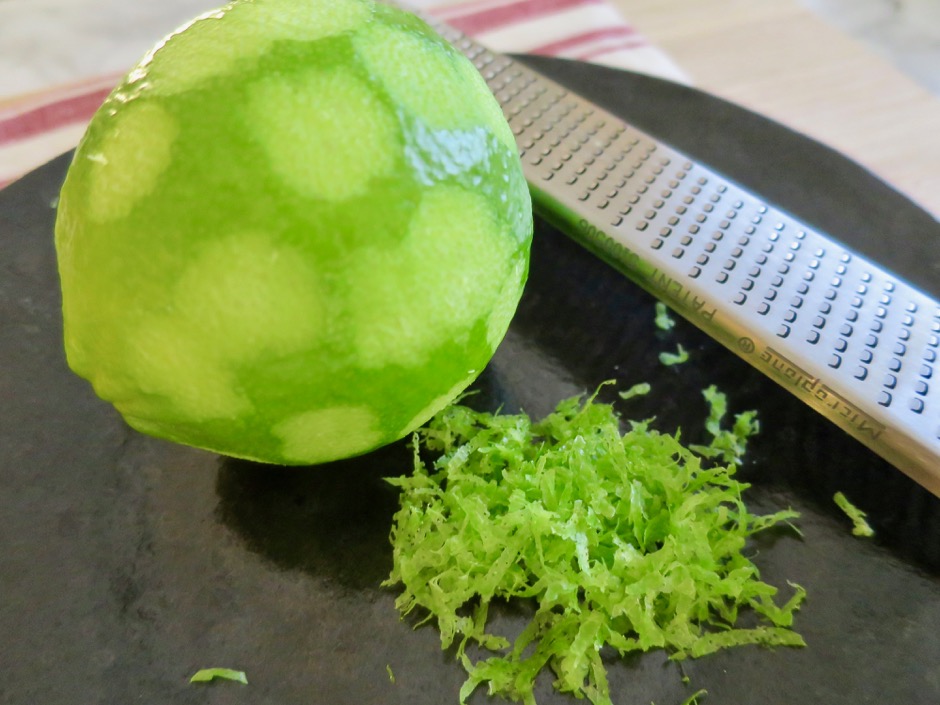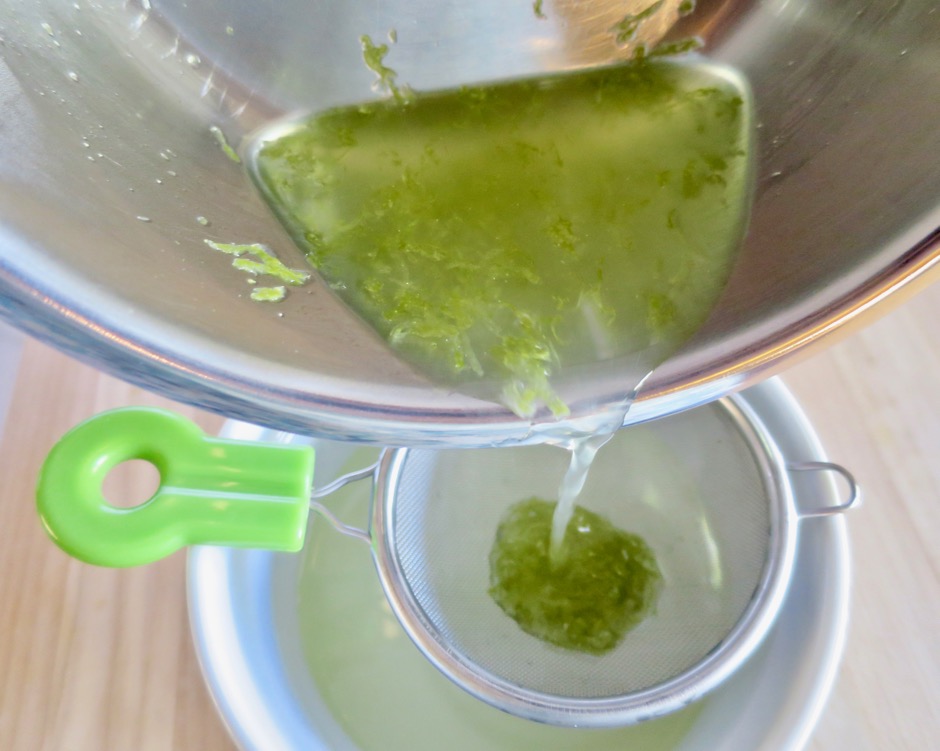 Lime zest, lime juice, sugar and water are quickly heated in a pan then poured through a fine mesh strainer.  Just the liquid is used for the dressing.  Once it has cooled the other ingredients are added to complete the dressing.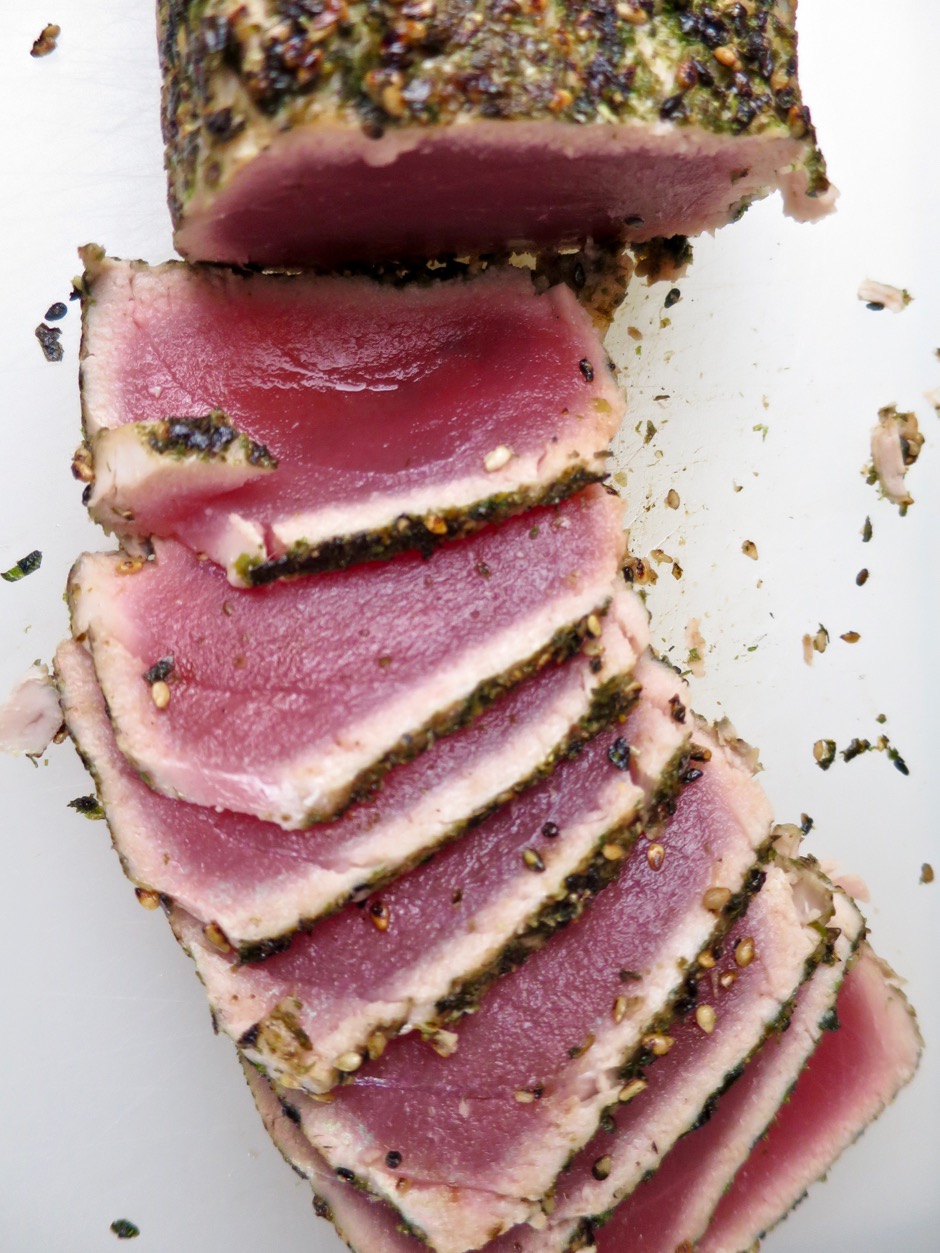 Buy the freshest ahi block you can find. I visit or call my favorite local markets to ensure the fish has been cut that very same day.  If it has been sitting on the shelf for more than a day, I take a pass and try again another time.  Coating the ahi block with furikake creates a light seasoning and crunchy texture (from the sesame seeds) that is perfect for this dish.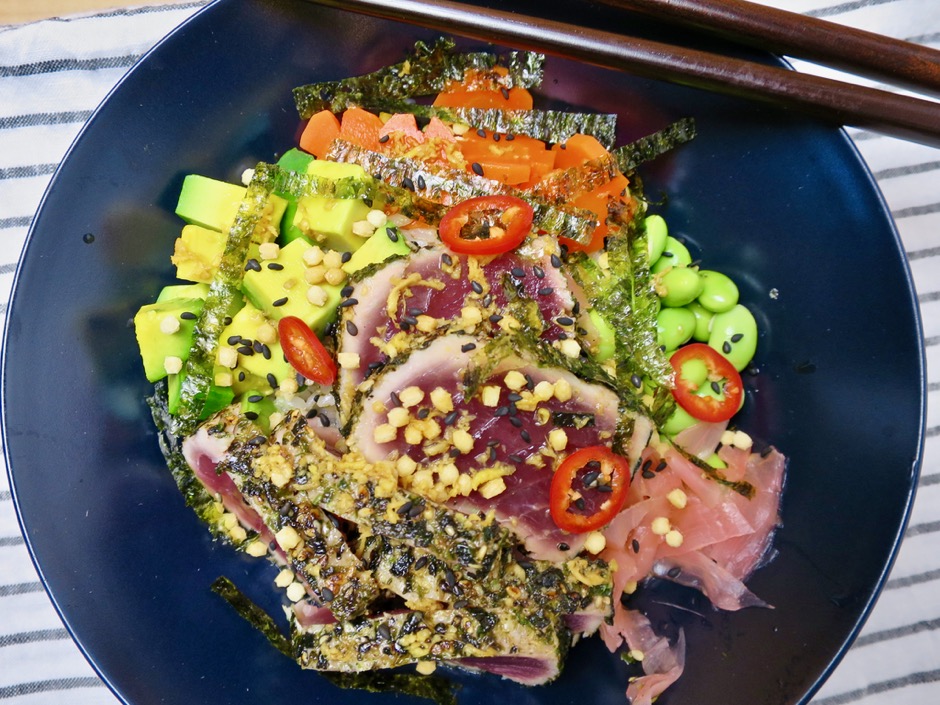 Seared Ahi Rice Bowl
Ingredients
For the dressing:
2 teaspoons finely grated lime zest
2 tablespoons fresh squeezed lime juice
2 tablespoons water
1 tablespoon granulated sugar
2 tablespoons + 2 teaspoons soy sauce
2 tablespoons Champagne vinegar (or white wine vinegar)
1 tablespoon + 2 teaspoons finely grated peeled ginger
For the rice bowl:
Cooked Japanese short grain white rice (I use my rice cooker and measure out 1 cup uncooked rice)
10 ounces fresh ahi block
furikake for coating ahi block
½ cup frozen shelled edamame (boil for 4 minutes, drain and cool)
½ small carrot, sliced thin (microwave in water for 45 - 60 seconds to soften slightly)
½ small avocado cut into small cubes
pickled ginger
slivered nori (optional)
bubu arare (optional)
thinly sliced red hot pepper such as jalapeño or Fresno (optional)
Preparation
For the dressing:
Combine lime zest, lime juice, water and sugar in a small saucepan. Cook over medium-high heat until sugar has dissolved. This will take just a minute or so. Transfer liquid to a small glass bowl, cover and let cool completely. Strain cooled liquid through a fine-mesh sieve into a small bowl. Whisk in soy sauce, vinegar, and ginger.
For the fish:
Lightly coat all sides of the ahi block with a canola oil. Place the fish on a cutting board or piece of foil and sprinkle furikake on all sides, patting it gently so it adheres to the fish.
Heat a small pan over medium-high heat with a teaspoon of canola oil. When the pan is hot, sear the ahi for 30 - 60 seconds or so on each side. The thickness of your ahi block and how you prefer your ahi cooked will determine how long to fry it. Remove the fish to a plate or cutting board to cool. Slice fish into ⅓" thick slices.
Divide the cooked rice into two bowls. Top with seared ahi, edamame, carrots, avocado, and ginger. Drizzle dressing over the ahi and other ingredients. Sprinkle the nori and bubu arare over the toppings if using and garnish with red pepper slices. Serve the rice bowl with extra dressing on the side.