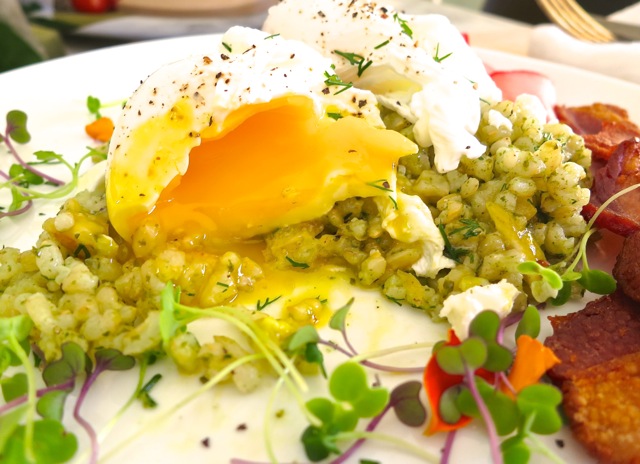 Most of us are aware that eggs have been described as the perfect food.  Some years back, their reputation suffered a bit but they are now recognized as a healthy part of our diet.  However one views the egg, we can all agree that eggs are perfectly delicious.  There's nothing better than sopping up runny egg yolks with toast, breakfast potatoes or rice. As I was thumbing through the June 2014 edition of Bon Appetit, this recipe immediately caught my attention: Sorrel Rice Bowls with Poached Eggs.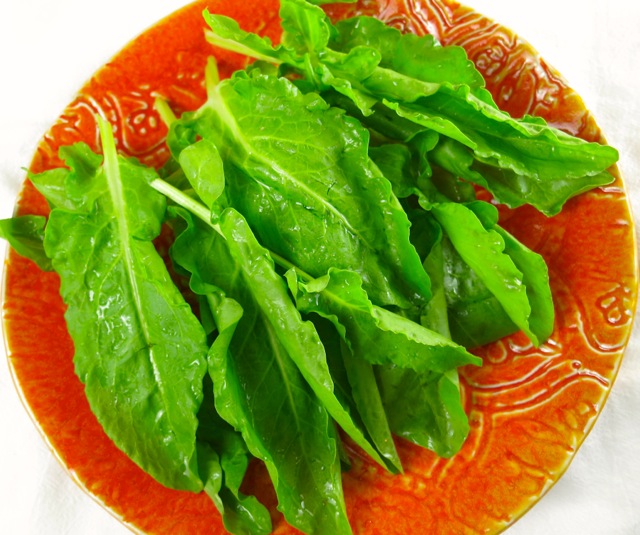 Sorrel is a delightful leafy green with a bright, lemony flavor.  It grows well in warm climates like Kihei. I was excited to try this recipe since we have a beautiful sorrel plant in our garden.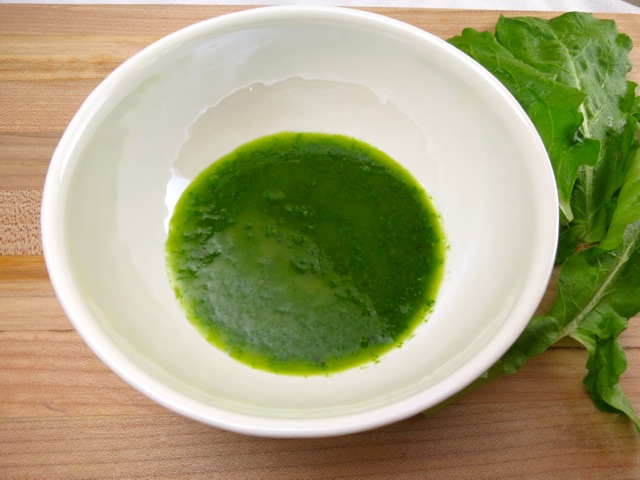 Isn't this sorrel sauce gorgeous?  The sorrel leaves are blended with olive oil, a tablespoon of water, and seasoned with salt and pepper.  That's it.  I couldn't wait to add it to the rice.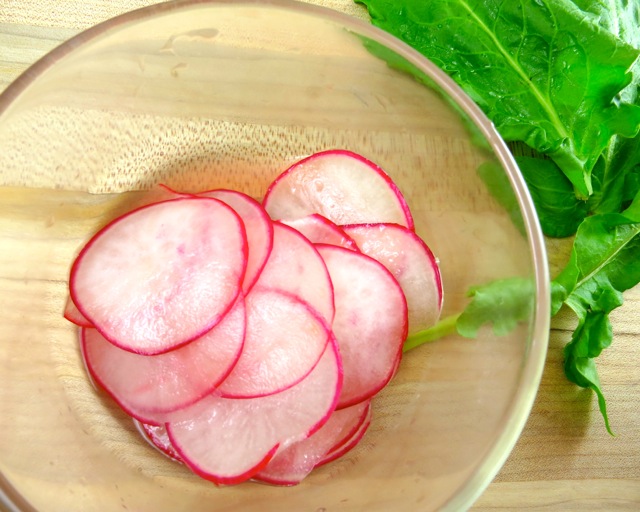 When I first read through the recipe, I thought it was a tad wacky.  After all, who would come up with sorrel rice with preserved lemons topped with poached eggs and served with  pickled radishes on the side?  Ingenious!  It works.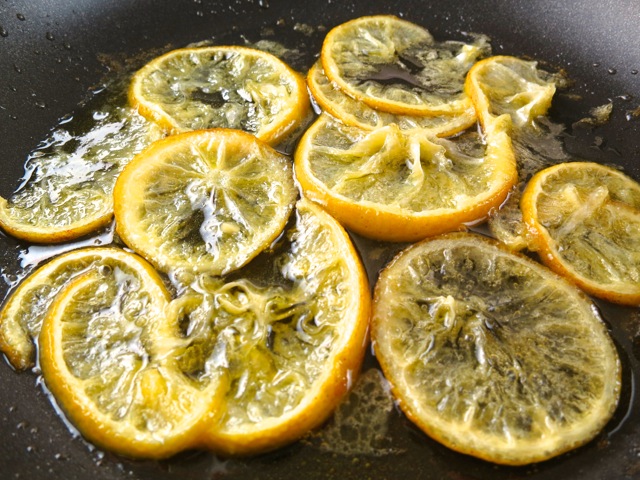 Though I've often thought about making preserved lemons, it's been on the back burner.  The recipe calls for half of a preserved lemon, which I didn't have.  After a quick web search, I found an acceptable substitute and it worked out quite well.  Fresh lemons are thinly sliced and warmed on low heat with olive oil, a bit of sugar and salt.  The peel, which is what you aim to use in the recipe, becomes tender, and it's flavor mellows while gently cooking.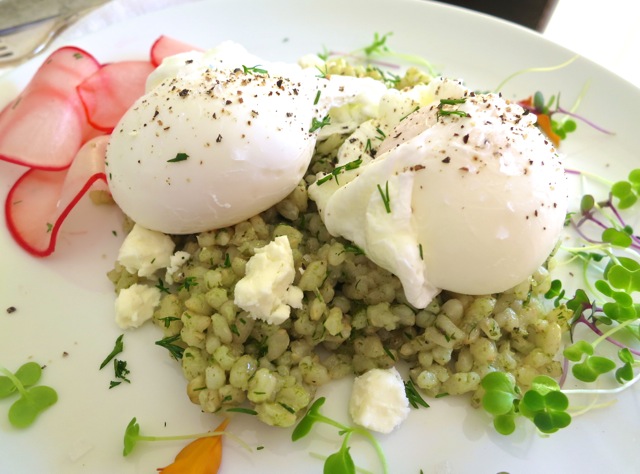 This is the quintessential meal.  Flavorful whole grain brown rice, fresh poached eggs with a sprinkling of feta, and crunchy radishes on the side.  The recipe is meant to serve four, with one poached egg per serving, but I always regret not having two eggs.  So if you're like me, go ahead and double the eggs in the recipe below.
Sorrel Rice with Poached Eggs
Adapted from Sqirl Restaurant/Bon Appetit
Serves 4
Ingredients
2 cups short-grain brown rice
1 lemon, very thinly sliced
olive oil
1/4 teaspoon sugar
1/4 teaspoon kosher salt
1 cup lightly packed sorrel leaves
1/4 cup olive oil
2 red radishes, very thinly sliced
2 tablespoons lemon juice, divided
4 large or extra-large eggs (double the eggs if serving two per person)
1/4 cup white vinegar
3 teaspoons chopped fresh dill, divided
1 – 2 ounces crumbled feta, optional (I recommend Mt. Vikos goat/sheep milk feta, it's delicious!)
Flaky sea salt for sprinkling over eggs (such as Maldon)
freshly ground pepper
Preparation
Cook the rice in your rice cooker for the specified time.  If you don't have a rice cooker, the recipe says to cook the rice in a large pot of boiling salted water until tender, about 45 – 50 minutes.  Drain the rice, return to pot, cover, and let sit 10 minutes then spread out on a baking sheet and let cool completely.
Place sliced lemon in a small saucepan over medium low heat.  Drizzle olive oil (1 – 2 tablespoons) and sprinkle sugar and kosher salt over the lemon.  Cook until lemon is very tender, about 20 minutes.  Remove from the oil and finely chop the lemon peel into small pieces, discarding flesh and seeds.  You want to use the softened lemon peel for this recipe.
Puree the sorrel, 1/4 cup olive oil, and 1 tablespoon water with an immersion blender or small food processor.  Season with kosher salt and pepper.
Toss radish with 1 tablespoon lemon juice in a small bowl; season with kosher salt.
Toss the rice, diced lemon peel (as much as you prefer), remaining 1 tablespoon lemon juice, and 1/4 cup sorrel purée in a medium bowl.  Season with kosher salt and pepper mixing in more sorrel purée, if desired.
Meanwhile, heat 3″ water with 1/4 cup white vinegar in a 3 quart saucepan over high heat (for 4 eggs). Watch closely.  When the water barely reaches a boil and you see small bubbles in the bottom of the pan, gently slide eggs into the water one by one and immediately turn the heat down to medium (crack eggs into small separate bowls).  Set the timer for 4 minutes.  The water should not be boiling and the eggs should simmer gently. Adjust the heat as needed.  Remove eggs with a slotted spoon and drain on paper towels.
Reheat the rice in the microwave to warm briefly before serving.  Stir in two teaspoons dill.  Spoon rice into individual bowls or plates and place eggs on rice. Season eggs with flaky sea salt and pepper. Sprinkle feta (optional) and remaining 1 teaspoon dill over rice bowl.