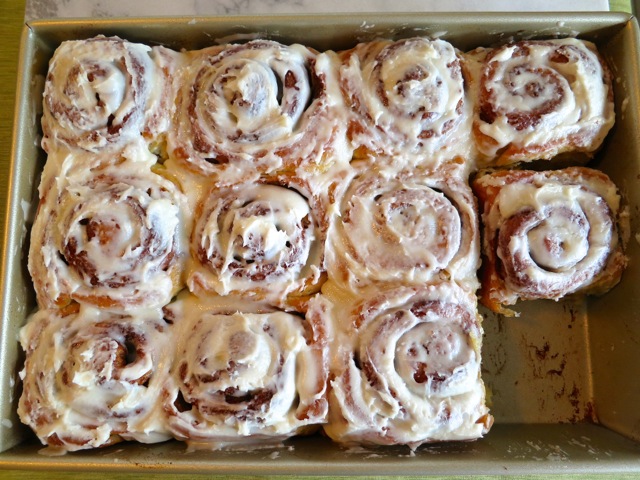 Cook's Illustrated magazine regularly rates kitchen tools and appliances.  The January/February 2014 issue rated 9 x 13-inch baking pans.  They put the pans through several tests to determine how well they performed and for durability.  I was in the market for a new pan and was ready to switch out the less than mediocre pans I purchased from who knows where.  They highly recommended the Williams-Sonoma Goldtouch pan and according to them, it produced the most evenly cooked, professional baked goods of all the pans they tested.  I ordered one right away.  I also bought a Goldtouch 8 x 8-inch pan, jelly roll pan, and two muffin pans. One thing leads to another…
Disclaimer: I couldn't wait to taste one of these cinnamon rolls, hence the one missing from the introductory photo.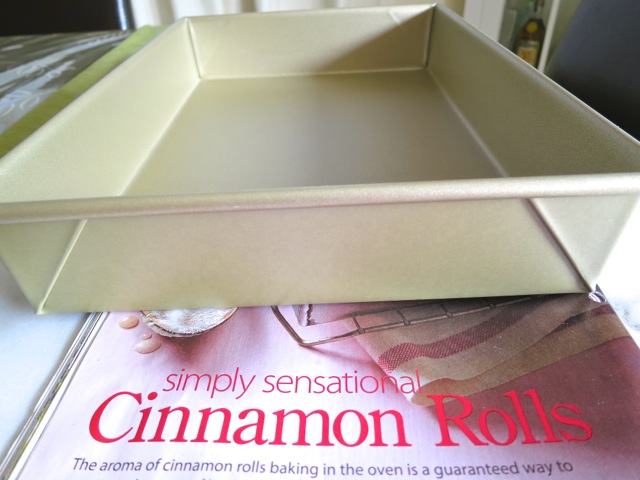 Besides using the pan for cakes and foggies, I was determined to finally try out a cinnamon roll recipe that I had been obsessed with for some time but had never tried.  The recipe comes from the September/October 2012 issue of Cuisine at Home magazine.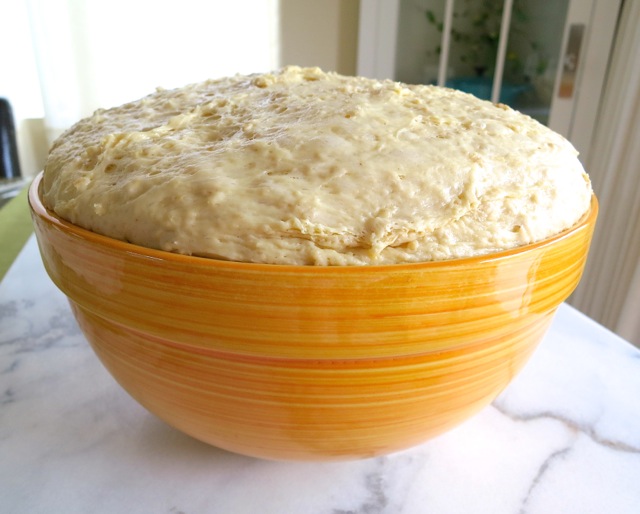 Let the dough rise. Note to self: Use larger bowl next time around.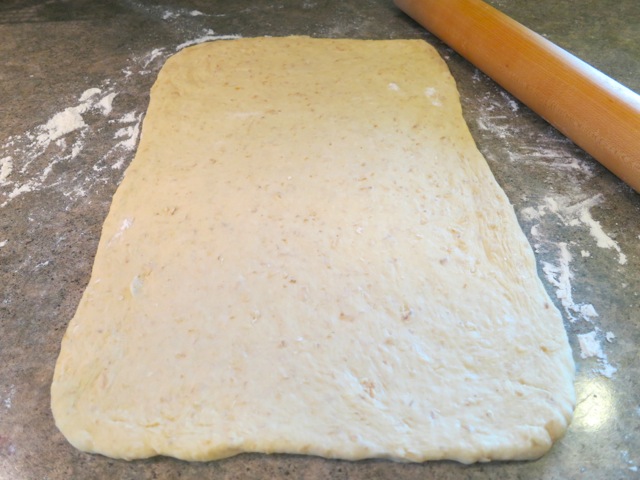 I was quite skeptical about the 1 cup of old-fashioned rolled oats in the recipe.   You can see the oats in the dough pictured above.  It just seemed a bit weird: oats in my cinnamon rolls!   According to Cuisine at Home, the oats add an earthy, nutty flavor to the rolls.  In the end, I was rewarded with the best cinnamon rolls imaginable and they included some healthy whole grain oats.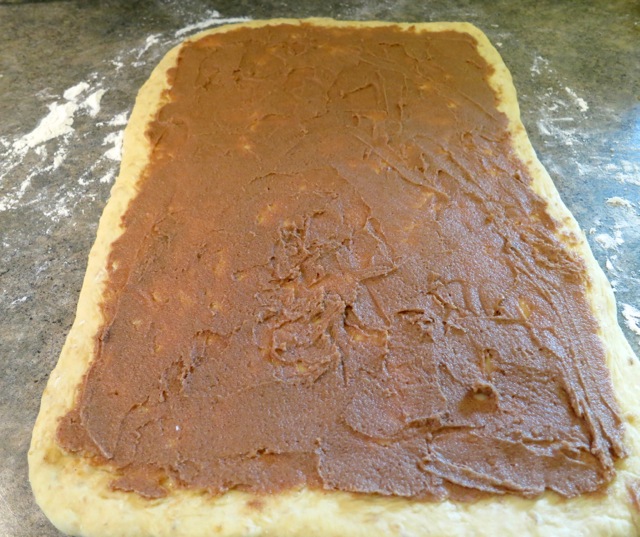 The dough is divided in half and a sugar, butter and cinnamon mixture is spread on the dough before rolling up.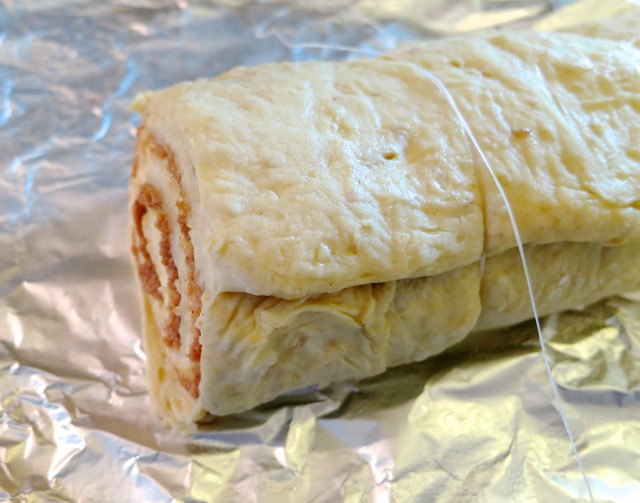 The logs are trimmed and cut with dental floss.  Ingenious!  The floss cut through the soft dough flawlessly.
Rising time was about 1 hour.  Into the oven they went and once baked out came 12 beautiful cinnamon rolls waiting to be frosted.  The scent of cinnamon was intoxicating.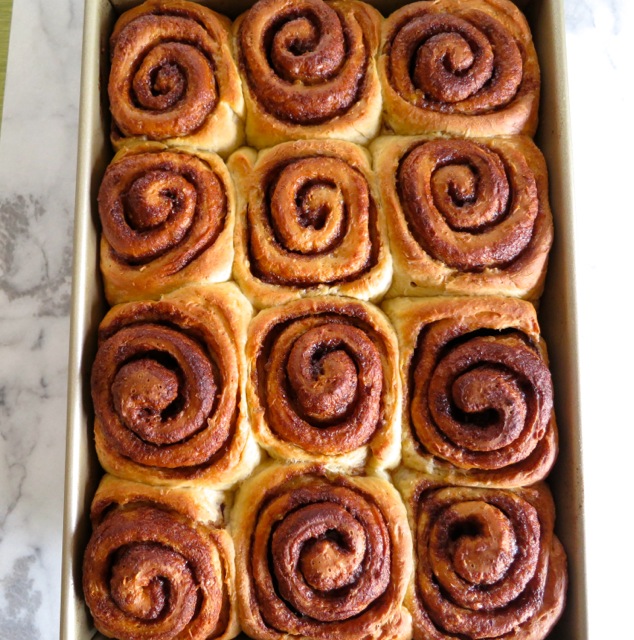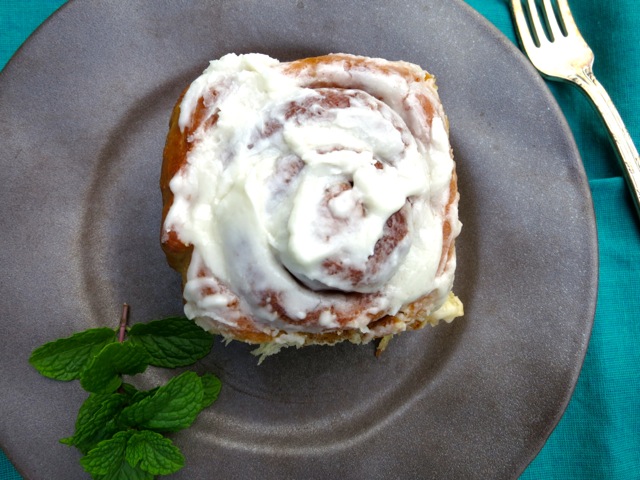 By the way my new Goldtouch pan is, like the cinnamon rolls, simply sensational.
Simply Sensational Cinnamon Rolls
Adapted from Cuisine at Home
Makes 12 rolls
Ingredients
Dough:
1 1/4 cups whole milk (I used lactose free whole milk)
1/2 cup vegetable shortening (preferably trans fat free)
1/4 cup packed brown sugar
1 pkg. active dry yeast (2 1/4 teaspoons)
1 cup old-fashioned rolled oats
1/2 cup hot water
4 cups all-purpose flour
2 eggs
1 teaspoon salt
Filling:
1 1/2 sticks unsalted butter, softened (I used Earth Balance Buttery Sticks)
1 cup packed brown sugar
2 tablespoons ground cinnamon
1/2 teaspoon salt
Frosting:
4 tablespoons unsalted butter, softened (I used Earth Balance Buttery Sticks)
8 ounces powdered sugar (2 cups)
2 – 3 tablespoons whole milk (I used lactose free whole milk)
1 1/2 teaspoons vanilla
Preparation
For the dough:
Heat 1 1/4 cups milk, shortening and 1/4 cup brown sugar in a small saucepan over medium-low until shortening is melted.  Transfer to a bowl of a stand mixer.  Let mixture cool to 100 – 110° (about 30 minutes, the Thermapen is my best friend) then whisk in yeast and proof until foamy, about 5 minutes.
Soak oats in hot water until all water is absorbed.
Add 2 cups flour and eggs to the yeast mixture and mix on low with a paddle attachment until combined.  Switch to the dough hook and add remaining 2 cups flour, oats, and 1 teaspoon salt.   Mix on low speed until incorporated, then increase speed to medium and mix until dough pulls away from the side of the bowl, about 7 minutes.
Transfer dough to a large bowl coated with nonstick spray, cover with plastic wrap, let rise in a warm place until dough doubles in size, about 2 hours.  Lift edges of dough away from bowl and press air bubbles out with your hands.
For the filling:
Combine 1 1/2 sticks butter, 1 cup brown sugar, cinnamon and 1/2 teaspoon salt.
Coat a 9 x 13-inch baking pan with butter.  Transfer dough to a floured surface and gently press to remove air bubbles.  Divide dough into two pieces (a kitchen scale comes in handy) and roll one piece into a 10 x 16-inch rectangle.
Spread half the filling over dough, leaving a 1/2-inch border.  Starting at the short end, roll dough, jelly roll-style, into a log.  Repeat filling and rolling with the second dough half.  Place logs on aluminum foil, loosely cover and place in freezer for 10 minutes to firm.
Trim off the ends of the logs with dental floss and discard, then cut each log into six equal pieces.  Arrange rolls in the prepared pan spacing them equally to allow for rising.  Cover rolls with a kitchen towel and let rise until puffy, about 1 hour.
Preheat oven to 375°.
For the frosting, beat 4 tablespoons butter, powdered sugar, 2 tablespoons milk, vanilla and salt with a hand mixer.  If the frosting seems to firm, beat in a teaspoon of milk at a time.
Bake rolls until brown, 30 – 35 minutes.  My oven runs a bit hot and the rolls were done in 30 minutes.  Test for doneness at the 30 minute mark so there is no chance of over baking.  Cool rolls in the pan for 10 minutes, then top with frosting.