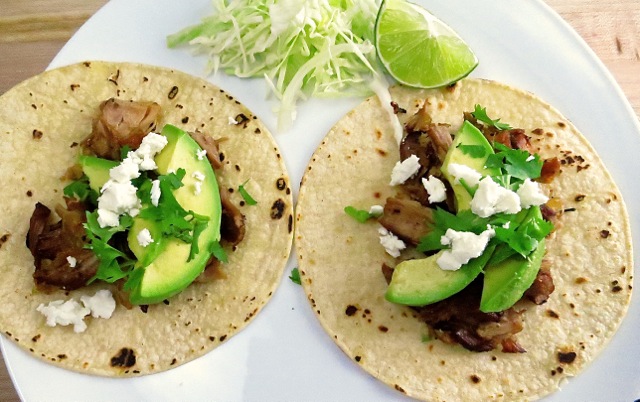 Ever since we bought a pressure cooker we've been having so much fun trying out new recipes. We also experiment with old braising recipes that once took hours to cook but now cook in a short time but taste every bit as delicious. If you don't have a pressure cooker, consider buying one. You won't regret it.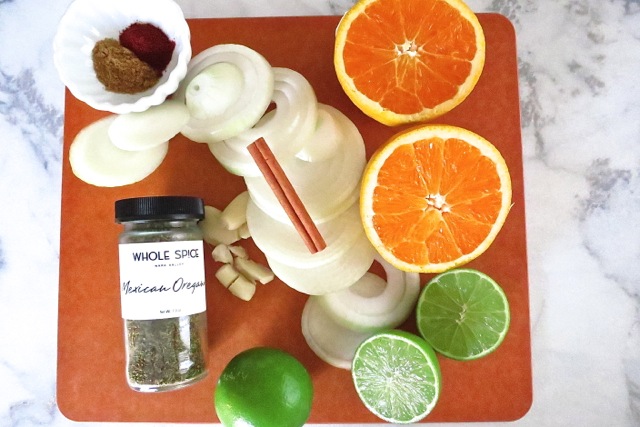 Mexican cuisine is notable for its variety as well as its bold, zesty flavors.  These carnitas are no exception. We came across this recipe in an article on pressure cookers in Cuisine At Home magazine.  I found it interesting that the liquid consisted entirely of citrus juice. I was very hesitant to try the recipe but with a bit of coaxing off I went to the market to pick up all the ingredients.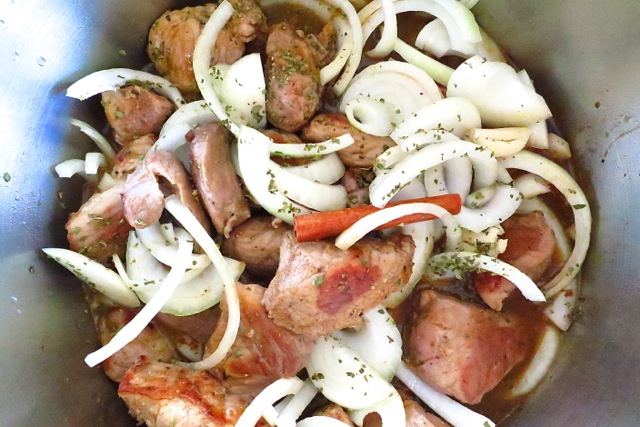 Once the pork has browned, all the ingredients get thrown into the pressure cooker and  in no time at all,  you'll be feasting on some of the best carnitas imaginable.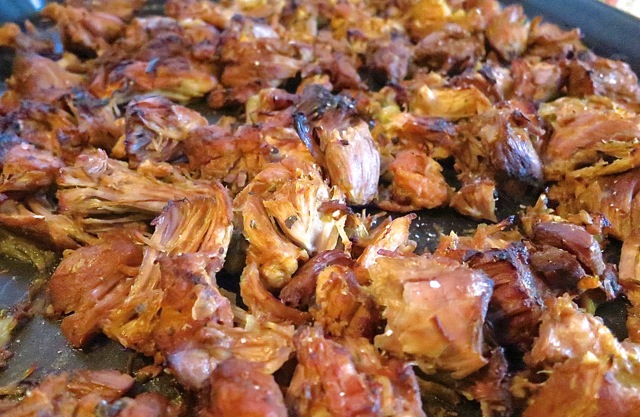 The cooked pork is then finished in the oven until it begins to crisp around the edges.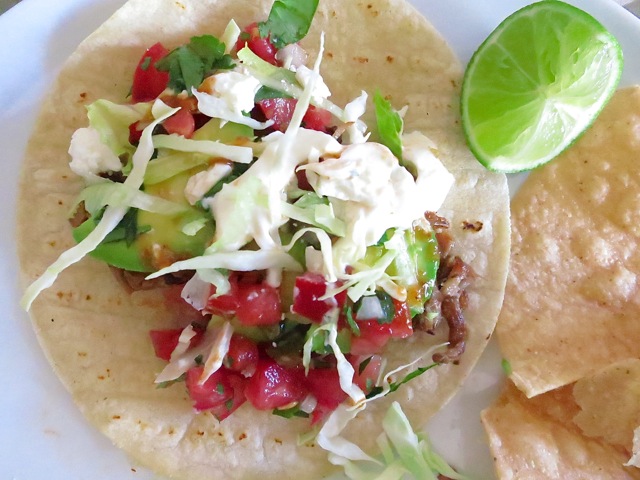 Accompaniments include avocado, sour cream, salsa fresca, shredded cabbage, cilantro a bit of feta cheese and a dash of hot sauce all wrapped in corn tortillas warmed on a cast iron skillet.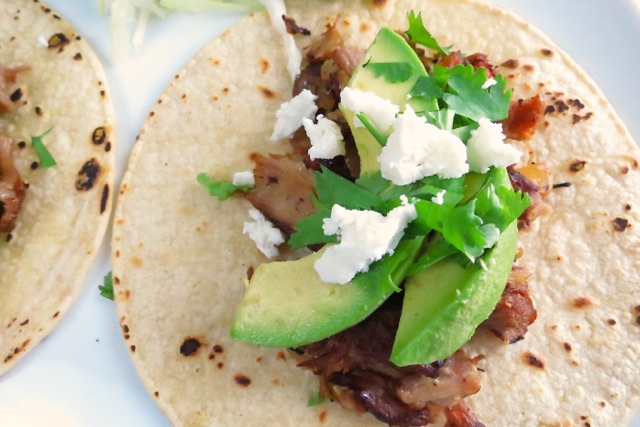 Pressure Cooker Carnitas
Adapted from Cuisine At Home
Ingredients
2 tablespoons olive oil
3 teaspoons kosher salt
1 1/2 teaspoons cumin
1 1/4 teaspoons chile powder (I use Hatch pure mild chile powder and 1/4 teaspoon chipotle chile powder)
1/2 teaspoon black pepper
3 pounds boneless pork shoulder (pork butt) cut into 2 inch chunks (I buy at least 4 pounds and trim the pork very well, ending up with about 3 pounds)
1 onion, sliced
3 cloves garlic, crushed
2 teaspoons dried oregano
1 cinnamon stick (3-inch)
1 1/2 cups strained fresh orange juice (about 4 – 5 large oranges)
1/2 cup strained fresh lime juice (about 4 – 5 juicy limes)
Preparation
Whisk together oil, salt, cumin, chile powder, and pepper.
Toss the pork in the oil-spice mixture.  Brown the pork in the pressure cooker in two separate batches over medium-high heat. Return first batch of pork to the pressure cooker.
Stir in the onion, garlic, oregano, and cinnamon stick.  Add the orange and lime juices.
Cover the pressure cooker, lock on the lid, and bring to high pressure over medium-high heat.  Once the pressure cooker comes up to pressure, lower the heat to a low burner setting so that it maintains pressure without exceeding it. Cook pork for 25 minutes.  Remove cooker from the heat and allow pressure to release naturally.  Remove the lid and transfer pork to a baking sheet (I use my jelly roll pan).
Preheat the broiler to high with the rack 6 inches from the element.
Degrease liquids from the cooker in a fat separator and discard fat (I trimmed my pork really well and was able to skip this step).  Shred pork with two forks on baking sheet.  Pour 1 cup strained cooking liquid over the pork.
Broil until the pork starts to crisp, about 7 minutes.  Stir and broil another 5 minutes more, watching carefully so the pork doesn't burn.  Serve with warm corn tortillas and your favorite accompaniments.
***I froze the leftovers but it wasn't long before we pulled it out from the freezer and devoured the rest of the carnitas.