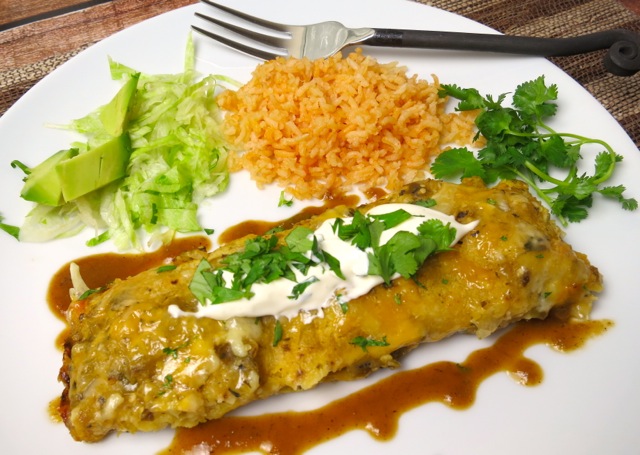 My folder of "must try" recipes is bulging at the seams.  I tear out pages of recipes from my food magazines and print out recipes from the internet determined to make them "one day soon."  Some day, I'll get to those recipes, I'm sure of it!  I'll bet many of you can relate to this eccentricity of mine.  This enchilada recipe never made it to that folder. After reading it I was determined to make it for dinner right away.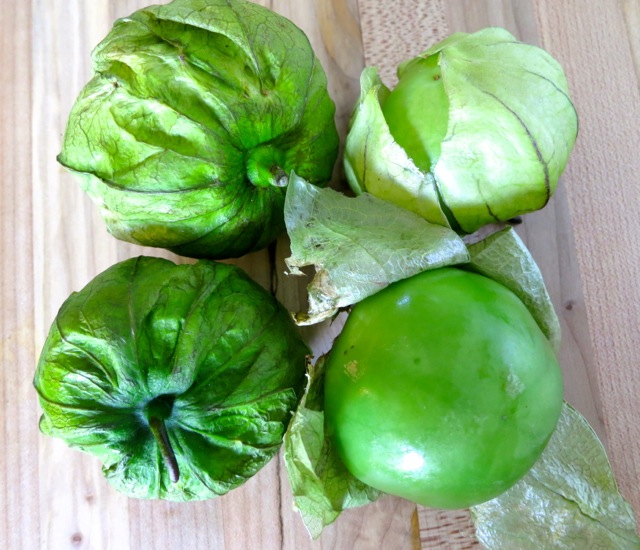 Pretty tomatillos hidden under their papery husks.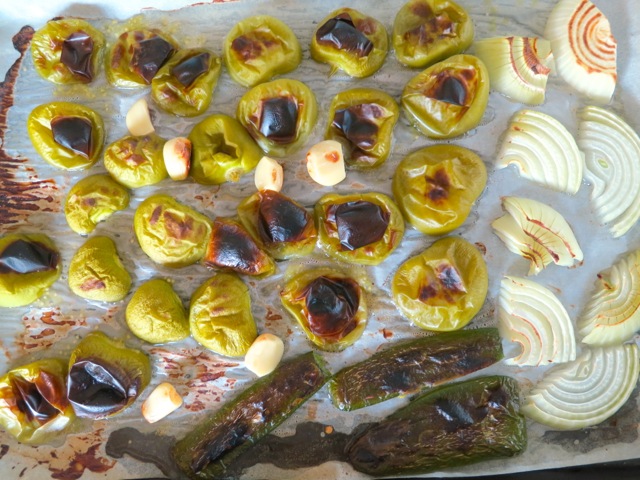 Roasted tomatillos, jalapeño, garlic and onions.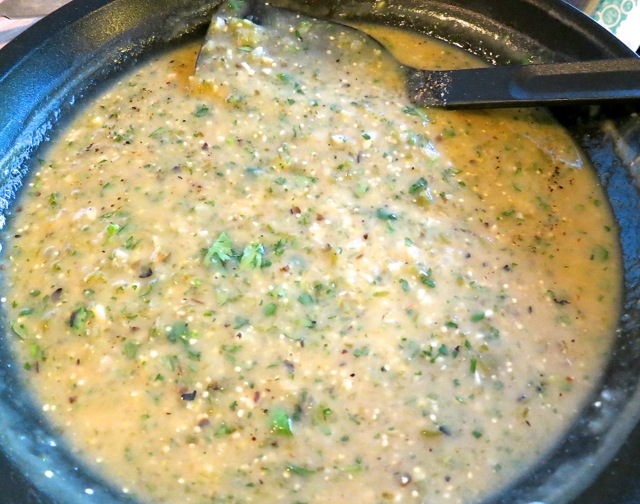 Velouté with tomatillo chile salsa.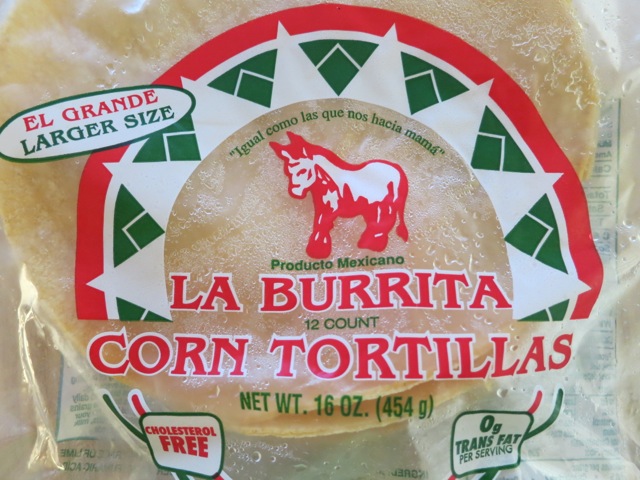 These El Grande corn tortillas measured 7 inches across and worked perfectly.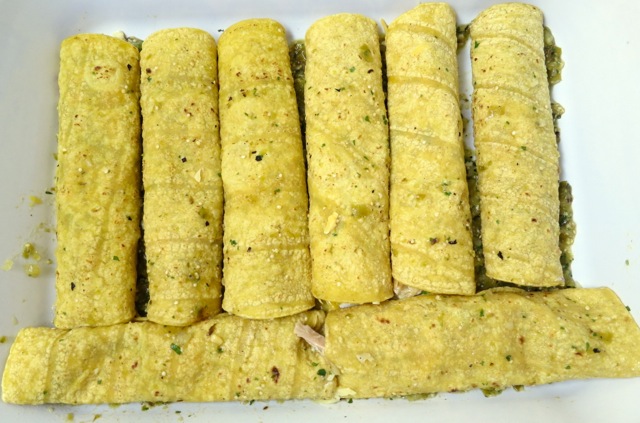 Place a scoop of chicken-enchilada mix in each tortilla, roll them up and place seam side down.  The original recipe from Tyler Florence calls for flour tortillas but we used large corn tortillas instead.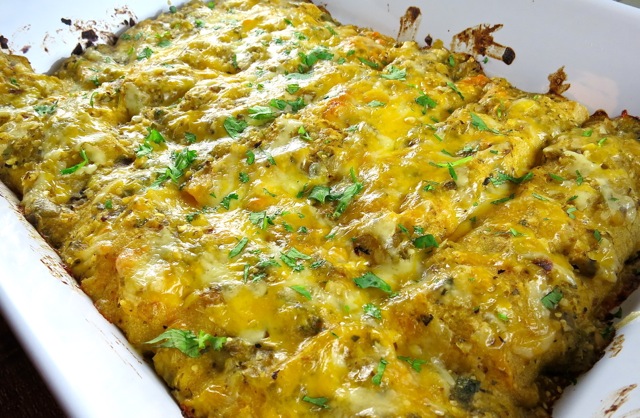 The scent of roasted tomatillos, corn tortillas and cheese filled the air while they were baking.  Once they were done we finally had the chance to sit down and enjoy the enchiladas.  The verdict – these are the best chicken enchiladas we have ever had.  Since we hadn't invited any of our friends over on this particular evening, we had leftovers for the next couple of days.  The enchiladas were out of this world!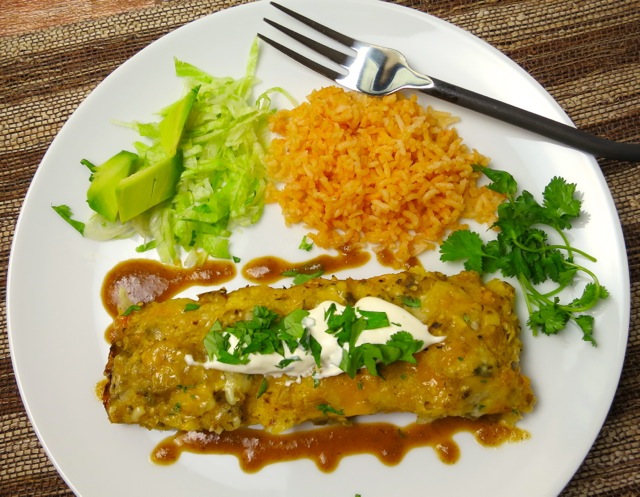 Chicken Enchiladas with Roasted Tomatillo Chile Salsa
Adapted from Tyler Florence's recipe
Makes 8 large enchiladas
Ingredients
Roasted Tomatillo Chile Salsa:
1 1/2 pounds tomatillos, husked and rinsed
1 white onion, peeled and cut into thick slices
4 medium garlic cloves, peeled
2 jalapeños, cut in half lengthwise, seeds removed
2 teaspoons ground cumin
1 teaspoon salt
1/2 cup chopped cilantro
juice of 1/2 lime
Enchiladas:
1 tablespoon olive oil
1/2 medium onion, finely diced
2 garlic cloves, minced
1 1/2 teaspoons ground cumin
1/4 cup all-purpose flour
2 cups chicken stock (store-bought is fine)
chopped cilantro
1 deli roasted chicken, boned and shredded
salt and pepper
8 large corn tortillas
1/2 pound Monterey jack or extra sharp cheddar cheese, shredded
Preparation
For the salsa:
Broil the tomatillos, onion, garlic and jalapeños for approximately 10 minutes.  Watch carefully so they don't burn.  Transfer the roasted vegetables and any juices on the bottom of the pan to a food processor.  Add the cumin, salt, cilantro, and lime juice and pulse mixture until well combined but still a bit chunky.
Enchiladas:
Preheat the oven to 375 degrees.
Heat 1 tablespoon olive oil in a medium saucepan over medium heat.  Add the onion and cook until soft and caramelized, about 5 – 7 minutes.  Add the garlic and cumin then cook for another minute.  Sprinkle on the flour and stir to ensure the flour doesn't burn then gradually add the chicken stock to make a velouté. Continue stirring over a low simmer until the flour cooks and the liquid thickens.  Turn off the heat, add 1 cup of the roasted tomatillo chile salsa, and some additional fresh chopped cilantro and fold in the shredded chicken. Season to taste with salt and pepper.
To prepare the corn tortillas – the traditional method is to briefly fry them in oil in a skillet until pliable.  Cook's Illustrated has developed a method that is faster and uses considerably less oil.  The tortillas are arranged on a cookie sheet and lightly sprayed on both sides with cooking oil (Pam).  They are then baked in a 400 degree oven for about 4 minutes. When done, let them cool and they are ready to be filled and rolled.  Do not skip this step.  It keeps the tortillas intact during the baking process.
Take a large baking dish (I used an 11 x 14 inch dish) and smear the bottom with some of the reserved tomatillo salsa.  Place a small amount of the reserved salsa on a plate and coat each tortilla lightly on both sides.  Put a scoop of the shredded chicken-enchilada mix on top of the tortilla followed by a sprinkle of shredded cheese.  Fold the tortilla over the filling and roll like a cigar to enclose it.  Place the tortilla seam side down in the baking dish and continue to do the same with the remaining tortillas.  Finally pour over some of the salsa and top with the remaining cheese.  Bake uncovered for about 30 minutes until the cheese is bubbly.  Garnish with cilantro and serve with the best Mexican rice – Sopa de Arroz.  We drizzled John's Tomatillo Jalapeño Hot Sauce on the plate.