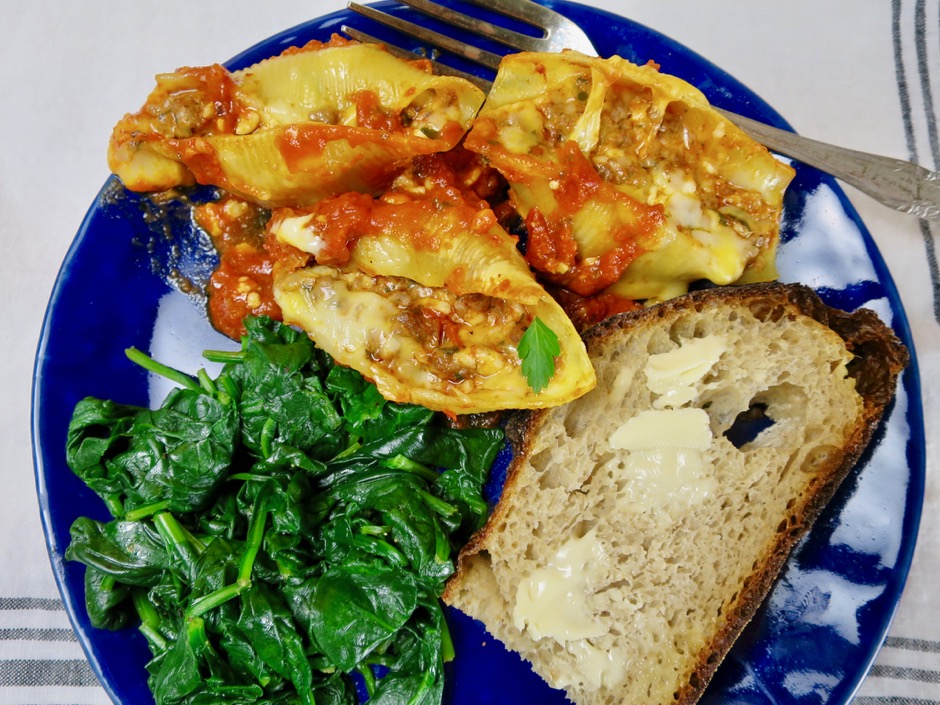 These stuffed shells are my new favorite pasta dish.  It has many flavors in common with lasagne bolognese.  Yet unlike bolognese sauce that simmers for a several hours, this meat sauce is ready in less than 30 minutes and is equally delicious.  Another time saver is to use a good store-bought pasta sauce such as Rao's Basil Tomato Sauce. Because it is particularly tasty, I stock up when it is on sale.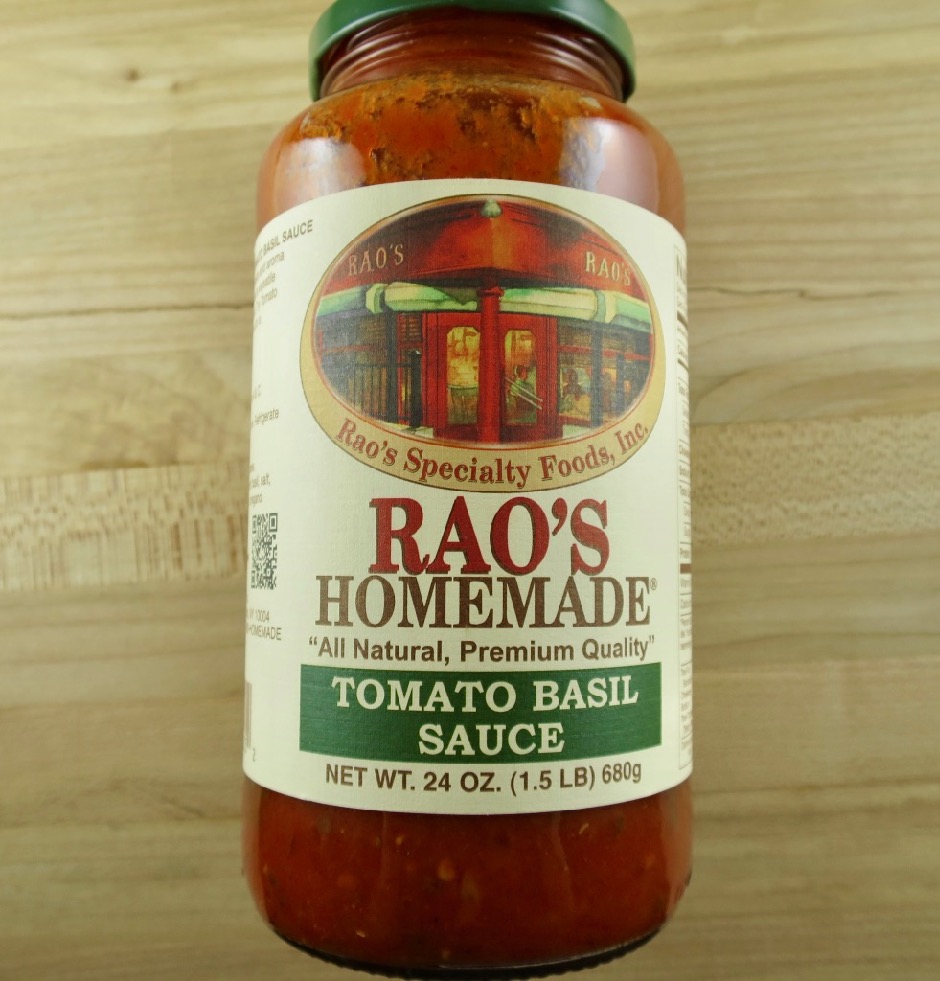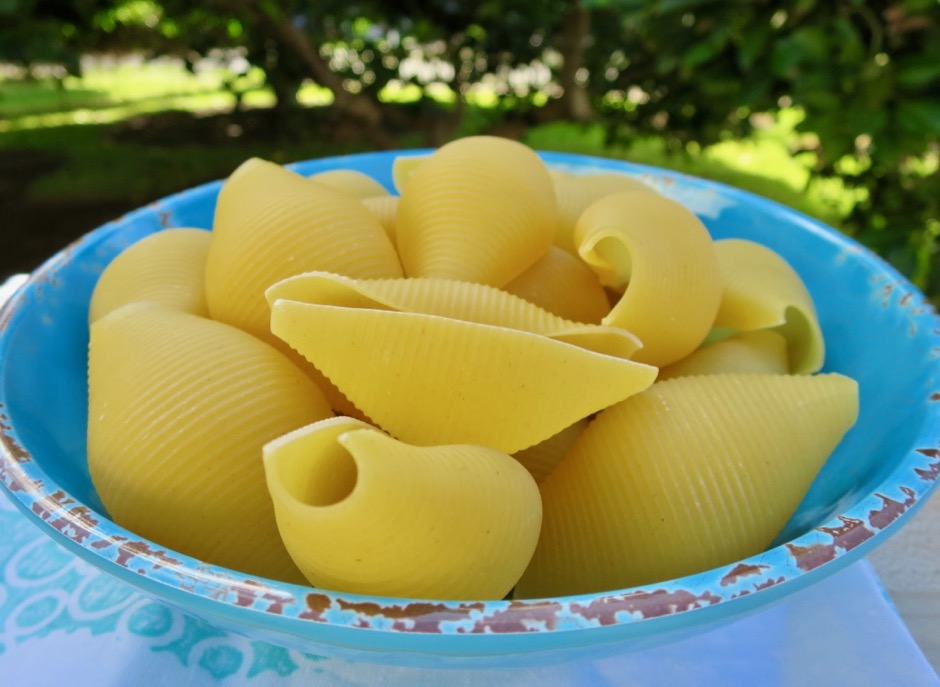 Barilla makes beautiful pasta shells that are just the right size for this recipe.  Check the box for broken pieces before purchasing it.  If the box shows signs of being damaged, the shells may be fractured and once cooked can fall apart and be unusable.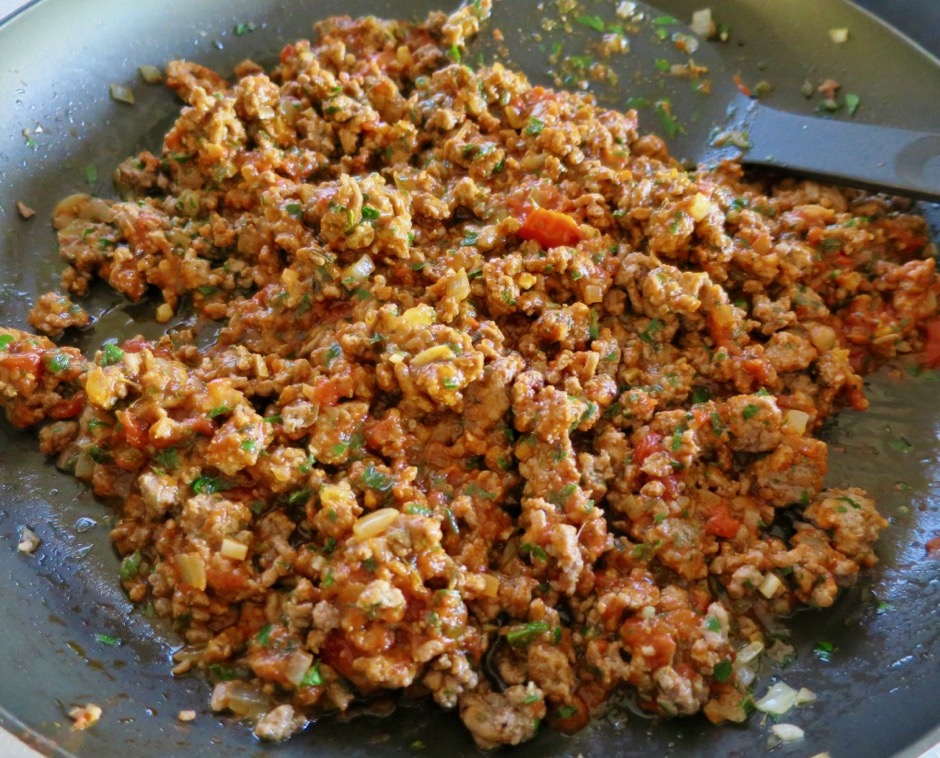 Ground sirloin is the perfect choice for the meat sauce.  It is flavorful yet lean.  However if you are unable to find ground sirloin, lean ground beef is a fine substitute.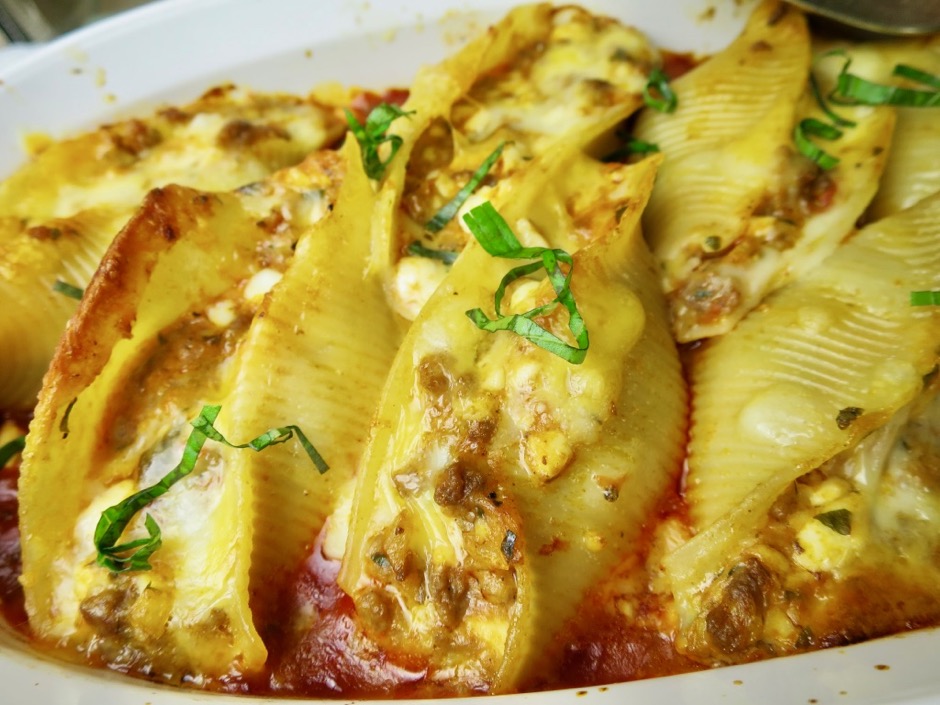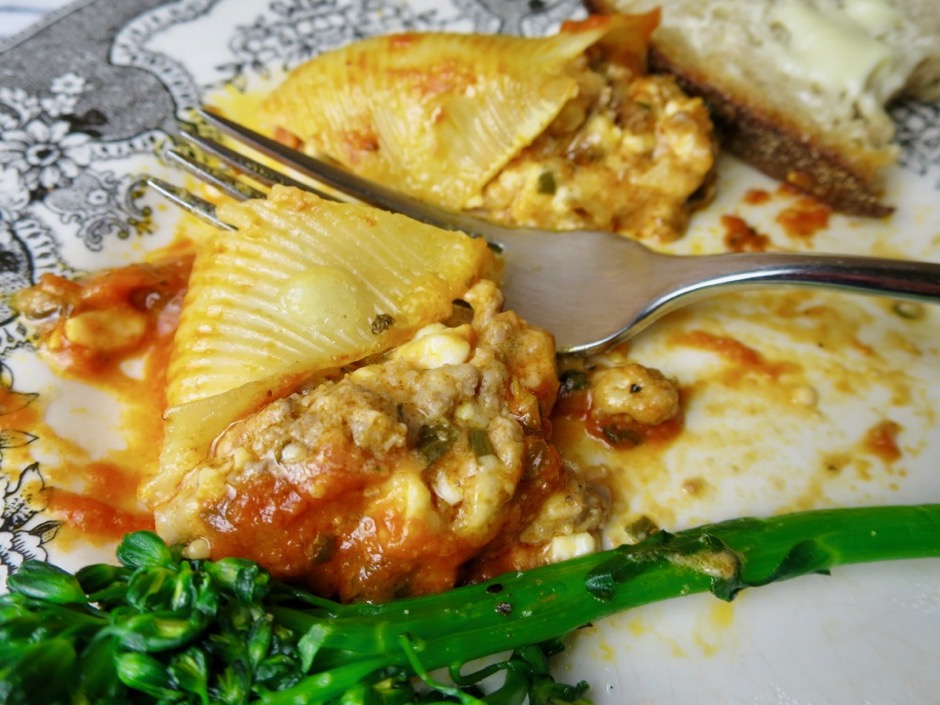 I use cottage cheese in the recipe however you may substitute ricotta.  The cottage cheese is light and mild in flavor but adds a creaminess without adding too many calories. I love how it melds together with the meat sauce and becomes a luxurious filling.
Cheesy Beef Stuffed Shells
Ingredients
Meat Sauce:
1½ tablespoons extra virgin olive oil
1 cup finely chopped onion
2 garlic cloves, minced
1 pound ground sirloin (or other lean ground beef)
kosher salt and freshly ground pepper
2 tablespoons chopped fresh Italian parsley
1 teaspoon dried oregano
½ teaspoon dried marjoram
1 24 ounce jar Rao's Tomato Basil Sauce, divided
Pasta Shells:
20 - 24 jumbo pasta shells (Barilla Jumbo Shells 12 oz. box)
Cheese Mixture:
16 ounces cottage cheese (I use Lactose Free)
6 ounces (2 cups) coarsely shredded yogurt cheese (or mozzarella), divided
3 ounces (1 cup) coarsely shredded sharp cheddar cheese
1 large egg lightly beaten
Preparation
Preheat the oven to 350 degrees. Lightly butter a 9x13" casserole dish.
In a large skillet over medium heat, sauté onion in olive oil until softened, about 5 minutes. Add garlic and sauté for another minute. Add the ground sirloin and cook, breaking it up with a wooden spoon, until meat is no longer pink. Season with ¾ teaspoons kosher salt and freshly ground black pepper. Add fresh parsley, dried oregano and marjoram. Stir to combine. Remove from the heat and mix in 1¼ cups of Rao's sauce. Spread the remaining sauce in the casserole dish.
Cook shells in boiling, salted water for 10 minutes or until al dente. Rinse under cold water to stop the cooking, drain on paper towels.
Combine cottage cheese, ¾ cup yogurt cheese, and all of the cheddar cheese in a large bowl. Mix in beaten egg. Add beef mixture to the bowl, stir to combine well. Spoon the filling into the pasta shells and arrange over the sauce. Sprinkle the remaining 1¼ cups yogurt cheese over the shells. Bake for 30 minutes or until the filling is thoroughly heated and the cheese is melted and bubbly.