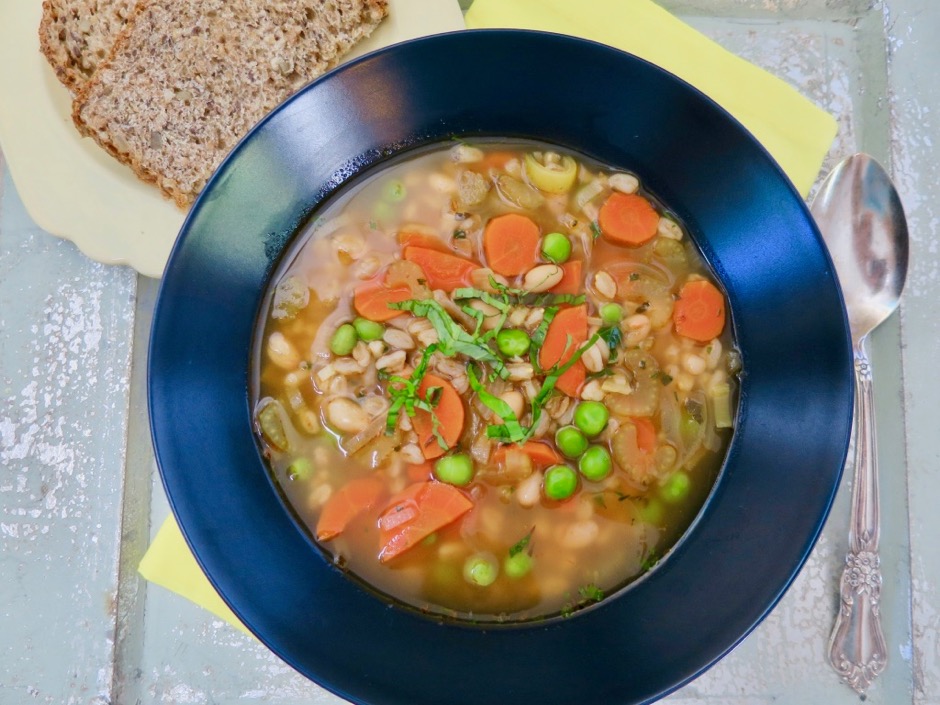 Though the seasons change ever so slightly here in Hawaii, a warm bowl of soup is still soothing once November comes around. The days are still sunny and the beaches are full of people, yet there's a noticeable difference in the temperature.  This soup is based on one that is served at Eataly in New York City.  It's really quite simple to make, and it doesn't need to simmer for hours.  The soup is brimming with healthy vegetables, beans and whole grain farro. It is light yet satisfying.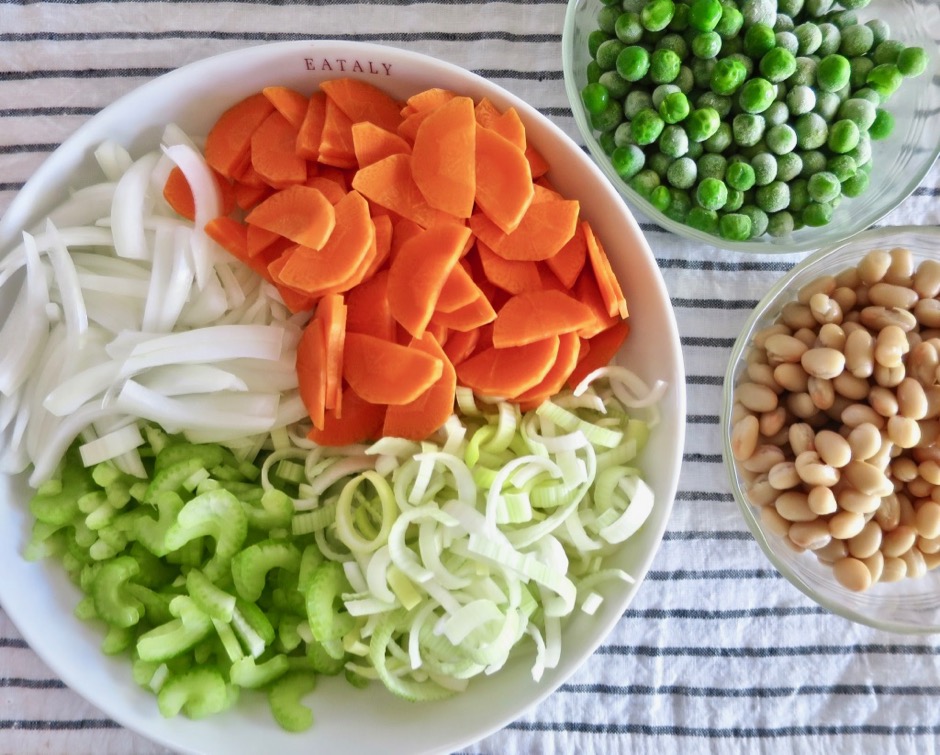 The vegetables are sliced thin which enables them to be cooked for a shorter period.  This soup is ready to eat in 40 minutes.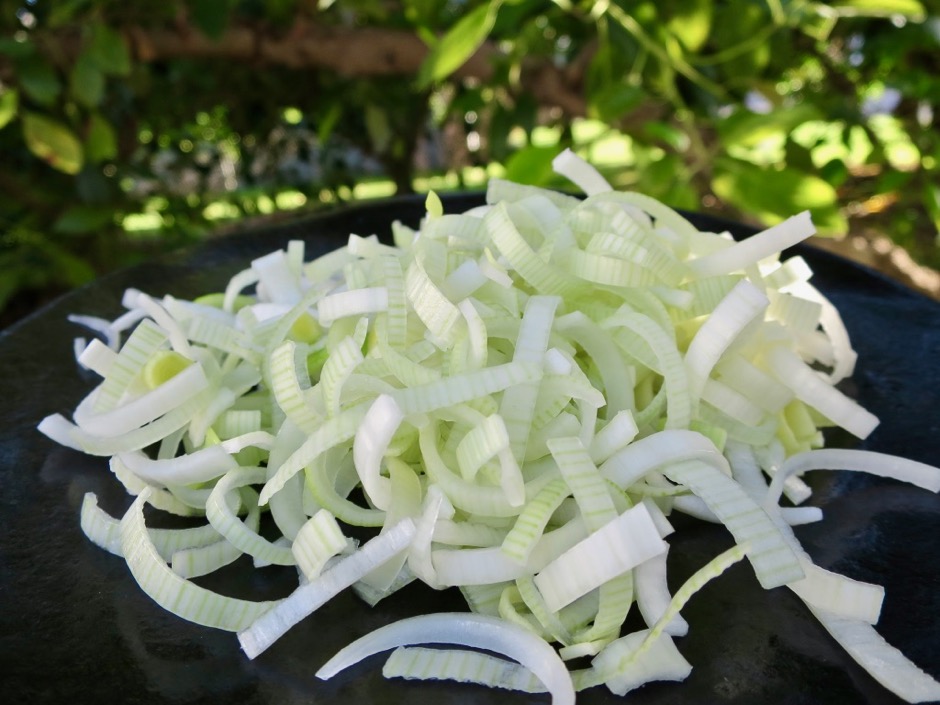 Use only the white and light tender green parts of the leek. Slice the leek into narrow strips so that they cook up nicely in a few minutes.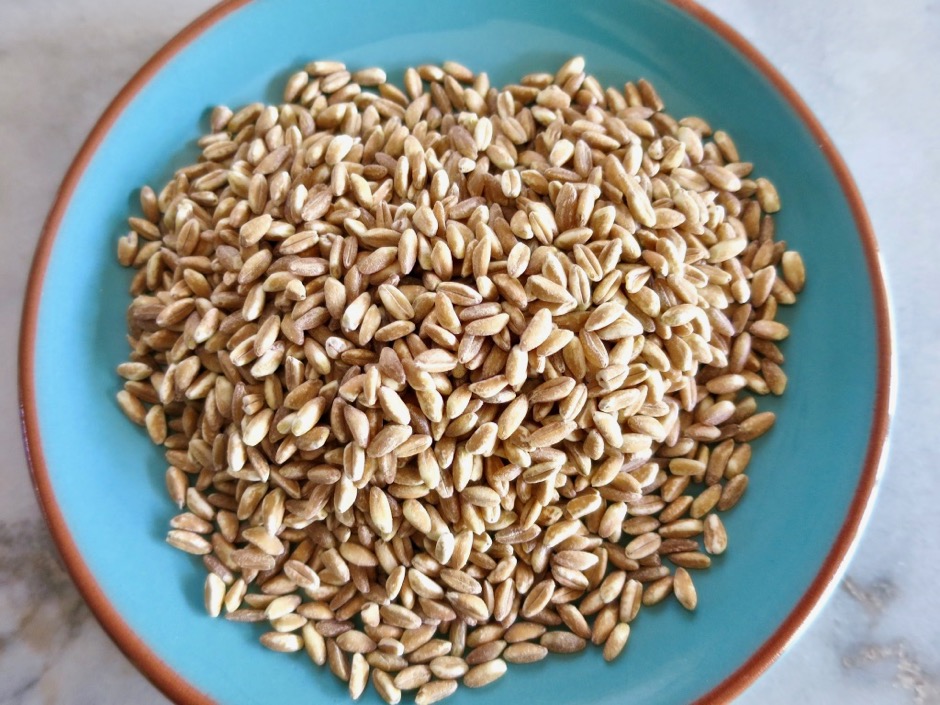 It seems that only a few years ago farro could not be found at any of our local markets. I would purchase farro on my annual trips to San Francisco and bring it home to Maui.  These days you can buy farro in the bulk section at most markets.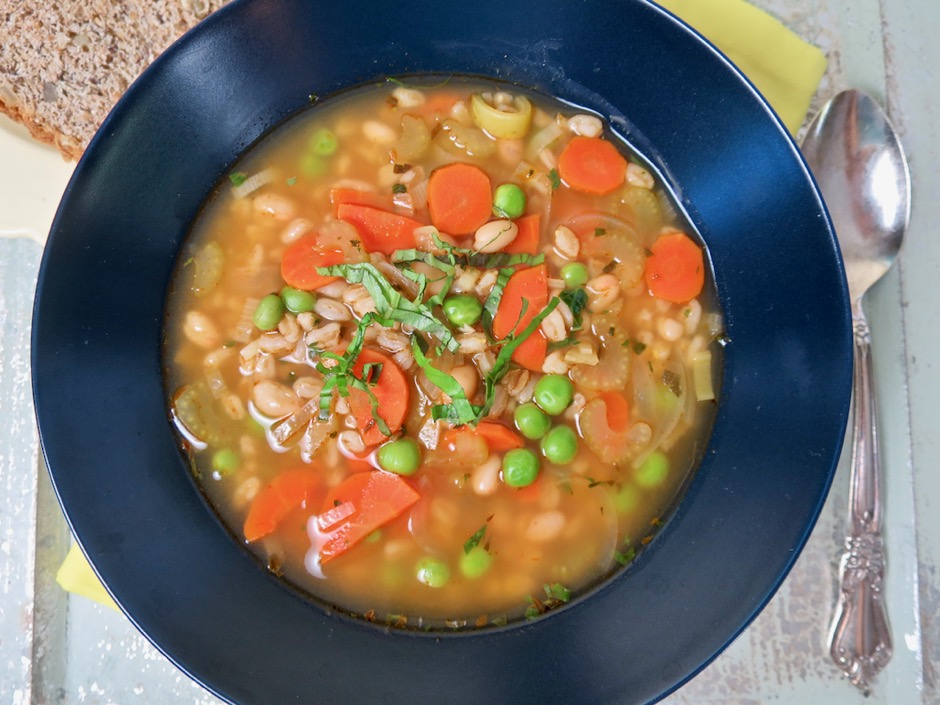 Vegetable & Farro Soup
Adapted from Mario Batali's recipe for Eataly
Ingredients
2 tablespoons extra virgin olive oil
¾ cup thinly sliced celery (about 2 celery ribs)
1 cup thinly sliced sweet onion
1 cup thinly sliced leek, white and pale green parts only (1 medium leek)
¾ cup farro
1½ tablespoons tomato paste
5 cups chicken broth
2 cups water
1 cup canned small white beans, rinsed and drained
1 small bay leaf (or half of a medium-sized bay leaf)
1 heaping cup thinly sliced carrots (halved lengthwise and sliced crosswise ¼-inch thick)
1 cup frozen peas
1 teaspoon finely chopped fresh marjoram
2 teaspoons finely chopped Italian parsley
1 teaspoon finely chopped fresh oregano (optional)
salt and freshly ground black pepper
2 tablespoons julienned basil for serving
Preparation
In a large enameled Dutch oven or other heavy pot, heat the olive. Add the celery, onion and leek and cook over moderately high heat, stirring a few times, until softened. Add the farro and tomato paste and cook, stirring until the grains are coated, about 30 seconds.
Add the chicken broth and water to the pot and bring to a boil. Add the beans and bay leaf and simmer over low heat for 20 minutes.
Add the carrots and cover the pot. Simmer on low for 20 minutes or until the carrots are just tender.
Add the peas and fresh herbs. Simmer until the peas have warmed up, about 5 minutes. Season with kosher salt and freshly ground black pepper. Sprinkle basil over each serving.