San Francisco Ferry Plaza Farmers Market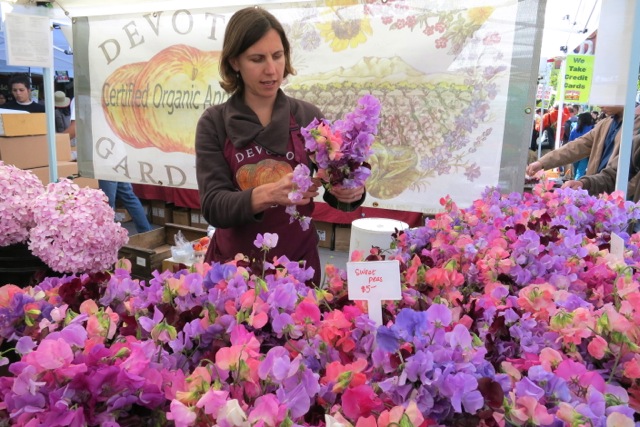 The Ferry Plaza Farmers Market in San Francisco is one of the highlights of our trip.  Each Tuesday, Thursday and Saturday there is an overwhelming variety of  vendors offering fresh produce, cheese, smoked fish, pasta, honey, jams, bread, flowers: a dizzying array of gourmet and artisan foods and wares!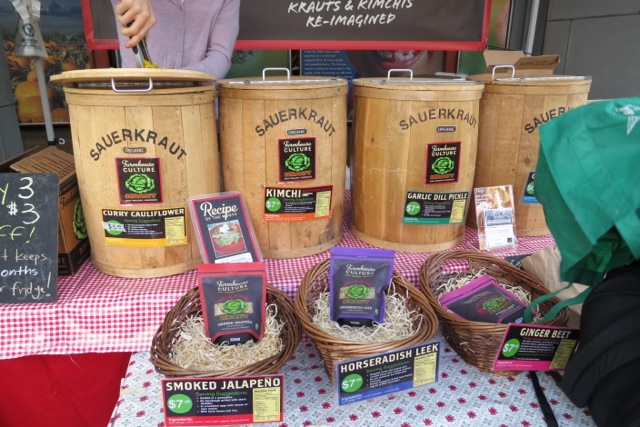 Check out these fresh pickles!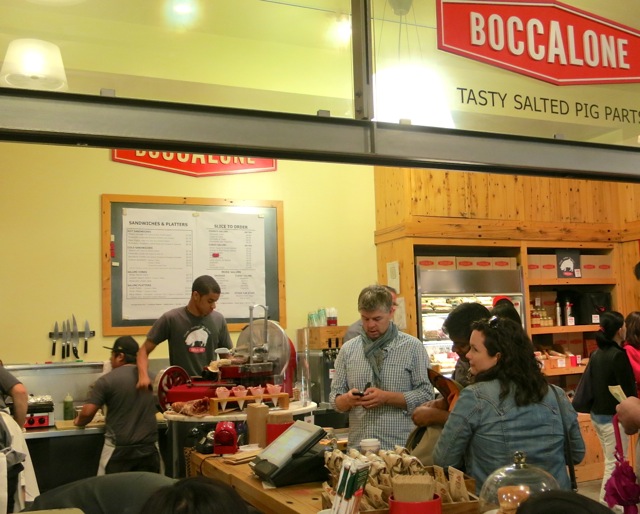 As you can see from their sign above right, they offer "tasty pig parts."  Yum…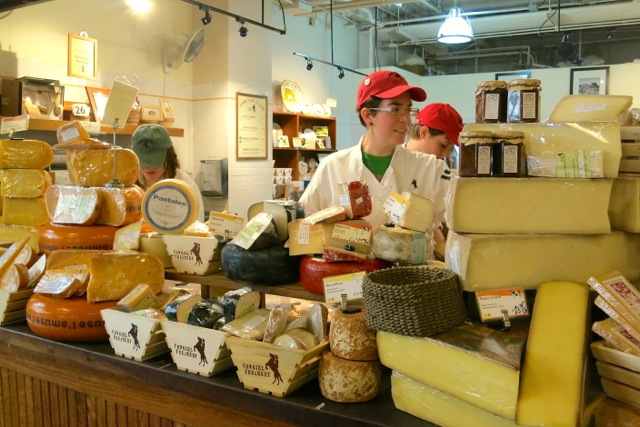 Cowgirl Creamy has an encyclopedic selection of cheese.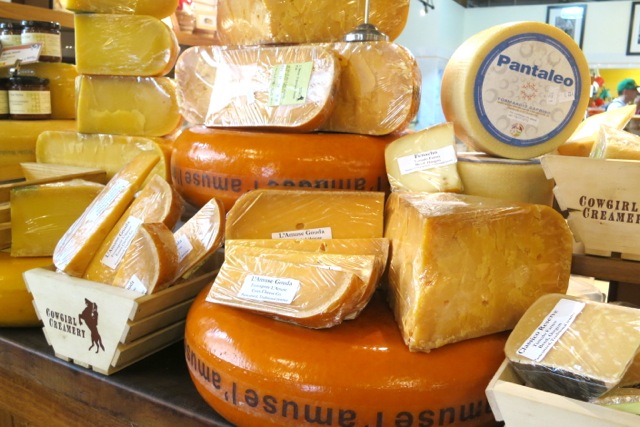 "That's not a hunk of cheese, THIS is a hunk of cheese!" Apologies to Crocodile Dundee.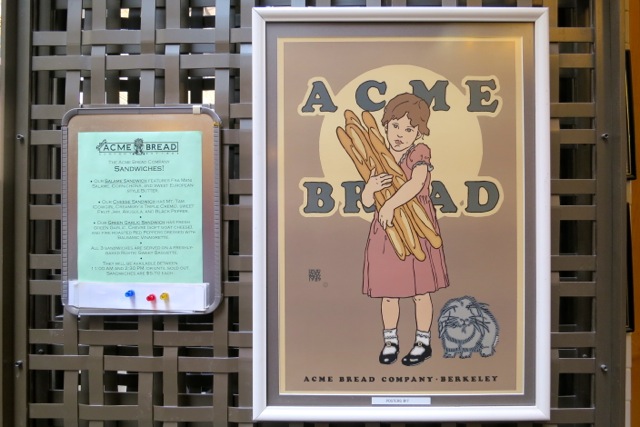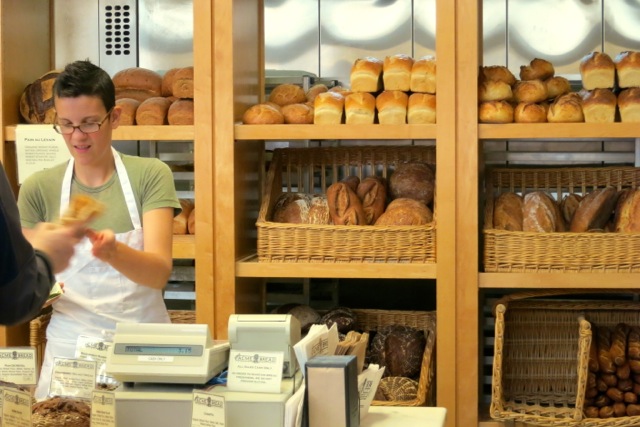 There's nothing better than fresh baked sourdough bread to go along with cheese and salty pig parts.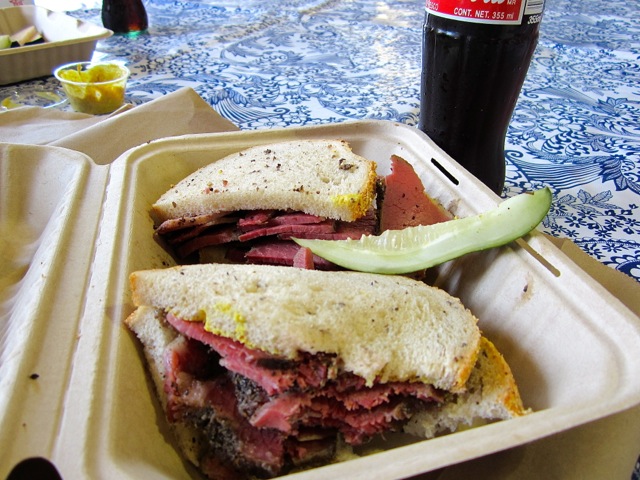 Wise Sons Jewish Delicatessen sells superb sandwiches at Tuesday's market.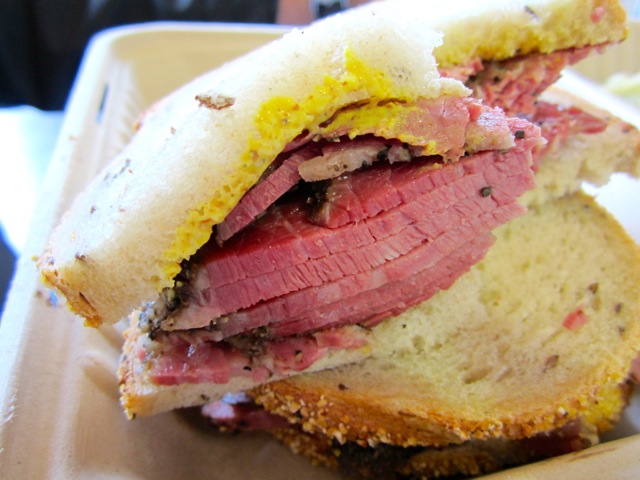 The pastrami sandwich – tender, lean meat stacked high.  Good news for Wise Sons fans: they just opened another location at the Contemporary Jewish Museum which is mere steps away from our favorite hotel, the SF Marriott Marquis.
No matter what day you go, you'll find all kinds of treats at the Ferry Plaza Farmers Market. Saturday's Farmers Market offers the largest selection of vendors but be prepared to fight the crowds, it's jam packed!
Oola (Lunch)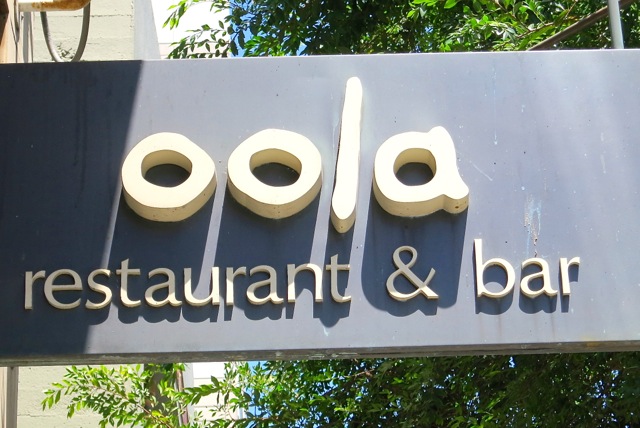 We've been to Oola numerous times.  It's usually our first meal in San Francisco after flying in from Hawaii. Oola serves dinner until 1:00 a.m. and since we don't get to our hotel until 10:00 p.m. or later, it's the perfect place for a late night meal.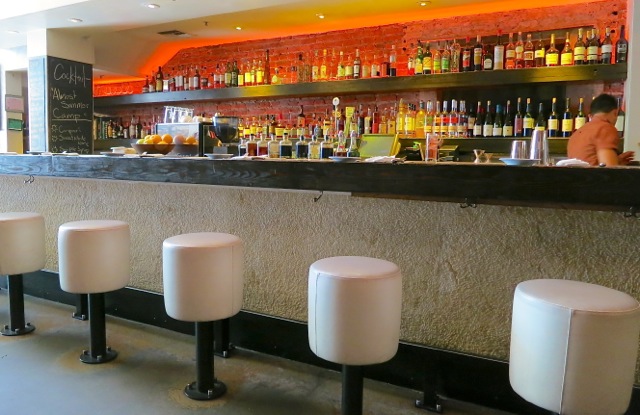 This trip we decided to have lunch at Oola instead of dinner.  The service was very good, better than we experienced at dinner.  Maybe it was due to the restaurant not being as busy as it is during the evening.  In any case, our server was much more pleasant and accommodating than the servers we had at dinner.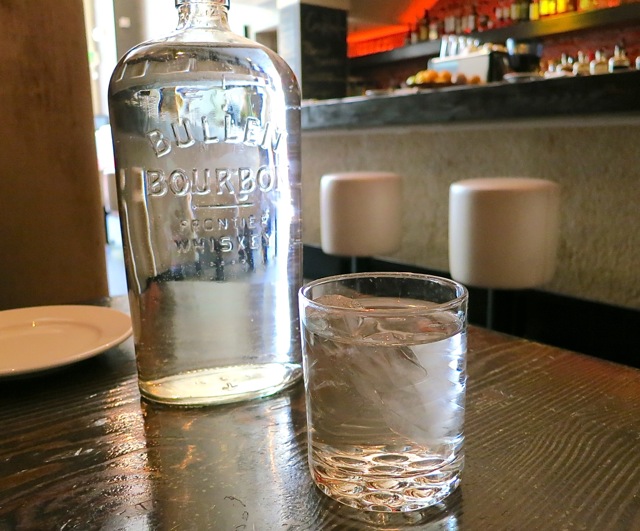 Simple touches such as this cool water pitcher make Oola a fun place to dine at.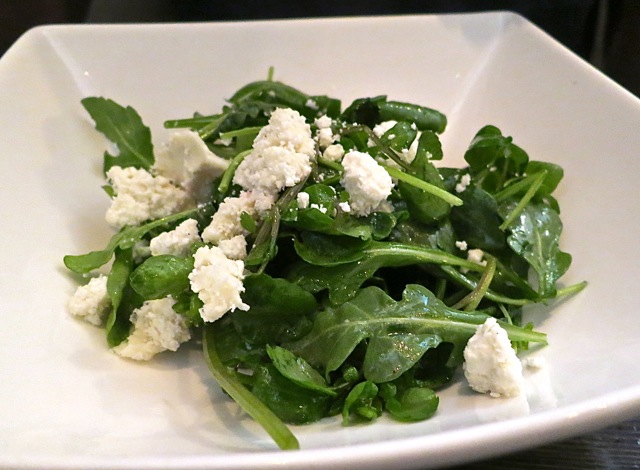 The arugula salad with goat cheese was tasty and fresh though very sparse and not very exciting.  It seems they could have added some color to the dish, maybe some fresh beets would have brightened up the salad.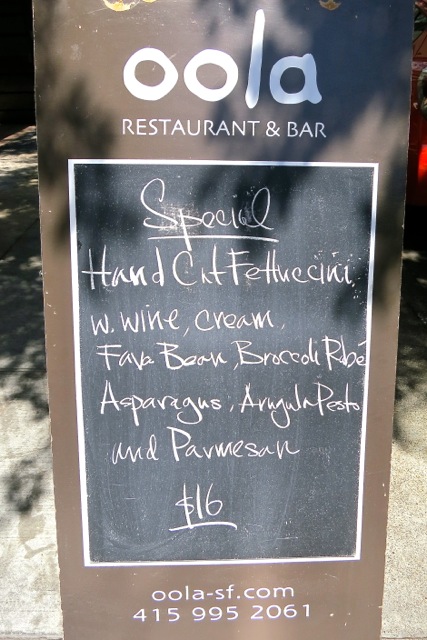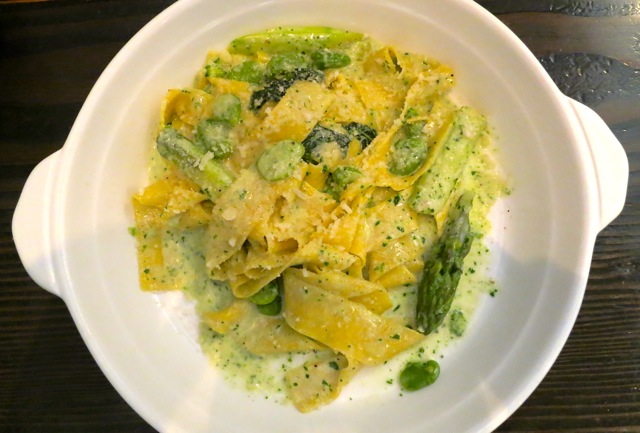 The Daily Special of "hand cut fettuccine with fava beans and pesto" was a beautiful and delicious dish.
I had to order the ribs again but this time I was disappointed.  They were overcooked and portions of the ribs were really dried out.  Such a shame!  We're not sure if we'll go back to Oola.  With sketchy service in the evening and inconsistent food we'll have to think about this one.
Campanula (Dinner)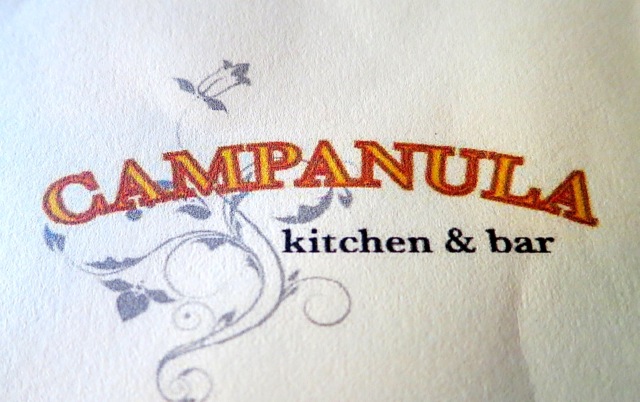 Campanula is the sister restaurant of Frascati in Russian Hill.  As we enjoy Frascati so much, we decided to give it a try.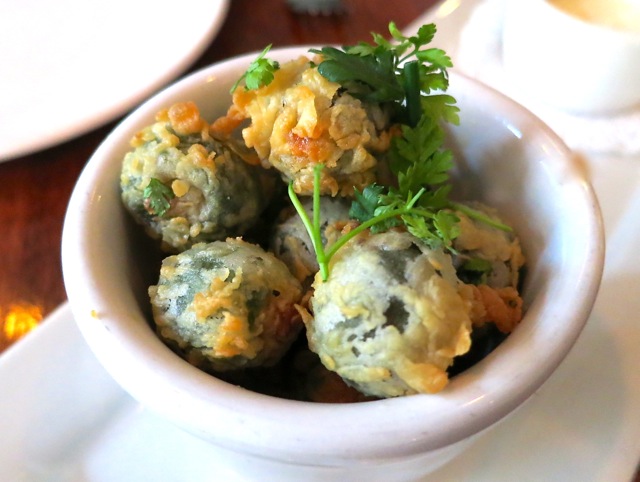 What better way to start the evening than with fried olives?!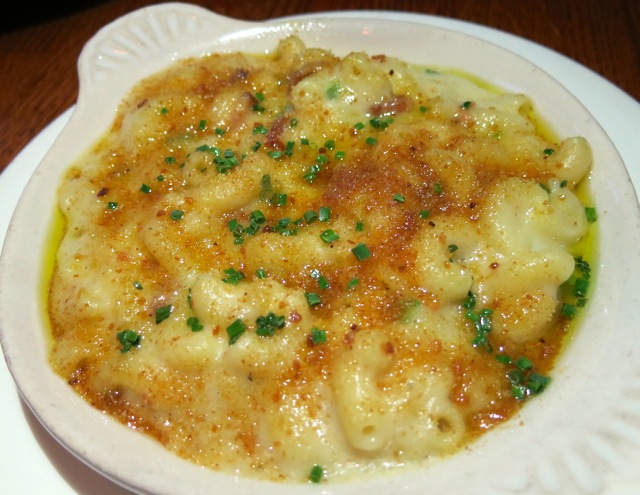 Campanula Mac & Cheese.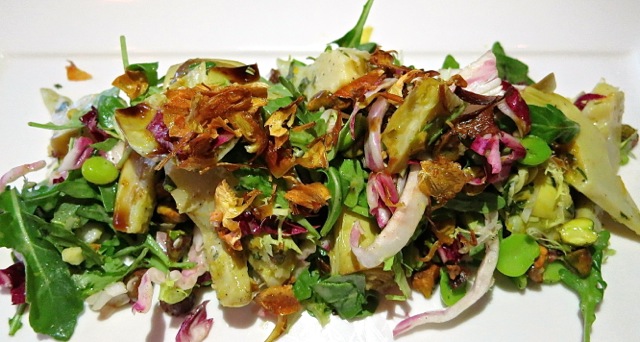 Fresh artichoke salad.
Buratta on grilled bread.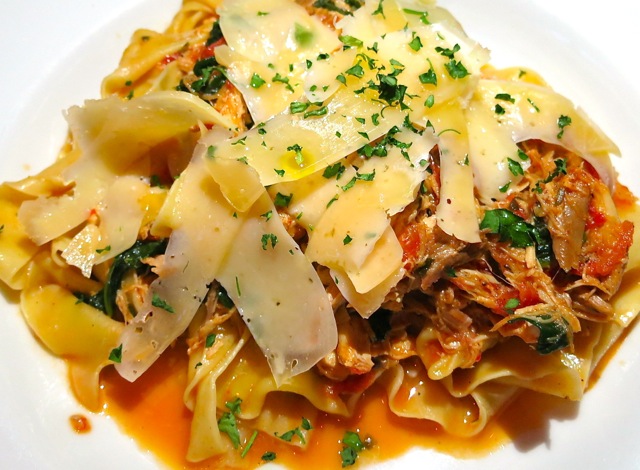 Pasta with duck sugo (special of the evening).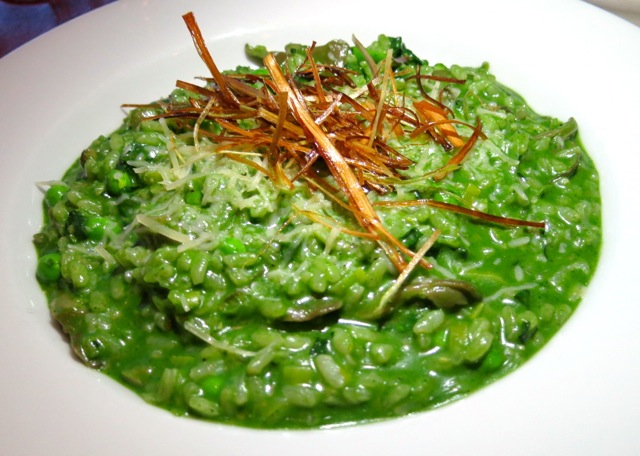 Beautiful green herb risotto.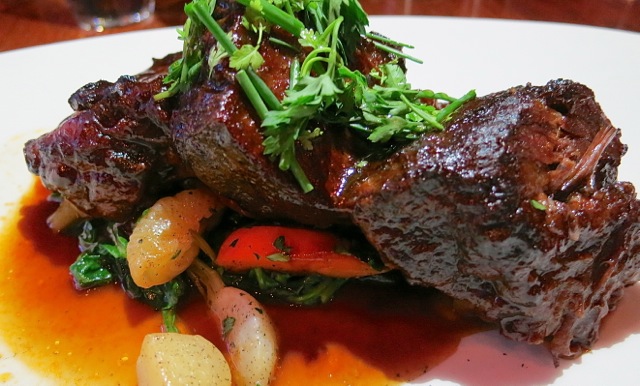 It's hard for me to ignore short ribs if they're on a menu.  Campanula short ribs were fantastic!  Served with perfectly cooked vegetables, it was delicious.
The service was fine and the food was tasty and reasonably priced.  The restaurant decor was nondescript.  The table that we were seated at wasn't the most desirable.  With a long list of favorite restaurants and so many new ones we've yet to try, we will probably not return to Campanula.
Sociale (Lunch)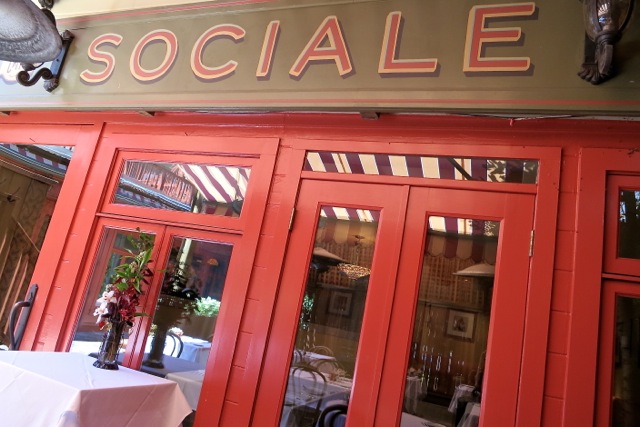 Sociale is one of our favorite restaurants, bar none. We've been there many times for lunch and for dinner.  It's a very cute, quaint restaurant that offers outdoor seating when the weather is nice.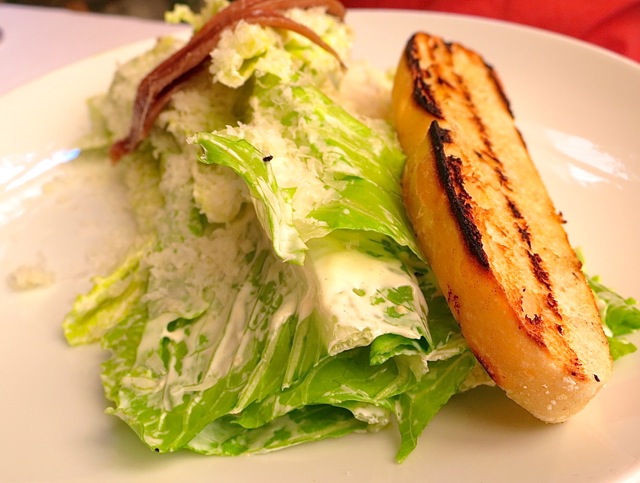 The Caesar salad was delicious with a generous sprinkling of parmesan and the grilled bread that accompanied the salad was scrumptious.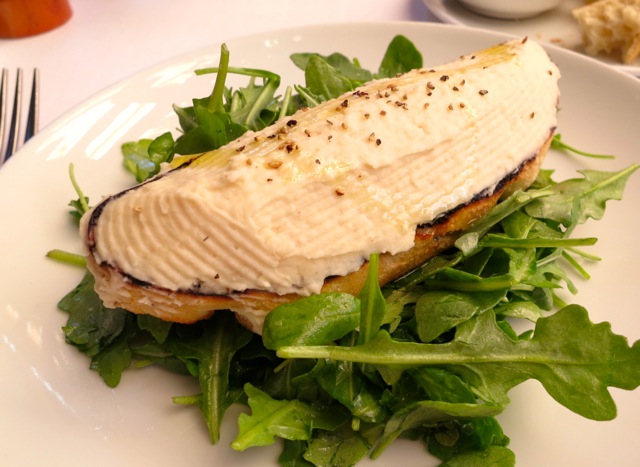 This arugula salad with white bean crostini is my favorite salad at Sociale.  The white beans are generously spread on tasty grilled sourdough bread.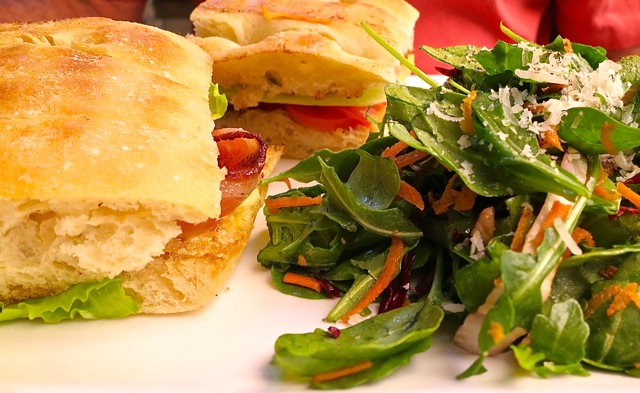 John had one of the specials of the day, a unique BLT.  The bacon was cooked perfectly and the smoky flavor of the bacon really made the sandwich stand out.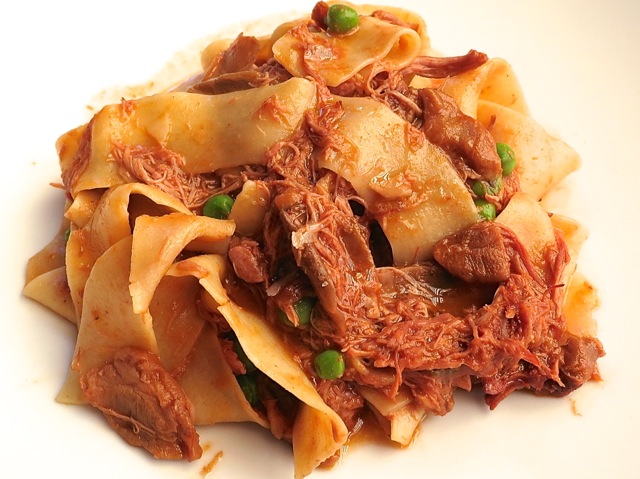 The duck ragu pappardelle is a staple on their lunch and dinner menu and it certainly deserves the attention.  Fresh pasta and silky mushrooms with tender duck ragu, not too rich but totally satisfying.
Sociale is a lovely restaurant with exceptional service and food.  Open for lunch Tuesday through Saturday and dinner Monday through Saturday, go ahead and book a table. You won't regret it.
Umami (Dinner)
This was our second visit to Umami and once again the food was terrific, however the noise in the restaurant is truly unbearable.  This time we were seated upstairs next to a table of 6 people.  They were so loud that we asked our server to move us to another table across the room.  I can't blame the people entirely,  the restaurant's acoustics are inadequate, to say the least!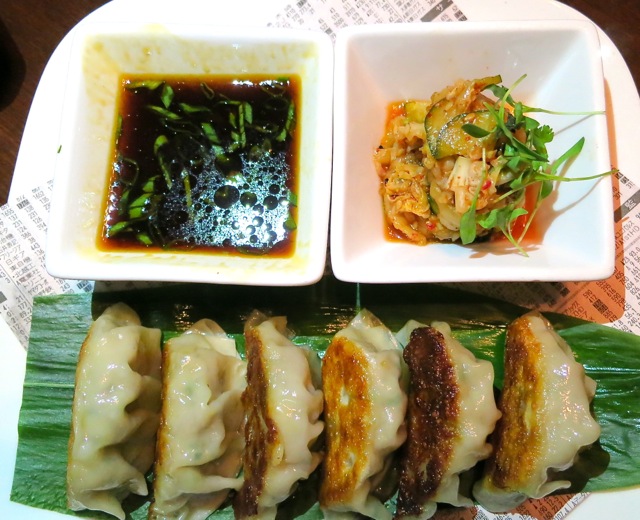 The gyoza were very tasty and perfectly pan-fried; uniquely served with homemade kimchi as well the usual dipping sauce.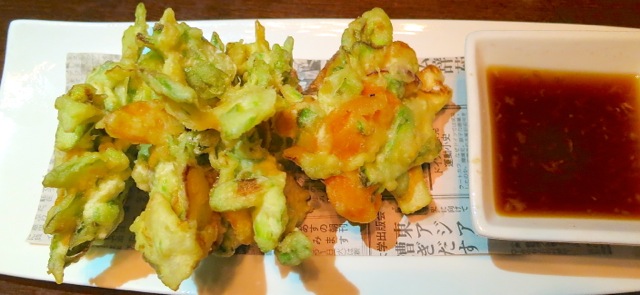 Vegetable tempura was OK.   The batter was a bit on the thick side.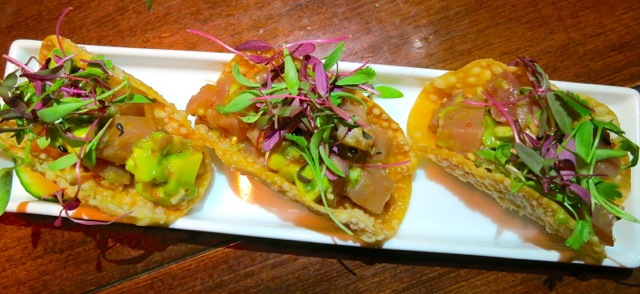 Ahi tacos were a hit! Double order next visit!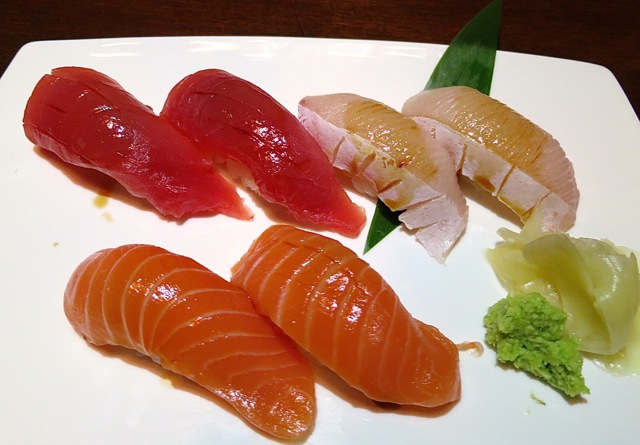 Assorted, beautiful sushi.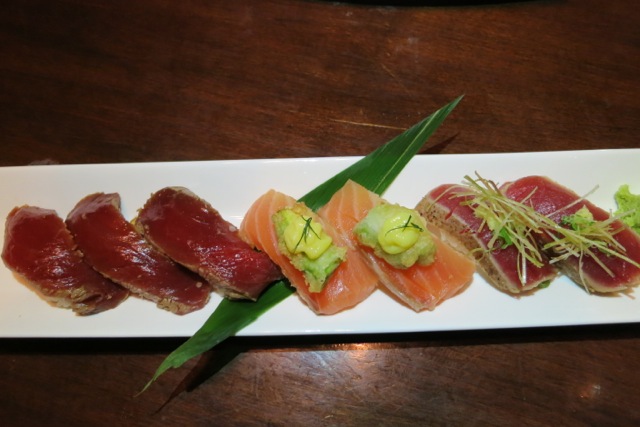 More sushi!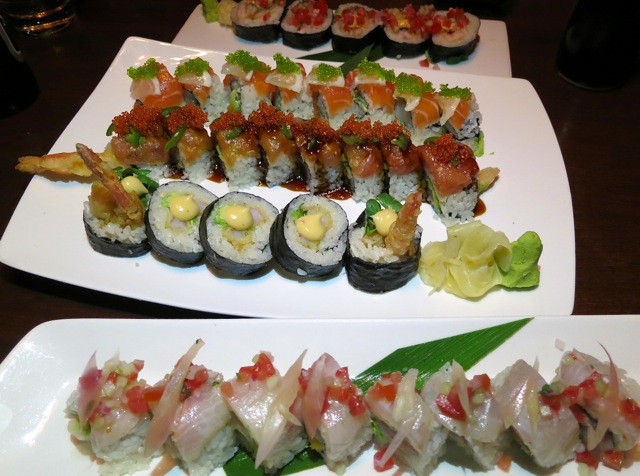 And even more sushi!!
Umami is a fun place to go to with a small group of friends.  The extensive menu has so many choices that everyone will be happy!
Alexander's Steak House (Dinner)
We read about Alexander's Steak House over the years and even walked by it once during our travels about town. This trip, John suggested we try it and wow!  We were blown away on how good it turned out to be.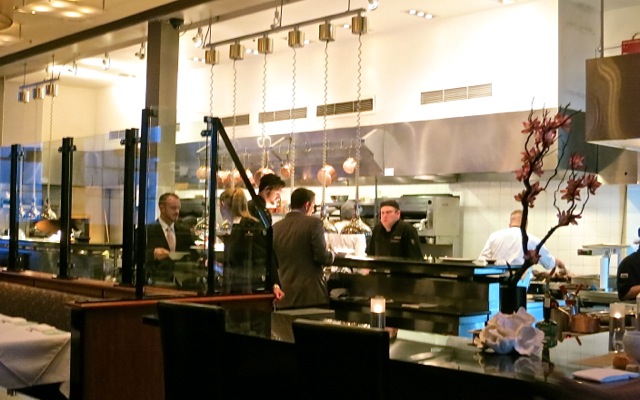 They have a nice open kitchen which turned out to be very entertaining.  In a moment, you'll see what I mean.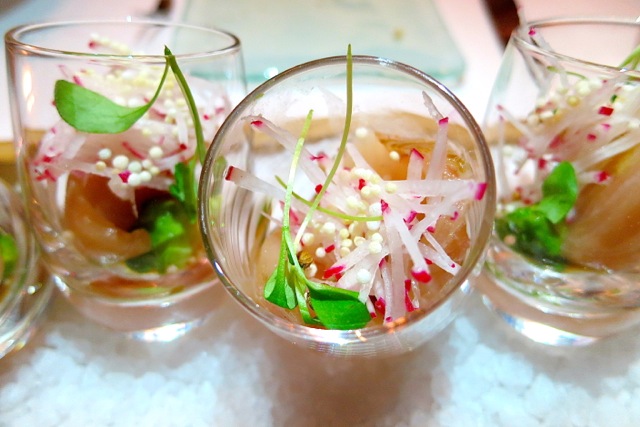 The hamachi shots were fantastic!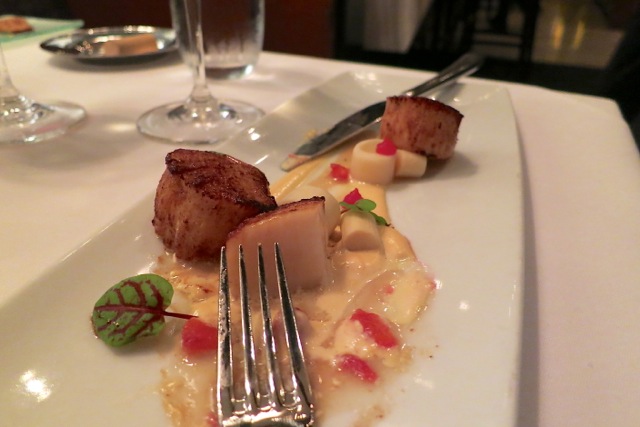 Dayboat scallop appetizer, perfectly seared!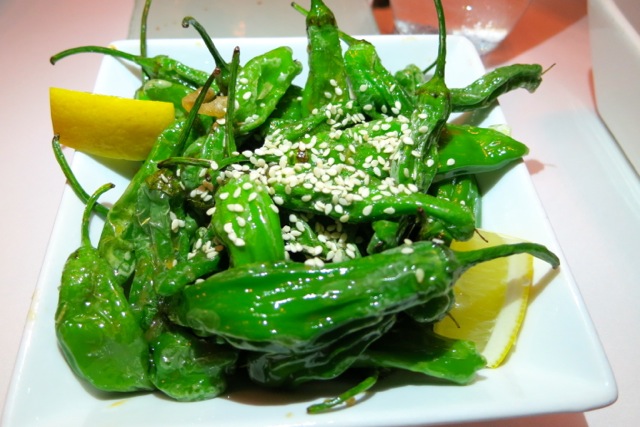 Here's a beautiful appetizer of fried peppers.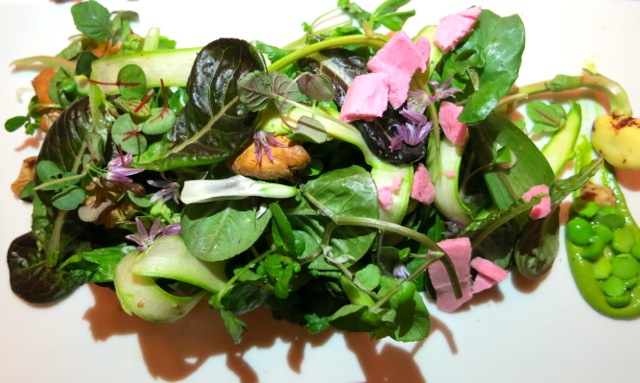 Garden salad.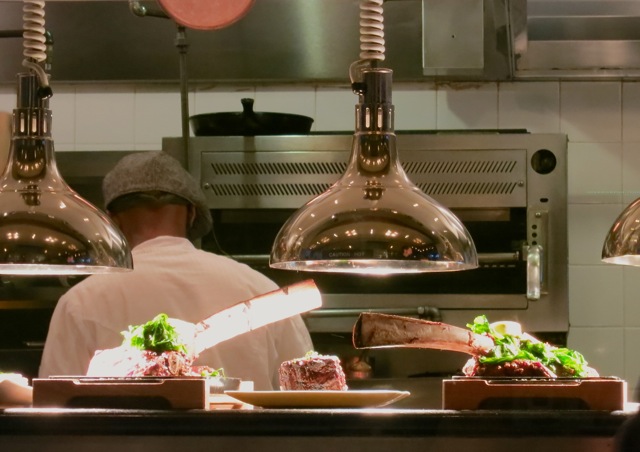 This is what I mean about the kitchen being entertaining.  We spotted these tomahawk steaks waiting to be served.  We have never seen anything like this before.  Steak lovers paradise!  Tomahawk chop for two is a 15 ounce dry aged rib eye steak.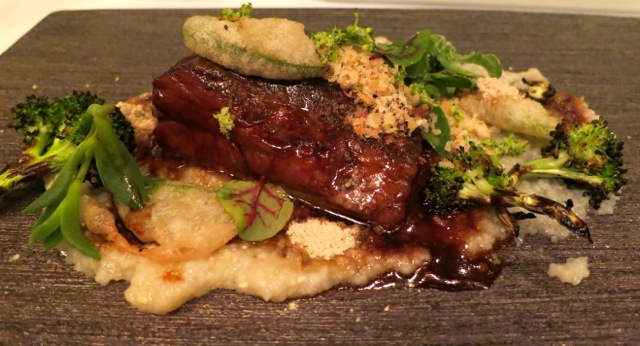 New York Steak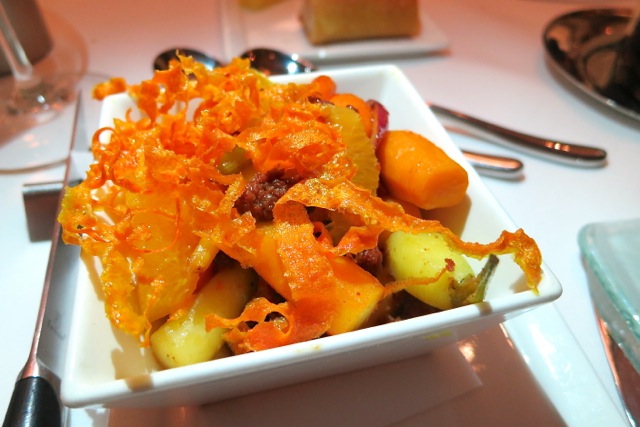 This colorful carrot side dish was wonderful.
Oh my!  A baked potato "non plus ultra."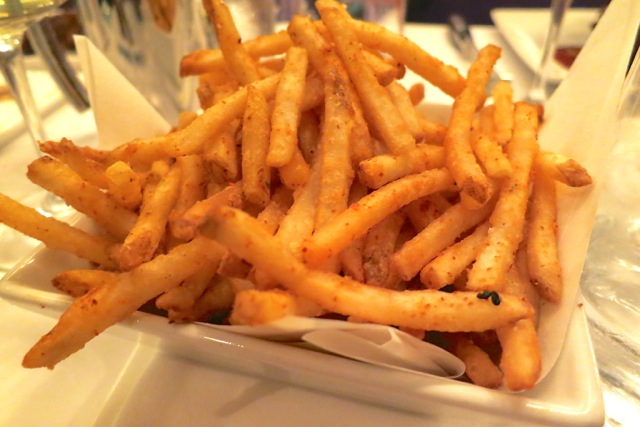 Frites were crispy and perfectly salted.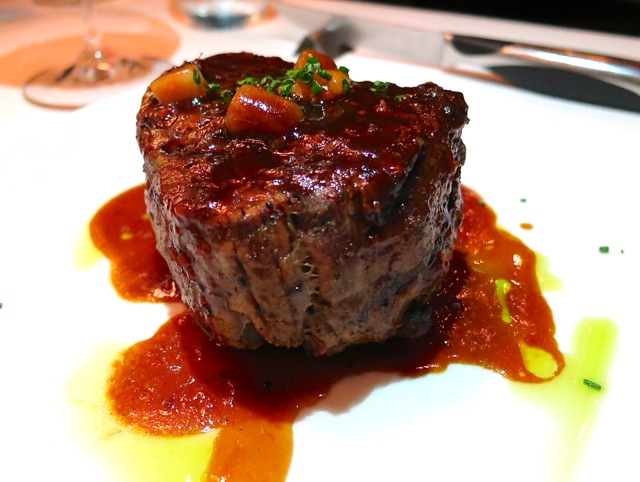 Alexander's filet was the best we ever had.  Perfectly seasoned and cooked to perfection.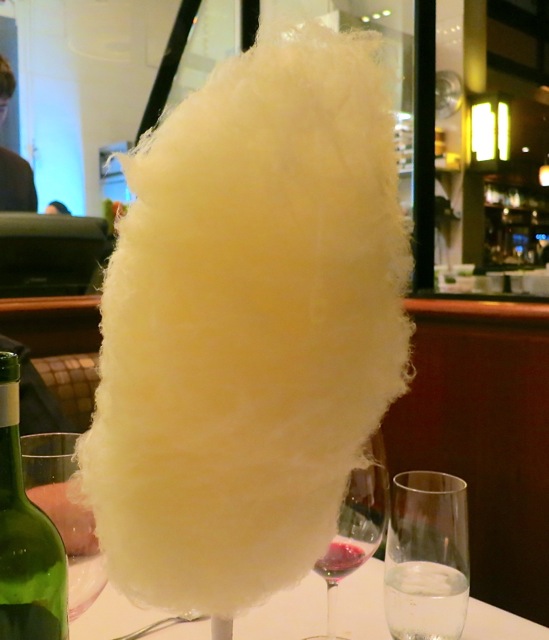 Alexander's ends the evening by bringing each table a big fluffy ball of cotton candy!
We had a great time at Alexander's Steak House.  The food, service and ambiance was spot on and we can't wait to return.
Cafe Bunn Mi (Lunch)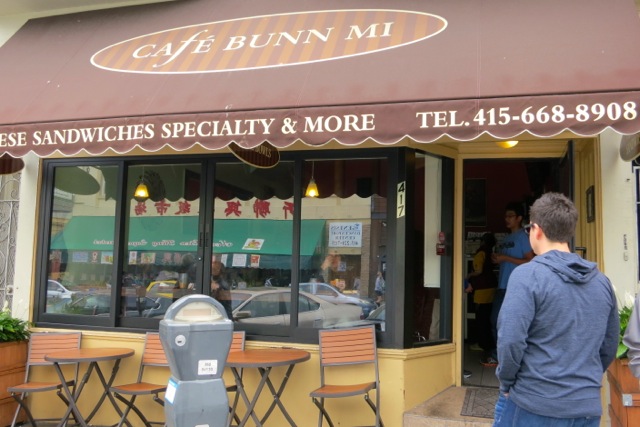 Located on Clement Street Cafe Bunn Mi is a tiny restaurant that serves tasty banh mi sandwiches.  A few tables inside with counter seating at the window and a few tables outside makes this a great place for a quick meal.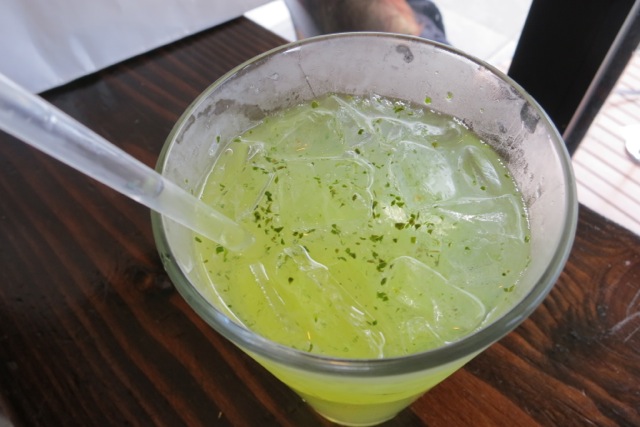 Homemade lemonade.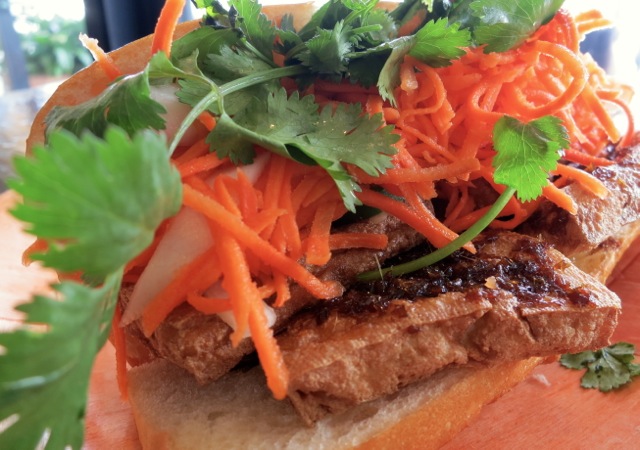 Tofu banh mi
Pork banh mi
I love banh mi.  The fresh French rolls stuffed with do chua pickles and lots of cilantro and a savory filling such as tofu or pork makes a wonderful and satisfying lunch.  I hear there are many places to find good banh mi in San Francisco so we will seek them out on our next visit however if we are in the area of Cafe Bunn Mi we will certainly stop by for one of their fantastic sandwiches.
Tartine Bakery (Lunch)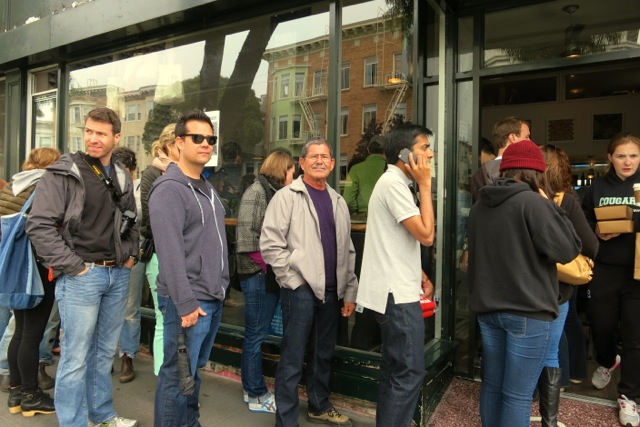 Waiting in line at Tartine Bakery (the world's greatest bakery?  Yup!). We had to make the trek to Tartine because John is an artisan bread aficionado.  He makes his own and once he got a hold of Chad Robertson's Tartine Bread book he was sold on the Tartine method.  Even though it's off the beaten path, and you have to stand in a long line, we had to try it.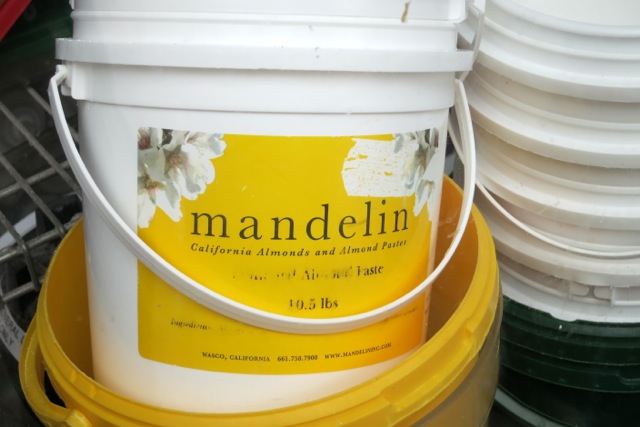 Bakery sights while waiting in line.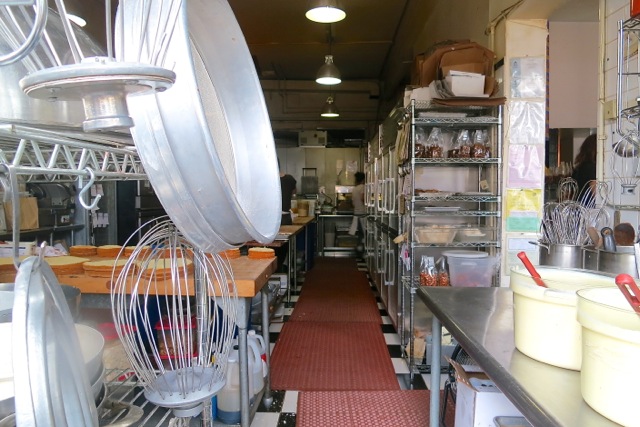 The innards of Tartine Bakery from the outside window.
We finally got in and caught a glimpse of the pastry display case.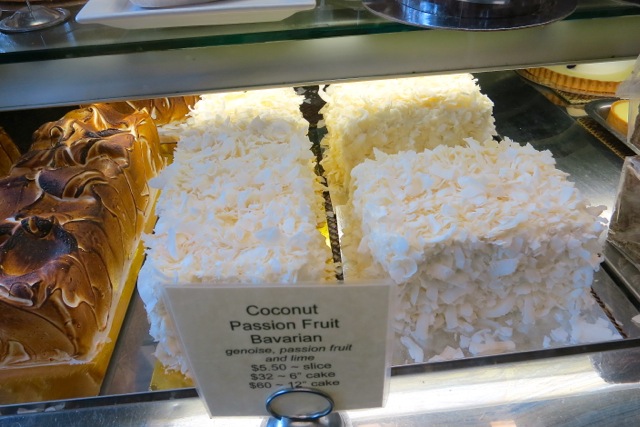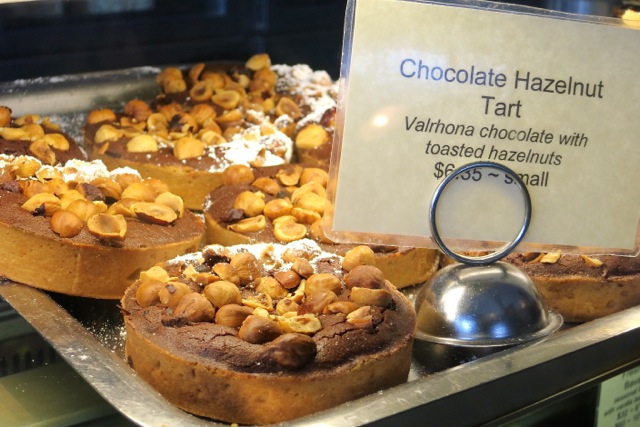 After some time in line we were finally able to order our panini and score one of the few small tables. This is the spicy turkey panini with broccoli rabe pesto.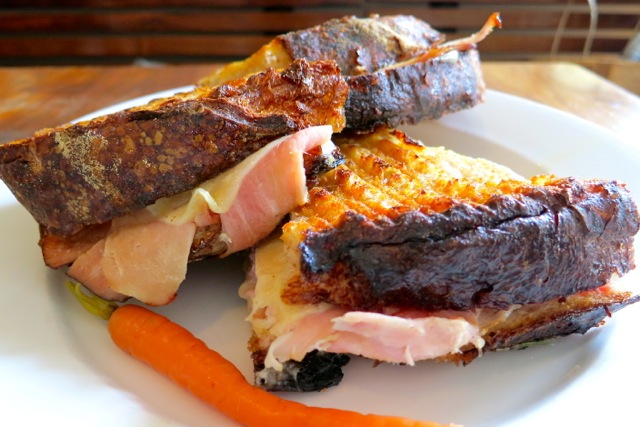 Jambon Royale. Royale indeed!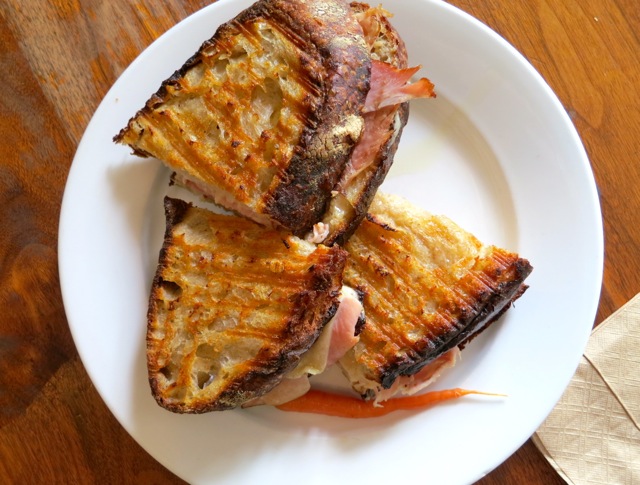 The pickled carrot was divine.  We asked if we could buy some but were told it was only available as a garnish in the bakery.
We waited in line for some time and struggled to find seating, it was raining so the meager outside seating was not available.  These are the best panini we have ever had because they are made with the world's best bread and  finest fresh ingredients.  Despite the inconveniences it was worth it!