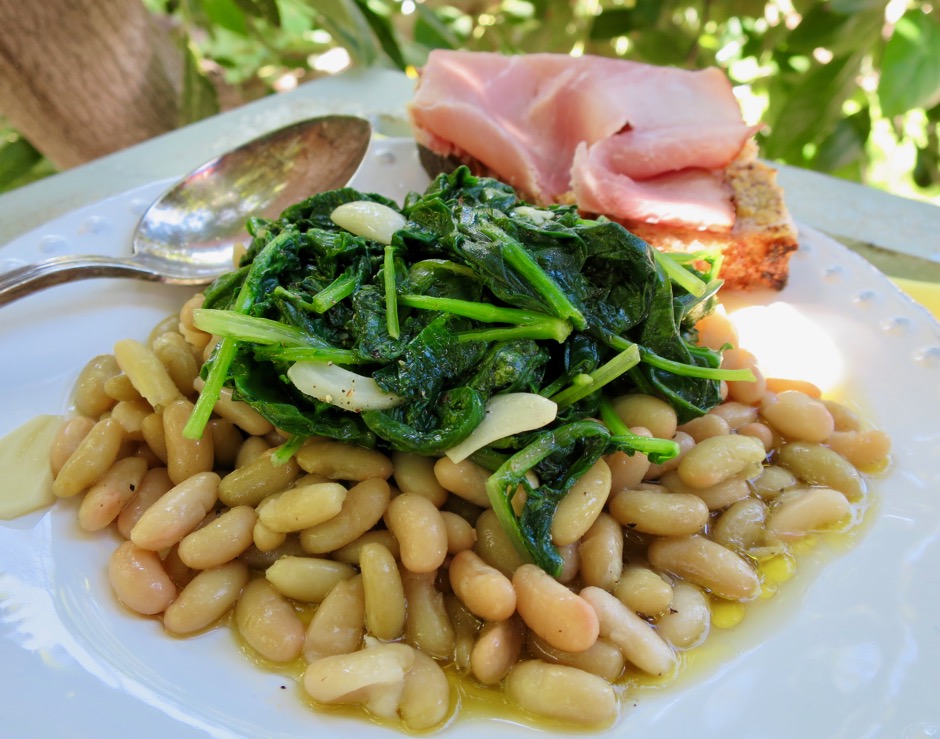 A few years ago I purchased Christopher Hirsheimer and Melissa Hamilton's highly regarded Canal House Cooks Every Day cookbook.  The book has gorgeous photos with straightforward, practical instructions and is formatted by the four seasons.  It's just a lovely book.  I had not consulted it in several years but I won't neglect it again.  An example of their beautiful cuisine is this simple and delicious meal that lets the beans and greens shine.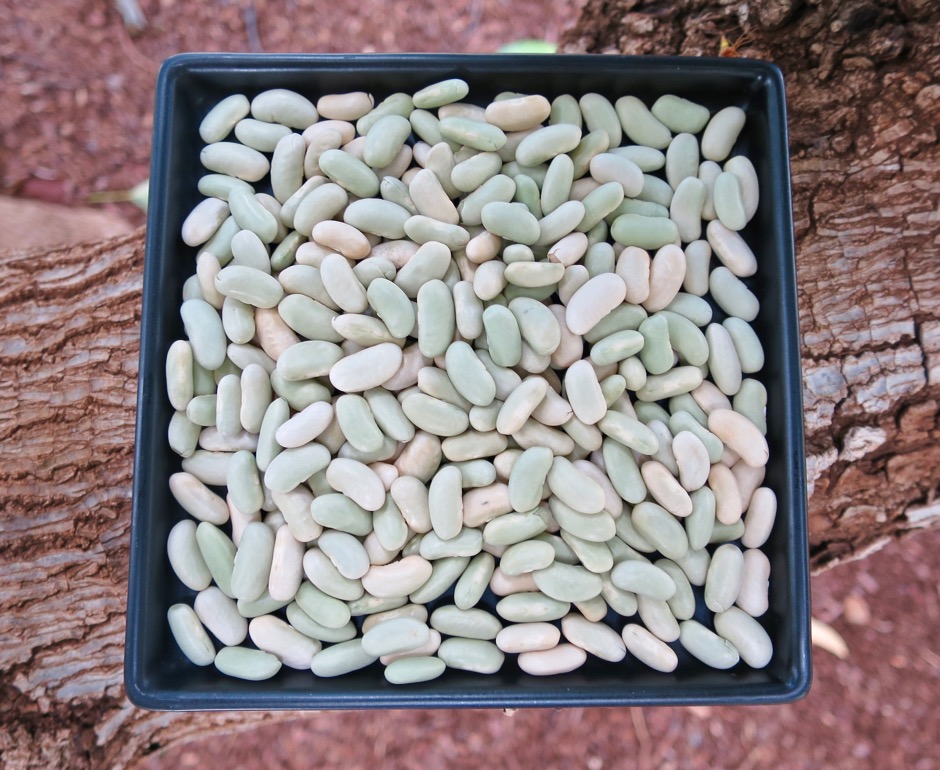 The original recipe calls for borlotti beans but they weren't available at any of the stores I visited.  Instead, I used flageolets, one of my favorite beans.  Beautiful pale green and ivory colored, they cook up nicely, holding their shape.  I used my pressure cooker to save some time but you can certainly cook them in a Dutch oven if you don't have a pressure cooker.  As with all types of beans, some will break during the cooking process.  A few will be too soft.  Though it may take an extra 5 – 10 minutes, I sort through the beans discarding the broken and soft beans after they have cooked.  Your finished dish will look beautiful and all of the beans will be the perfect texture.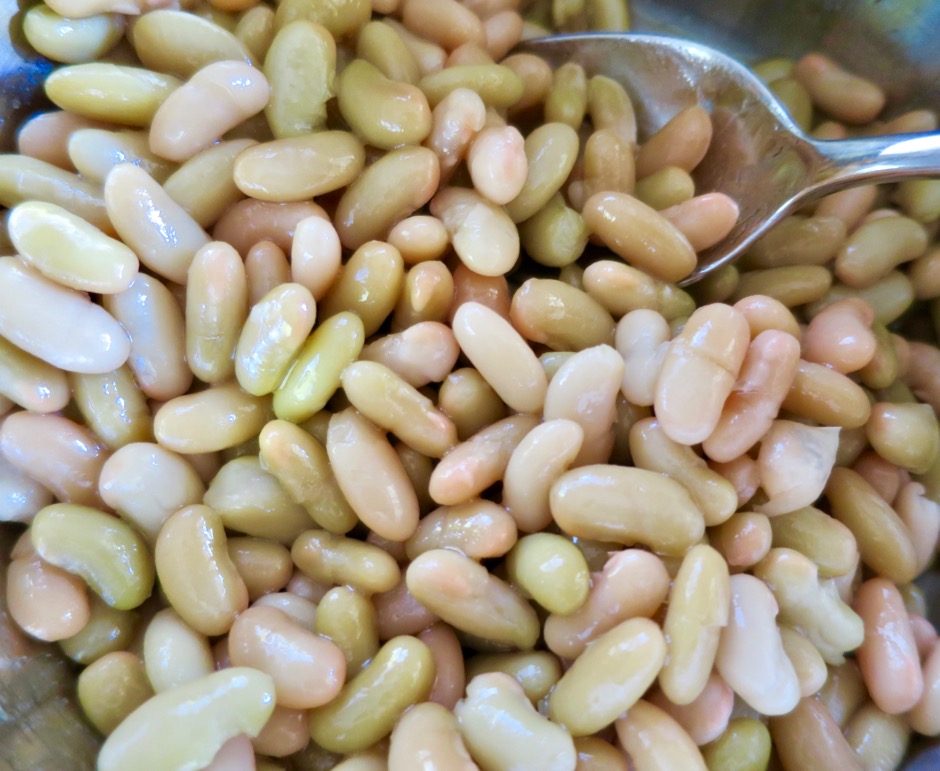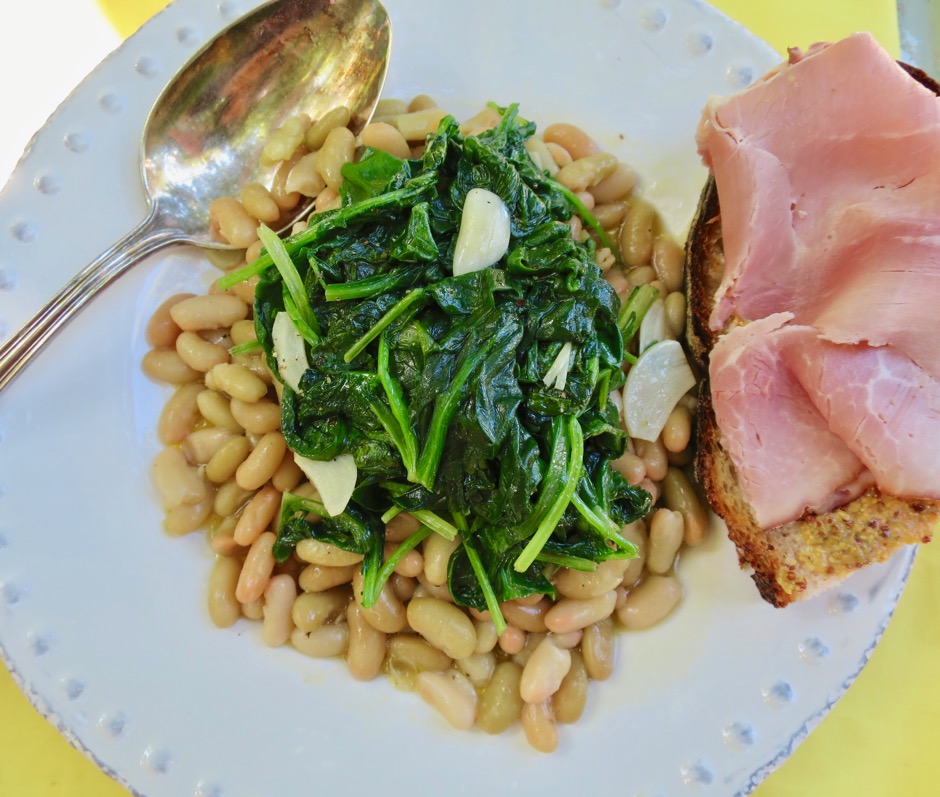 Flageolet Beans & Wilted Greens
Adapted from Canal House Cooks Every Day
Serves:
2 as a main dish or 4 as a side dish
Ingredients
1 cup dried flageolet beans, rinsed (sorted through to remove broken beans)
½ medium onion cut in half
1 bay leaf
good extra virgin olive oil
1 clove garlic, thinly sliced
5 ounces baby kale, spinach, or a combination (I used Organic Girl I Love Baby Kale mixture)
kosher salt
freshly ground black pepper
Preparation
For stove top pressure cooker:
Place beans in pot with 5 cups filtered water, bay leaf and onion. Pressure cook for 25 - 30 minutes. Let pressure release naturally. Check beans for doneness. They should be tender and cooked through but not mushy. If they need a little more time, pressure cook for a few additional minutes or simmer on the stove until done.
For Dutch oven stove top:
Place beans in a Dutch oven or other heavy pot along with the onion and bay leaf and cover with at least 2½ inches of water. Bring the beans to a gentle boil, then turn the heat down so the beans simmer gently. Check on the beans after 50 minutes to see how they are doing. Add more hot water as needed to keep the beans submerged. Continue to monitor the beans until they are completely cooked through but not soft.
If you made your beans in advance remove them from the refrigerator and place them in a pot with a few tablespoons of water and a good splash of olive oil (discard onion and bay leaf). Cover and heat on low until just warm.
Meanwhile, put 1½ tablespoons olive oil and the sliced garlic in a heavy medium skillet over medium heat. Rinse your greens and add it to the pan with the water still clinging to the greens. Sauté the greens, stirring and turning them in the oil, until wilted and tender, about 5 minutes. Season with salt and pepper.
To serve, place beans in a shallow bowl. Drizzle beans with a little olive oil. Top with the wilted greens and season with salt and pepper. I serve this with open-faced ham sandwiches but toasted garlic bread would be a delicious accompaniment as well.