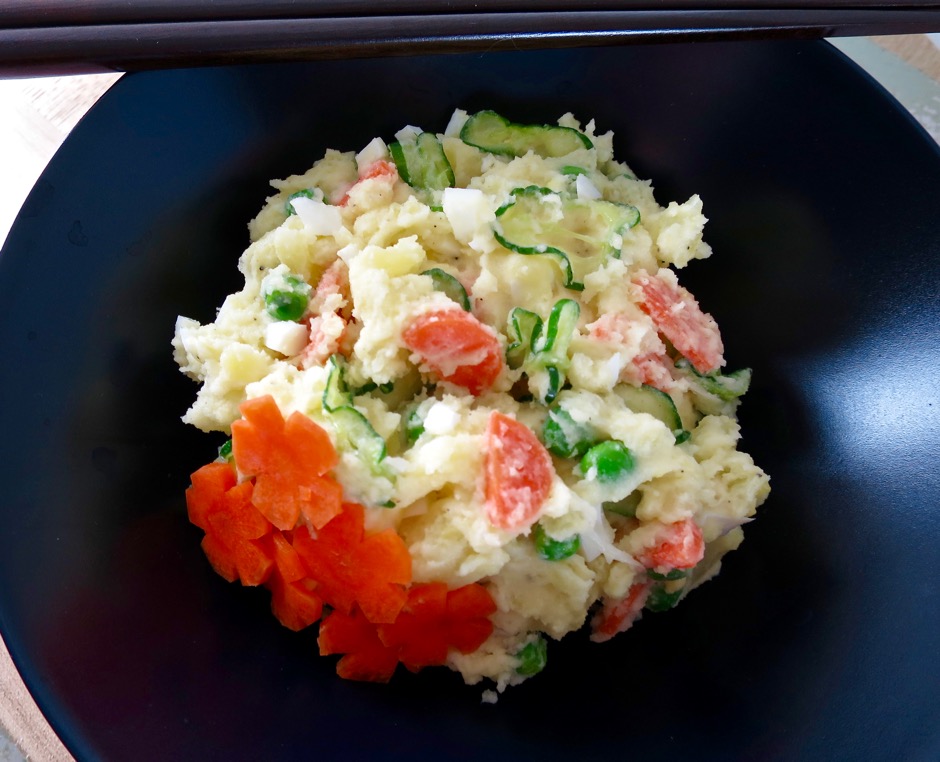 Japanese potato salad has much in common with the American version however it does have a few unique twists.  The potatoes are crushed instead of cubed, and an assortment of vegetables are added such as cucumbers, carrots, onions, corn. Finely chopped ham and hardboiled eggs can also be combined in this wonderful potato salad.  Occasionally I will add a handful of green peas.  Many recipes call for Japanese Kewpie mayonnaise however my personal preference is to use regular mayonnaise. Either way, this is a delicious salad that everyone loves.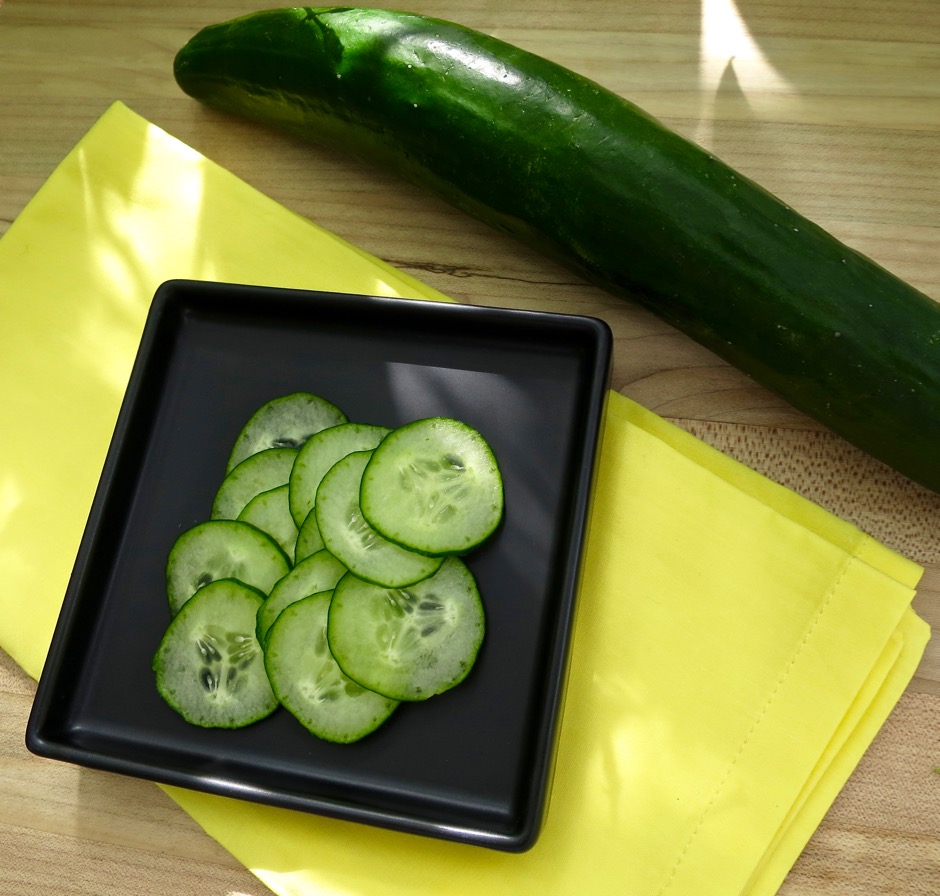 Japanese cucumbers are readily available at our local markets in Hawaii, however, if you don't have access to them, any small, seedless cucumber works.  Slice them very thin. I use my favorite Benriner mandoline.
I have made this salad without ham (top photo) and with ham below. Both are equally delicious.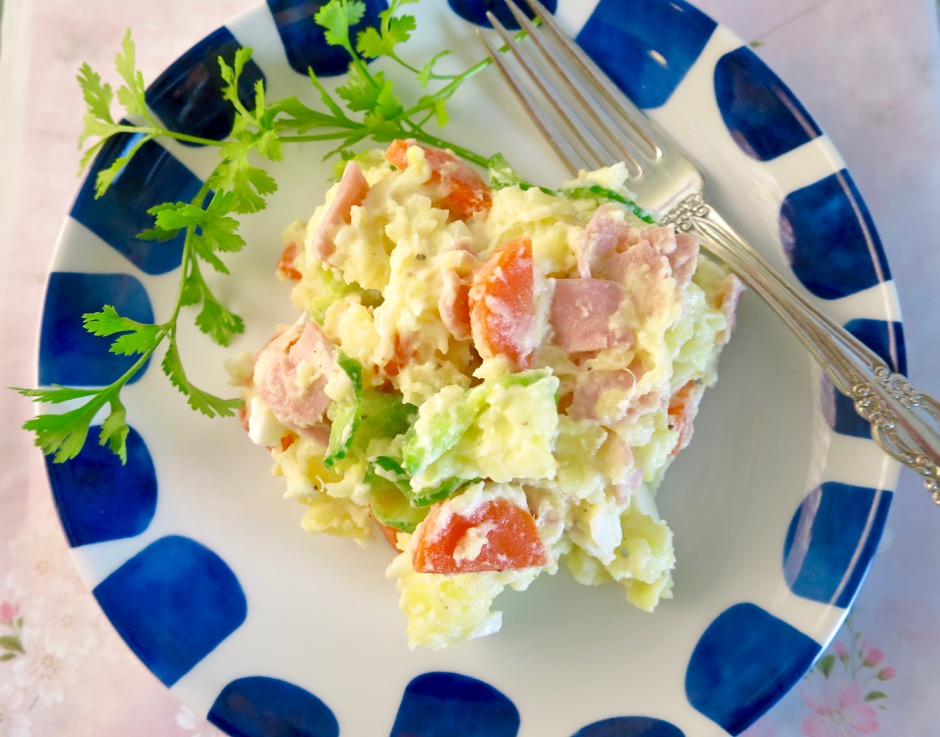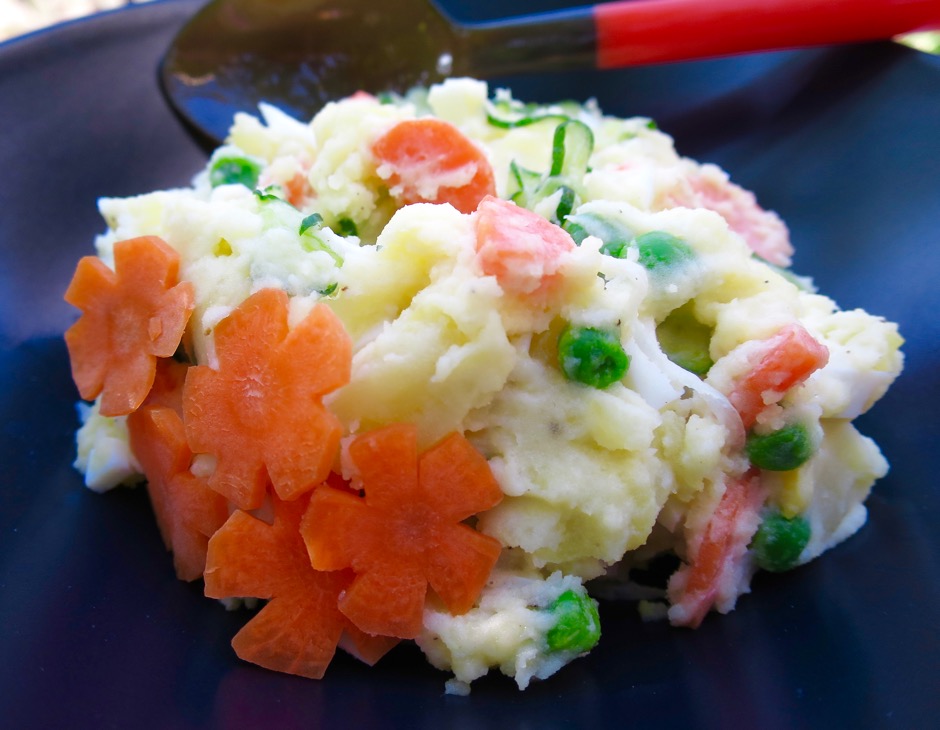 Japanese Potato Salad
Ingredients
2 pounds Yukon Gold potatoes, peeled and cut into 2" cubes
1 small carrot, peeled, cut in half lengthwise, and sliced into thin half moons (about 1 cup)
1 medium Japanese or other seedless cucumber very thinly sliced (about 1 cup)
⅓ cup thinly sliced sweet onion
½ teaspoon kosher salt
2 hardboiled eggs, finely chopped
½ cup thinly sliced ham, optional
¼ cup green peas, optional
2 teaspoons sugar
2 tablespoons rice vinegar
½ cup mayonnaise
salt and pepper
Preparation
Put the potatoes in a saucepan of cold, salted water and bring to a boil. Turn the heat down to maintain a gentle simmer and cook until the potatoes are soft, and easily pierced with a fork, 10 - 15 minutes. Drain potatoes in a colander.
Meanwhile, toss the thinly sliced cucumber and onion with ½ teaspoon kosher salt. Set aside for 10 minutes, then rinse gently and press out the liquid using a clean dish cloth or paper towels. This is an important step that will prevent your potato salad from becoming soggy.
Blanch carrots in boiling water for just a minute or two. The carrots should be al dente and still have a slight crunch. You may microwave the carrots in water if you prefer. Drain, pat dry and set aside.
Whisk rice vinegar with the sugar until it dissolves. Whisk in mayonnaise.
Place potatoes in a large, wide bowl and crush with a wooden spoon leaving a few small chunks for texture. Season potatoes with salt and pepper. Add mayonnaise mixture, vegetables, chopped egg, ham, and peas if using. Stir gently to combine all ingredients. Chill for an hour before serving.