This past summer we once again had a good harvest of mangoes and were looking for a new jam recipe to try with our beautiful fruit. So after a bit of searching on-line, we tried Rachel's recipe from her blog Coconut & Lime.  The combination of mango and pineapple is delicious.  Rachel mentions in her comment section that this particular jam is on the loose side.  The jam tasted fantastic, but I wished it were just a bit firmer.  The original recipe calls for liquid pectin.  The second time we made it, we tried using regular powdered pectin.  This still did not make for a firmer jam so we tried low-sugar pectin and adjusted the amount of fruit and sugar and it worked perfectly.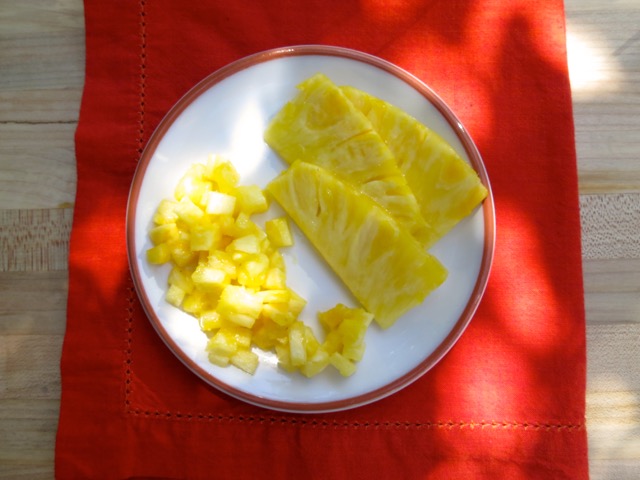 Adding fresh pineapple gives this jam a lovely tropical flavor.  Being able to can the jam so that it is shelf stable for up to a year is the key to enjoying the flavors of summer even when summer is long gone.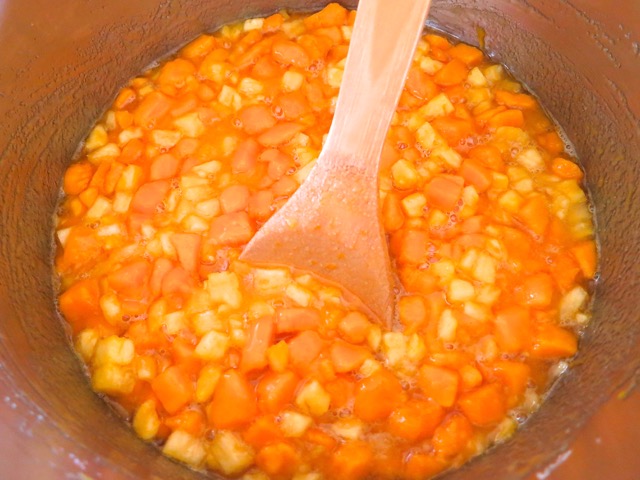 The fruit, lemon juice, rum and pectin are cooked on the stove before adding the sugar.  Once the sugar is added you continue to cook the mixture until it is thick and jammy as in the photo below.  Scrumptious.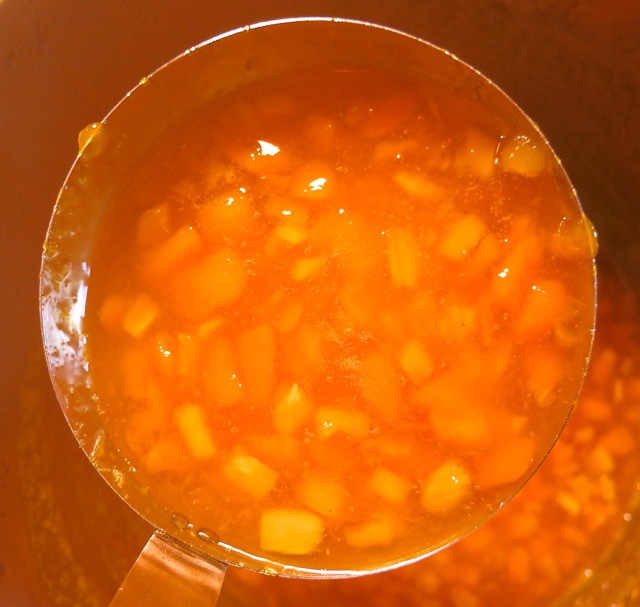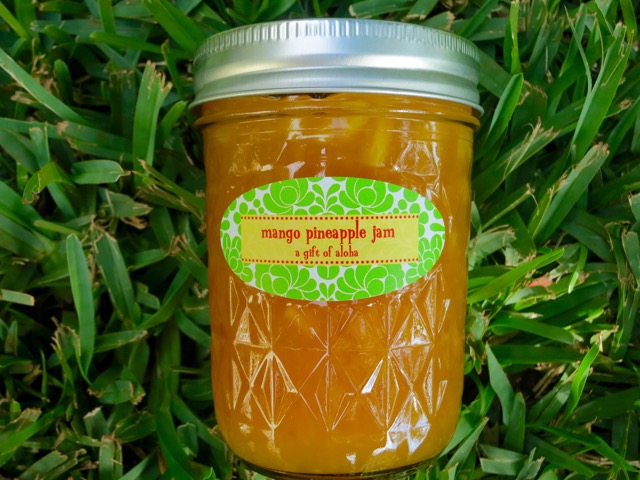 Mango Pineapple Jam
Adapted from Coconut & Lime Blog
Makes 6 half pint jars
Ingredients
3 cups diced mango
3 cups diced fresh pineapple
2 tablespoons dark rum (optional)
1/4 cup lemon juice
1 package (1 3/4 ounce) Sure-Jell low/no sugar pectin or 3 tablespoons Ball low/no sugar pectin
4 cups sugar (725 grams)
Preparation
Wash jars and place them in boiling-water canner.  Fill the jars and canner with water to the top of the jars.  Cover and bring water to a simmer over medium heat, do not boil.  Prepare the two piece closures.  Wash lids and place in a small saucepan and cover with water.  Heat to just a simmer but do not boil.  Do not heat screw bands.
While jars are simmering, pour fruit, dark rum, lemon juice and pectin in an 8 – 10 quart pot, preferably with high sides.  Place over high heat, stirring constantly with a long-handled wooden spoon.  Bring to a rolling boil that cannot be stirred down.  Still stirring, add sugar.  Return to a boil that cannot be stirred down, and boil for exactly 1 minute.  Remove from the heat.
Lift the canner jar rack and fix into place on the rim of the canner. Remove one jar at a time from canner and empty hot water back into the canner. Place jar on a cutting board and place a canning funnel in the jar.  Ladle hot jam into jar leaving 1/4 inch head space.  With a clean damp cloth or paper towel wipe jar rim to remove any food residue.  Using a magnetic utensil, lift hot lid from water, center it on the  jar and place screw band on jar.  Tighten screw band evenly and firmly just until resistance is met.  Then increase to finger tip tight.  Do not over tighten.  Return jar to canner rack.  Continue filling jars individually until all jars are filled, lower rack into canner and ensure that all jars are covered by 1 inch of water.  Cover canner and bring water to a full boil over high heat.  Process for 10 minutes, starting timer only when water reaches a full boil. Turn off heat, remove jars from canner after 5 minutes to cooling rack.  Leave them undisturbed for 24 hours.  After 24 hours check lids for proper seal.  Remove screw bands  and press down on the lid with your finger.  Sealed lids will curve in and will show no movement when pressed.  Jars that haven't sealed properly must be refrigerated immediately or reprocessed.  Wipe jars and store in a cool, dry place.  Label and date jars.  Properly sealed jars will keep in your cupboard for up to one year.