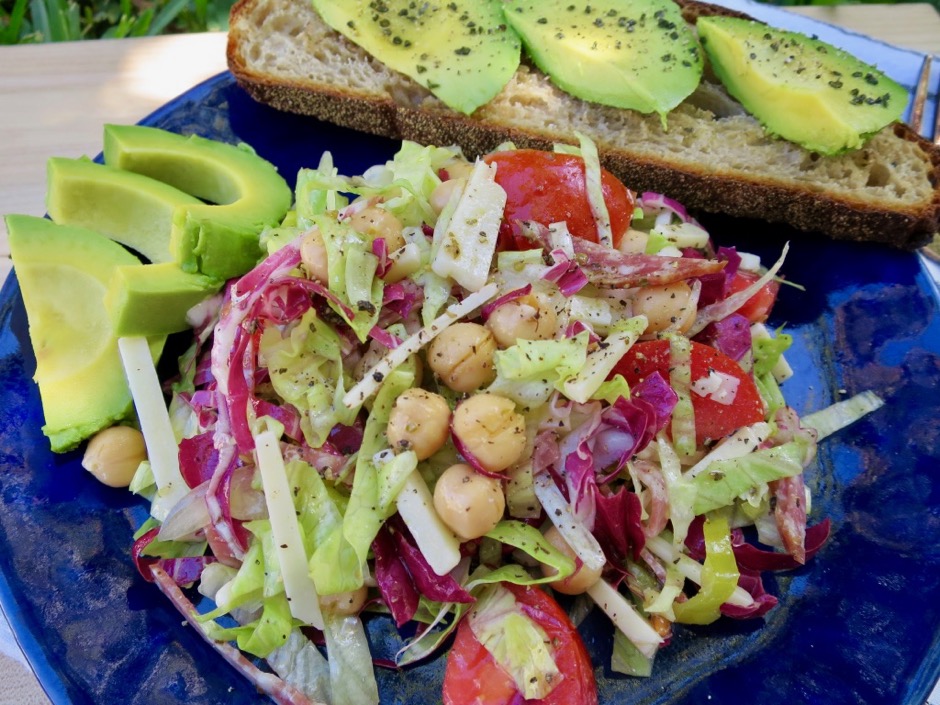 This salad is one you will never get bored with.  Crunchy lettuce, tart pepperoncini, wholesome chickpeas, and savory peppered salami, all tossed together with a refreshing oregano vinaigrette makes this a perfect lunch.  I love serving it with slices of hearty sourdough bread or avocado toasts.  There are many fine chopped salad recipes but this one created by Nancy Silverton and published in The Mozza Cookbook is by far my favorite.  This beautiful salad will bring much satisfaction to whomever you share it with.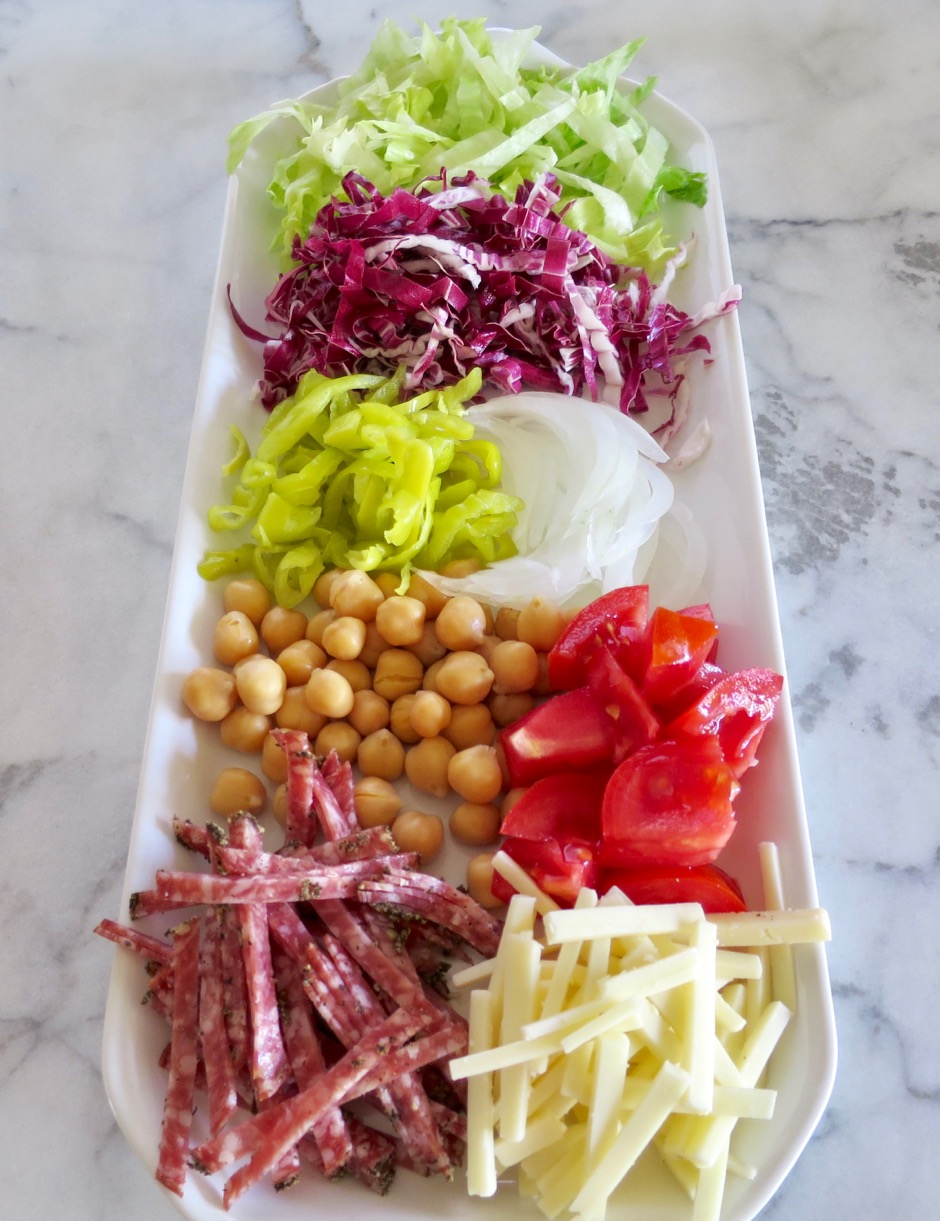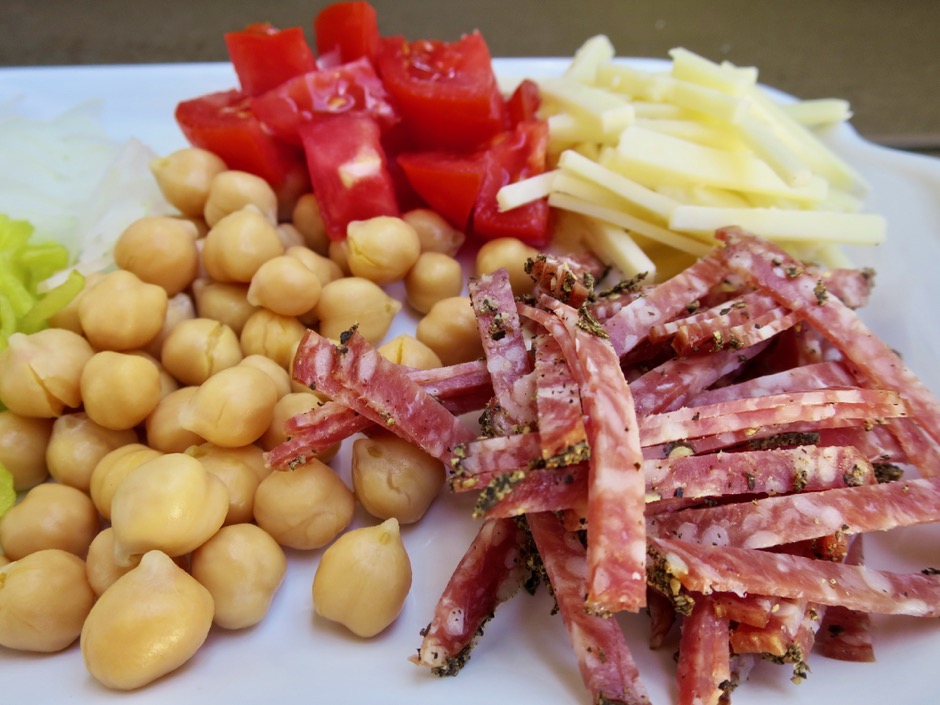 There are so many different types of salami however I always reach for the peppered version. The slightly peppery crust adds an extra level of flavor to the salami.  Leftover slices are perfect in a sandwich or served with slices of extra sharp cheddar cheese.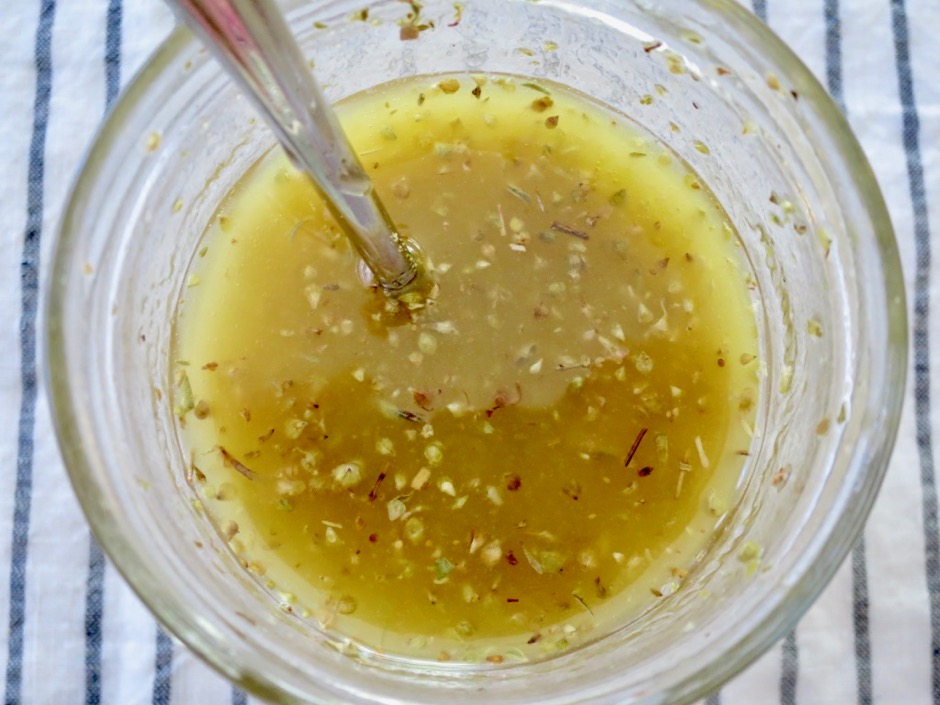 Don't hesitate to use lots of dried oregano in the vinaigrette. It really makes the dressing stand out and goes well with the chopped salad.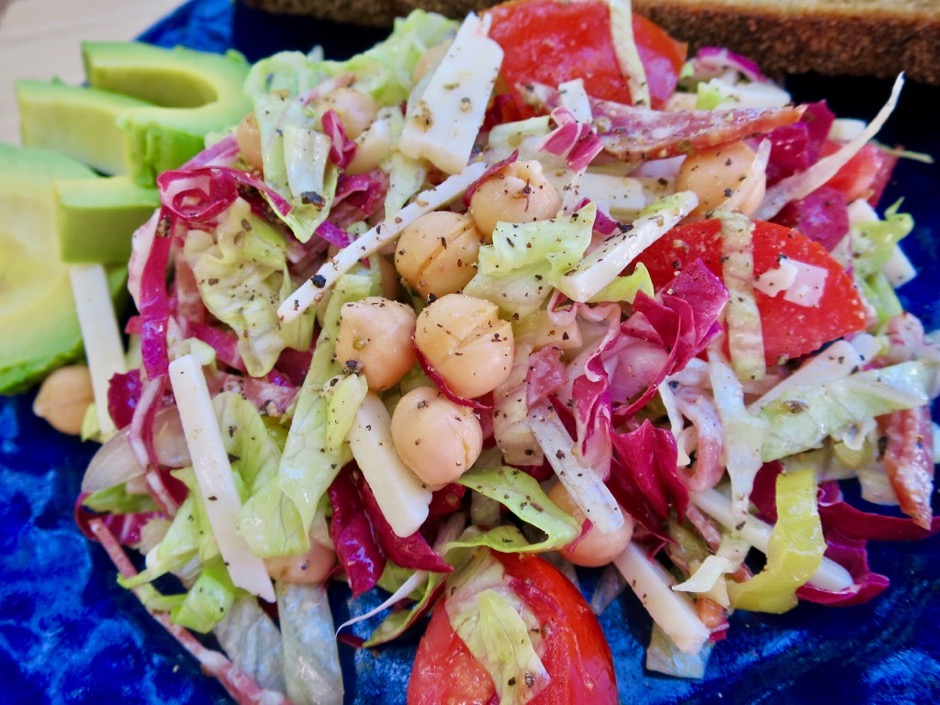 Chopped Salad with Oregano Vinaigrette
Adapted from Nancy Silverton's Chopped Salad Recipe
Ingredients
Vinaigrette:
2½ tablespoons red wine vinegar
2 tablespoons fresh squeezed lemon juice
1 medium garlic clove, crushed + 1 small garlic clove, grated finely
2 tablespoons dried oregano
½ cup extra virgin olive oil
1 teaspoon kosher salt
¼ teaspoon freshly ground black pepper (or more to taste)
Salad:
1 medium head iceberg lettuce cut into ribbons ⅓" wide
1 small head radicchio cut into ribbons ¼" wide
½ small sweet white onion cut into thin strips
¾ pounds diced tomatoes (or cherry tomatoes)
1 15 ounce can chickpeas rinsed and drained
6 ounces yogurt cheese sliced into ¼" wide strips (you may substitute with provolone)
6 ounces peppered salami sliced into ¼" wide strips
5 medium pepperoncini sliced into rings
Preparation
Combine all of the vinaigrette ingredients in a jar and shake to combine. Set aside.
In a large salad bowl toss the lettuce, radicchio and onions together. Add tomatoes, chickpeas, cheese, salami and pepperoncini. Spoon dressing over the salad and toss well so that all ingredients are well seasoned with the vinaigrette. Taste and adjust seasoning with salt, pepper and more vinaigrette. You will not need all of the dressing. Store leftovers in the refrigerator and use within a week. Serve the salad with some good sourdough bread on the side.