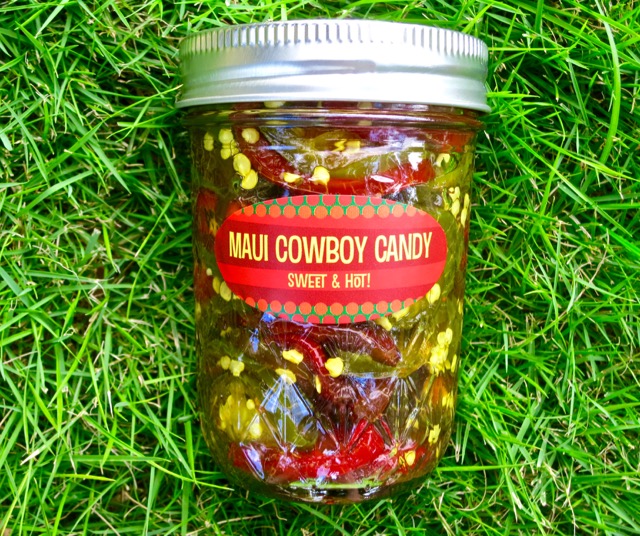 A while back, our friend Kim shared the tail end of a jar of candied jalapeños (also known as Cowboy Candy) that someone had given to her.  Distinctly sweet, crisp, and hot at the same time, John told me that they were delicious (I was nervous about the partial bottle. John is more adventurous!).  John grows several varieties of jalapeños that produce large, hot, gorgeous, peppers, and we make nacho rings as well as a delicious hot sauce with these peppers.  Intrigued by a new way to use our peppers we began searching on-line for a recipe.  We found several, but this one stood out.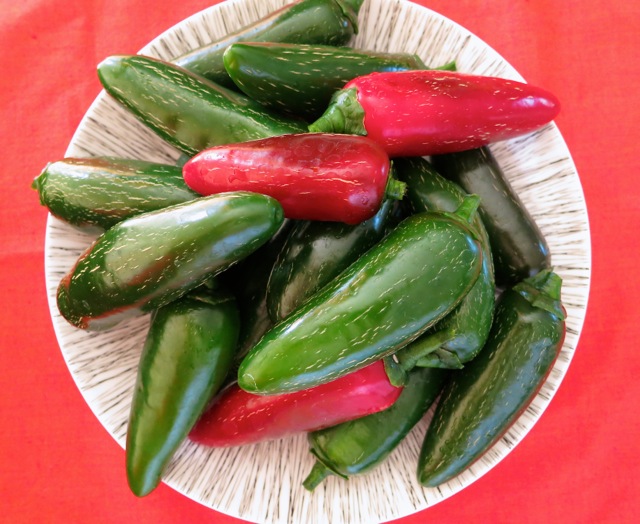 We wait until some of the jalapeños ripen to red before making our Maui Cowboy Candy.  The jars look beautiful and festive.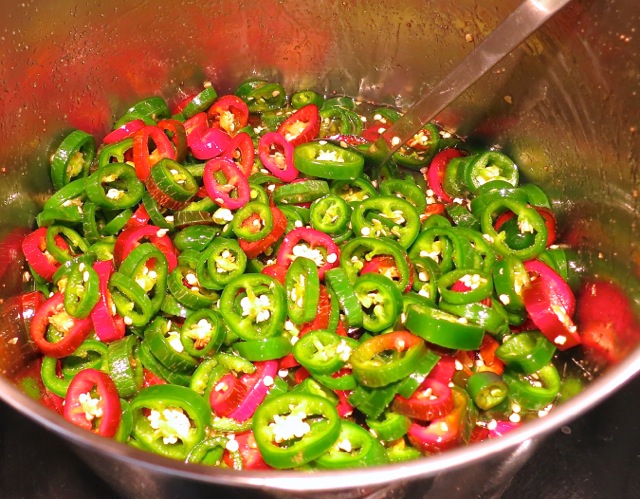 They are delightful with Mexican cuisine, sandwiches, in cheesy corn bread, potato salad, on crackers with cream cheese, or straight out of the jar.  I added them to my tofu banh mi sandwich below.
Maui Cowboy Candy
Adapted from Foodie with Family ~ Blog Makes 7 - 8 half pint jars
Ingredients
3½ - 4 pounds fresh jalapeños
2 cups cider vinegar
6 cups granulated sugar
¼ teaspoon ground turmeric
½ teaspoon celery seed
1 teaspoon granulated garlic
Preparation
Prepare jars and canner: Wash jars and place them in boiling water canner. Fill the jars and canner with water to the top of the jars. Cover and bring water to a simmer over medium heat, do not boil. Prepare the two-piece closures. Wash lids and place in a small saucepan and cover with water. Heat to just a simmer but do not boil. Do not heat screw bands.
Wash jalapeños and slice into rings. Set aside.
Combine cider vinegar, sugar, turmeric, celery seed, and granulated garlic in a large pot. Bring to a boil, lower heat and simmer for 5 minutes. Add pepper slices, raise heat to medium-high, cook for 5 minutes, stirring constantly.
Remove jars and empty hot water back into the canner. Place jars on a cutting board. Using a canning funnel and slotted spoon, fill the jars with peppers one

at at

time to within ½ inch of the rim of the jar.
After all peppers are removed and placed in jars, bring syrup to a full rolling boil. Boil hard for 5 minutes. Using a ladle, pour boiling syrup into the jars over the jalapeños within ¼ inch of the rim of the jar. Remove air pockets in jar with a chopstick. Wipe the rims of the jars with a clean, damp paper towel. Secure two-piece lids and rings.
Return jars to canner and ensure that all jars are covered by at least 1 inch of water. Cover canner and bring water to a full boil over high heat. Process for 10 minutes, starting timer only when water reaches a full boil.
Remove jars to cooling rack. Once thoroughly cooled, date jars and use within 1 year.