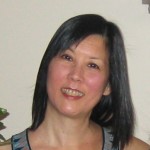 Aloha and welcome to My Lilikoi Kitchen.
I live in Kihei on the island of Maui where the weather is always warm and sunny.  The very idea of rain excites us because it's a rare occasion when it comes our way, however, the sunny days are good for the garden where we grow tomatoes, cucumbers, assorted peppers, papayas, mangoes, avocados and lots of herbs.
Though it's so beautiful here on Maui, everyone needs a vacation, right?  My husband John and I visit San Francisco once or twice a year where the food is superb and the farmer's markets sell gorgeous produce, fresh tamales, handmade pasta, really good bread and the list goes on.  These trips inspire me to cook delicious meals for family and friends back home in Hawaii.
I love to cook all types of food, Italian, Mexican, Japanese, vegetarian.  One of our favorites is pizza.  If we only had an oven that heated up to 1000 degrees our pizza pies would be done in 2 minutes!
Well thank you for visiting with me and I hope you find a recipe or two that you'd like to try sometime.
Cheers!
Kiyo