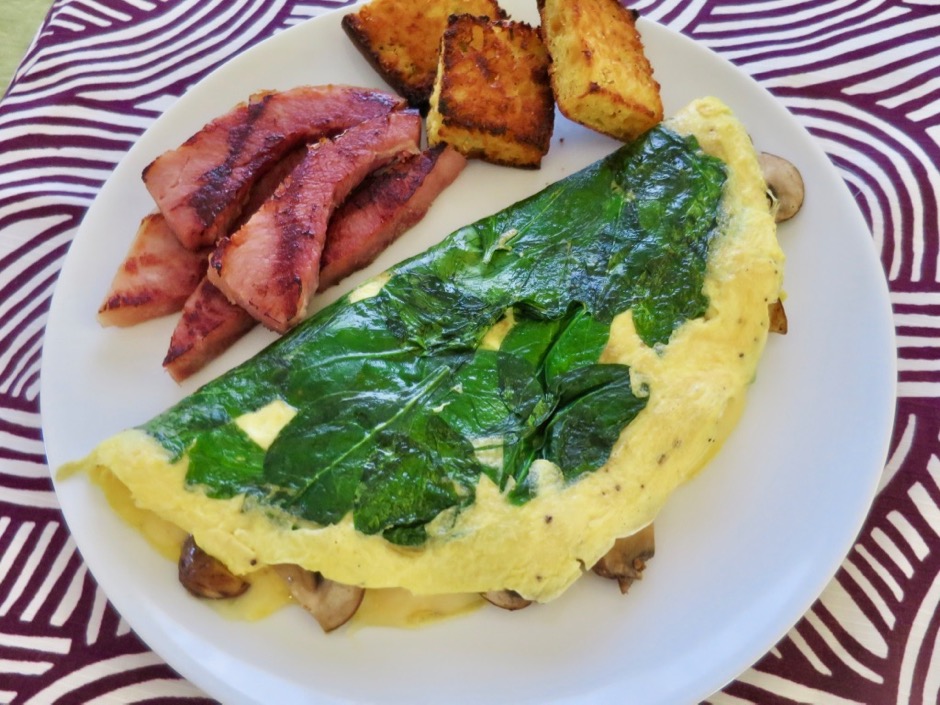 During a recent visit by our kids and grandkids, we all went out for brunch at Roy's Humble Market Kitchin in Wailea. The menu featured a beautiful "Makahiki" omelet which included mushrooms, spinach, and white cheddar among its ingredients.  It was so tasty, we were inspired to make our own version at home.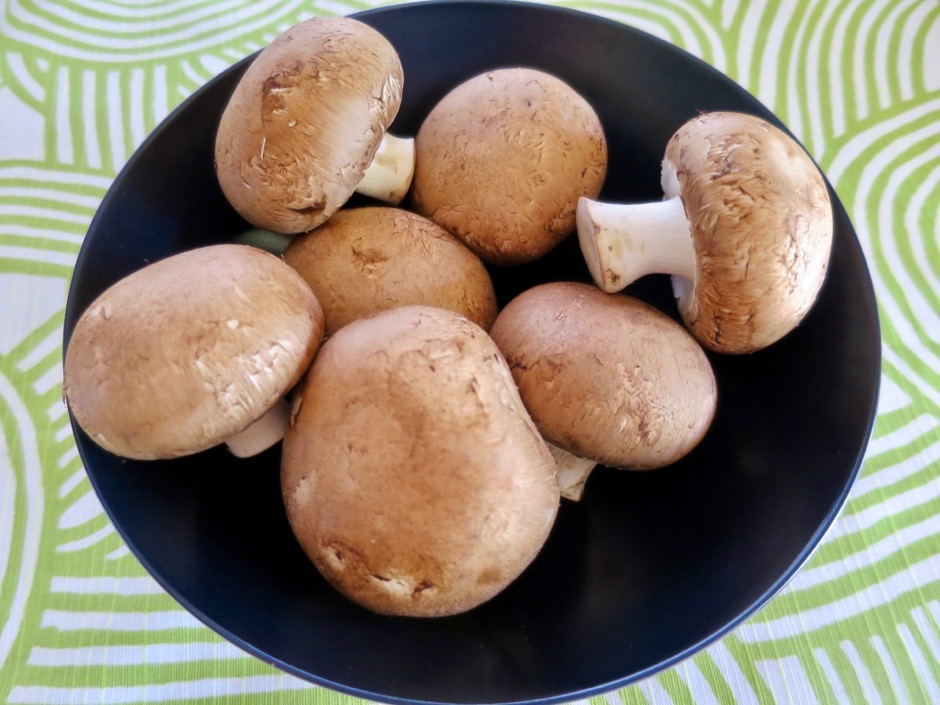 Lately the cremini mushrooms at our local Whole Foods market have been particularly gorgeous. I can't seem to pass by the bin without buying a few to bring home.  Creminis are meatier and have a more complex flavor than white mushrooms.  They hold up nicely and there is very little moisture when sautéing them which makes them perfect for an omelet.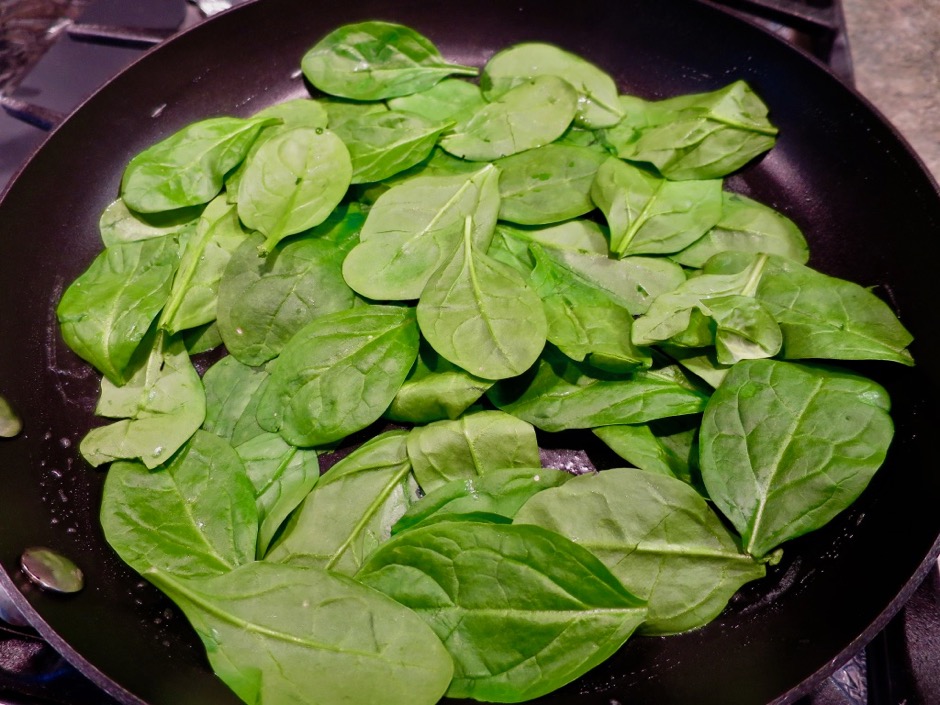 The beauty of this omelet comes from the layer of spinach that covers the bottom of the pan before the eggs go in.  Once slightly wilted, pour the eggs evenly over the spinach.  All of this takes place on low heat, and a lid for your pan is essential.  Use foil if you don't have a lid for your pan.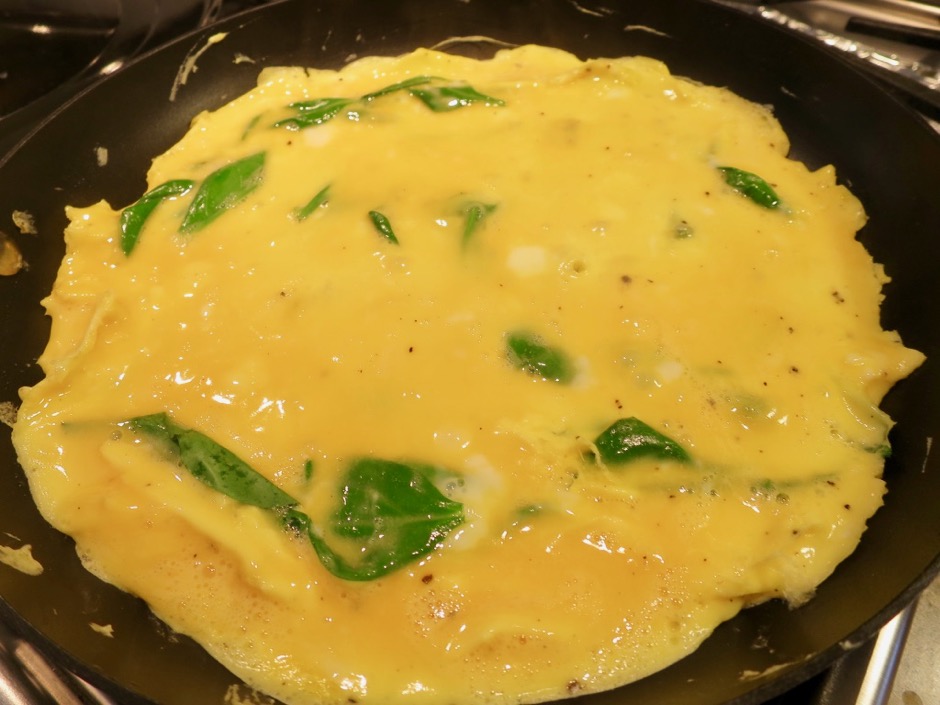 Once the eggs have mostly set, pile on the sautéed mushrooms and cheese.  My first choice is yogurt cheese, which is naturally lactose free however I sometimes use sharp cheddar.  I find that yogurt cheese melts wonderfully. It is stretchy, gooey, melted perfection.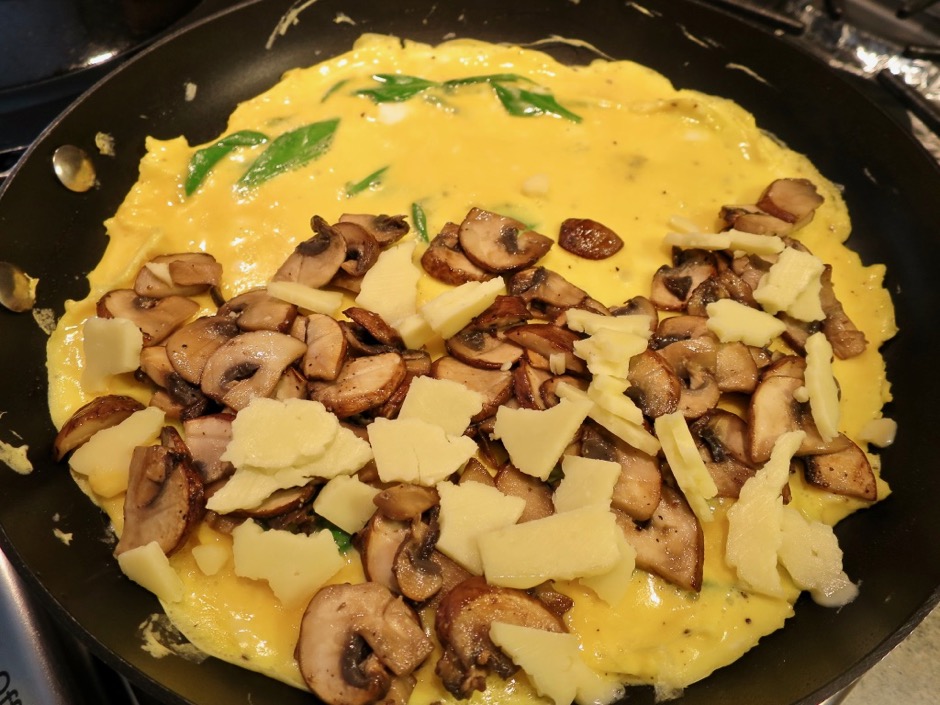 Add the mushrooms and cheese to one side of the omelet then fold over the other side on top of the filling.  Slice in to two portions and serve!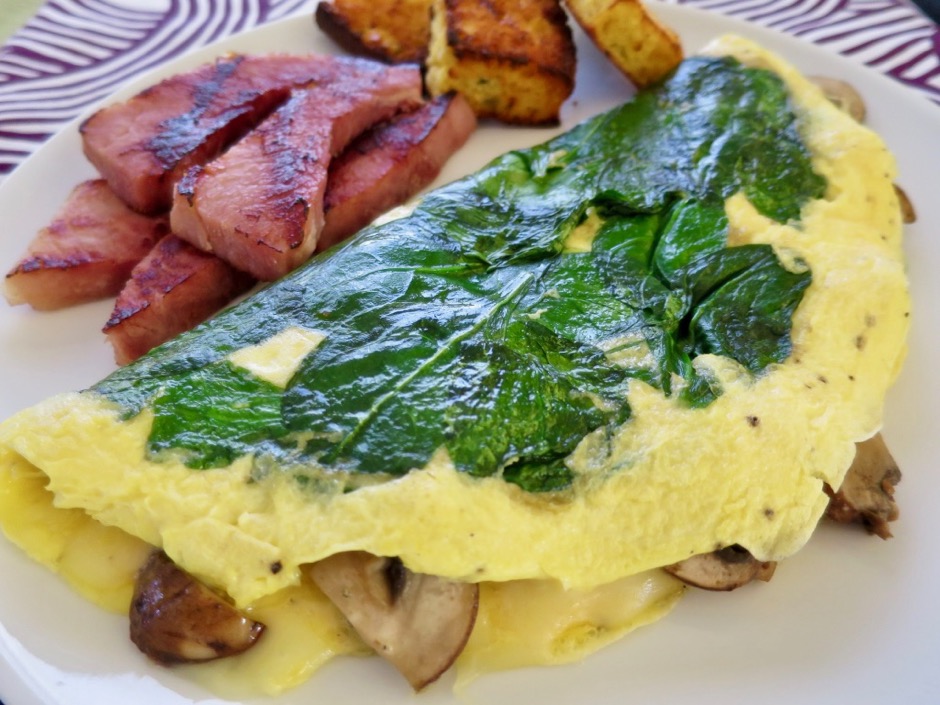 Spinach. Mushroom & Cheese Omelet for Two
Ingredients
5 ounces cremini mushrooms, sliced thin
4 teaspoons Buttery Sticks, divided (or regular butter)
kosher salt and freshly ground black pepper for mushrooms and eggs
4 extra-large eggs, whisked and seasoned lightly with kosher salt and freshly ground black pepper
1 ounce fresh spinach leaves
1 ounce grated cheese (or more if you prefer)
Preparation
Melt 2 teaspoons Buttery Sticks over medium heat in a 10-inch pan. Sauté mushrooms until softened, about 5 minutes. Season lightly with kosher salt and a few grinds of black pepper. Transfer to a small bowl.
Reduce heat to low. Wipe out the pan and add remaining 2 teaspoons Buttery Sticks swirling to distribute around the bottom and sides of the pan. Lay spinach leaves in the pan, overlapping as necessary. Cover pan and wilt spinach. This will take less than 30 seconds.
Pour eggs over the spinach. As the egg mixture starts to cook, gently lift the edges with a spatula and tilt the pan to allow more of the uncooked egg to flow underneath. Once the eggs have slightly set in the center, distribute the mushrooms evenly over one side of the omelet. Sprinkle cheese over the mushrooms. Fold the other half of the omelet over the filling. Cover the pan and allow cheese to melt for 30 seconds or so. Slide the omelet on to a plate and slice in half. Serve with crispy bacon, sausage or ham.