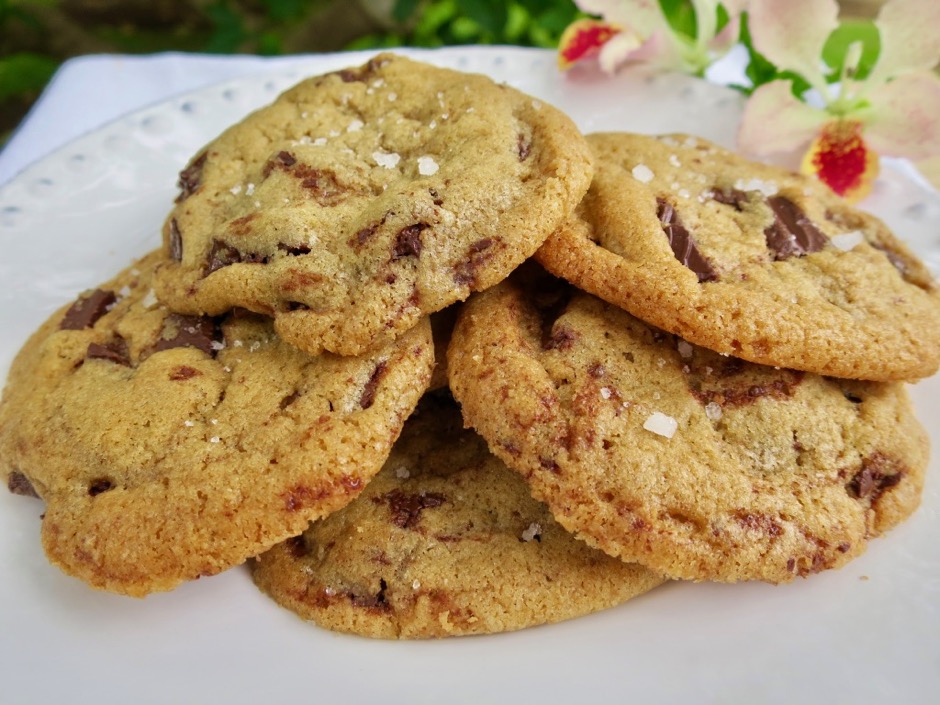 I was intrigued by this chocolate chip cookie recipe after David Lebowitz raved about it on his blog.  A chocolate chip cookie made with tahini?  This was a recipe I needed to try for myself.  I love tahini and have often used it in savory recipes such as hummus or dressing. After doing a bit of research I found that it is not uncommon to use it in desserts as well.  These cookies are the best of both worlds.  They are delightfully rich with just a hint of tahini and lots of chocolate in every bite. The fleur de sel is the "icing on the cake."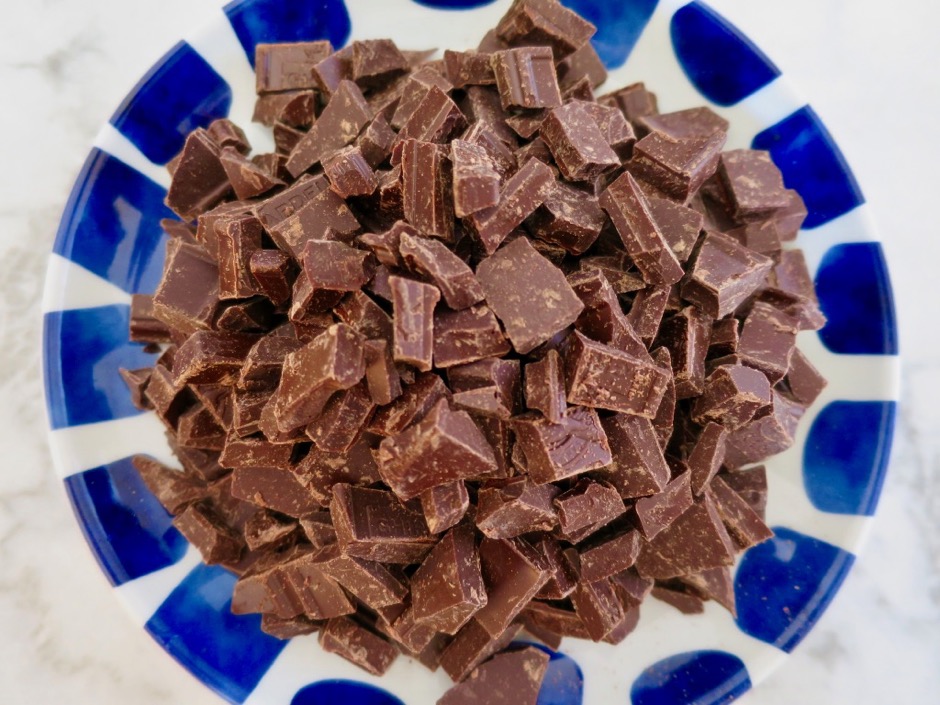 David recommends using chocolate chunks.  I bought chocolate bars and chopped them into pieces larger than regular chocolate chips which are fairly small and tend to get lost in a cookie. David's recommendation was spot on. Who wouldn't want more chocolate in every bite?!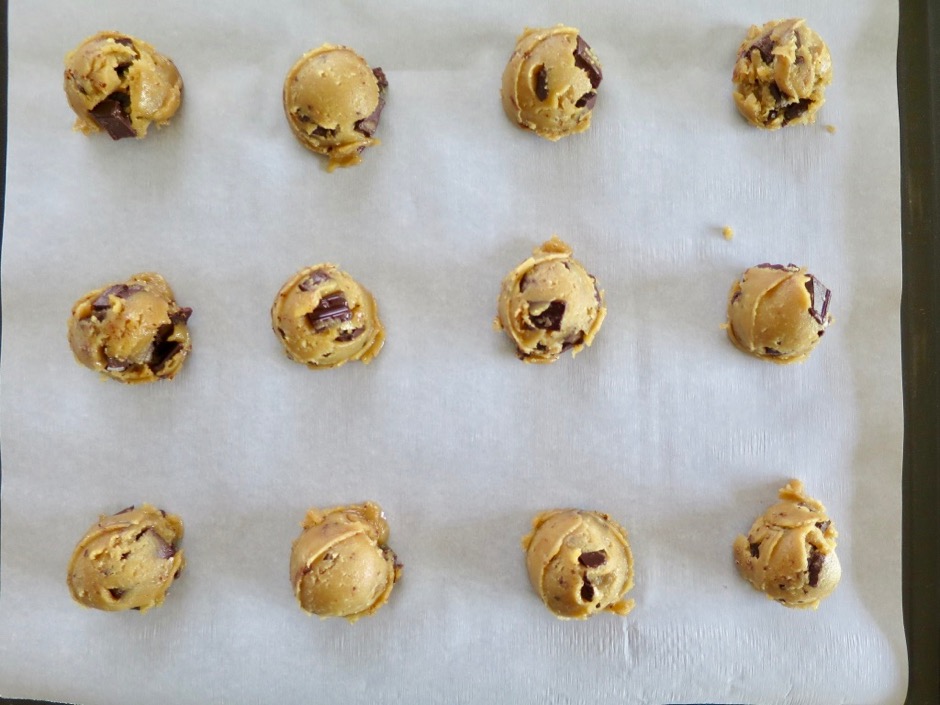 I used a cookie scoop but you can certainly use a tablespoon and form the cookies with your hands.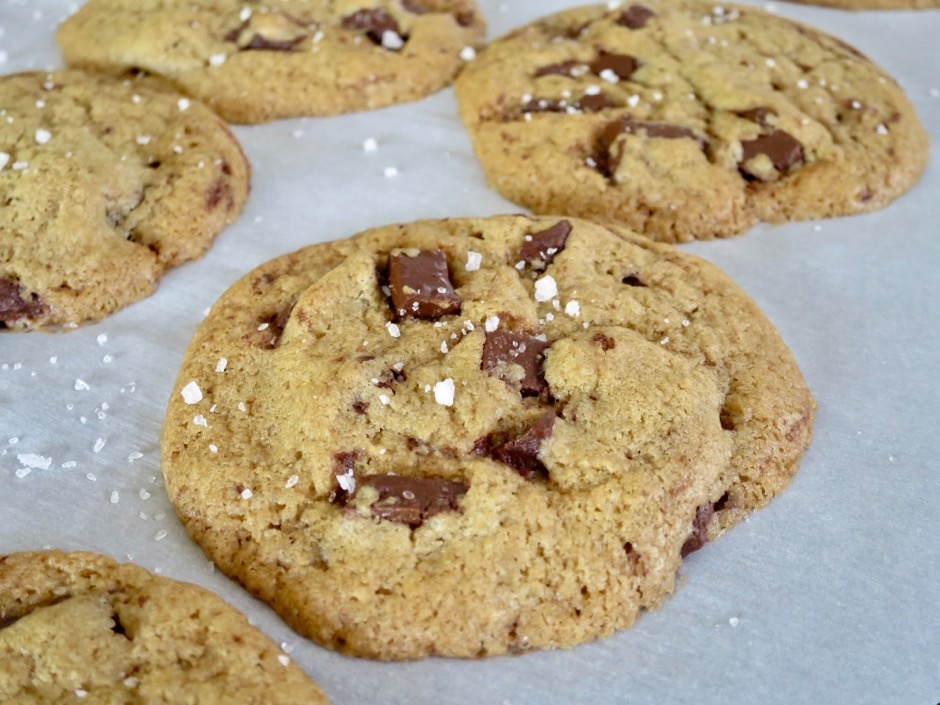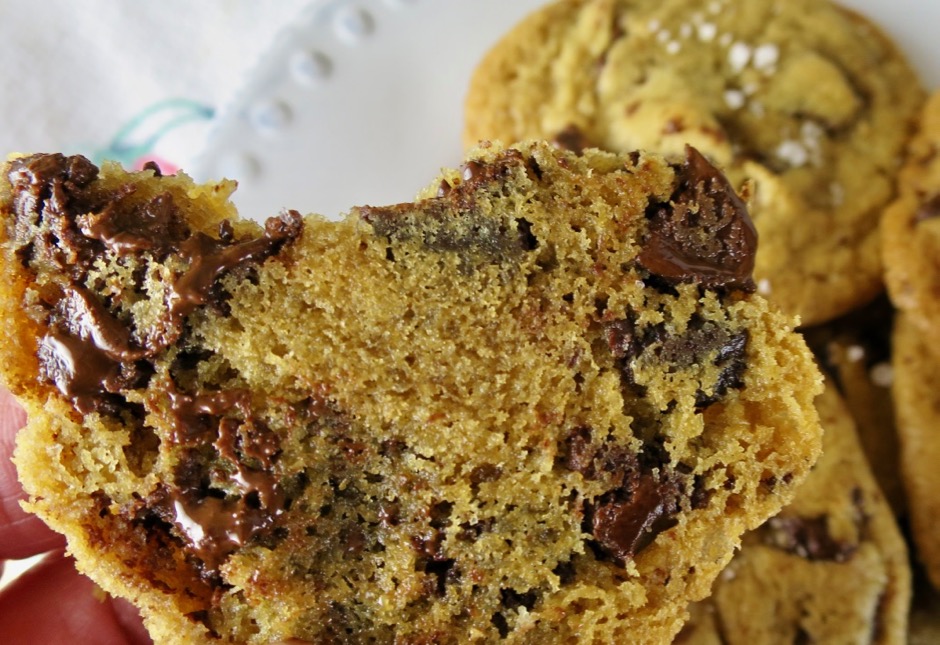 Salted Chocolate Chip Tahini Cookies
Adapted from David Lebovitz's recipe
Ingredients
1 stick (4 ounces) Earth Balance Buttery Sticks at room temperature
⅓ cup + 1 tablespoon tahini, well stirred
½ cup granulated sugar
½ cup packed light brown sugar
1 large egg at room temperature
1 large egg yolk
1 teaspoon vanilla extract
1 cup + 2 tablespoons flour
¾ teaspoon baking soda
½ teaspoon kosher salt
10 ounces semi-sweet chocolate chunks or chocolate chips
Flaky sea salt such as fleur de sel or Maldon
Preparation
Beat the Buttery Stick, tahini, granulated sugar and brown sugar in the bowl of a stand mixer on medium speed for 2 - 3 minutes, until fluffy. (The dough can also be made in a large mixing bowl stirred wth a spatula).
Stop the mixer and scrape down the sides. Add the whole egg, egg yolk, and vanilla. Continue to mix for another minute, stopping the mixer to scrape down the sides of the bowl as needed. Be sure the eggs are well incorporated.
In a small bowl, whisk together the flour, baking soda, and kosher salt. With the mixer on low speed, add the dry ingredients until just combined. Fold in the chocolate chunks. Cover and refrigerate the dough until well chilled, at least 6 hours or overnight.
Preheat the oven to 325 degrees. Line two baking sheets with parchment paper.
Form the cookies into rounds using a medium sized (#40) cookie scoop. Place them evenly spaced on the baking sheets, about 3 inches apart (they spread a lot). Bake one pan at a time on the middle rack of the oven rotating the pan from front to back midway during baking. Bake cookies for about 14 minutes until the edges are golden brown. Remove the cookies from the oven and sprinkle with a bit of fleur de sel or Maldon sea salt. Let the cookies cool on the baking sheet for at least 5 minutes then transfer to a cooling rack. Continue to bake the remaining cookies.