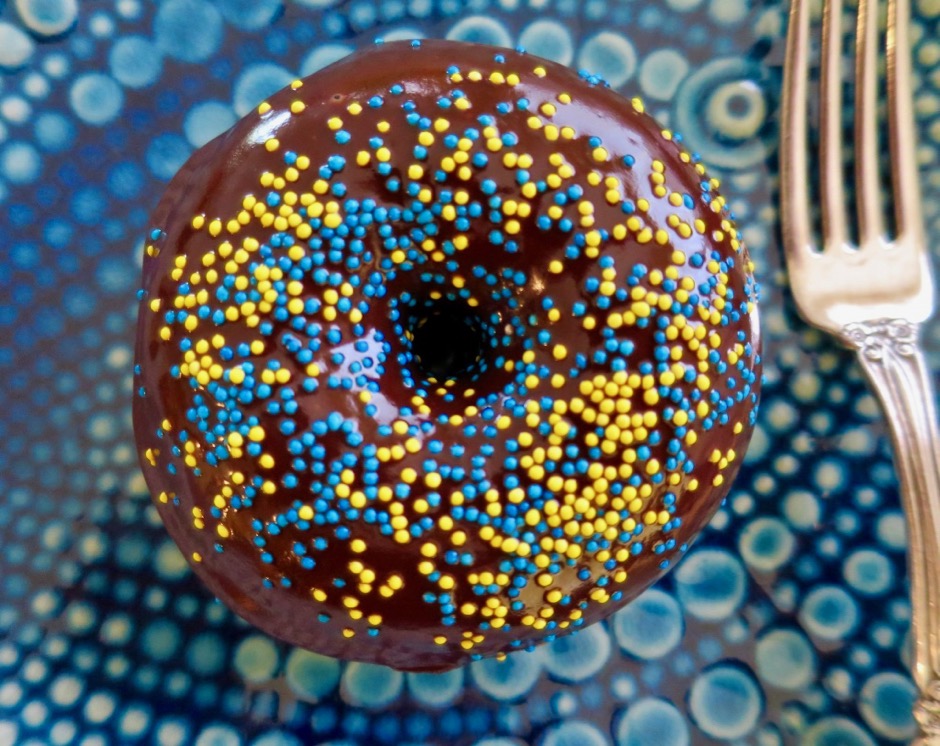 Homemade donuts in 30 minutes?  With no deep frying involved, these baked sour cream donuts are incredibly easy to put together.  It takes less than 10 minutes to mix up the batter and pipe it into the donut pan, 10 minutes for the donuts to bake, and 5 minutes to dip them into a delicious chocolate frosting.  A tasty homemade donut brings a smile to everyone's face.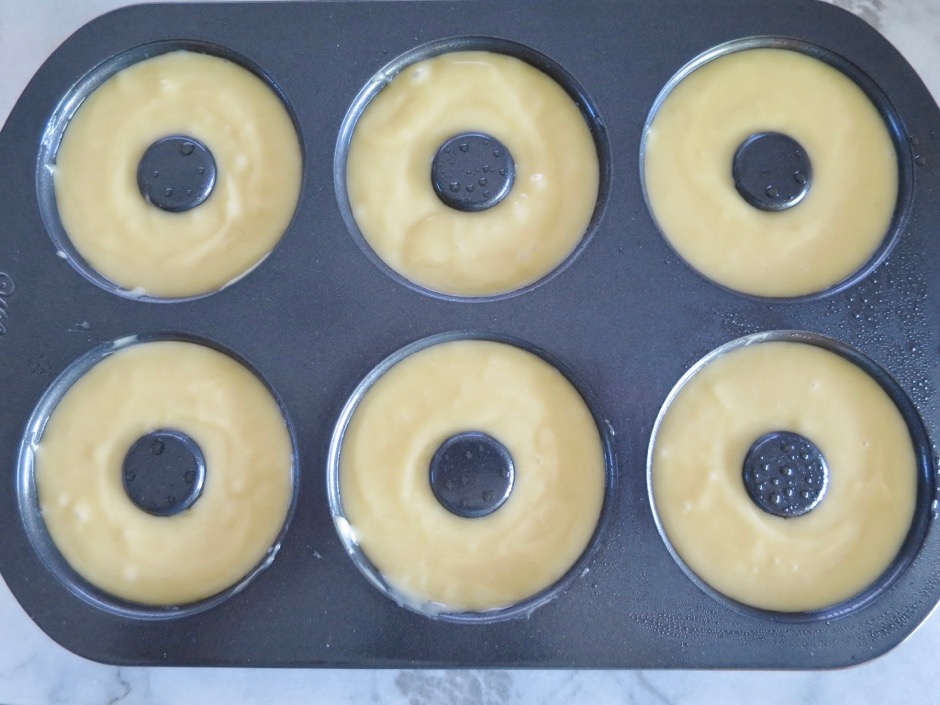 I bought my Wilton donut pan from Amazon for less than $10 and have put it to good use.  I have already placed an order for another pan so that I can make a dozen donuts at a time. The donuts freeze beautifully which means I am able to have a sweet treat any time.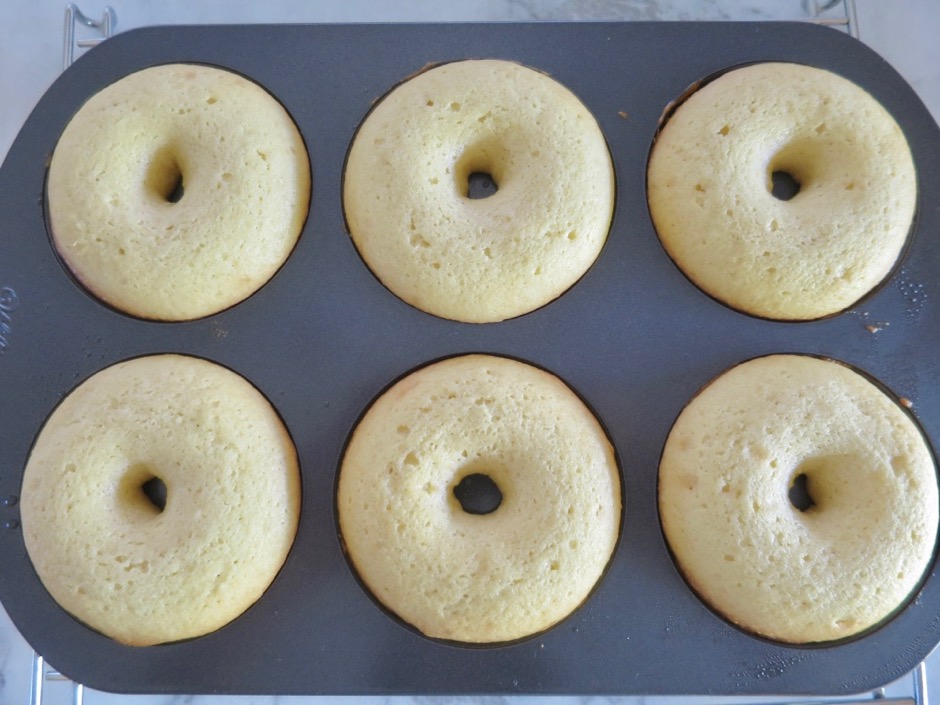 Even though this is a non-stick pan be sure to coat it with non-stick cooking spray because the wet batter has a tendency to stick to the pan.  Once baked, the donuts will be lightly browned on the bottom with a very light golden color on top.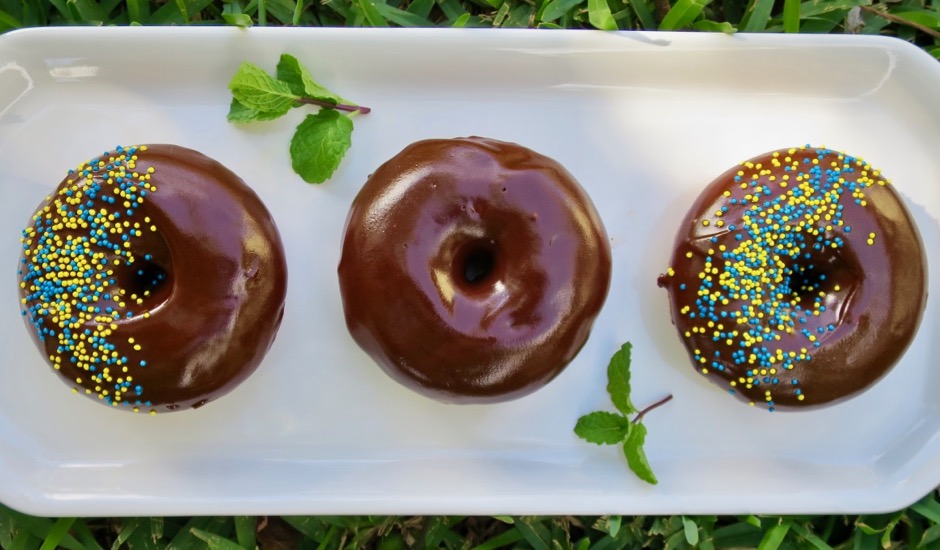 Sprinkles add color and a bit of crunch to the donuts however if you prefer a smooth chocolate frosting you can skip the sprinkles.  I make some of each and let everyone choose their favorite donut.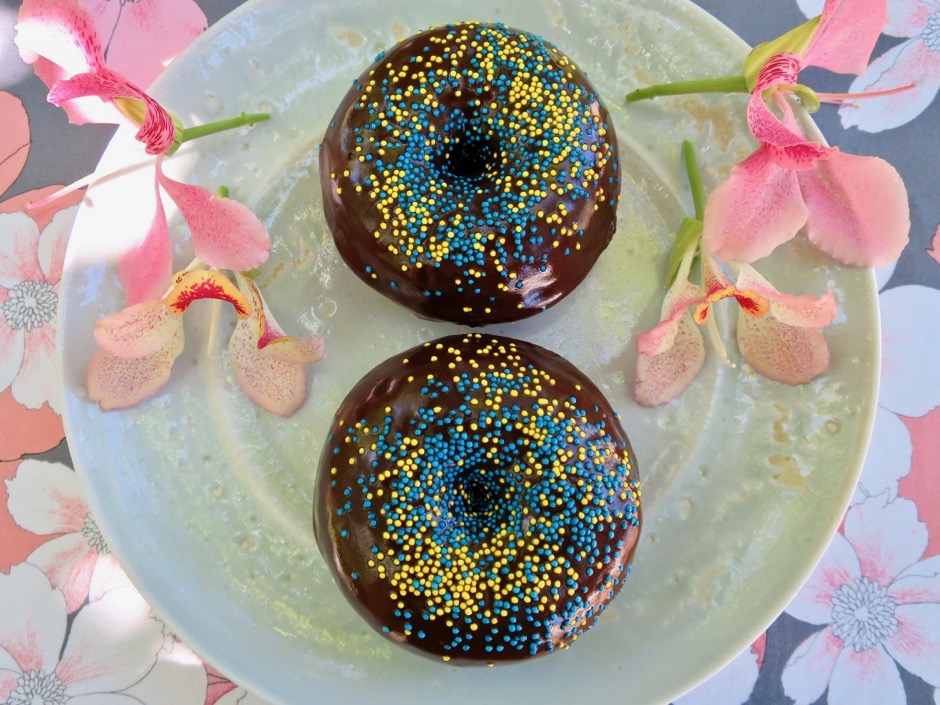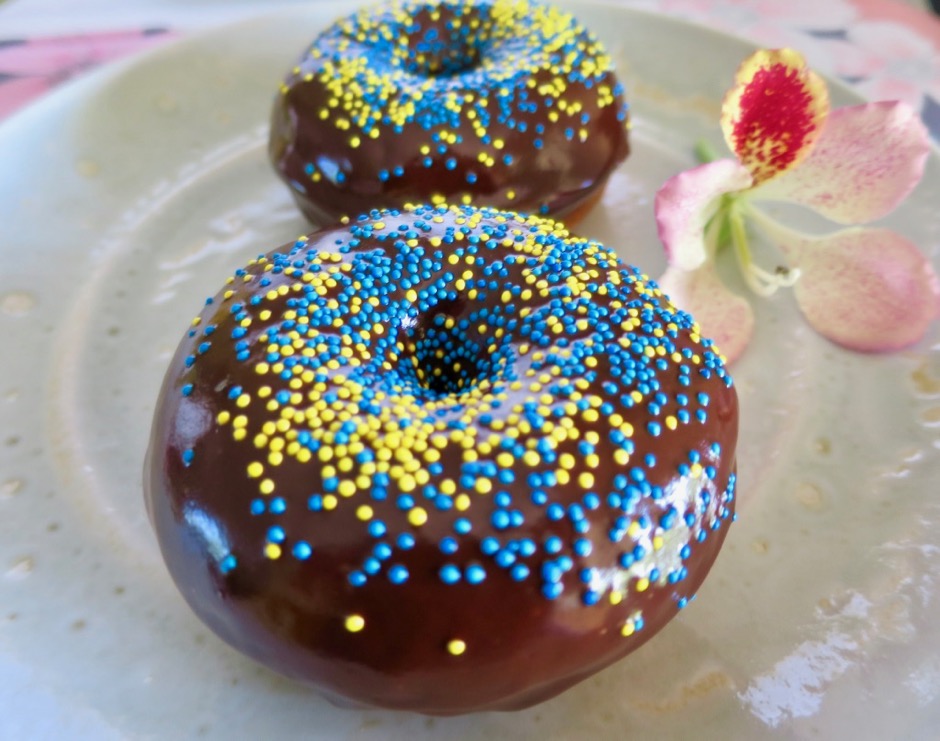 Baked Sour Cream Donuts with Chocolate Frosting
Donut recipe adapted from the Semisweet Sisters blog Frosting recipe adapted from King Arthur Flour
Ingredients
For the doughnuts:
¼ cup canola oil
½ cup Green Valley lactose free sour cream (or regular sour cream)
1 large egg
½ teaspoon vanilla extract
½ cup sugar
1 cup all-purpose flour
½ teaspoon baking soda
¼ teaspoon salt
For the frosting:
½ cup semi sweet chocolate chips
2 tablespoons Earth Balance Buttery Sticks (or regular butter)
2 tablespoons light corn syrup
¼ teaspoon vanilla extract
Preparation
Preheat oven to 350 degrees. Spray a 6-cavity donut pan with nonstick cooking spray.
In a medium bowl whisk together the oil, sour cream, egg, vanilla extract and sugar. (Measure the oil in a 1-cup measuring cup then transfer it to the bowl. Use the same measuring cup for the sour cream. The oil coats the measuring cup so the sour cream releases easily). Stir in the flour, baking soda and salt. Mix to combine ingredients well.
Transfer batter to a quart sized bag. Snip a very small piece off of the corner of the bag. Pipe the batter into the donut pan filling each cavity about ¾ full. You may not use all of the batter. If there is too much batter in the pan the donut holes will close up as they bake. Bake for 10 minutes. Test for doneness with a toothpick. If the donuts need to bake longer set your timer for another 1 -2 minutes. The donuts will be browned on the bottom side and very light golden on the top. Allow donuts to cool in the pan for 5 minutes before removing them to a wire rack to cool completely.
Combine all of the frosting ingredients in a pan and heat over medium-low heat until everything is melted. Whisk the frosting to ensure it is smooth. Remove from the heat and transfer to a small bowl, just wide enough to dunk the donuts in. I usually let the frosting cool for about 15 minutes before I frost them. You may also melt all of the ingredients in the microwave (stop and stir often).