Good biscuits are an irresistible accompaniment to any meal.  We particularly enjoy them with breakfast as an alternative to our usual toast. Cook's Country mentions that cream cheese biscuits are a favorite in Charleston, South Carolina.  After making a few batches of these biscuits I can see why they are so popular.  Light in texture and rich in flavor these biscuits are a snap to make for your weekend brunch.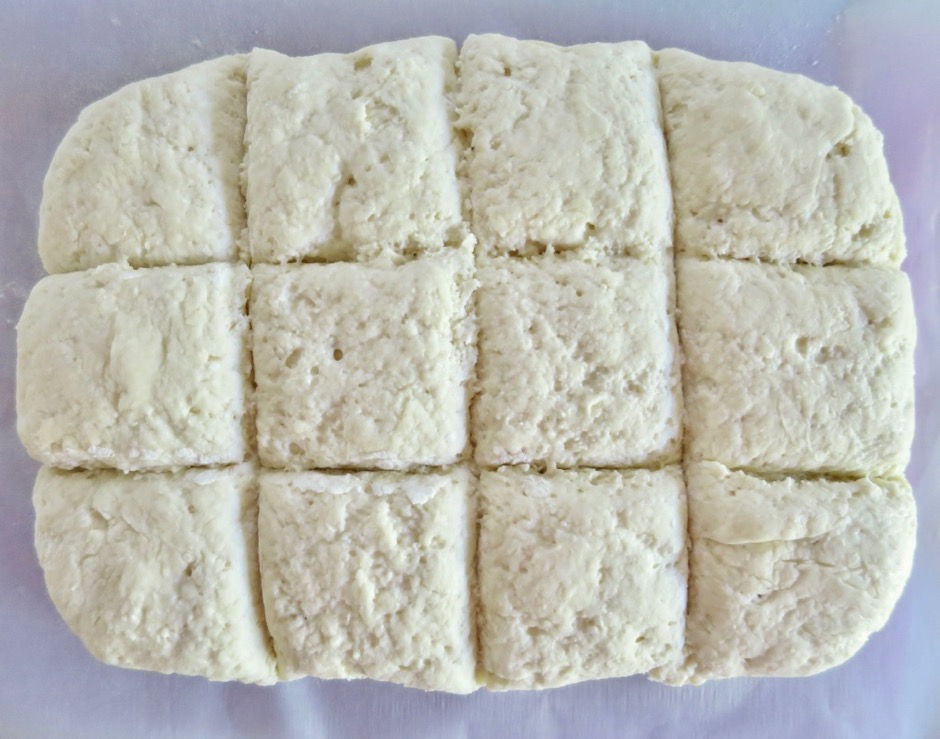 The dough is gently rolled into a rectangle then cut into 12 squares.  Baked until lightly browned, they are ready in 12 – 15 minutes.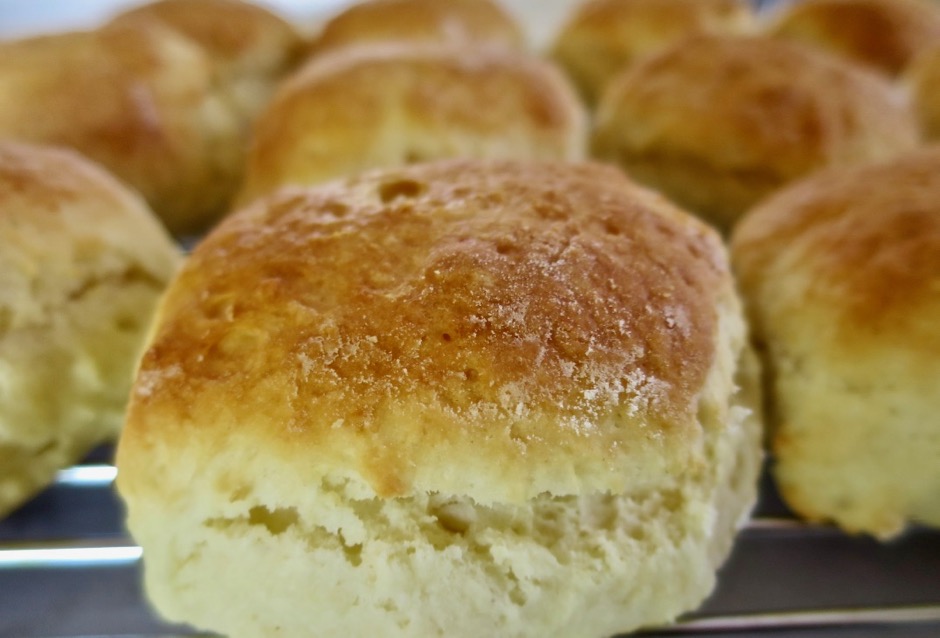 Cream Cheese Biscuits
Adapted from Cook's Country magazine
Ingredients
1½ cups all-purpose flour
1½ cups cake flour
1 tablespoon sugar
1 tablespoon baking powder
¾ teaspoon salt (1 teaspoon if using unsalted butter)
¾ teaspoon baking soda
4 ounces Green Valley lactose free cream cheese (or regular cream cheese) cut into ½-inch pieces and frozen 30 minutes
4 tablespoons Buttery Sticks (or unsalted butter), cut into ½-inch pieces and frozen 30 minutes
1 cup + 1 tablespoon lactose free buttermilk (or regular buttermilk)
For lactose free buttermilk: 1 cup minus 1 tablespoon lactose free 2% milk + 2 tablespoons fresh lemon juice. Give it a quick stir and let sit for 5 minutes until thickened.
Preparation
Adjust oven rack to middle position and heat oven to 450 degrees. Line a baking sheet with parchment paper.
Pulse all-purpose flour, cake flour, sugar, baking powder, salt, baking soda, cream cheese, and butter in food processor until mixture resembles coarse meal. Transfer mixture to a large bowl. Stir in buttermilk until combined (dough may appear slightly dry).
Turn dough onto a lightly floured surface and knead briefly until dough comes together. Roll dough into 8x6-inch rectangle, about ¾-inch thick. Cut into 12 squares and transfer to prepared baking sheet. Bake until light brown, 12 - 15 minutes. Transfer to a wire rack and let cool for 5 minutes. Serve warm.