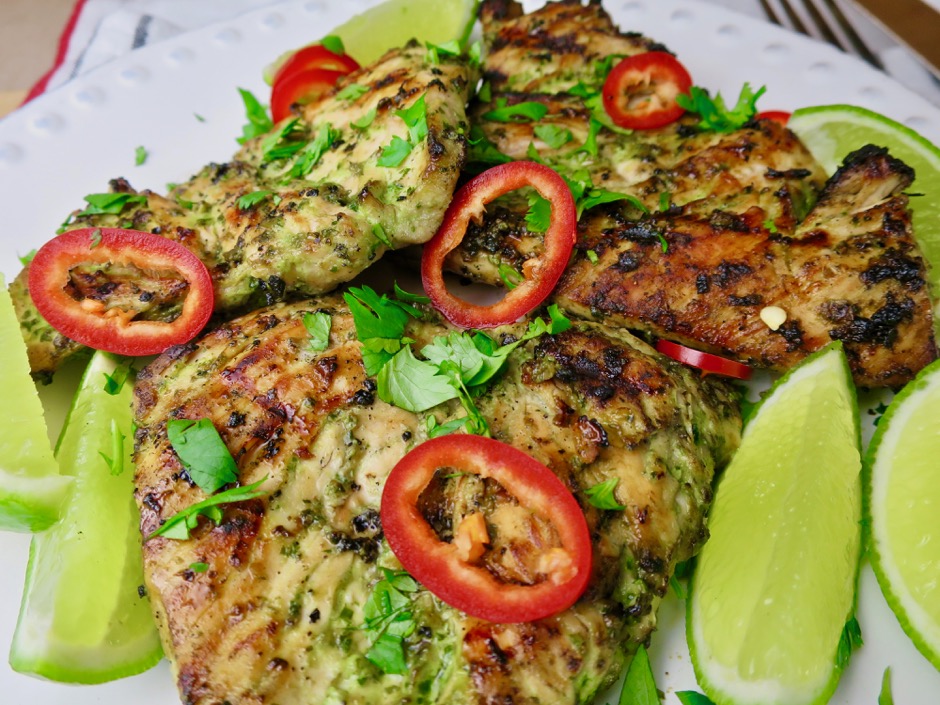 Our lemongrass is tucked away in the corner of the garden which means I forget that it's there most of the time. It thrives with little attention year after year producing the most fragrant stalks.   We love grilled chicken so when  I came across a recipe for grilled chicken breasts with lemongrass in Fine Cooking magazine, I couldn't resist it.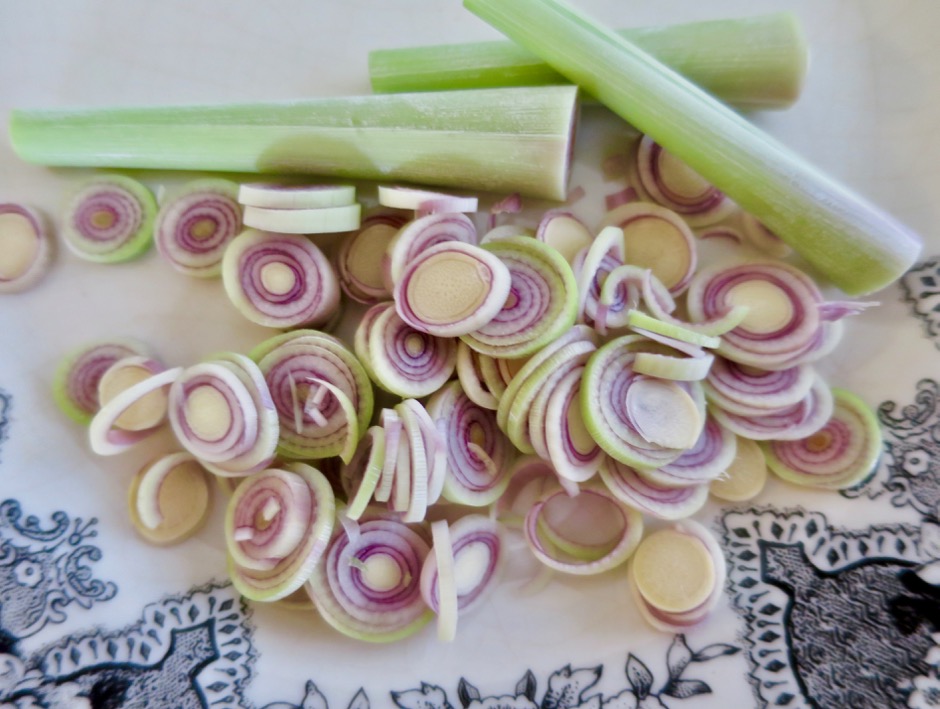 Once you peel away the tough outer stalks and cut into the stems, you will find the most fragrant and tender section of the lemongrass that will be used in the marinade.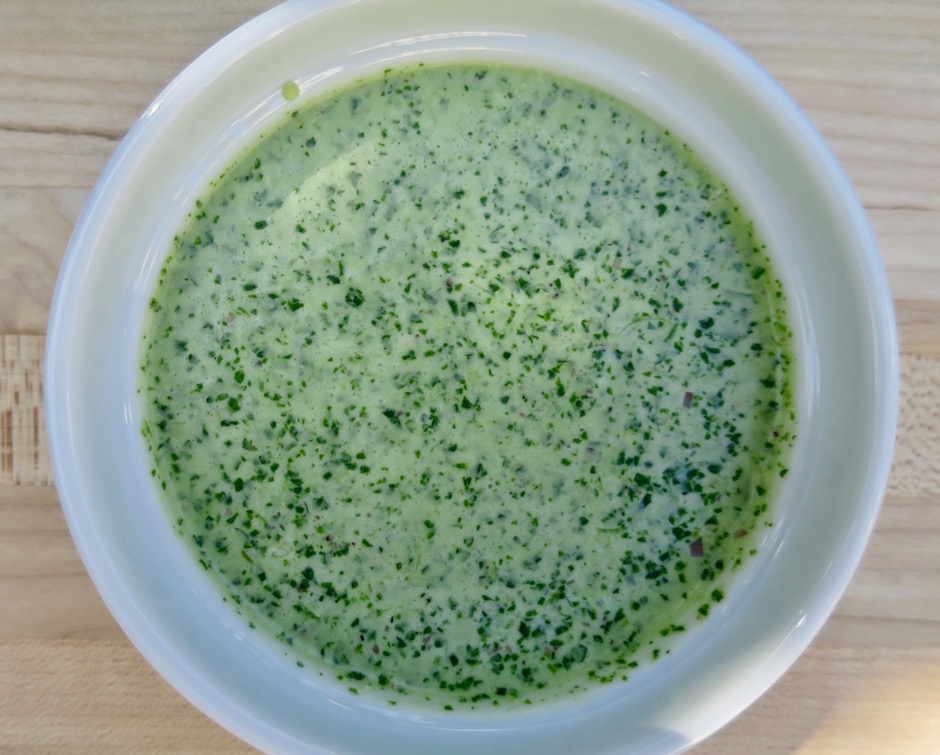 This is a very easy recipe to put together.  I used my immersion blender to combine the ingredients but a food processor or blender work just as well.  Puree the ingredients until smooth, pour it over the chicken, transfer the bowl to the refrigerator for at least 2 hours before you light up your grill.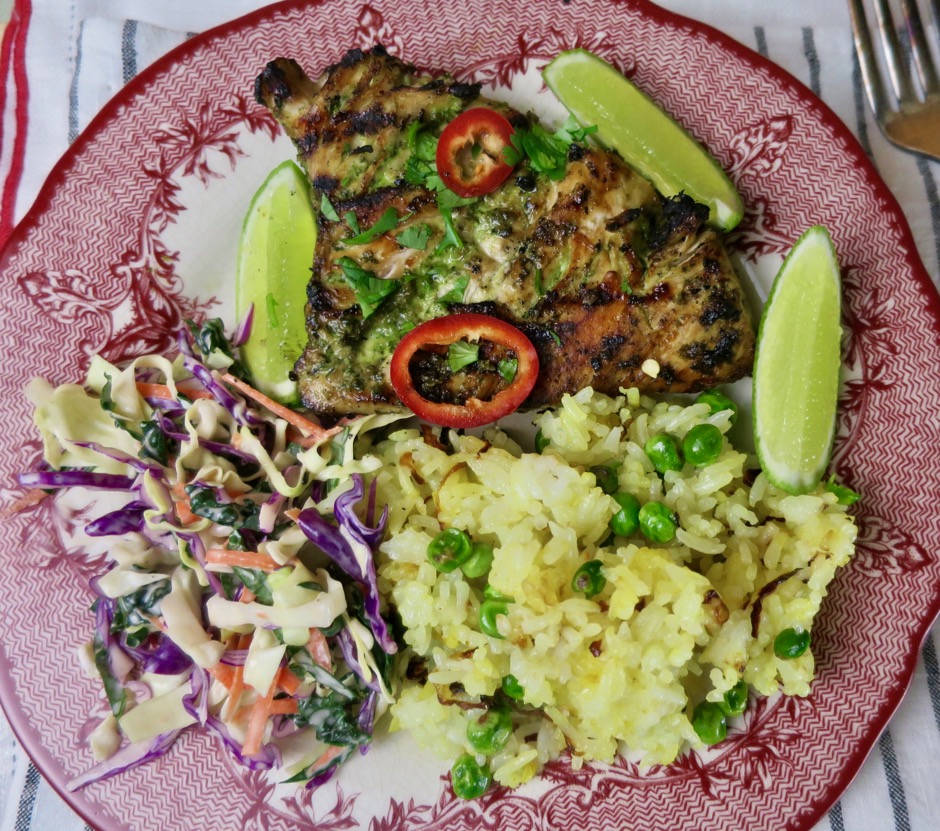 Jasmine rice and a salad pair perfectly with the grilled chicken.  If you have leftovers slice thin pieces of chicken and serve it over a bowl of cold noodles or use it as a filling in a banh mi.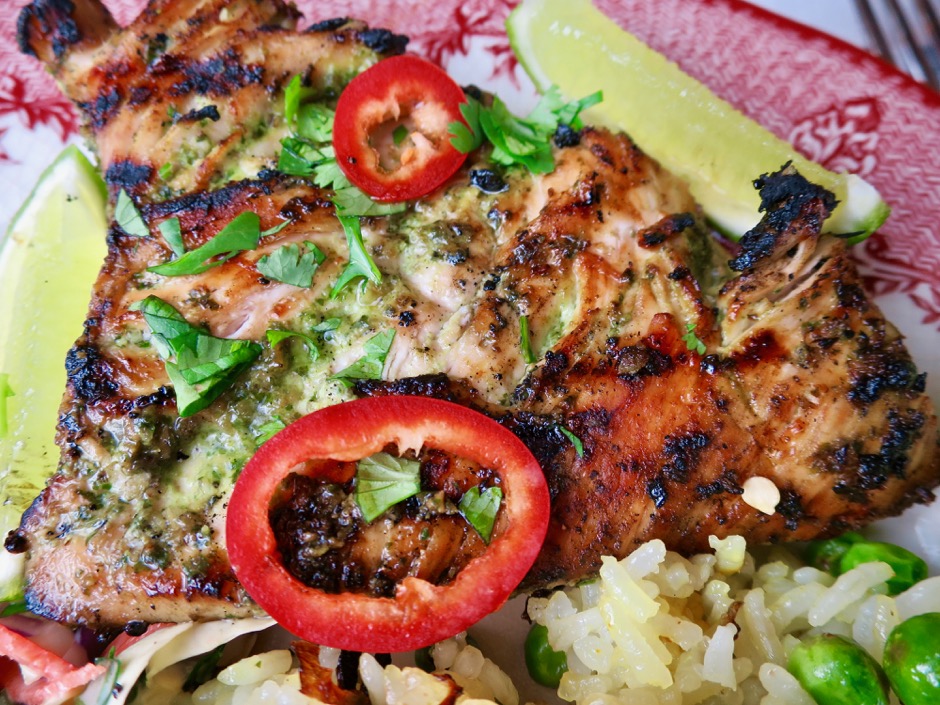 Grilled Thai Chicken with Basil & Lemongrass
Adapted from Fine Cooking magazine
Ingredients
¾ cup chopped cilantro + more for serving
½ cup coconut milk
¼ cup finely chopped lemongrass (from about 3 stalks)
6 fresh basil leaves
6 jalapeño nacho rings (hot) or 1 fresh jalapeño, or to taste
1 large garlic clove, minced
2 teaspoons kosher salt
1 teaspoon packed light brown sugar
¼ teaspoon freshly ground black pepper
¼ teaspoon ground coriander
4 medium or 3 large boneless, skinless chicken breast halves, trimmed (I pound the chicken breasts to even them out and if using large breasts, cut the pounded pieces in half)
1 lime cut into wedges for serving
Preparation
Combine cilantro, coconut milk, lemongrass, basil, jalapeños, garlic, salt, brown sugar, pepper, and coriander in your immersion blender cup and puree ingredients until smooth. Alternatively you may use a blender or food processor. Arrange chicken breasts in a nonreactive baking dish in a single layer. Pour the marinade over the breasts and turn to coat them well. Cover with plastic wrap and refrigerate for at least 2 hours and up to 6 hours.
Heat a gas grill to medium high or prepare a medium-hot charcoal fire. Grill the chicken until it has good grill marks on the first side, about 4 minutes. Flip chicken and continue to cook until firm to the touch and completely cooked through, 4 minutes more (cooking time depends upon the thickness of your chicken). Transfer to a platter and sprinkle with chopped cilantro. Serve with lime wedges.