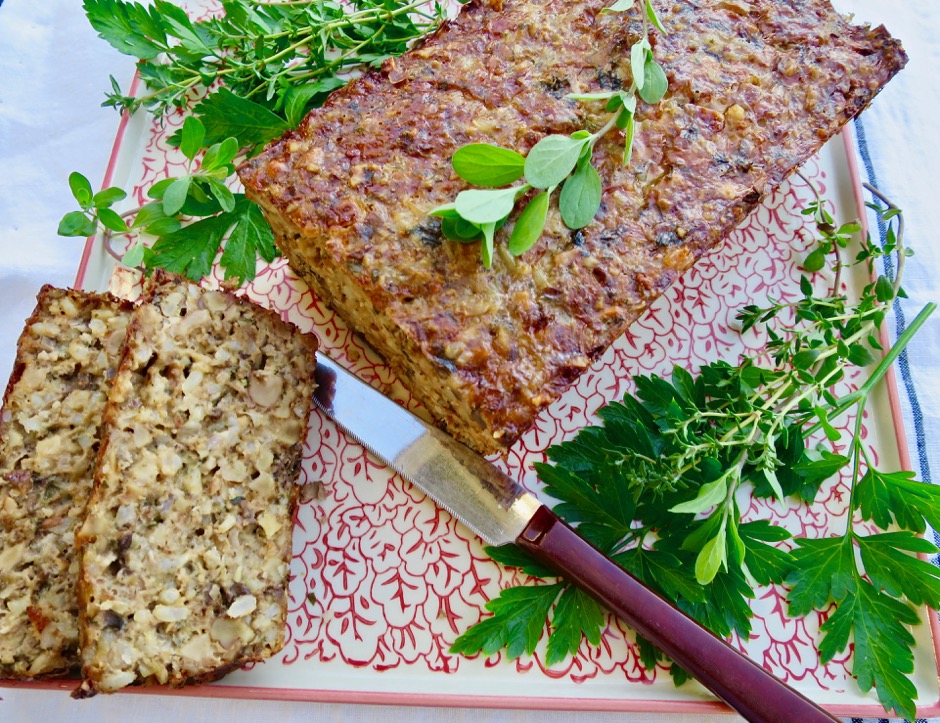 During the holidays last year, I wanted to serve a main dish that would appeal to my vegetarian guests, but also be enjoyable for my other guests as well.  This cheese and nut loaf turned out to be the perfect choice.  It bakes into a gorgeous loaf that looks beautiful and tastes delicious.  You can serve it alone or drizzle a vegetarian mushroom gravy or béchamel sauce over the slices before serving. The recipe comes from Deborah Madison's The Greens cookbook named after the successful Greens Restaurant in San Francisco that still exists today.  Unfortunately I don't own the cookbook and it seems to be out of print, but after reading all the great comments on line from those who have made it and having made it myself, I can see why everyone loves it.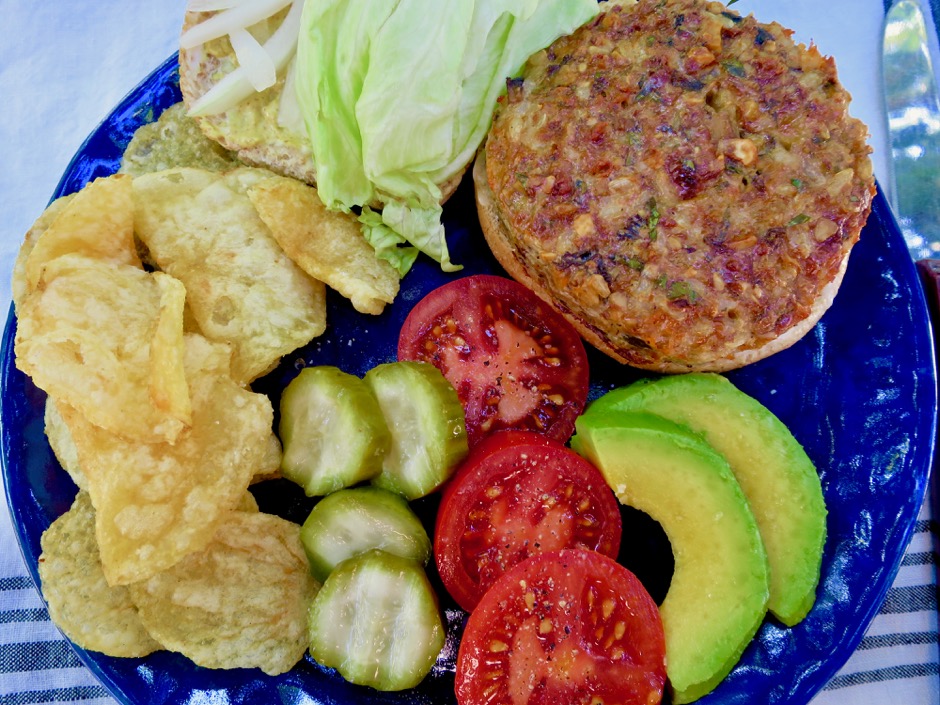 My husband John had a great idea, and that was to shape the cheese and nut loaf mixture into patties. This turned out to be our favorite way to eat the cheese and nut loaf.  The burgers bake in just 30 minutes or so and they are so tasty nestled in a hamburger bun and topped with all of your favorite burger condiments.  Another thing I'd like to mention is that both the loaf and burgers freeze beautifully and can be microwaved or pan-fried for another excellent meal.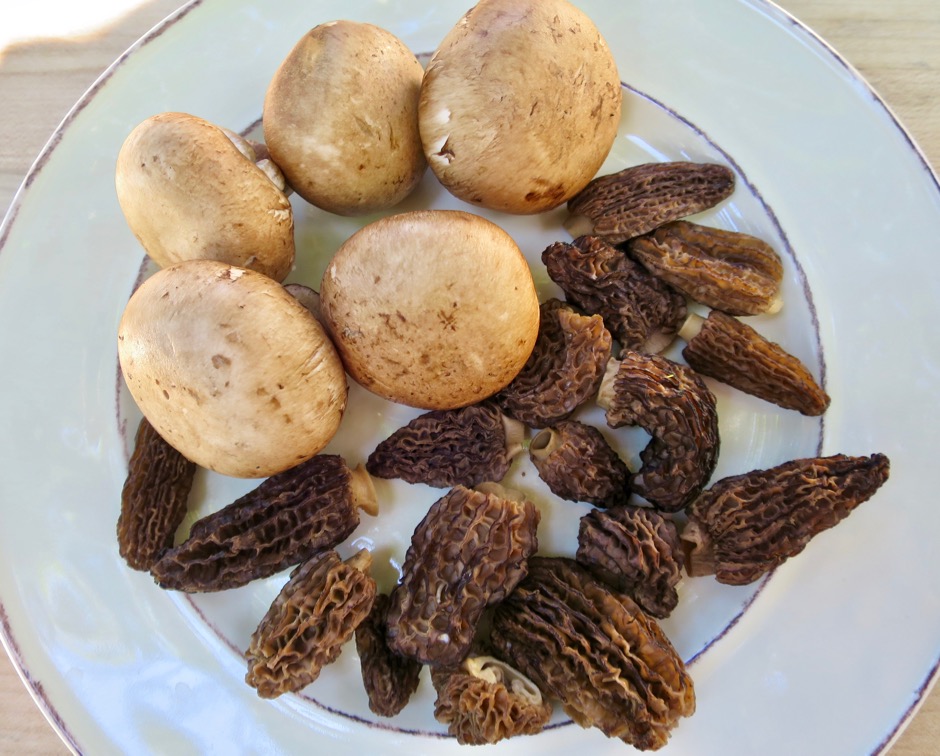 Use whatever mushrooms are available to you.  I used creminis and morels. These gorgeous morels were sent to us by my stepdaughter Katie who hunts for mushrooms in the Pacific Northwest.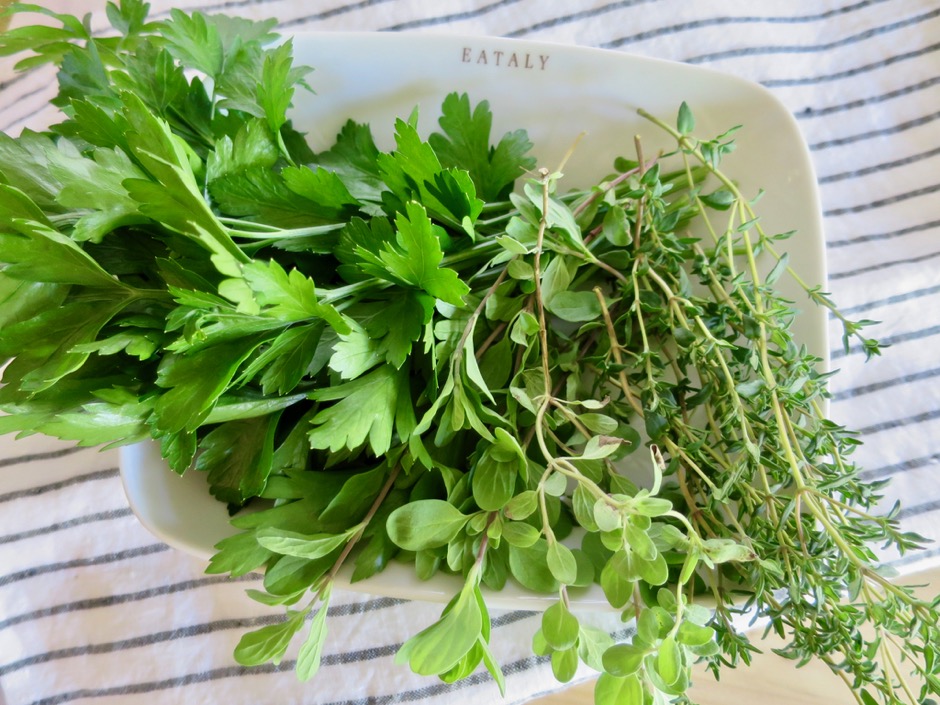 One of the things I love most about our garden are the assorted herbs that we grow. If you don't have them, most markets carry a nice assortment of herbs these days but you can also use dried herbs as well.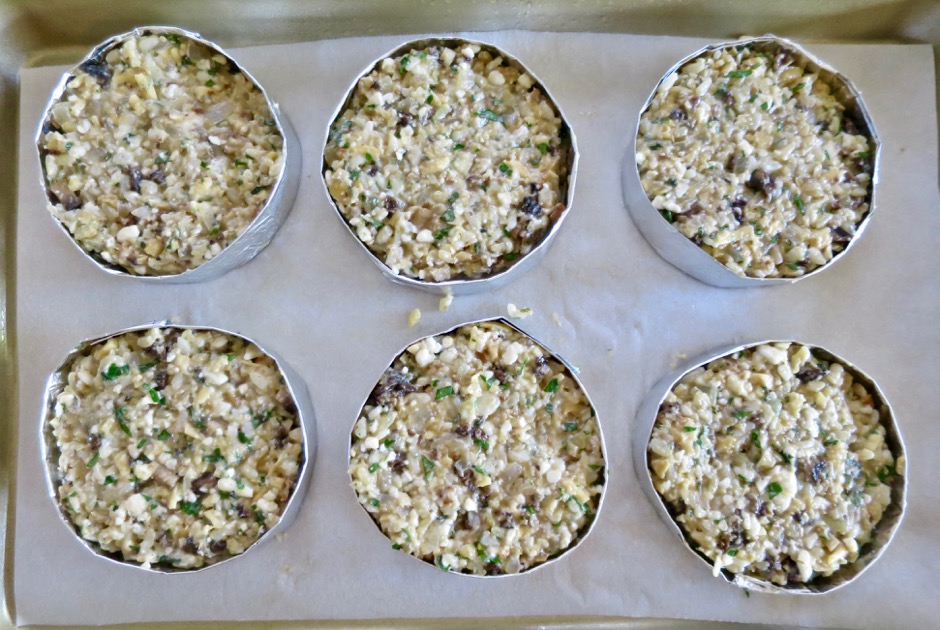 You will need to cook the brown rice in advance. Otherwise all of the other ingredients can be put together as you prepare the recipe. The mixture is gently formed and patted into baking rings that I made of aluminum foil.  This keeps the patties from spreading when baking (they will flatten and become uneven when baking without the rings).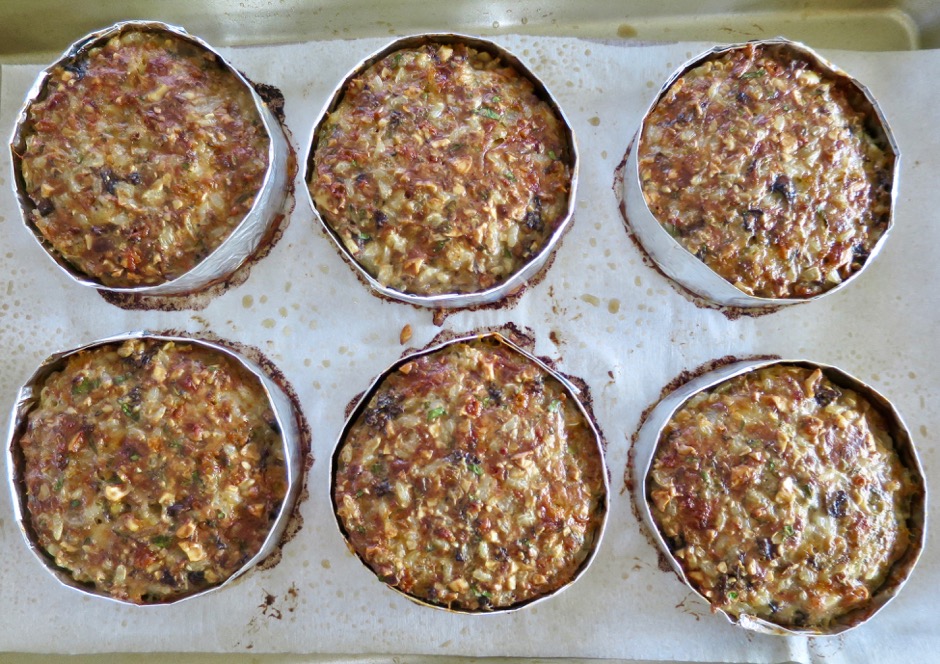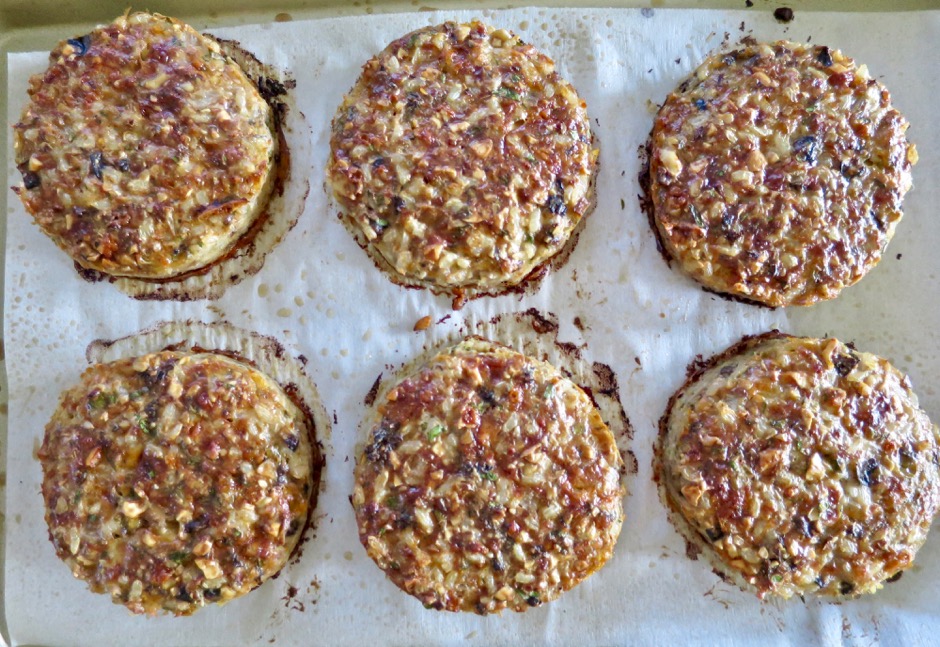 And here we have perfectly shaped plump burgers.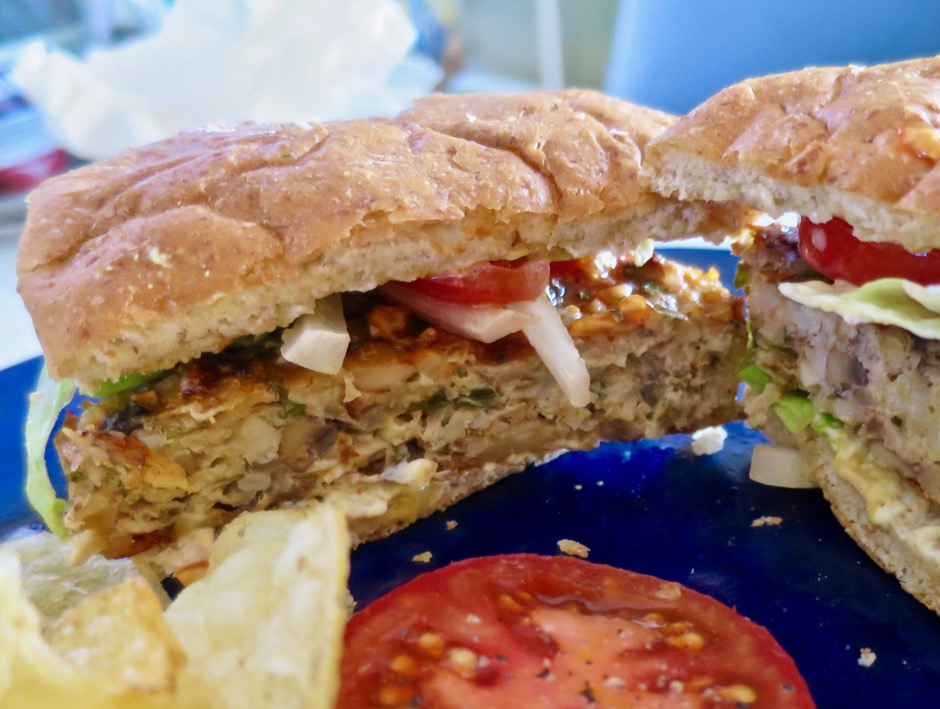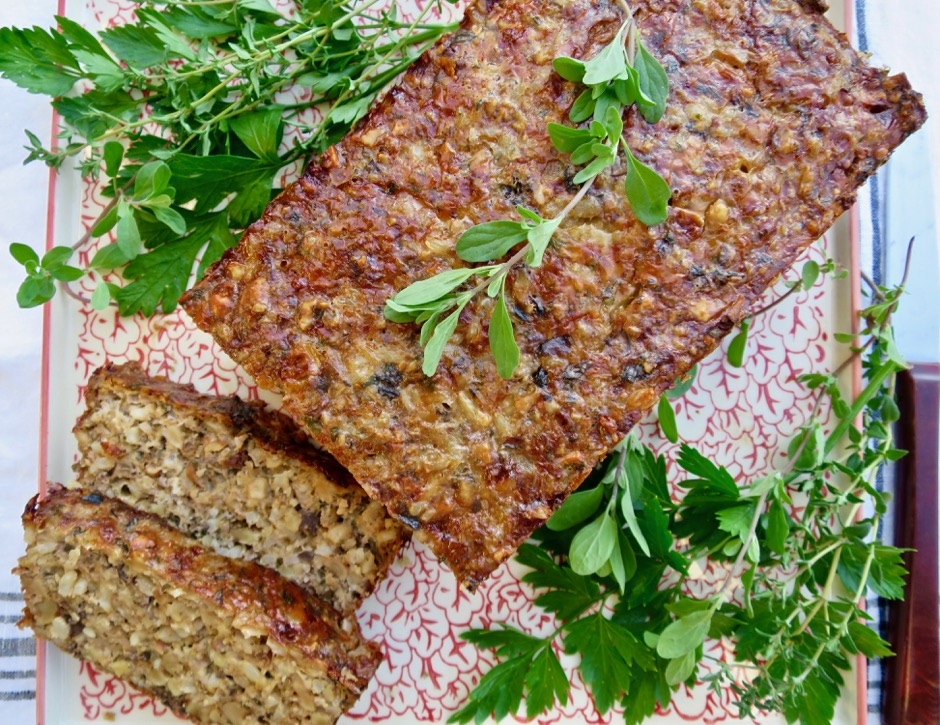 Cheese & Nut Loaf + Burgers
Adapted from Deborah Madison's recipe
Serves:
1 loaf or 10 - 12 burgers
Ingredients
1½ tablespoons butter
1¼ cups finely diced onion
1 cup (packed) mushrooms, chopped fine
1½ cups walnuts, toasted
½ cup raw unsalted cashews, toasted
2½ tablespoons chopped fresh flat leaf parsley
2 teaspoons fresh chopped thyme (or ½ teaspoon dried)
2 teaspoons fresh chopped marjoram (or ½ teaspoon dried)
1 teaspoon fresh chopped sage (or ½ heaping teaspoon dried)
2 medium garlic cloves, finely minced
1½ cups cooked brown rice
8 ounces grated cheese (I used extra sharp cheddar and yogurt cheese)
1 cup cottage cheese (I used lactose free)
4 large eggs, beaten
1 teaspoon kosher salt
freshly ground black pepper
Preparation
Preheat oven to 325 degrees.
Spread walnuts and cashews on a small rimmed baking sheet and toast until very lightly golden brown, about 6 minutes. Transfer nuts to a plate to cool slightly. Chop nuts finely and set aside.
Increase oven temperature to 375 degrees.
For the loaf: Butter a 9" loaf pan and line with parchment paper allowing the paper to overhang on the sides to allow easy removal of the loaf.
Melt butter in a large sauté pan over medium heat. Add onions and cook until they are translucent. Add mushrooms and cook until they are lightly browned, about 5 minutes. Remove from the heat and transfer mixture to a large bowl. Stir in chopped nuts, herbs, garlic, brown rice, cheese, cottage cheese, and eggs. Mix in salt and a few grinds of pepper. Mix until all ingredients are well incorporated. Spoon the mixture into the loaf pan, smoothing the top lightly.
Bake until golden brown and firm to the touch, about 1 hour. Let cool in the pan on a wire rack for at least 15 minutes before transferring loaf to a plate.
For the burgers: Preheat oven to 375 degrees. Line a large rimmed baking pan with parchment paper. The patties will spread and flatten when baking unless you use cooking rings which will keep them uniform in size. I use aluminum foil folded over a few times and stapled the ends together to make sturdy, disposable rings. Coat inside of rings with non-stick cooking spray.
Divide the mixture into 10 - 12 portions. Gently form the patties so they fit snugly in the cooking rings. Bake for 35 minutes, or until the burgers are nicely browned. Remove cooking rings and serve burgers on toasted buns with your favorite accompaniments.
Both the loaf and burgers freeze nicely.
*For 4 - 6 burgers cut the recipe in half. The full recipe will also make an 8x4" loaf plus two burgers.