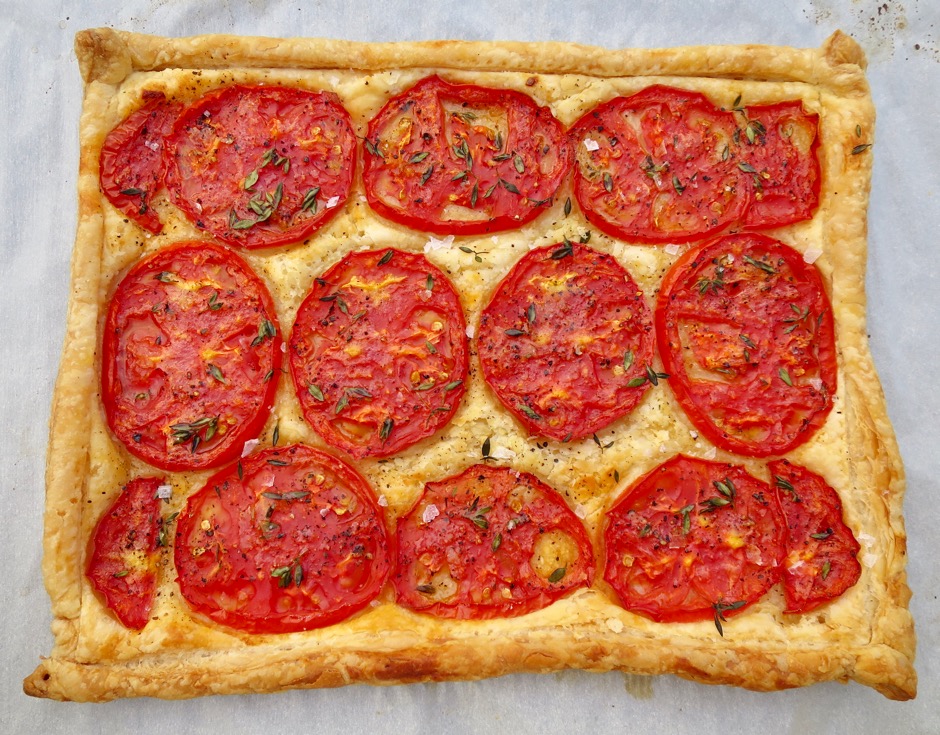 These tasty tomato tarts are so easy to make when using ready-made frozen puff pastry.  Of course if you have time you could make your own, but using already prepared puff pastry reduces your prep time. The key to a delicious tart is to use really good tomatoes.  You want tomatoes that are meaty with few seeds so that the crust doesn't get soggy.  Our tomato plants underproduced this summer, however, we were lucky to have a handful of really nice tomatoes that I used for tomato sauce, salsa, Mexican rice, salads, and these tarts.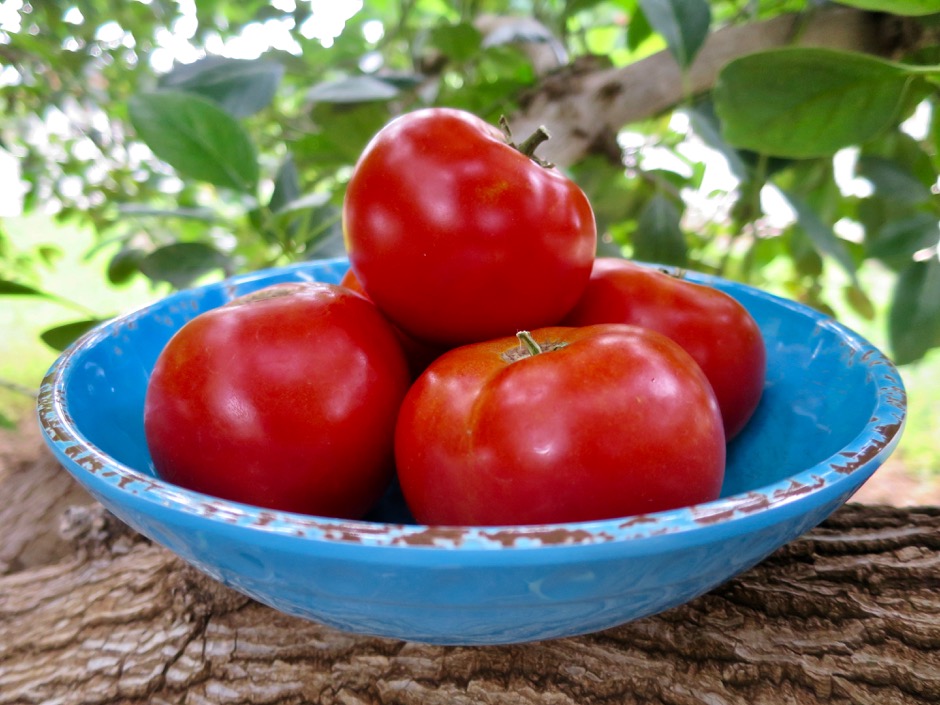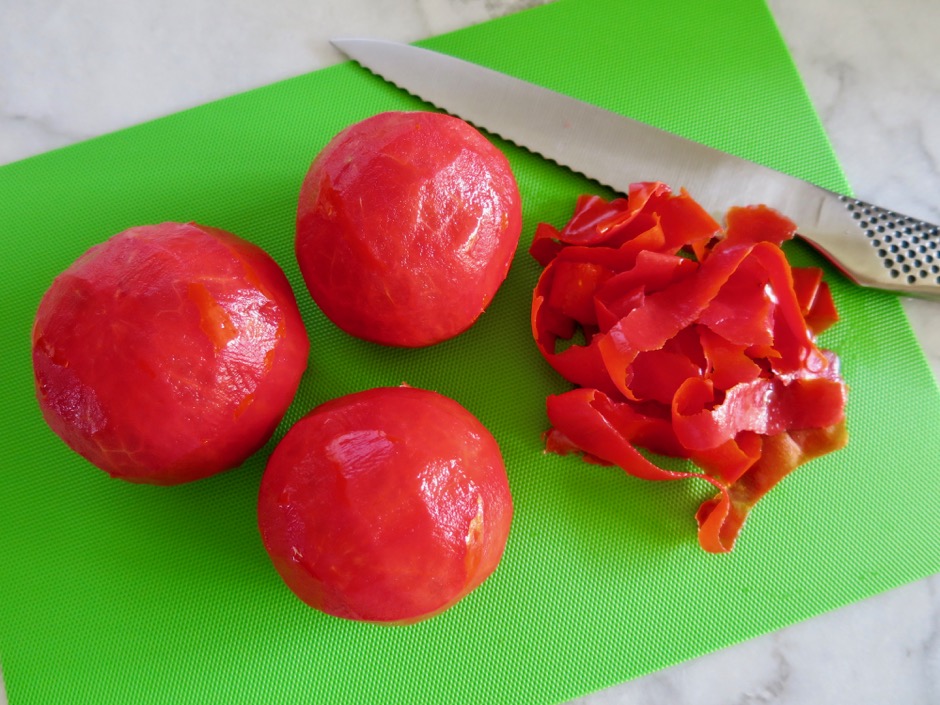 I didn't peel the tomatoes the first time I made the tart but did so the next time around.  The tomato skins don't soften much or break down when baked so peeling them ensures that when you take a bite of the tart you're not left with the tomato skin pulling away from the rest of the slice.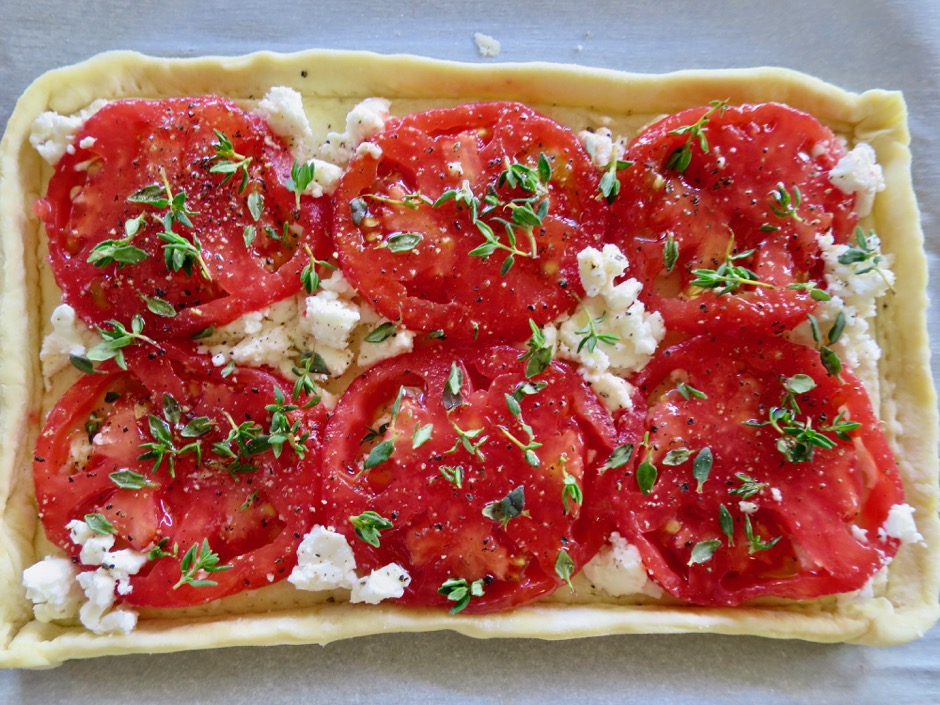 You can make one large tart or divide the puff pastry into two equal portions and make two tarts.  Below I made one with pesto and another with feta cheese.  It was nice to have a variety of flavors.  These little tarts  make perfect appetizers for a small party.  You can make them a couple of hours in advance and still count on the crust being flaky and crisp.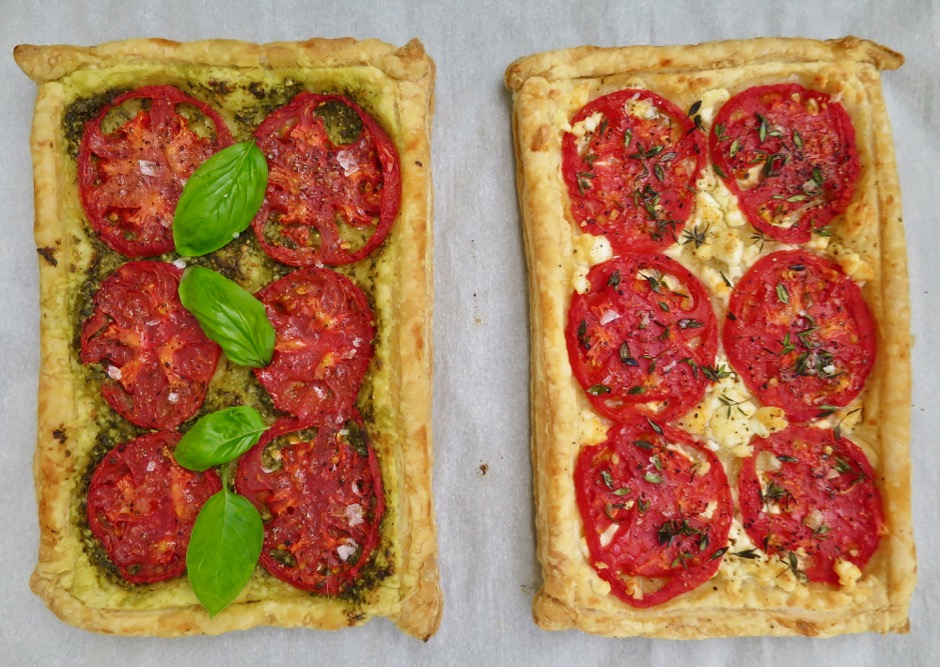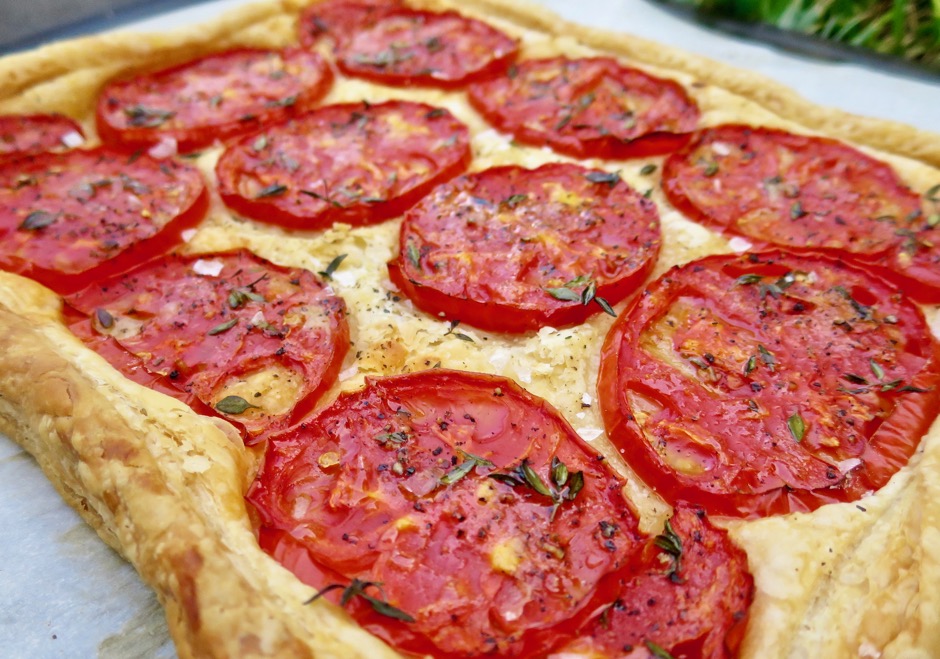 The tomatoes above were not peeled.  You may notice the skins did not cook down much which means that when you take a bite of the tomato tart the skin may come off in one piece.  It's definitely OK to leave the skins on though if this isn't bothersome to you.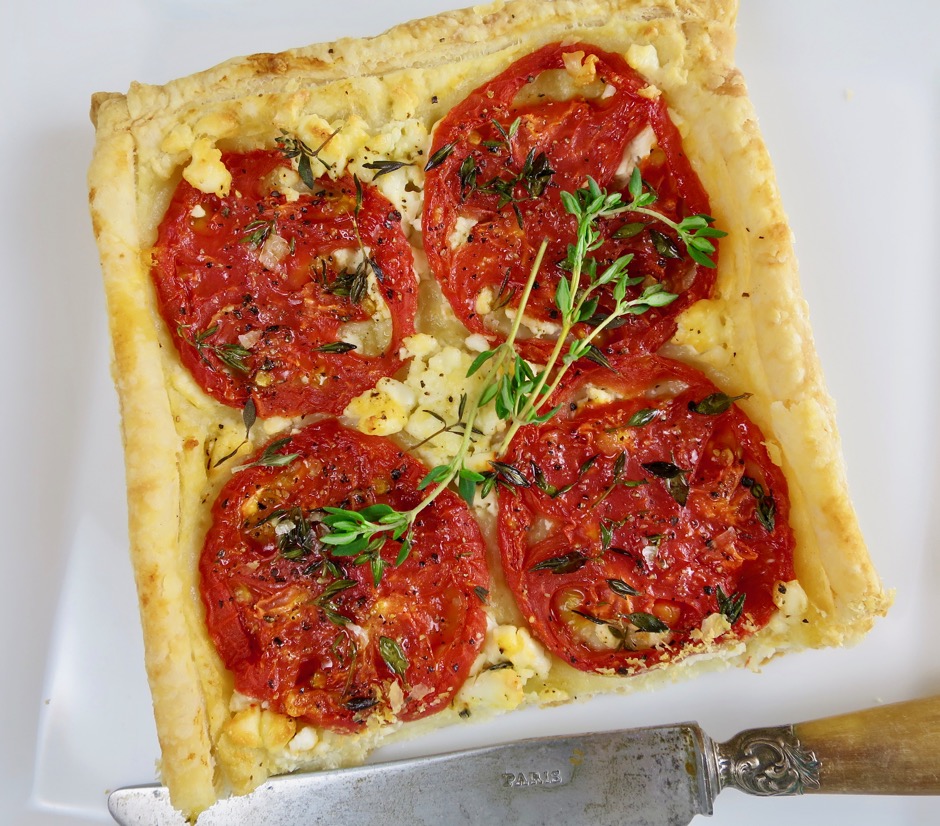 Puff Pastry Tomato Tarts
Adapted from Canal House Cooks Every Day
Serves:
6 - 8 as an appetizer
Ingredients
1 frozen ready-to-bake puff pastry sheet such as Pepperidge Farm
2 - 3 tomatoes, peeled, cored, and sliced (about ⅓-inch thick)
3 branches fresh thyme
crumbled feta (optional)
basil pesto (optional)
extra virgin olive oil
pepper
Maldon or other crunchy sea salt
Preparation
Preheat oven to 375 degrees.
Cut a sheet of parchment paper to fit a large baking sheet pan. Place parchment paper on counter. Remove puff pastry sheet from the freezer and place it on the parchment paper. Let puff pastry defrost for 20 minutes.
Roll out puff pastry on the parchment paper to measure 9½ x 12 inch rectangle. If making two tarts divide the pastry in half. Once rolled out, transfer puff pastry (on parchment paper) to your baking sheet. Using the tip of a small paring knife, lightly score a border about ½ inch from the edge of the pastry. Pierce the dough inside the border all over with the tines of a fork to prevent the central area from puffing up too much during baking.
If using only tomatoes: Arrange tomatoes over the pastry. Season with pepper. Drizzle or brush a bit of olive oil over the tomatoes. Scatter fresh thyme leaves over the top.
If using pesto: Brush pesto over the pastry (except border). Arrange tomatoes on the pesto and season with pepper. Drizzle or brush a bit of olive oil over the tomatoes.
If using feta: Arrange tomatoes on pastry and season with pepper. Scatter crumbled feta between the tomatoes. Drizzle or brush a bit of olive oil over the tomatoes. Scatter fresh thyme leaves over the top.
Bake tart(s) for 30 - 35 minutes until the pastry is crisp and edges are lightly browned. Season with Maldon salt.