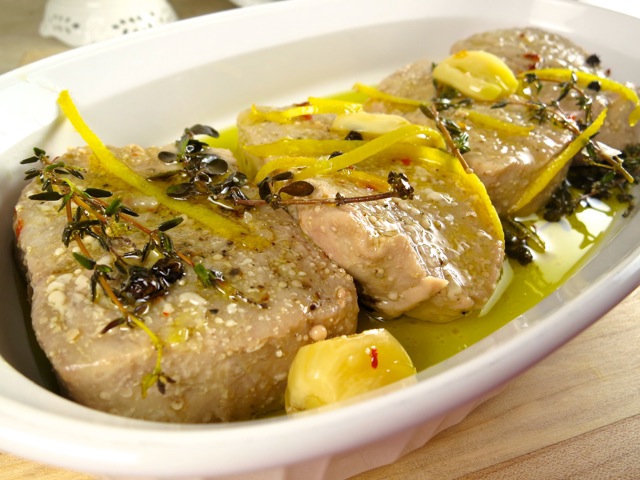 It's been so oppressively hot lately I just want to stay inside with the air conditioner set at high.  Our usual trade winds have been absent and sorely missed.  So the thought of turning on the oven to roast a chicken, which I love, or simmer a meat sauce for hours on end, is pretty much out of the question.  So with the thought of a dish less dependent on a hot oven, I finally decided to try my hand at tuna conserva.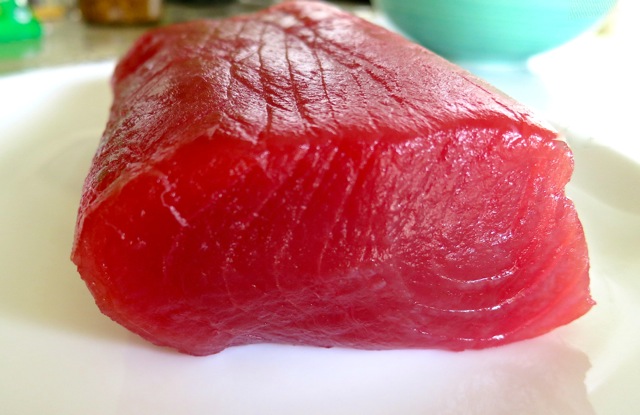 Tuna conserva is a classic dish found on many eclectic Italian menus. I've always wanted to make it, yet had never found quite the right recipe.  I never imagined how good it could be!  My mistake for taking so long.  With a combination of the best elements from several recipes, I came up with my own version.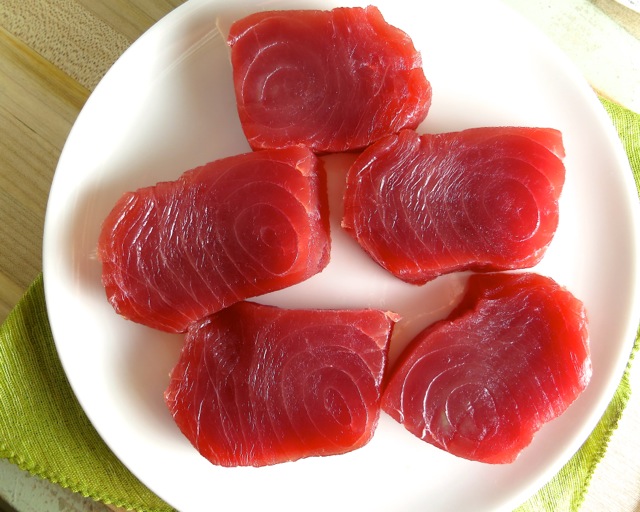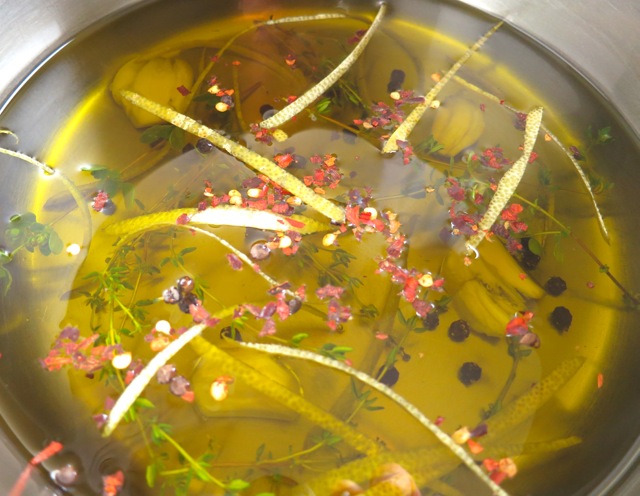 Good canned tuna in olive oil is a pantry staple in my kitchen.  I love it in salad Nicoise, on toasted whole grain bread, or in a simple tuna sandwich.  Homemade tuna conserva is a notch higher on the culinary scale.  I love how the tuna turns out so tender and moist and flakes up beautifully.  The herbs, lemon zest, crushed garlic and peppercorns lightly infuse the oil with a subtle and refreshing flavor.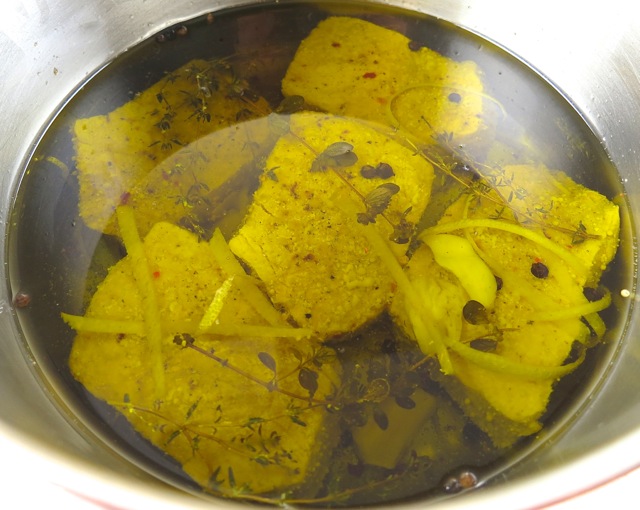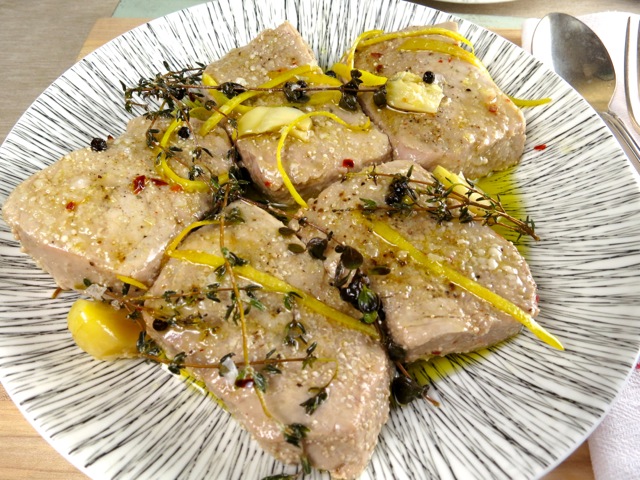 Eat it alone with a sprinkling of Maldon sea salt, in a salad, on toast or pasta, tucked between good bread with a sliced hardboiled egg and briny olives or capers.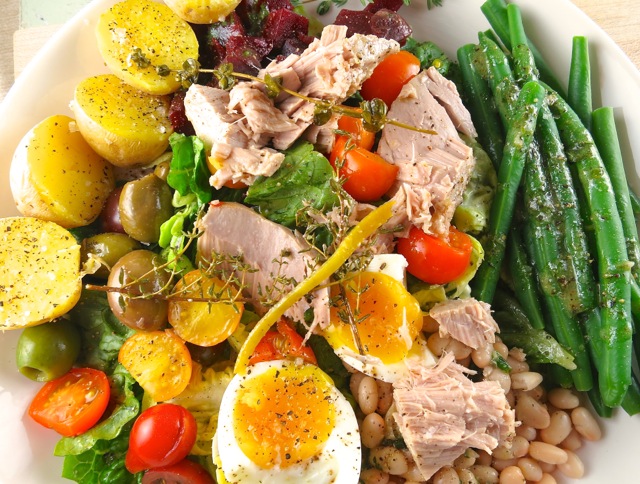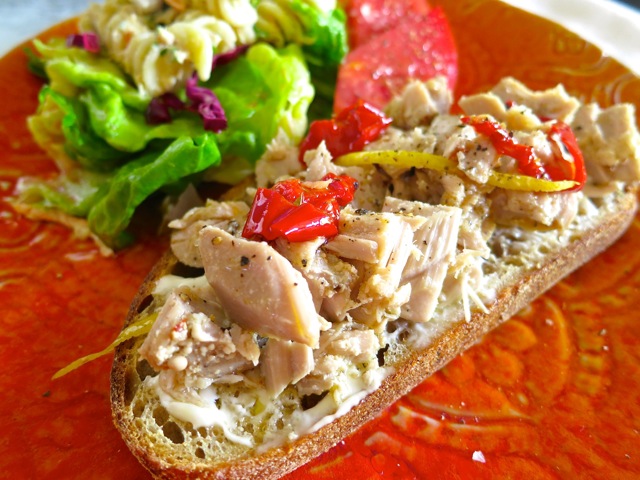 Tuna Conserva
Serves 4
Ingredients
1 pound sashimi grade ahi block, cut into 1-inch slices (about 5 pieces)
6 sprigs fresh thyme
3 garlic cloves, crushed
2 sprigs fresh marjoram, optional
zest of 1 lemon, peeled with a vegetable peeler, without the white pith
1/2 teaspoon whole black peppercorns
1/4 teaspoon red pepper flakes
kosher salt & freshly ground black pepper
olive oil
Prepartion
Put the olive oil in a saucepan that will hold the fish snugly in a single layer.  Add the thyme, garlic, marjoram, lemon zest, peppercorns and red pepper flakes and gradually warm on the stove top over low heat to 150° F for about 8 – 10 minutes (check the temperature with a kitchen thermometer).
Season the fish with salt and pepper. Add the fish to the saucepan. The temperature of the oil will reduce slightly.  You want to maintain a temperature of about 130° F.  Confirm the temperature with a thermometer.  It will take about 10 minutes for the tuna to be done.  The fish should be just opaque throughout.  Let the tuna cool in the oil.
Serve on salad, in a sandwich, on pasta, or on toasted hearty bread.  I like to season the tuna conserva with flaky sea salt and a few grinds of pepper just before serving. Transfer any leftover tuna, oil, and herbs to a bowl, cover tightly and refrigerate.  The tuna conserva will keep well for at least 4 days.