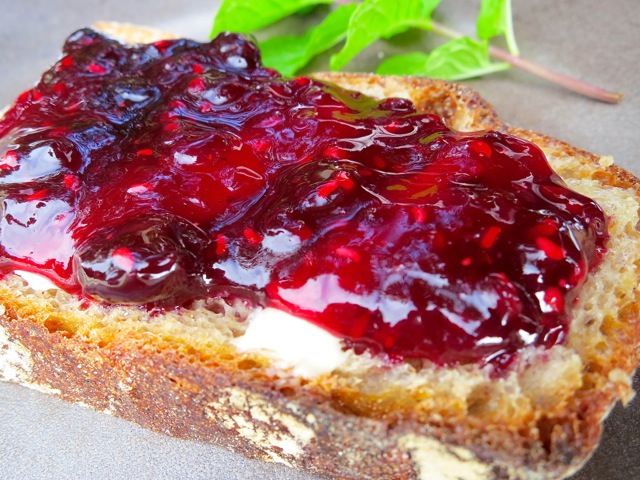 Mango season is over and, alas, we have no lilikoi either. We love making jams and jellies from our own fruit, but when these fruits are out of season we look to other sources.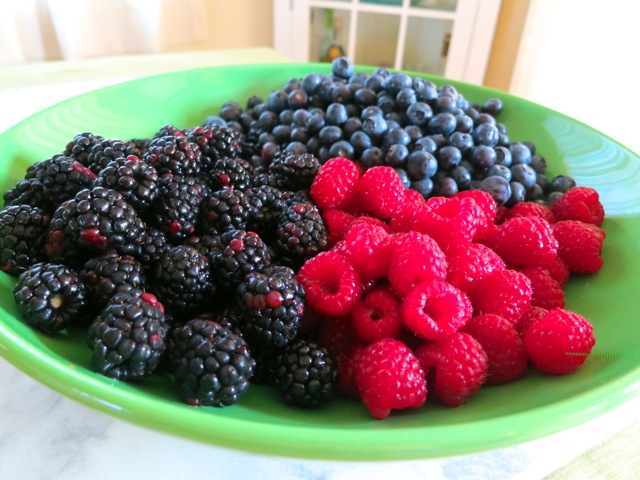 A mixed berry jam came to mind when John received his copy of Little Jars, Big Flavors published by Southern Living.  The book was on the Serious Eats list of  best Christmas gift books for 2013.  The recipes consist of small-batch jams, jellies, pickles, and preserves.  We were making our weekly trip to Costco and discovered that their selection of blackberries, raspberries and blueberries were all in perfect condition.  Buying various types of berries can be tricky.  I've purchased a container of blackberries that looked fine, however the next morning when I opened the container, to my dismay they were moldy. Aargh!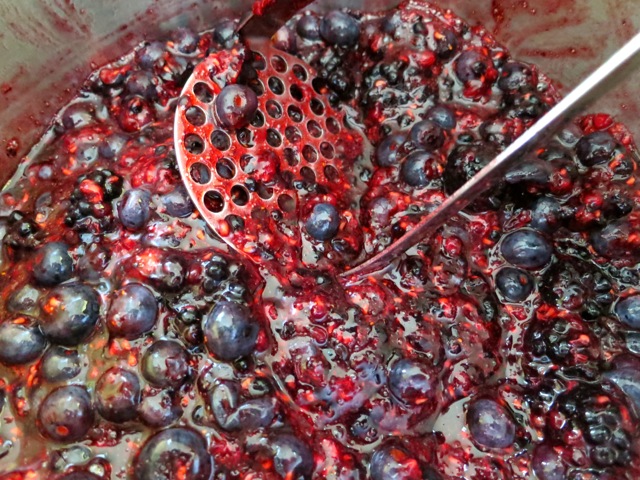 Though the recipes in the book are "small-batch" we doubled the recipe because  we had bought so many good-looking berries.  Why not?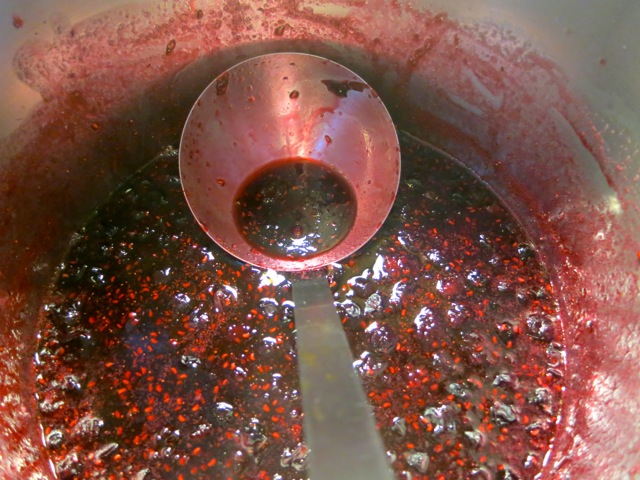 This was a very simple recipe that produced the most delicious berry jam.  No pectin required.  We expected to have 8 half-pint jars of jam but ended up with 9 jars.  Since we only prepared 8 jars for canning we refrigerated the 9th jar and it was gone in a week! Have you ever had peanut butter and jam on toast for dessert? Scrumdiddlyumptious.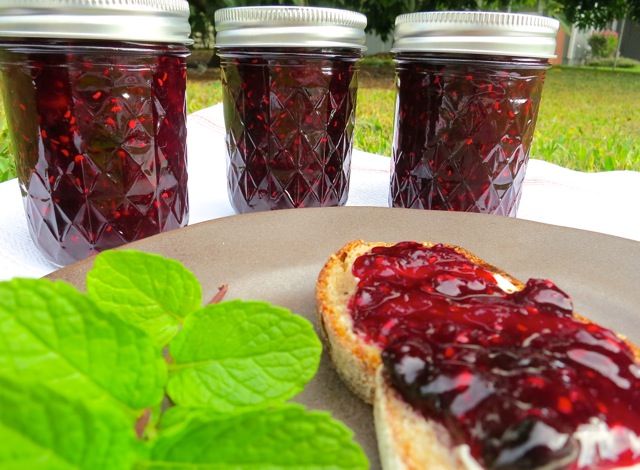 Mixed Berry Jam
Southern Living ~ Little Jars, Big Flavors
Makes 9 half pint jars
Ingredients:
24 ounces (5 cups) blackberries
12 ounces (3 cups) raspberries
2 pints (4 cups) blueberries
6 cups sugar
2 tablespoons lime juice
Preparation
Rinse berries thoroughly under cold running water.  Remove and discard stems and any blemished berries.  Drain well.  Mash with a potato masher until evenly crushed.  Most of the blueberries will remain whole but that's OK, they will soften once cooked and add a nice chunky texture to the jam.
Wash jars and place them in boiling-water canner.  Fill the jars and canner with water to the top of the jars.  Cover and bring water to a simmer over medium heat, do not boil.  Prepare the two piece closures.  Wash lids and place in a small saucepan and cover with water.  Heat to just a simmer but do not boil.  Do not heat screw bands.
While jars are simmering, bring crushed berries and sugar to a rolling boil in an 8-quart stainless steel sauce pan or enameled Dutch oven over medium-high heat, stirring occasionally, until sugar dissolves.  Continue cooking, stirring often,  for 7 minutes.  Remove from heat and let foam settle (about 1 minute).  Skim off and discard any foam.
Lift the canner jar rack and fix into place on the rim of the canner. Remove one jar at a time from canner and empty hot water back into the canner. Place jar on a cutting board and place a canning funnel in the jar.  Ladle hot jam into jar leaving 1/4 inch head space.  With a clean damp cloth or paper towel wipe jar rim to remove any food residue.  Using a magnetic utensil, lift hot lid from water, center it on the  jar and place screw band on jar.  Tighten screw band evenly and firmly just until resistance is met.  Then increase to finger tip tight.  Do not over tighten.  Return jar to canner rack.  Continue filling jars individually until all jars are filled, then lower rack into canner and ensure that all jars are covered by 1 inch of water.  Cover canner and bring water to a full boil over high heat.  Process for 5 minutes, starting timer only when water reaches a full boil.
Remove jars from water, and let stand, undisturbed, at room temperature 24 hours.  You will hear the seals pop rather quickly once the jars are removed from the water.  If any of the lids do not seal, refrigerate the jam and enjoy right away.  Properly sealed jars will keep in your cupboard for up to one year, but why wait? Share them with your family and friends.  They will be delighted to receive a precious jar of homemade jam.
***We write the date the jam was made on the bottom of the jar with a Sharpie pen.