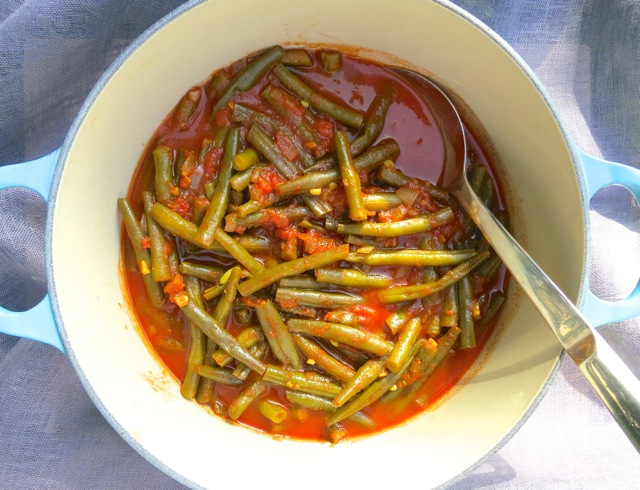 One of my favorite dishes is beans slowly cooked in tomato sauce and spices served with a scoop of brown rice and tender lettuces dressed in lemon juice and olive oil.  This particular recipe is adapted from  Turmeric & Saffrons Khoresh-e-Loobia Sabz – Persian Green Bean Stew with Chicken.  It's very satisfying and leftovers are perfect for a work lunch.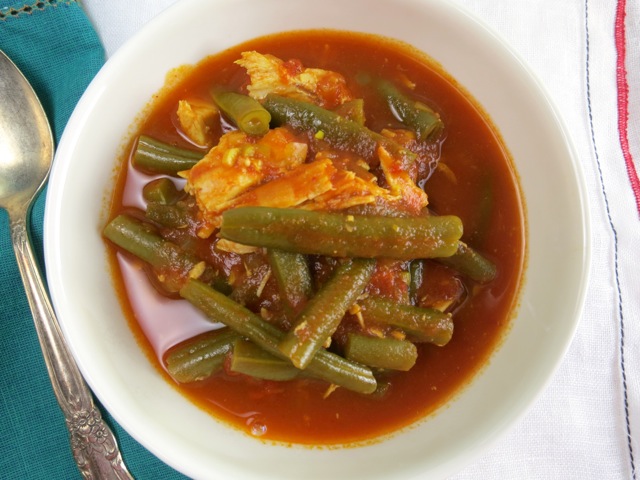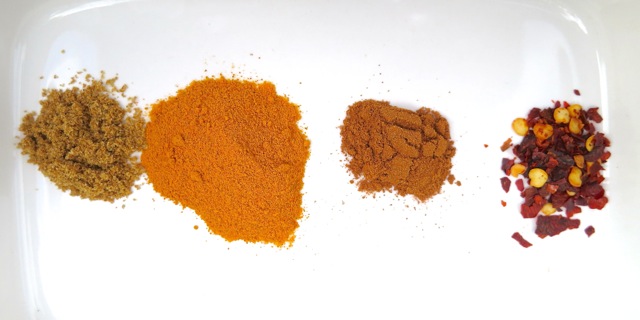 My interest in Persian cuisine first developed when I came across a recipe for Jeweled Rice, a beautiful dish that includes ingredients such as cinnamon, cumin and turmeric, spices I love to cook with.  I also found another fantastic Persian rice recipe from Shanna at Curls and Carrots.  I've made Tah Dig many times now and it's one of my favorite ways to prepare basmati rice.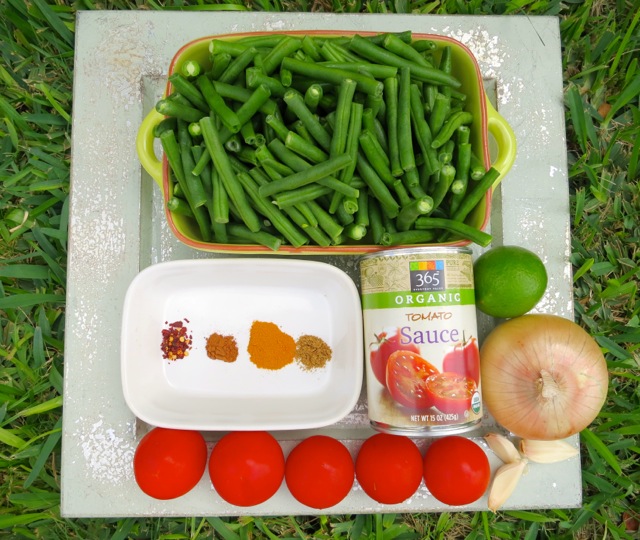 With a very short list of ingredients, this green bean stew is delicious with or without chicken.  I found that using the tender meat from a good, supermarket roasted chicken works so well I now use it instead of cooking my own chicken.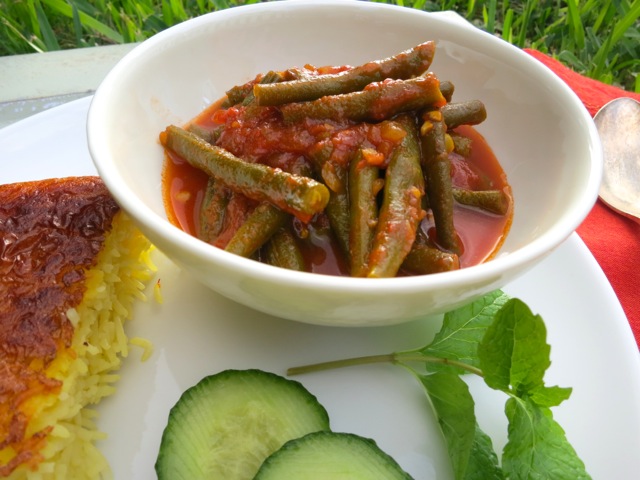 Green Bean Stew with Roasted Chicken
Adapted from Turmeric & Saffron blog
Serves 6
Ingredients  
1 pound green beans, washed, trimmed and cut into 1 1/2 inch pieces
1 tablespoon olive oil
1 cup finely chopped onion
3 small garlic cloves, minced
1/2 teaspoon turmeric
1/4 teaspoon ground cumin
1/4 teaspoon cinnamon
1/4 teaspoon red pepper flakes
1 cup chopped tomato, peeled and seeded
1 1/4 cup tomato sauce
1 1/2 teaspoons kosher salt
freshly ground black pepper
2 cups rotisserie chicken breast, torn into large pieces
2 tablespoons fresh lime juice
Preparation
Trim the green beans, rinse in a colander and set aside.
Heat 1 tablespoon of olive oil in a large saucepan over medium heat.  Add onion and sauté until soft and golden, about 6 minutes.  Add minced garlic and sauté for another minute.
Add the turmeric, cumin, cinnamon and pepper flakes.  Coat the onion mixture with the spices.  Add the green beans, chopped tomato, tomato sauce, and enough water to just cover the beans.  Add the salt and a few grinds of pepper.  Stir to combine all of the ingredients.  Cover the pan and simmer the beans for about 40 minutes, or until the beans are very tender.  Add the chicken to the pan and stir gently to combine.  Once the chicken is warm, taste and season with more salt and pepper if needed.  Stir in lime juice and serve.