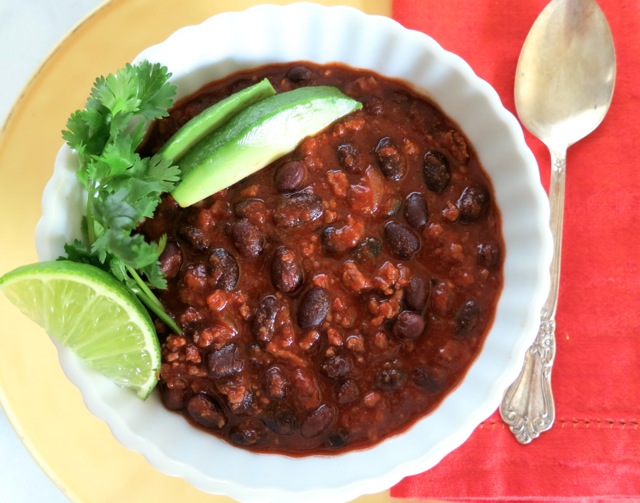 A while back I was checking out recipes on various food blogs and I stumbled into this really delicious black bean chili recipe on Kaylyn's Kitchen blog.  The recipe comes from Fine Cooking magazine.  I liked the idea that Kaylyn used lean ground beef and simmered the chili for a few hours.  I did just as she suggested and the chili turned out to be so delicious I now make it on a regular basis.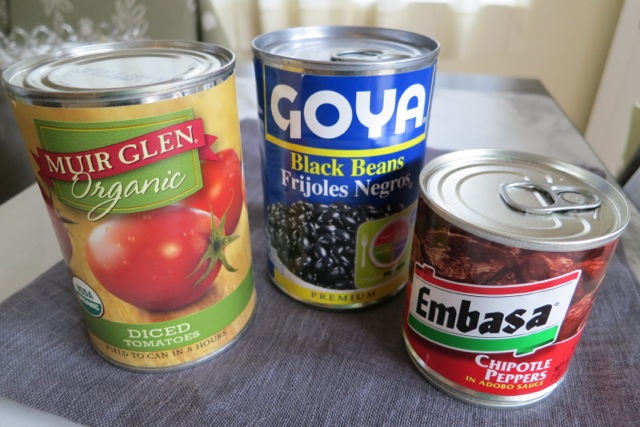 All the ingredients should be easy to find in your grocery store with one exception.  I buy Hatch ground red chile powder from The Chile Shop (Santa Fe, NM) directly from their store.  This particular chile is mild and earthy.  It doesn't give off any heat but adds a wonderful rich chile flavor to the dishes you use it in, such as this black bean chili and also adovada sauce.  If you buy chile powder at your grocery store look for one that is pure mild chile powder without any other added ingredients.  Otherwise give the folks at The Chile Shop a call.  You'll be happy you did.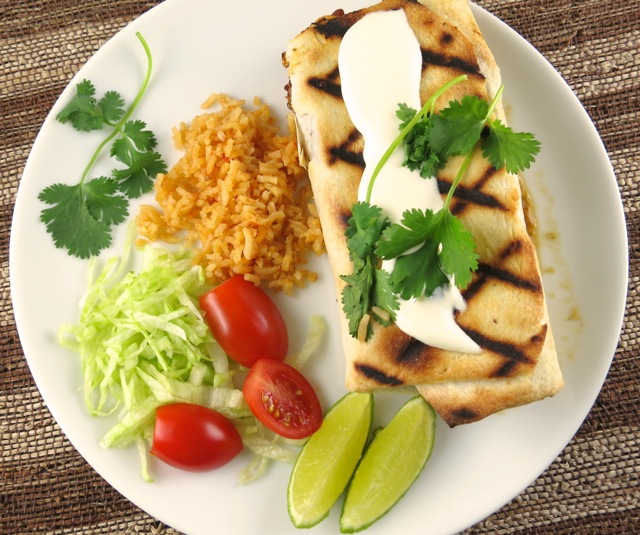 We often grill burritos stuffed with black bean chili, sopa de arroz and extra sharp cheddar.  If you've never had a grilled burrito, give it a try.  It takes just a few minutes on the gas grill and is a nice change from your typical soft burrito.
Best Black Bean Chili
Adapted from Kaylyn's Kitchen Blog & Fine Cooking Magazine
Makes 8 1/2 cups
Ingredients
4 cans black beans
1 can (14.5 oz.) diced tomatoes
2 (or more) diced chipotle peppers in adobo sauce (I scrape out the seeds)
1 – 2 tablespoons olive oil
1 pound lean ground beef (I use ground sirloin)
1 medium onion, finely diced
5 tablespoons Hatch mild chile powder
2 teaspoons ground cumin
1 can beef broth
1 1/2 tablespoons tomato paste
1 teaspoon kosher salt
freshly ground black pepper to taste
Preparation
Drain 3 cans black beans into a colander and rinse well, until no more foam appears.  Set aside.
In a food processor, puree 1 can of undrained black beans with the diced tomatoes and their liquid along with the chipotle peppers.  Process for about 30 seconds, or until the mixture is fairly smooth. Taste the bean mixture and add more chipotle peppers if you want it to be a bit spicier.  Set aside.
In the bottom of a heavy soup pot (I use a 5 1/2 quart Le Creuset Dutch oven) heat 1 tablespoon olive oil and brown beef, using the back of a turner to break it into small pieces.  Remove beef to a bowl, add a bit more olive oil to the pot and the diced onions.  Lower the heat a little and cook the onions until they are softened but not starting to brown.  Add the chile powder and cumin and sauté about 30 seconds.
Add the beef broth, browned ground beef, pureed bean mixture, tomato paste and salt and pepper.  Stir to combine and simmer for 1 hour on very low heat.
Add the reserved drained beans to the pot and continue to simmer for 1/2 hour.  Taste and adjust seasoning if needed.
The chili is delicious served with cornbread or stuffed in a flour tortilla with a bit of cheese.  Here in Hawaii, we like to serve chili over a steaming bowl of hot rice.