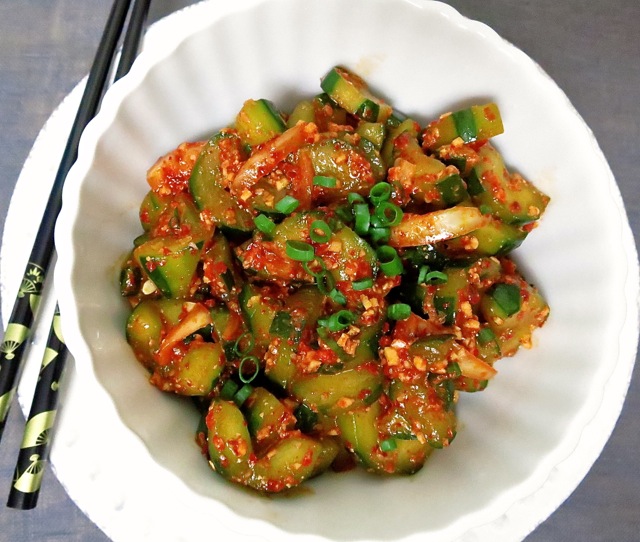 There's not many combinations better than spicy, garlicky, kimchi and a bowl of steaming hot rice.  When accompanied with either grilled chicken or tofu marinated in Granny's Teriyaki sauce, or Korean Style Hamburger Patties, it's a mouth-watering experience.
I do enjoy the more traditional Napa cabbage kimchi but there's something special about crunchy cucumber kimchi.  Whole Spice Korean chili flakes add a beautiful color and mild sweetness without too much heat to the kimchi.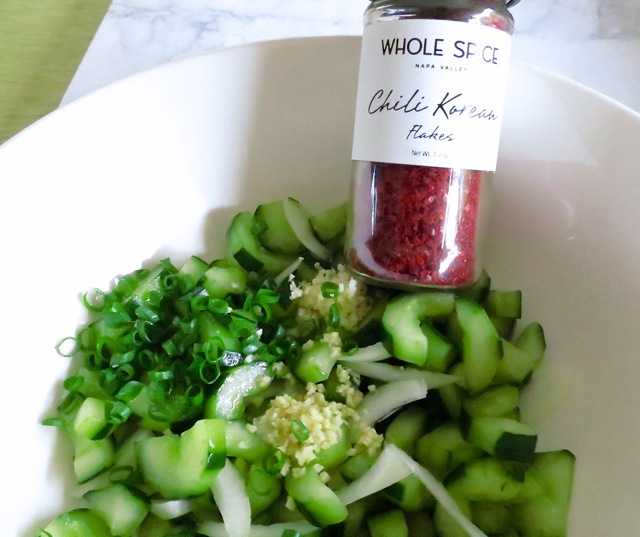 Quick Cucumber Kimchi
Serves 2 as a side dish
Ingredients
1 pound Japanese cucumber, halved lengthwise and sliced crosswise into 1/3 inch thick slices.
1 1/2 teaspoons kosher salt
1/4 cup thinly sliced Maui or sweet onion
1 teaspoon minced garlic
1 teaspoon minced ginger
1 tablespoon finely chopped green onion
2 teaspoons sesame oil
dash of fish sauce (optional)
3 teaspoons Korean chili flakes
1/4 teaspoon kosher salt
Preparation
Place sliced cucumbers in a large bowl and sprinkle with 1 1/2 teaspoons kosher salt.  Toss well.  Let stand for 20 minutes then rinse and drain well.  Rinse the bowl.
Place cucumbers back into the bowl and add the remaining ingredients.  Mix everything together and transfer to a smaller serving bowl.  Refrigerate until chilled.  Sprinkle additional green onions on the top before serving if desired.  The kimchi is best eaten the same day.  Any leftovers are a welcome addition to your bento lunch the following day.