Mangoes are our favorite fruit.  We have two mango trees in our yard, Rapoza and White Pirie.  Both provide us with sweet and juicy fruit throughout spring and summer and even occasionally into fall.  Apparently we are not the only ones who love mangoes.  This year the birds decided they couldn't wait for the occasional mango that falls to the ground.  They have been devouring the mangoes while still on the tree.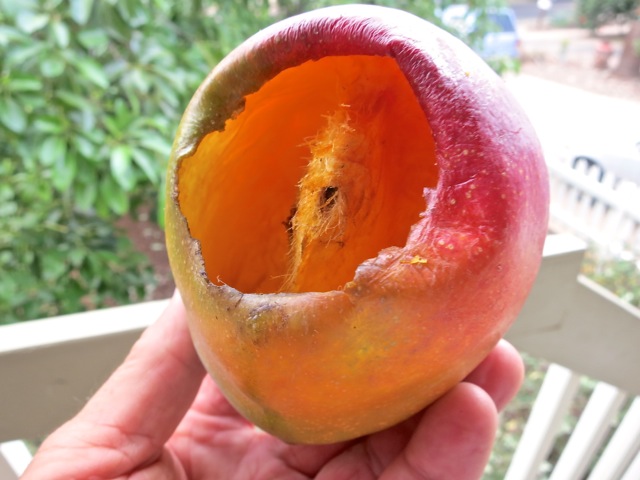 The nerve of those birds!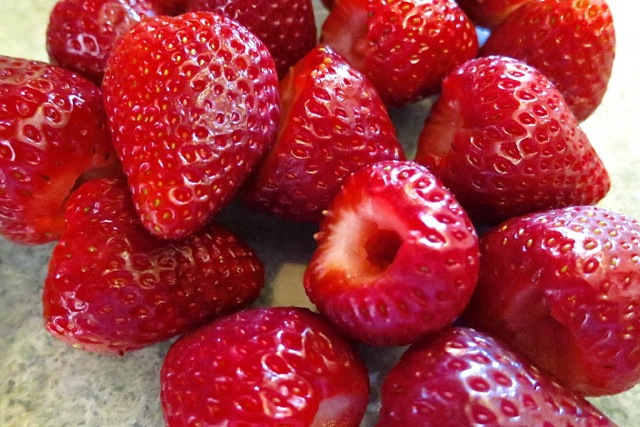 No thanks to those hungry birds, we were still lucky to have enough fruit to make some jam this summer.  This time we mixed it up a bit and made mango-strawberry jam.  It turned out great.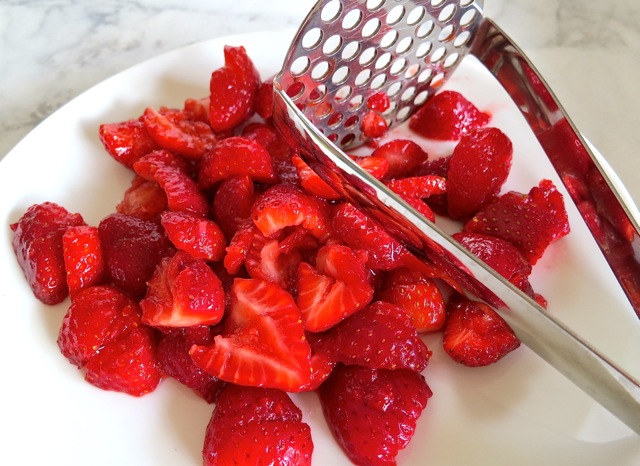 Strawberries are lightly crushed with  a potato masher to soften a bit and release their fragrant flavor.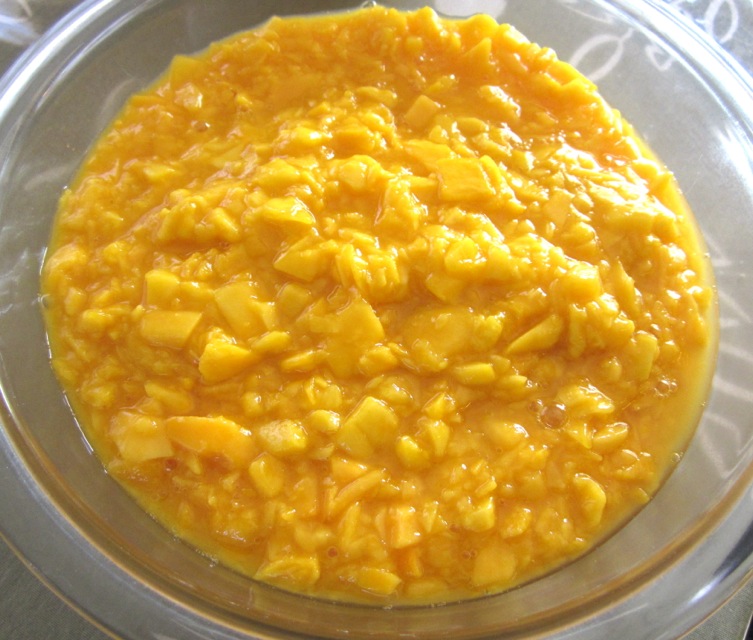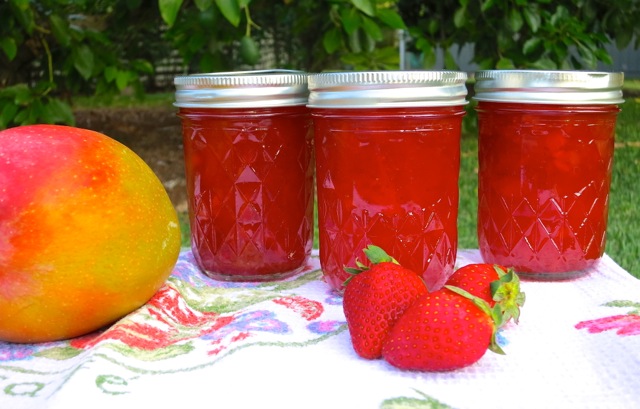 Mango Strawberry Jam
Makes 7 half pint jars
Ingredients
1 1/2 cups packed crushed strawberries
3 1/4  cups diced mango (I cut the mango into small chunks then pulse a few times in the food processor.  Be careful not to pulse too much or you will end up with mango puree!)
1/4 cup fresh lemon juice
5 1/2 cups sugar
1 package pectin
Preparation
Place jars in boiling-water canner.  Fill the jars and canner with water to the top of the jars.  Cover and bring water to a simmer over medium heat, do not boil.  Prepare the two piece closures.  Place lids in a small saucepan and cover with water.  Heat to just a simmer but do not boil.  Do not heat screw bands.
Wash and prepare strawberries and dice mangoes.  Using a potato masher lightly crush strawberries.  Measure out 1 1/2 cups strawberries and 3 cups diced mango. Measure sugar and set aside.
Transfer fruit to a large, deep stainless steel saucepan.  Add lemon juice to fruit.  Whisk in pectin until it dissolves.  Bring to a full rolling boil over high heat, stirring frequently.  Add sugar all at once.  Stirring constantly, return to a full rolling boil that cannot be stirred down.   Boil hard, stirring constantly for 1 minute.  Remove from heat and using a large slotted metal spoon skim off any foam.
Fill one jar at a time. Remove jar from canner and empty hot water back into the canner. Place jar on a cutting board and place a canning funnel in it.  Ladle hot jam into jar leaving 1/4 inch head space.  With a clean damp cloth or paper towel wipe jar rim to remove any food residue.  Using a magnetic utensil lift hot lid from water, center it on the  jar and place screw band on jar.  Tighten screw band evenly and firmly just until resistance is met.  Then increase to finger tip tight.  Do not over tighten.  Return jar to canner rack until all jam is used.  When all jars are filled lower rack into canner and ensure that all jars are covered by 1 inch of water.  Cover canner and bring water to a full boil over high heat.  Process for 10 minutes, starting timer only when water reaches a full boil.
At the end of the processing time, turn the heat off and remove canning lid.  Wait 5 minutes then remove jars without tilting.  Place jars upright on a rack or towel and let cool undisturbed for 24 hours.  After 24 hours check lids for proper seal.  Remove screw bands  and press down on the lid with your finger.  Sealed lids will curve downward and will show no movement when pressed.  Jars that haven't sealed properly must be refrigerated immediately or reprocessed.  Wipe jars and store in a cool, dry place.  Label and date jars.
***If there is extra jam after filling all of the jars, transfer to a small container and store in the refrigerator.